A picturesque list of the most romantic & most beautiful small towns in Europe
There is no denying it: Europe is special! Rome, Paris, Cologne and so many other cities have been continuously inhabited for more than 2,000 years and all that history is showing. But while some foreign tourists just focus on these highlights, it really pays off to explore the countryside in between.
Over the eons, the European people created an unparalleled cultural landscape. A landscape littered with magical little small towns and hamlets straight out of a fairy tale. Don't believe me? Well, then read on for the 20 most beautiful small towns in Europe.
1. Positano, Italy
When we are talking about picture-perfect small towns in Europe, it really doesn't get any better than Positano in Italy. But always remember there is more than just this one village. The whole Amalfi Coast is worth a trip! I still remember my first road trip along those stunning cliffs, like it was yesterday.
2. Bled, Slovenia
Lake Bled in Slovenia is truly worthy of your bucket list. The little Church of the Assumption of Maria is a famous pilgrimage church and a tourist's favorite. Regular boats take you to the island where you will have to climb up 99 stairs to see its famous attractions. Personally speaking I'd say that Slovenia is one of the most underrated European countries!
3. Oia, Santorini
Oia is a little town on the famous Greek Island of Santorini. The blue domes abutting the chalk white buildings became a symbol for Greece around the world. Know then, that the island is actually a remnant of a gigantic volcanic exposition which buried the ancient Minoan culture.
4. Bartholomä, Germany
In Schönau am Königsee, a tiny town on the shores of Lake Königsee, you are able to see another spectacular pilgrimage church. St. Bartholomä is located on a small peninsula, with the imposing Austrian Alps forming the perfect background.
5. Dubrovnik, Croatia
Game of Thrones fans behold: You've probably seen Dubrovnik before! Yes, this is where they filmed King's Landing. The Croatian small town is now one of the top tourist destinations in the Mediterranean and certainly looks like a work of art!
6. Civita di Bagnoregio, Italy
The Civita di Bagnoregio is one of the oldest towns on the list. It was founded by the Etruscans more than 2,500 years ago. The town was more or less abandoned in the 19th century due to concerns about its stability and even today it remains on the list of the 100 Most Endangered Sites in the world – partially because of unregulated tourism.
7. Hallstatt, Austria
Hallstatt is one of those picture-perfect Austrian towns you really have to see to believe they exist. It's so pretty, the Chinese even created a 1:1 replica in their country. I really want to stress that it's not the only place in Austria you should visit, but there is no denying, Hallstatt is worth a visit!
8. Meissen, Germany
Meissen is one of these hidden gems that don't frequently appear on any list of the most beautiful towns in Europe. Which is the very reason I picked it! There's ancient history, the most famous porcelain manufactory in the world and a fantastic old town to explore. And if you are bored, you can take a little steam boat cruise on the River Elbe. It can be easily visited on a day or half-day trip from Dresden (make sure to read my guide).
9. Mont Saint-Michel, France
I still remember my first visit to Mont-Saint-Michel. It was bad weather and it took some time for the rain to stop and the clouds to dissipate. When we finally saw that church sitting on the lonely rock, you probably could hear our jaws-drop for miles! The tiny island commune has only a population of 44, but certainly, deserves its spot on the UNESCO list of World Heritage Sites!
10. Portree, Scotland
Portree on the Isle of Skye might just be the prettiest little small town in Scotland. The colorful houses lining the tiny harbor appear to have jumped straight out of a fairy tale. As Portree is the perfect home base for your explorations of the Isle of Skye, there really is no way around visiting! Just make sure to read my guide on the 10 most amazing things to see on the Isle of Skye.
11. Colmar, France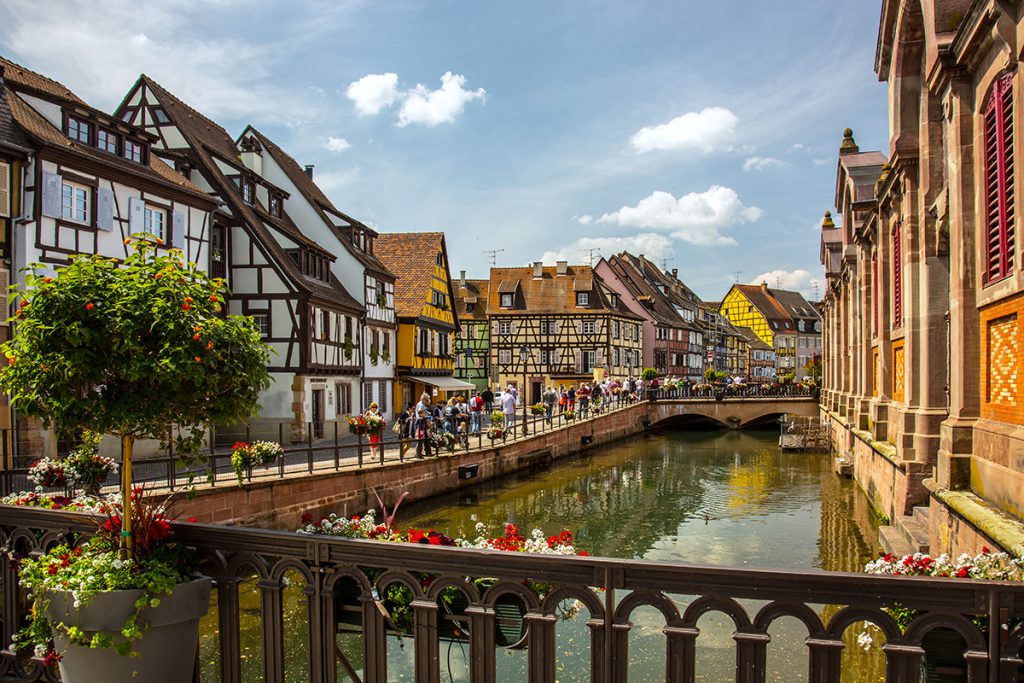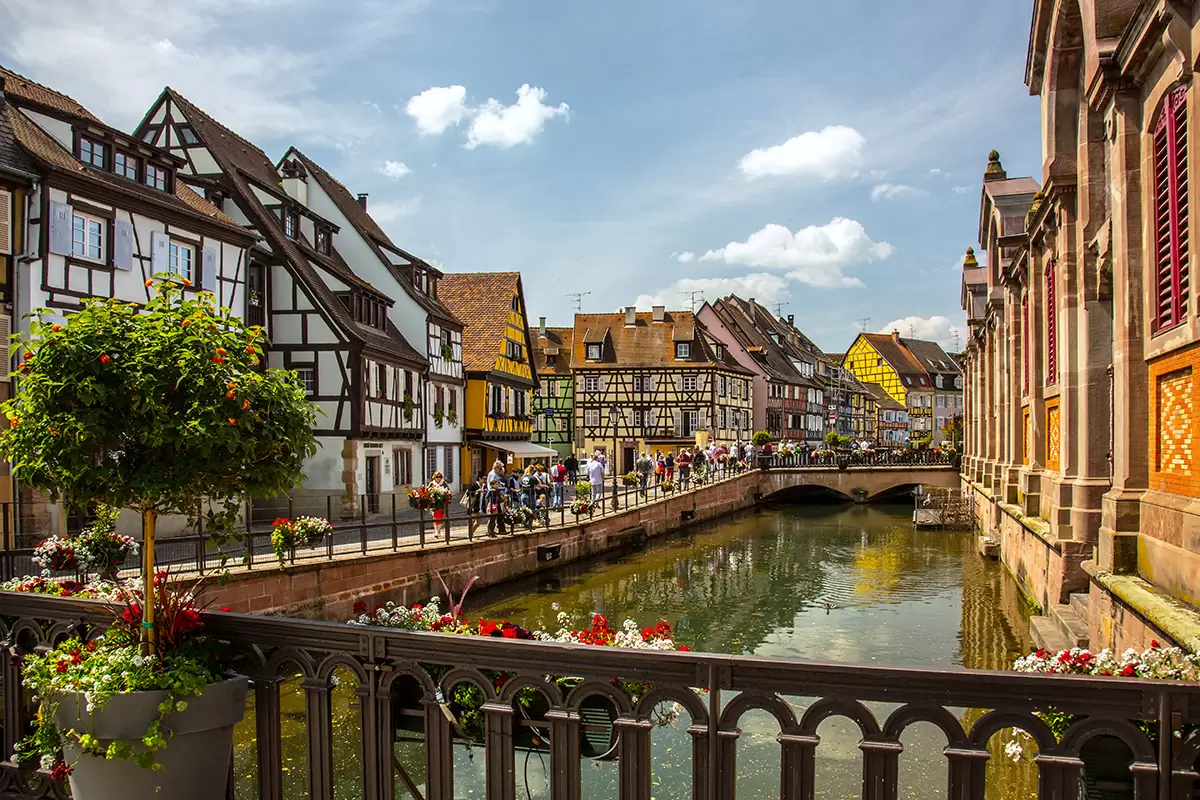 Colmar is probably one of the most visited small towns in France. But if you take a closer look at the pictures, you really can't resist putting it on your bucket list. It's just soooo unbelievably pretty (and looks almost surreal!)
12. Burano, Italy
All the world is talking about Venice. And truth be told, Venice is spectacular. But the little sister island of Burano deserves just as much notice. There are 10 times fewer tourists, and the colorful houses and the world-famous glass-industry of the island will not make you regret staying a night or two!
Make sure to check out this guide, if you are looking for other such hidden gems in Europe.
13. Rothenburg, Germany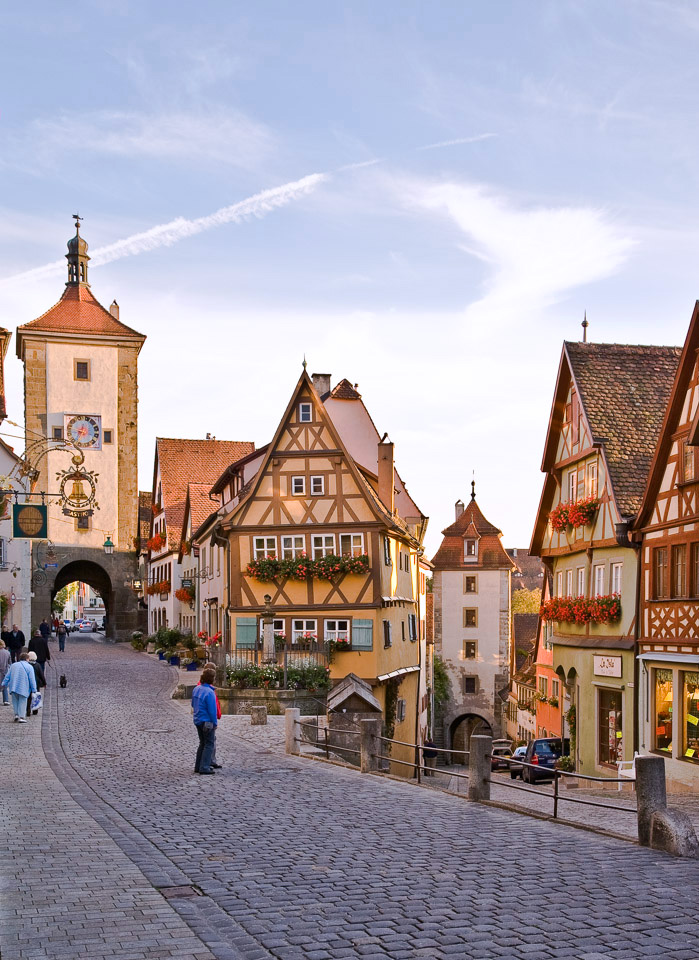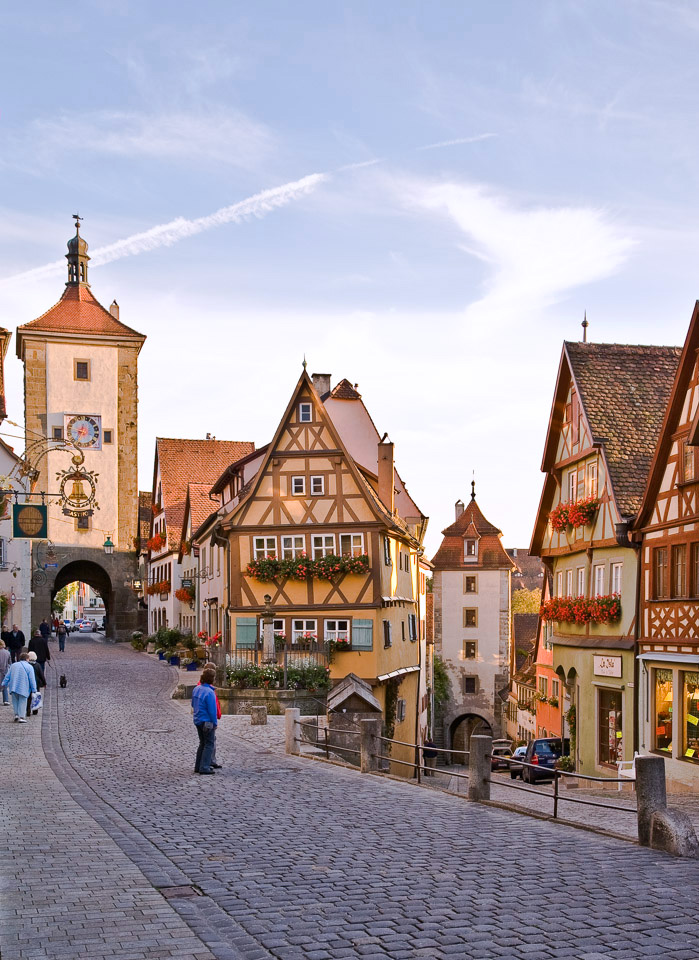 Rothenburg, or properly named Rothenburg ob der Tauber, is frequently mentioned among the 10 most beautiful small towns in Germany. Personally speaking, I'd go as far as saying, there are probably 100 prettier towns in my country, but for some reasons foreign tourists love it.
14. Bibury, England
Some say, that Bibury in England is the most beautiful village in Europe. It certainly looks like straight from a Lord of the Rings movie. But truth be told, don't limit your travels to Bibury, however picturesque it may be. The whole Cotswold District is just as beautiful!
15. Toledo, Spain
Calling Toledo a small town might be a bit of a far fetch, but the old town isn't actually that big by modern standards. What's more important: Toledo is not only pretty but also looks back on vast and quite interesting history! I've been there twice already plan to go back soon – if only for that yummy marzipan! Toledo can be easily visited on a day trip from Madrid.
16. Bamberg, Germany
Bamberg is a city of breweries and churches, and frequently ranks among the most beautiful towns in Germany. It was erected on seven hills (a bit like Rome, according to a local running joke) and each is crowned by a church. Absolutely do visit!
17. Manarola, Italy
Manarola is another of these picture-perfect Italian small towns you really have to visit once in a lifetime. The hill is cluttered with colorful houses and little taverns are inviting you to sample the local fish dishes. So beautiful!
18. Ronda, Spain
To be quite truthful with you, the Spanish countryside is littered with pictures small towns you simply cannot help to fall in love with. But Ronda and its "Puente Nuevo" bridge certainly ranks among the most remarkable ones.
19. Meteora, Greece
Meteora in Greece is, strictly speaking, not a small town. It's rather a collection of ancient Monasteries. Each of them perched atop a majestic rock formation and each of them home to a couple of nuns or monks. As the site is so utterly impressive, and these monasteries were built to be micro-cities, I felt like including them.
20. Lehde, Germany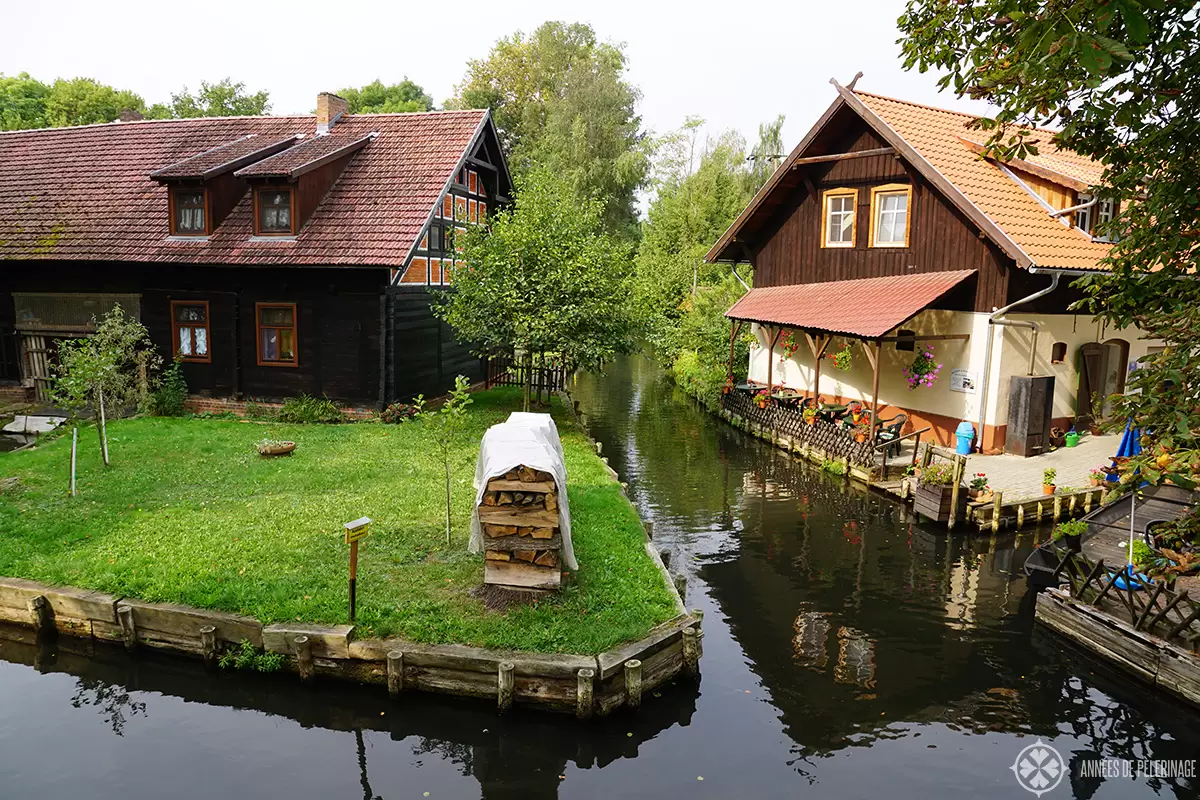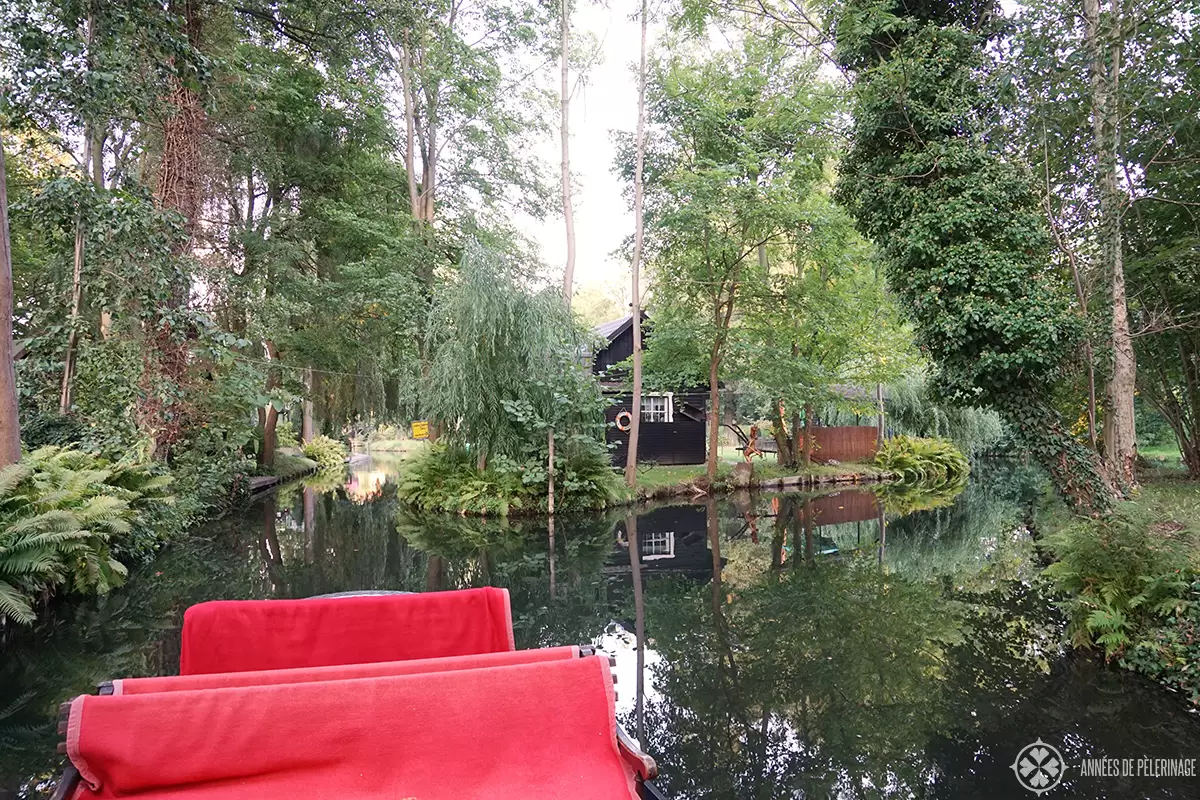 Last, but certainly not least, I'll share another secret gem with you. Lehde is a tiny museum village in the Spreewald forest in Germany. Instead of roads, the town is interconnected with water ways. Much like in Venice, you can go on boat tours and explore the adjacent national park. Read more about it here.
21. [Bonus] Gásadalur
Recently I came back from a trip to the amazing Faroe Islands. And then and there I possibly discovered the most beautiful, most perfect and most scenic little town in Europe. It goes by the name of Gásadalur and has only 18 inhabitants. I just had to include in this list. Read more about my adventure on the Faroe Islands here.
Pheww!! So that was my list of the 20, sorry 21 most beautiful small towns in Europe. Having traveled through Europe almost all my life, I really have to stress this far from a complete list, and my last item is a testament to it. In fact, compiling such a list really does injustice to all the lesser known, but equally beautiful villages and towns all around the continent. Don't believe me? Here is a beautiful list with 17 utterly hidden gems in Europe. So, if you got any further suggestions, feel free to comment below and let me know your thoughts!
Liked this article? Pin it to one of your Pinterest boards!
Picture Credits: Will Clayton, Tom Mrazek, gravitat-OFF, Silk Knoll, Patty Ho, Maurizio Zanetti, victoria white2010, Mike Norton, pbutke, Juergen Heitmann, Sergio Boscaino, Bud Ellison, niki georgiev, Graeme Churchard, Nick