A list of the best points of interest and the top tourist attractions in Nuremberg, Germany.
Few places in Germany can compare with Nuremberg (Nürnberg) when it comes to the sheer depth of history you can explore in the city. Medieval strongholds, renaissance splendor, and a rather darkish Nazi past – there are just so many things to do in Nuremberg.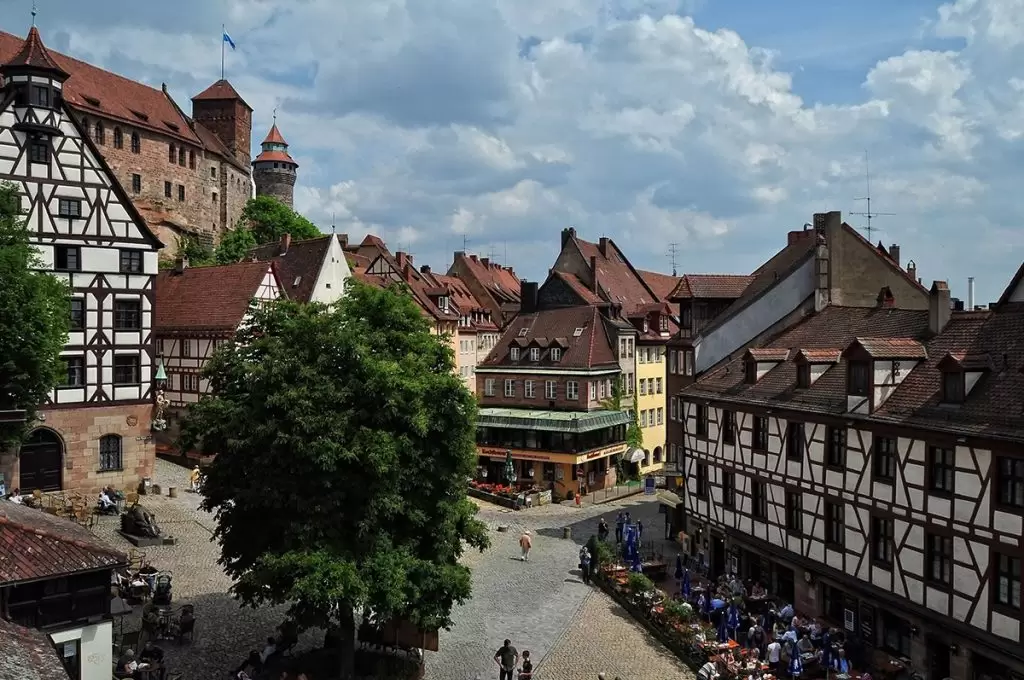 As a native, I believe that the unofficial capital of Frankonia should be an essential part of every Germany itinerary. Nuremberg is also one of the best day trips from Munich (check out my list of 20 more), so I poured all my local knowledge into this travel guide.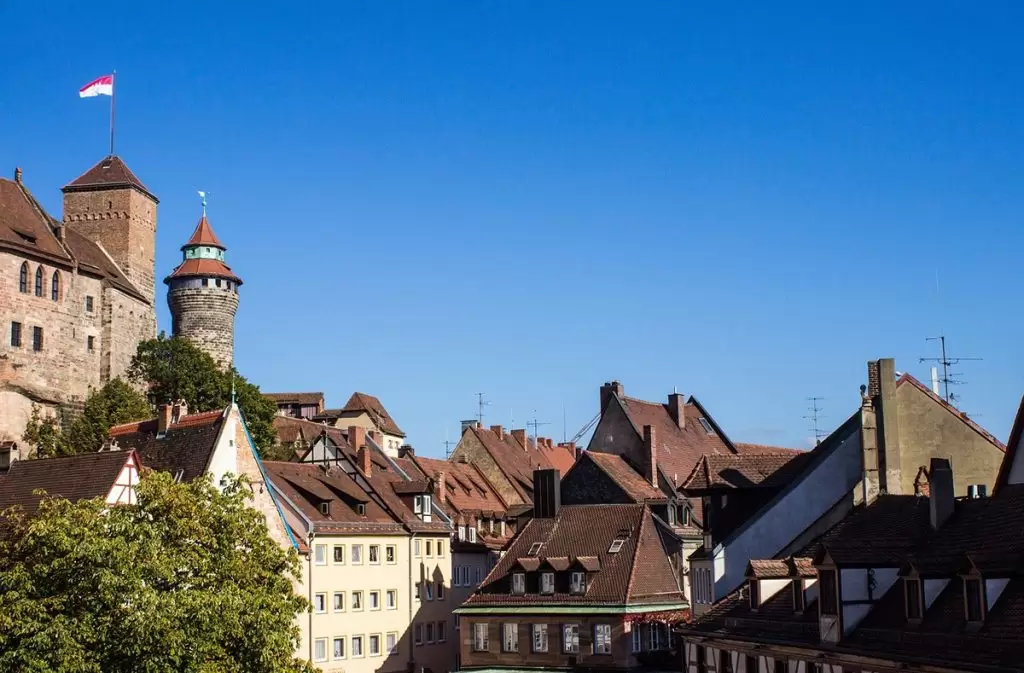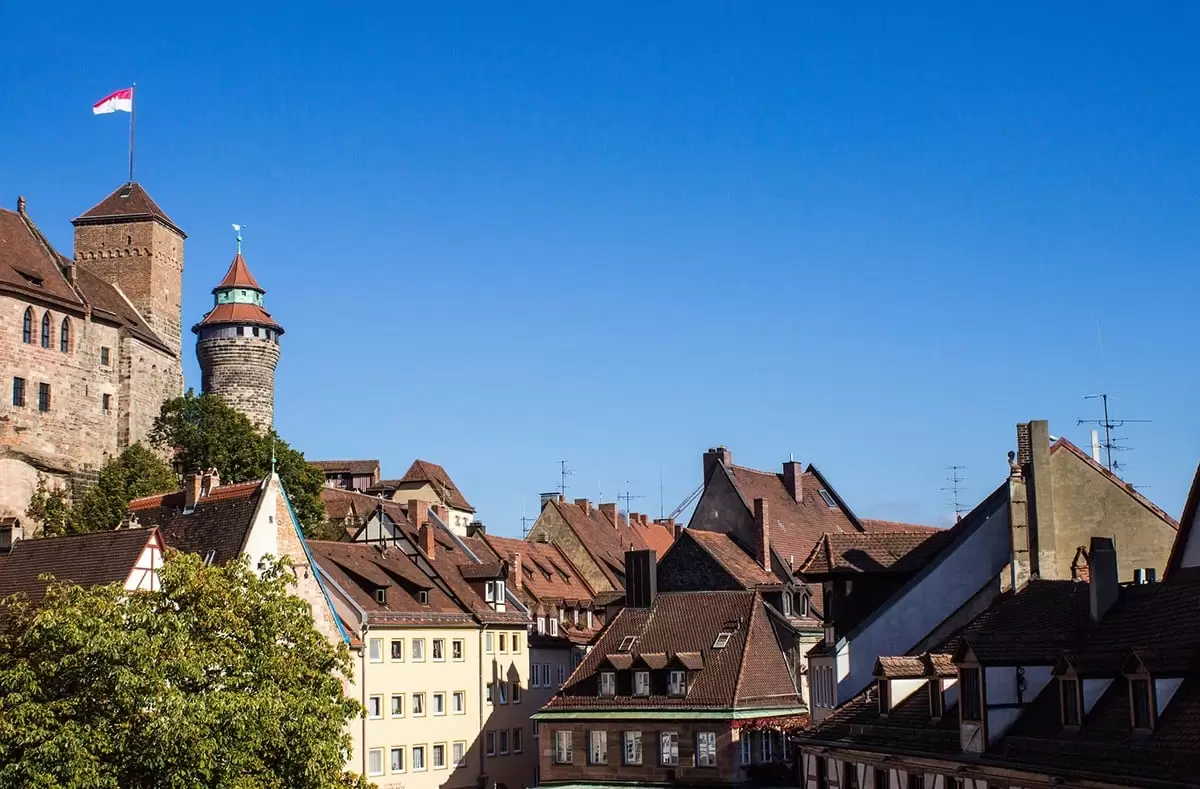 Whether you want to know what to see in Nuremberg in one day or you'd like to stay for a couple of days, you'll find everything you need to know to plan your visit here. Just remember that Nuremberg is very close to the UNESCO World Heritage cities of Bamberg (read my travel guide here) and Regensburg (here's my travel guide), so you could combine the trip with either city (or both!).
But enough of the preface, let's get going, with my list of the top tourist attractions in Nuremberg, eh?
1. Nuremberg Castle / Kaiserburg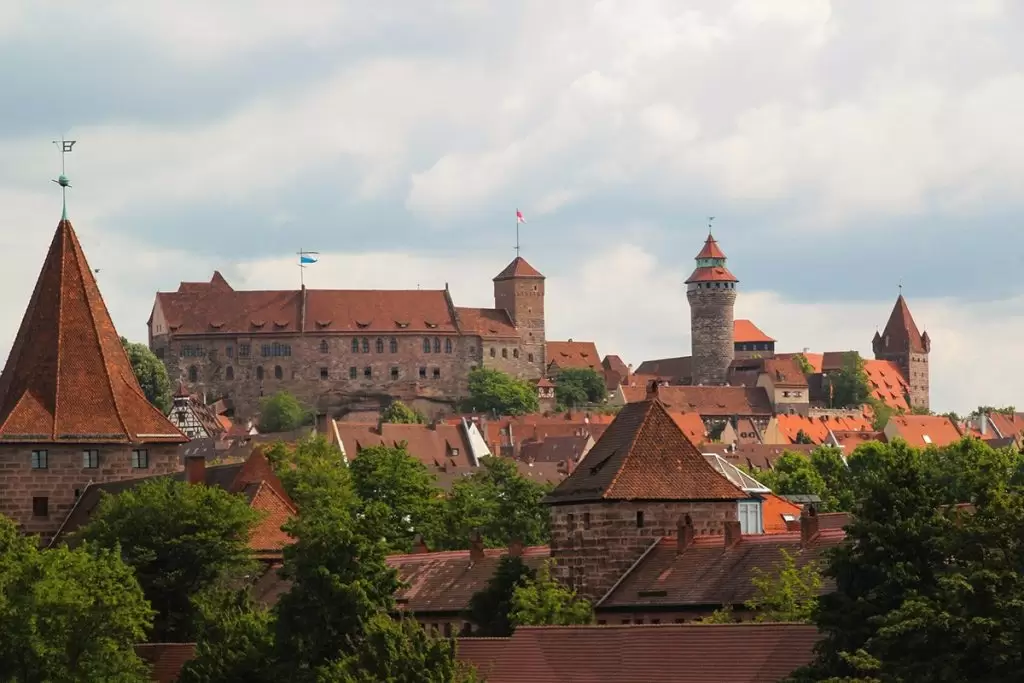 There is no escaping the imposing Kaiserburg on your Nuremberg tour. The medieval castle does not only dominate the whole cityscape but is also the most important tourist highlight. Construction (probably) started around 1,000 AD, though most of what you see today dates back to the 15th century or later.
The Nuremberg castle was heavily damaged during World War II. Only the imperial chapel survived the bombings, quite through a miracle, the rest has been faithfully restored after the war. Ever since 2016, you'll find a very lovely exhibition inside (check out the website)!
Fun fact: The stables were transformed into a youth hostel in 1937 and remain open for eligible tourists until today.
2. St. Lorenz church
There are many beautiful churches in Germany, but few are able to surpass the St. Lorenz church in terms of artworks on display. In fact, walking through the long nave of the gothic church feels more like visiting an art gallery than a place of worship.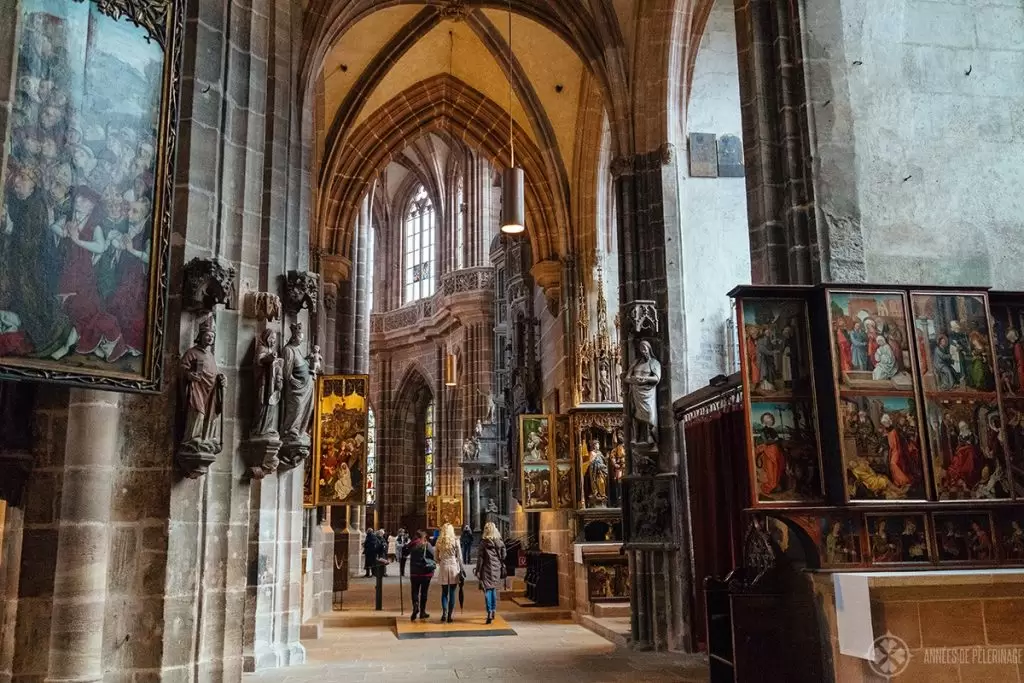 Most notable, among the many outstanding paintings and sculptures, is certainly the central "Angelic Salutation" by the medieval mastermind Veit Stoss. The majestic limewood sculpture hangs in the middle of the choir, right behind the altar and is one of the must-sees in Nuremberg!
Note: There are frequent organ concerts, so check out the website to see the schedule!
3. Germanic National Museum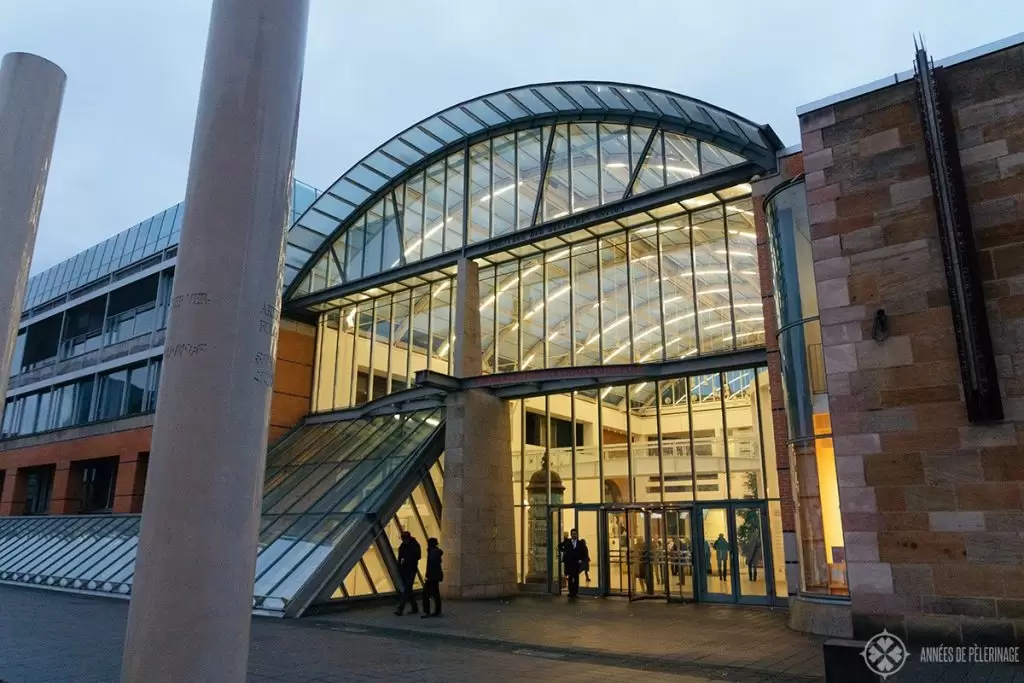 My personal favorite spot in Nuremberg is the Germanische National Museum (check out the website). It's one of the first Museum in Germany and home to an outstanding collection of medieval central European art. The museum also houses an unparalleled wealth of everyday objects throughout the ages (clothes, music instruments, table wear, weapons and so much more).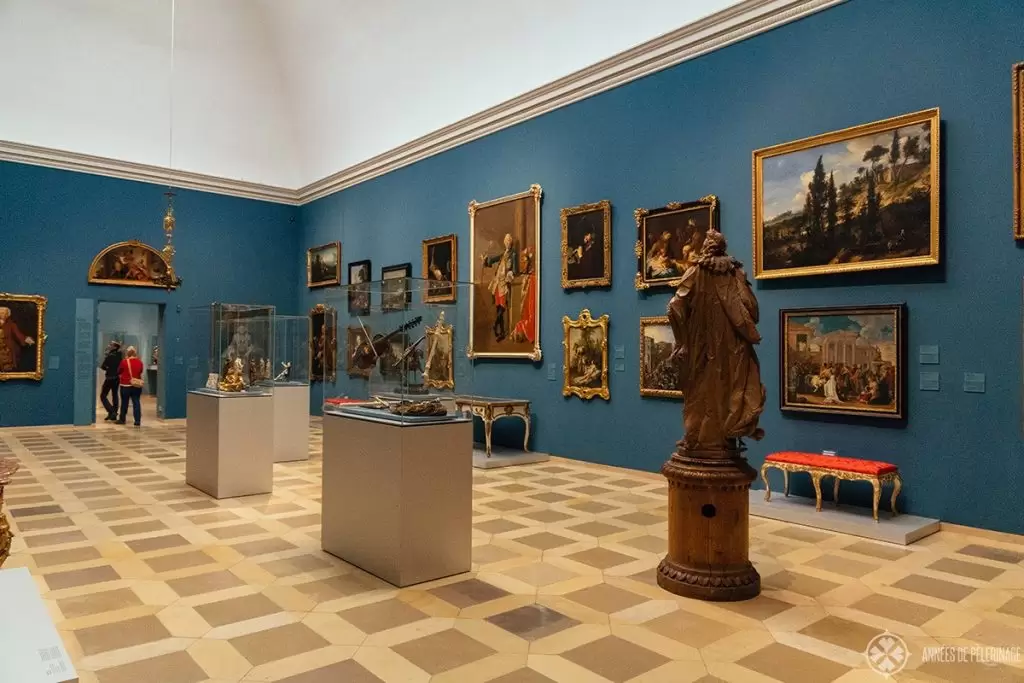 I particularly like the department for early medieval and late Roman artifacts. The museum is quite large and you will probably need 4 to 6 hours to see it all without rushing, so plan accordingly. You can easily skip a department or two and just focus on the highlights, though! Of all the museums in Nuremberg, this is the one you really can't skip!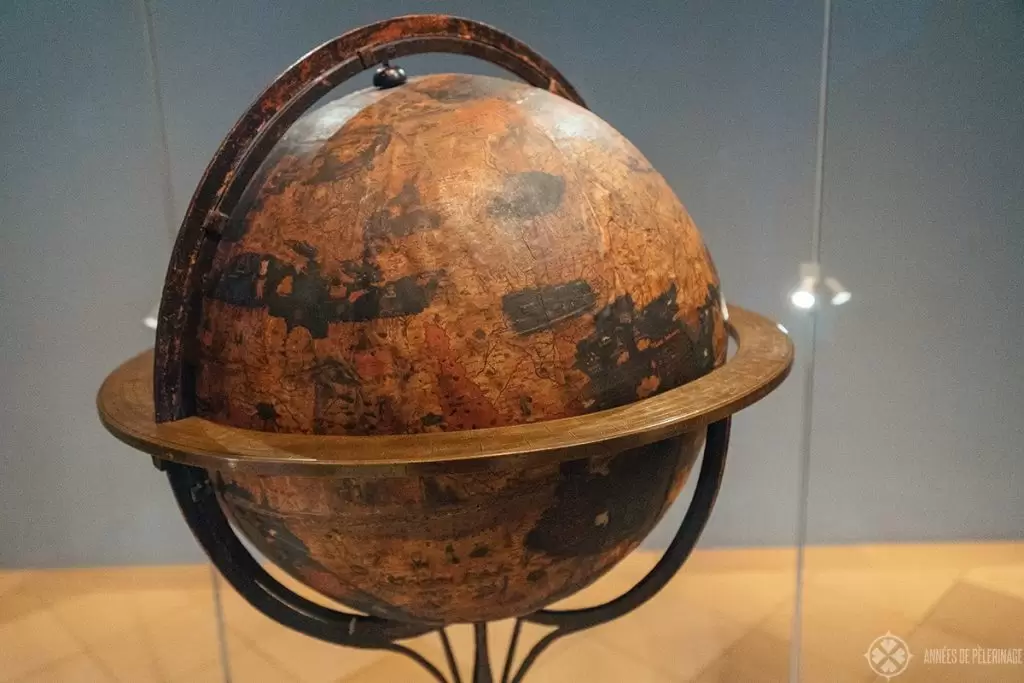 Inside, you will find the first globe ever made (the Behaim globe), the Ahmad Ibn Muhammad Al-Naqqash Astrolabe from the 10th century, the beyond than famous Golden hat of Ezelsdorf-Buch, many famous paintings by Albrecht Dürer, and so many other outstanding artworks each marking a quantum leap in human culture.
Note: For me, the Germanic National Museum is one of the best things to do in Nuremberg on Sunday – especially in winter or when it rains. The museum is closed on Mondays.
4. Albrecht Dürer's House
Albrecht Dürer was probably Nuremberg's most famous citizen. The German Renaissance painter is often mentioned in the same breath as Leonardo Da Vinci, Raphael, and Giovanni Bellini. He was born in Nuremberg and spend most of his life here. Five centuries later, you can still visit his birth house (here's a link to the website).
There is a very beautiful museum inside and even a new wing dedicated to his paintings (most of them medieval reproductions, though). Best of all: His old kitchen, living room, and workroom have been faithfully restored. It's like he only moved out yesterday.
5. Nuremberg Toy Museum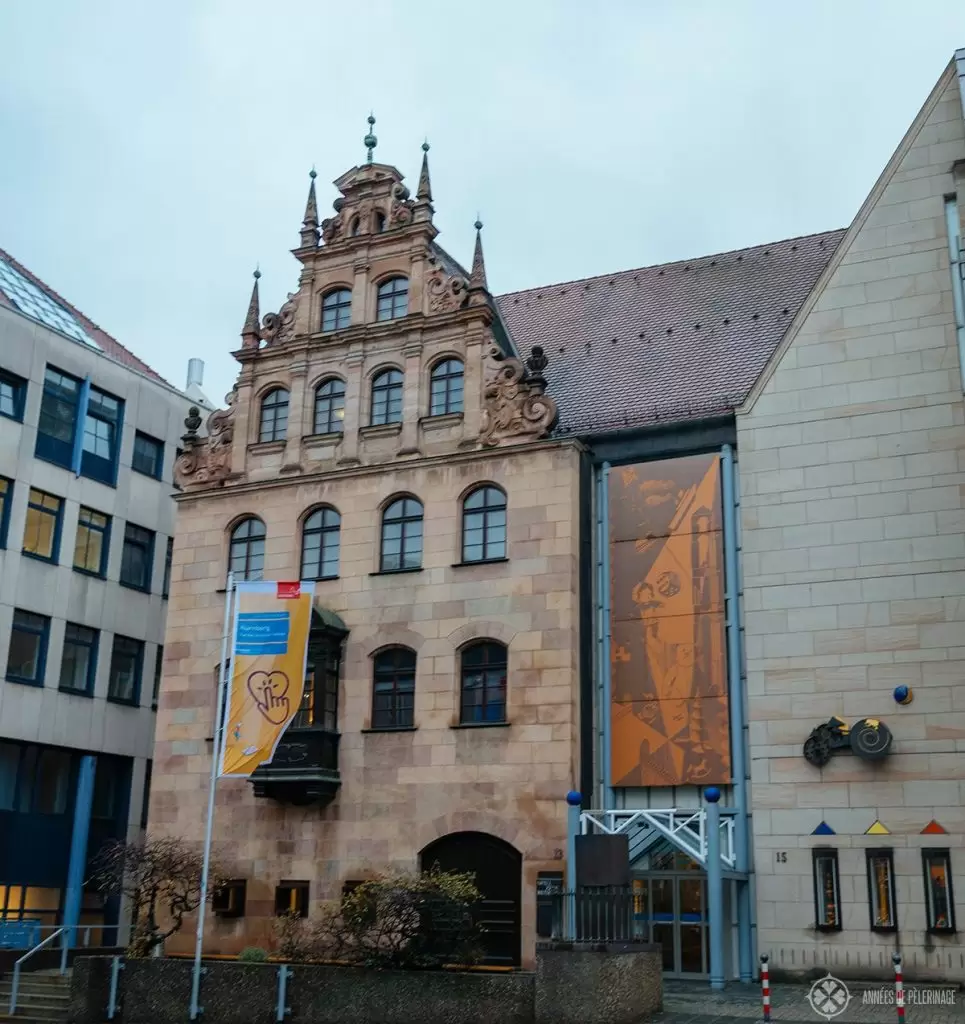 One of the places that will probably surprise you the most is the toy museum. It's not only one of the best things to do in Nuremberg with kids, but also a fun place to visit for adults. Inside, you will find precious toys from the past two centuries (and beyond!).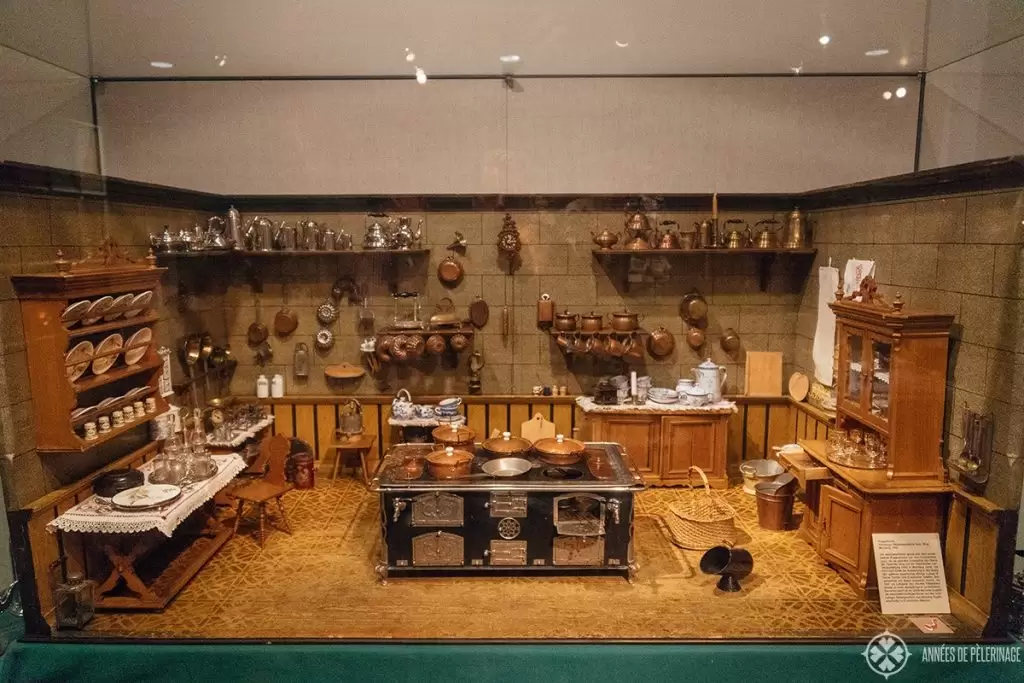 I especially love their huge collections of fantastic dollhouses. Almost all of them fully functionally and presented with such ingenious attention to detail you almost want to move in. Some of them are so richly made, it's quite incompressible somebody was allowed to play with them (check out the website).
Note: There are huge areas dedicated to actually playing games, so bring some extra time!
6. Hangman's bridge & Weinstadel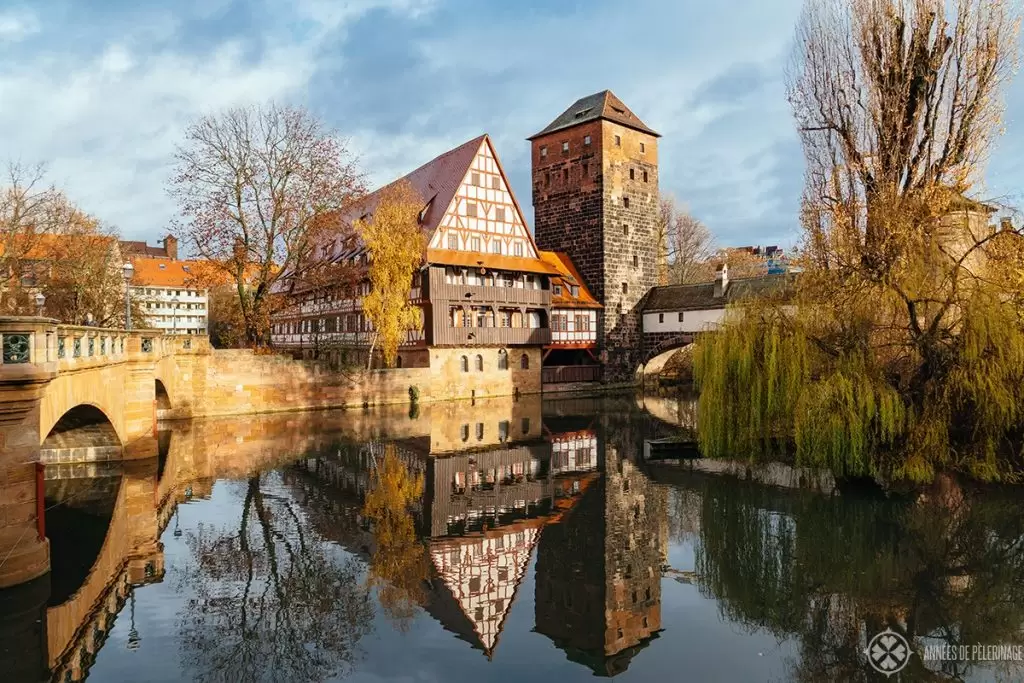 The Hangman's bridge (German: Henkersteg) is quite the unique historic ensemble you should not miss on your Nuremberg tour. The roofed wooden bridge connects St. Lorenz quarter with the Trödelmark Island.
While there is a little museum inside the Hangman's tower, your main reason to visit is the beyond than picturesque setting. Right next to the tower you will find the Weinstadel – a medieval half-timbered house of epic proportions (in fact the largest in Germany). Definitely put it on your list of things to see in Nuremberg!
7. Fembo house / City Museum
Another ancient house, this time from the Renaissance period, is the Fembo house. It is the only surviving aristocratic house in Nuremberg from this period and now houses the city museum (there are a couple of others, but they were heavily damaged or utterly destroyed during WWII)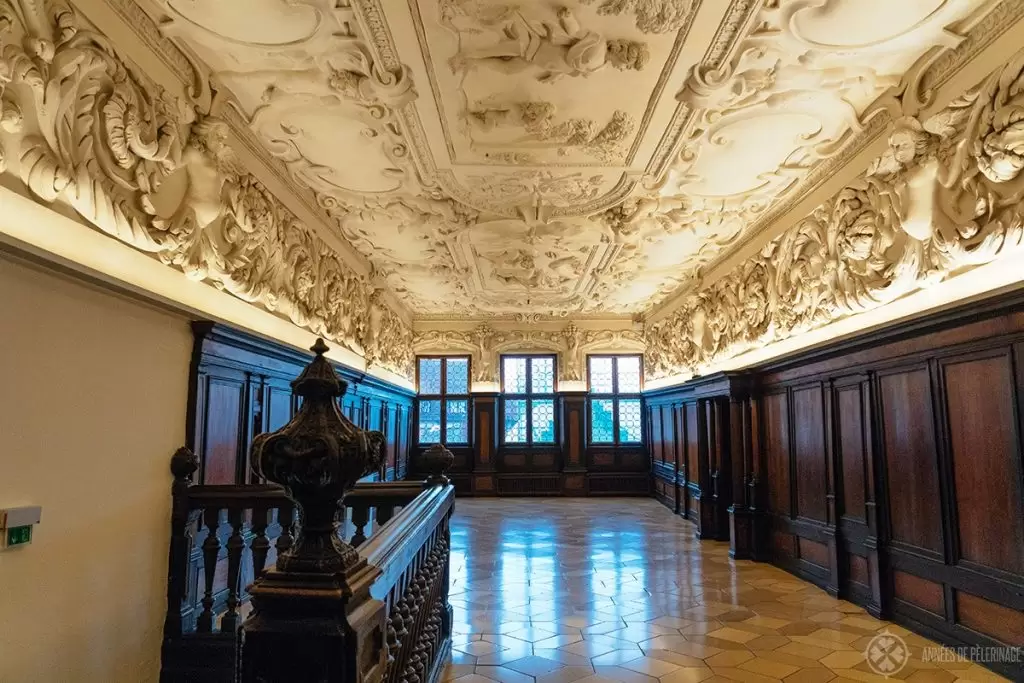 I want to be honest with you. The city museum itself is probably not very interesting for foreign tourists, but being able to tour a house dating back to the late 15th century is utterly priceless. There are a couple of noteworthy rooms, especially on the 2nd story, that you really have to see! Here is the website.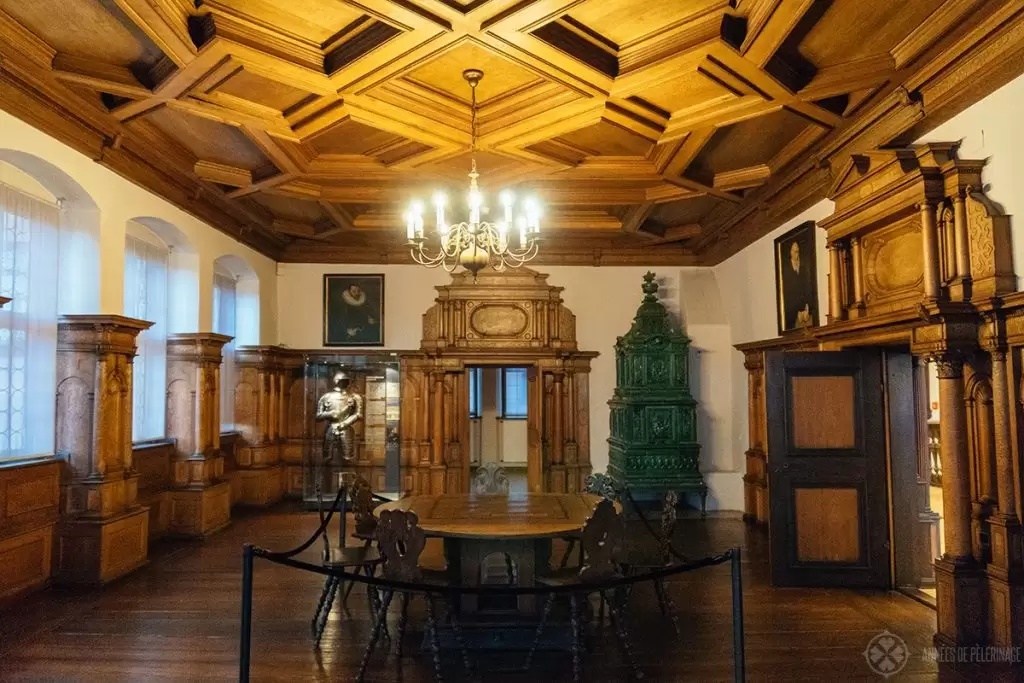 Pro tip: You only have to pay entrance to two city museums. So, if you visited the Dürer house and the toy museum, the Fembo house will be free for you! (just keep your tickets!)
8. St. Sebaldus Church
The St. Sebaldus Church ( St. Sebald) is the oldest Protestant church in the city. Inside you will find the tomb of the city patron of the selfsame name. The shrine counts among the most important bronze sculptures from the late medieval time in Germany.
The church itself is quite noteworthy as well. Especially the choir at the far back of the church is exceptionally lovely! As you will pass St. Sebaldus on your way up to the castle anyway, there's no reason not to stop for a minute (or two!)
Note: The original reliquary is now located inside the Germanic National Museum
9. Documentation Center Nazi Party Rally Ground
Nuremberg is grounded deep in Germany's history, and it was this fact the Nazis used for their ends. Between 1933 and 1938 all National Socialist party rallies were held in Nuremberg. A huge rotunda of epic proportions still can be found on the outskirts of the city where once Adolf Hitler and his propaganda machinery used the area of almost 4 square kilometers to enthrall the masses. Here is the website to plan your stay!
If you want to know more about this part of German history, make sure to drop by at the Nuremberg Trials Memorial as well. It was here an International Military Tribunal held court over the leaders of the Nazi regime between November 20, 1945, and October 1, 1946! Most people wondering what Nuremberg is famous for will want to hear about the Nazi past. So, why not dig a little deeper?
10. Neues Museum Nürnberg
There are so many historic places to see in Nuremberg, it's quite easy to forget the present. Yet, Nürnberg is anything but a museum town! To get a feeling for the present, you definitely should visit the "Neues Museum", a lovely museum for contemporary art with tons of ever-changing special exhibitions. Here's the official website.
[Bonus] Christmas Market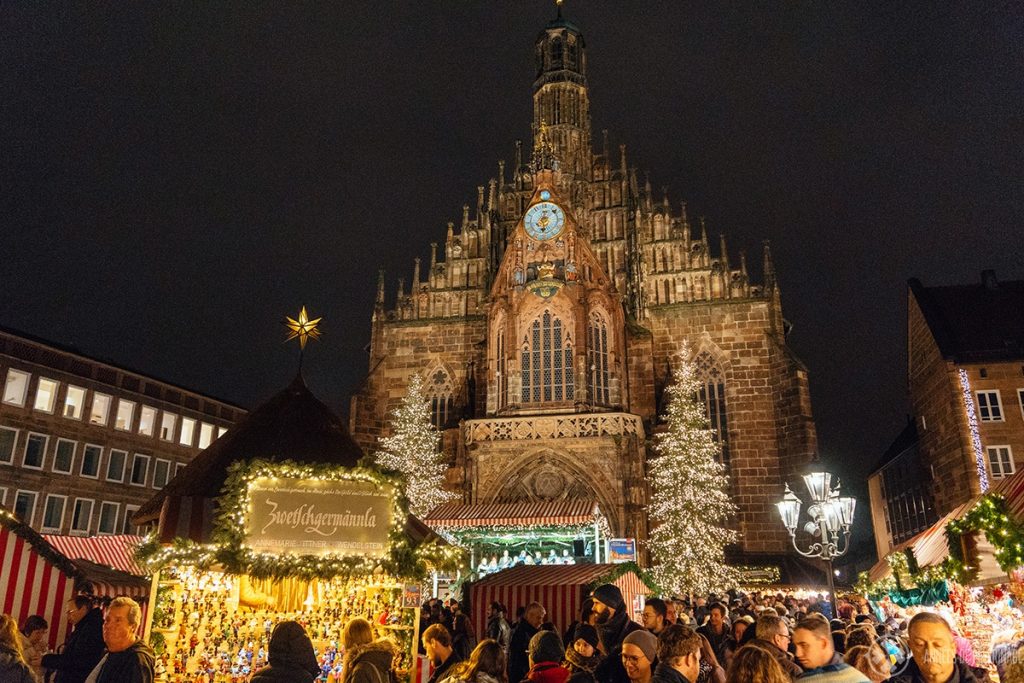 Looking for romantic things to do in Nuremberg in Winter? Well then, you are in for a special treat: The Nuremberg Christmas market is one of the oldest, biggest and most famous ones in Europe (you'll find another beautiful one in Dresden). Gingerbreads, bratwurst and mulled wine galore – most tourists will love it.
As a German, I have to point out that there are better Christmas markets in our country (despite its fame). But you'll certainly never regret strolling along the endless aisled of Christmas decorations. Just make sure to bring lots of cash, as you won't be able to use your credit card.
Other things to do in Nuremberg
I tried to focus this article on things you could see in Nuremberg in one day. But nothing speaks against staying a night, as there are many other lovely points of interest. Nuremberg has quite a lovely zoo and certainly more beautiful churches to explore than I mentioned above. The Church of our Lady (Frauenkirche) on the central square comes to mind, but it's certainly not the only one. You should definitely not miss the Heilig Geist Spital (now a restaurant) when you got sightseeing in Nuremberg, either
I already mentioned the Nuremberg Trials Memorial, but if you are traveling with kids, the Nuremberg Transport Museum (here's the website) will be a true highlight. If you want to get more intimate with the medieval side, then absolutely make sure to tour the extensive city walls and make sure to visit historic subterranean Nuremberg (here's the website). The ancient Tucher Mansion (click for the official website) is also always worth a little detour!
Naturally, you can also take your time shopping!
Things to do in Nuremberg at Night
Nuremberg is not Berlin, Cologne or Munich, so the nightlife in Nuremberg might not be as crazy, but I still recommend you to leave your hotels at least once after nightfall. If you are visiting in December, this is a no-brainer, as you certainly don't want to miss the Christmas market at night. But I'm utterly sure you will thoroughly enjoy walking through the old town.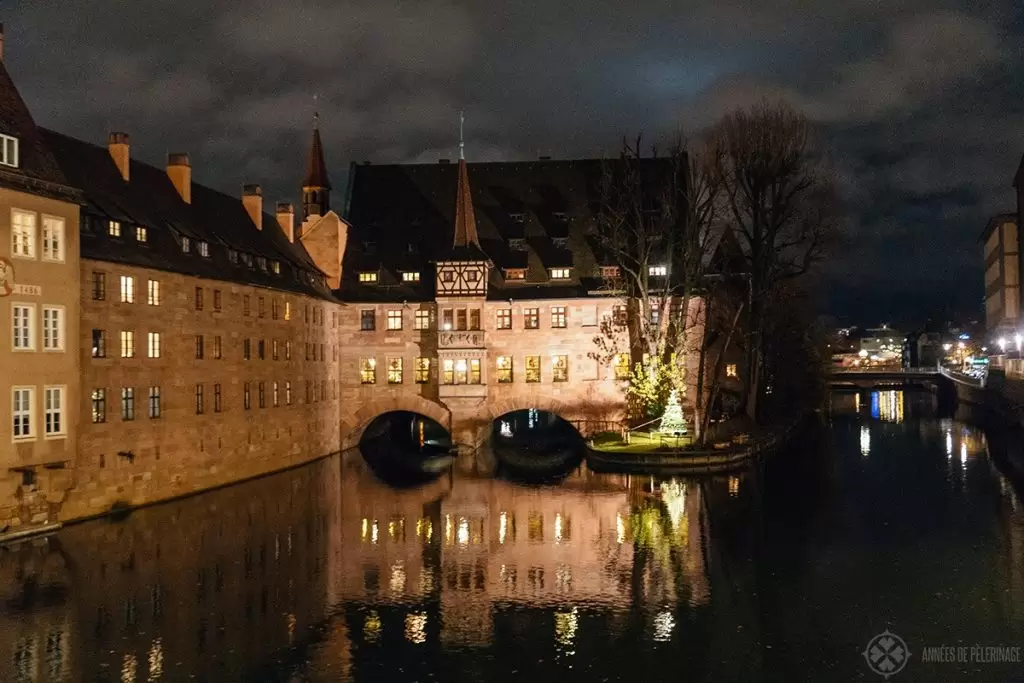 You could also join one of the Nightwatchman's tours in Nuremberg. These can be quite fun and are usually led by a guide glad in medieval clothes (and usually acting a bit like from that time as well). These tours are available in English and German (the tourist Information will point you to where to get tickets)
Apart from walking along the sheer endless city wall, you could also book tickets for a performance at the State Theatre Nuremberg (here is the website). Be aware that most performances will be in German, though. Other than that, Nuremberg has a couple of lovely bars and even a club. Virtualnights is usually a good place to check them out.
Where to stay in Nuremberg
Note: I earn a small commission from purchases through the links in this article.
Nuremberg has an excellent public transport system. There are frequent buses and a subway, and as it's not all that large, taxis are a viable option for those awkward distances in between. So, it's not essential to pick a hotel directly in the middle of the city, doubly so, as the Nazi party rally grounds are found on the outside anyway.
Other than that, a quick glance at a Nuremberg tourist map will show you that all highlights are within easy walking distance. So, basically, I recommend you to pick a hotel based on your budget and your comfort preferences and not so much on location.
I have been to Nuremberg a couple of times and checked out a couple of hotels and here are the ones I would recommend based on my experience.
Luxury
Mid-range
Budget
When to visit Nuremberg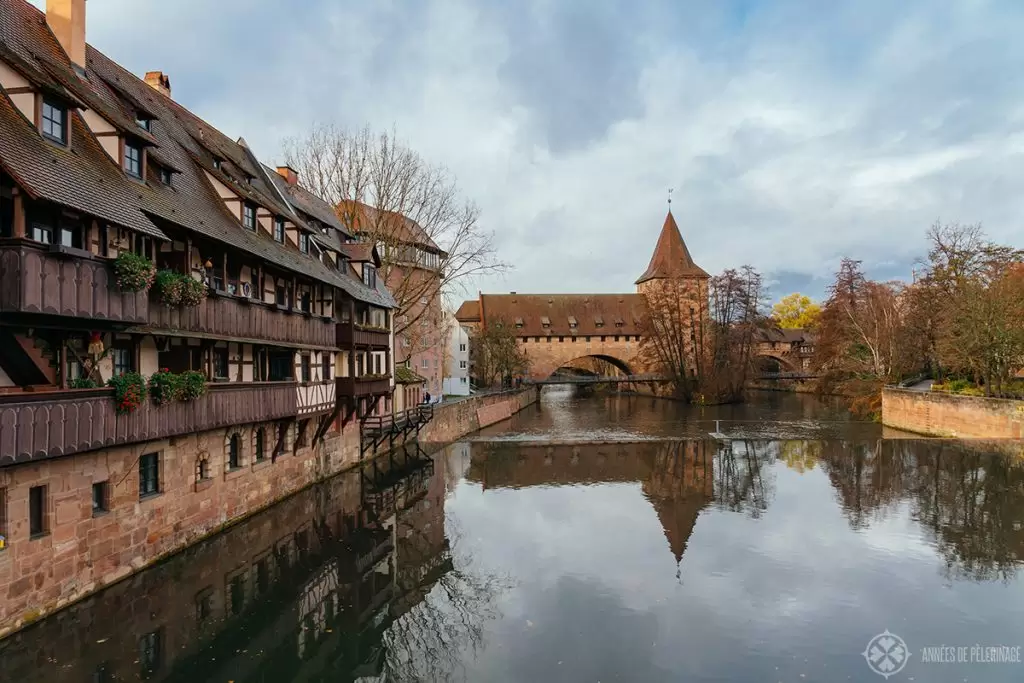 Probably the best time to visit Nuremberg is in December, close before Christmas. The snow, the spirit of the holiday season, and of course the Christmas markets are hard to beat. It is, however, also the most expensive time of the year.
As most of the tourist attractions are inside (or partially so), you are not very dependent on the weather in Nuremberg. It can be a fun city to explore even on a rainy day.
If you are for some sun, then July and August are your best bet (though the German weather is quite unpredictable). Kindly note that this coincides with the summer holidays in Germany best, where you can expect higher hotel prices and bigger crowds as well.
Taking the train from Munich to Nuremberg
It's quite feasible to visit Nuremberg on a day trip from Munich. There are trains leaving every 30 minutes and it only takes about 1 hour and 10 minutes. For the train schedule (and buying tickets) please check out the official website of the German Railway ("Deutsche Bahn").
The first train to Nuremberg currently leaves at 4:13 am but there really is no point in taking it. Except you want to see the sunrise, but I'm not sure this is worth it, as most museums won't open before 10:00 am. Take a train around 8 am and you will be perfectly fine.
The last train to leave Nuremberg for Munich currently departs at 11:30 pm, so you will have plenty of time to explore the city. Best of all: The ancient city wall, and thus the old town, is right across the street from the train station in Nuremberg.
You can also take the train from Frankfurt to Nuremberg for a day trip, though it will take 2 hours each way, while I'd say a day trip from Berlin (2h 50 min) is not feasible except you are desperate.
All in all, Nuremberg is quite an important train station and most of the highspeed trains crossing Germany will make a stop here. So, you will have no problem fitting a sightseeing-stop in Nuremberg into your itinerary.
So, that's it. Hope you enjoyed my travel guide to the best things to do in Nuremberg, Germany. Got any questions? Ask them in the comments below! And don't forget to pin this guide to your Pinterest board.