A massive list of the top tourist attractions and places to see on the island of Madeira. Plan your perfect itinerary.
Are you currently planning a trip to Madeira? And now you are wondering about fun things to do on the scenic island in the Atlantic ocean that's known for its mild temperatures all year-round and beautiful flowers. Then you came to the right place because in this travel guide I'll show you my favorite things to do in Madeira!
As of 2021, Madeira has a population of 251.060 and covers a total area of 801 km² (309sq mi). Other than the capital Funchal, the verdant island is not very densely populated and best explored by car. Many of the most beautiful tourist attractions require you to hike a bit, so definitely bring very comfortable walking shoes.
Either way, let's dive right into my list of things to do in Madeira!
Reading tip: Find out the best things to do in nearby Tenerife.
1. Go on a Levada Walk
Madeira is often called the "Hawaii of Europe" or the flower islands. But due to prevailing winds and the high mountains in the middle, the southeast is quite dry. Starting from the 16th century, the Portuguese built extensive networks of aqueducts, so-called "levadas" to bring the life-giving moisture to the fields in the south.
And just to get this straight, we are talking about a network with 25 kilometers of tunnels alone. Some of the levadas (like the Levada do Caldeirão Verde) are 37 kilometers long. As a tourist, there are many famous hikes along the tranquil water channels. Some of them, like the Levada do Caniçal are a bit easier while others offer vertigo-inducing views of the rugged inner mountains and waterfalls.
For me, personally, the walks along Madeiras levadas were the highlight of my whole trip. With the water constantly gurgling and trickling, the beautiful plants along the way, and ever so often you catch a glimpse of the abyss below…my it's just outstandingly pretty!
2. Monte Palace Tropical Garden
My second favorite place on Madeira was the Monte Palace Tropical Garden. It's a 70.000 square meter huge botanical garden clinging to the steep mountains above Funchal. Inside, you'll find Chinese and Japanese gardens – all with a tropical theme.
There is a huge pond and castle-like structure right in the middle and many a pathway branching this way and that way to take you to outstanding displays of local and exotic flora. It's, truth be told, a bit kitschy, but still absolutely worth the visit.
3. Ponta de São Lourenço
Another outstanding, entirely natural, highlight of Madeira is the Ponta de São Lourenço. The rugged cliffs mark the easternmost point of the island and an extremely scenic path follows its ever-narrowing foray into the Atlantic.
It's difficult to capture with words alone just how beautiful this place is. The paths are well maintained and you definitely don't need to be a mountaineer to reach the pinnacle at the very end – just good shoes and some endurance.
Mind you, the path is three kilometers long and it will take you about two and a half hours to complete it. But since the scenery is so dazzlingly beautiful, you hardly notice the many little stairs you have to take. Your eyes are constantly tracking the wild expanse of the ocean trying to erode the cliffs below.
4. Parque Forestal de Queimadas
A place worthy of your Instagram or TikTok feed is definitely the Parque Forestal de Queimadas. It's actually the starting point for one of my favorite levada walks but the place itself is quite enchanting in and by itself.
There's an ancient little hamlet with thatched roofs that might be a bit hyped. It looks cute in pictures, but I would say that the nature around it is quite the bigger showstopper.
5. Cabo Girão
Do you fancy visiting the highest skywalk in Africa? Well, then absolutely head to the Cabo Girão where you enjoy the view of the abyss 560 meters below. The parking lot is only 100 meters away, so it's one of the few natural tourist attractions on Madeira that don't involve a lot of hiking.
Make sure to visit on a clear day because then you can enjoy views all the way to Funchal. Personally speaking, I thought it was a nice distraction and definitely worth a stop on your way to the east but maybe not the highlight to fill your whole day.
6. Go whale watching – seriously go!
Let's take a look at the map for a second. Madeira sits around 700 kilometers off the coast of Morroco. It's thus basically a lovely stopover for any whale traveling from its summer feeding grounds in the north to warmer waters.
But there's a second thing that makes the island so attractive for whale watching: The underwater cliffs are steep! Only a couple of kilometers off the coast, you'd have to dive up to 4000 meters down to hit bottom. And this is what attracts so many different cetaceans to go hunting very close to the shore – where they are safe from wild storms and can take a rest.
So, you basically will be able to find anything from dolphins to blue whales only a short boat ride away from Funchal or Praia da Calheta. Just book a tour. Most of them have a 99% success rate in the high season and even go as far as offering you a refund if you don't see anything.
7. Pico do Areeiro
Are you not an avid hiker but still want? Then Madeira's third-highest mountain (1,818 m) is a must-see for you. A lot of guides will tell you to visit Pico Ruivo (the highest mountain at 1861m) but you will have to walk all the way to the top – a strenuous hike of many hours.
With the Pico do Areeiro, there's a road taking almost all the way to the top where you can enjoy the view across the whole island. But it's very important to note that the parking lot marks the starting point for one of the most spectacular hikes. The precarious way along the ridge towards the Miradouro do Ninho da Manta is nothing short of breathtaking!
9. Faja dos Padres
Would you like to go for a swim? Preferably somewhere utterly beautiful? Then consider taking the cable car down the cliffs towards Faja dos Padres. This place is nothing short of breathtaking.
First, you will walk through a scenic banana plantation until you will finally reach the beach. Like all natural beaches in Madeira, it's big pebbles and no sand. But with the backdrop of the cliffs and a view for miles, it's definitely a very special place!
At the end of the path, you will find a little restaurant and there's a man renting sun loungers for some change. So, check the weather forecast and plan your day at the beach!
10. Old town of Funchal
Madeira's capital might not be Porto or Lisbon when it comes to attractions for history buffs. It's all things considered, just a quaint little town above a little harbor of little interest. But that doesn't mean exploring the old cobble-stoned streets isn't worth your while.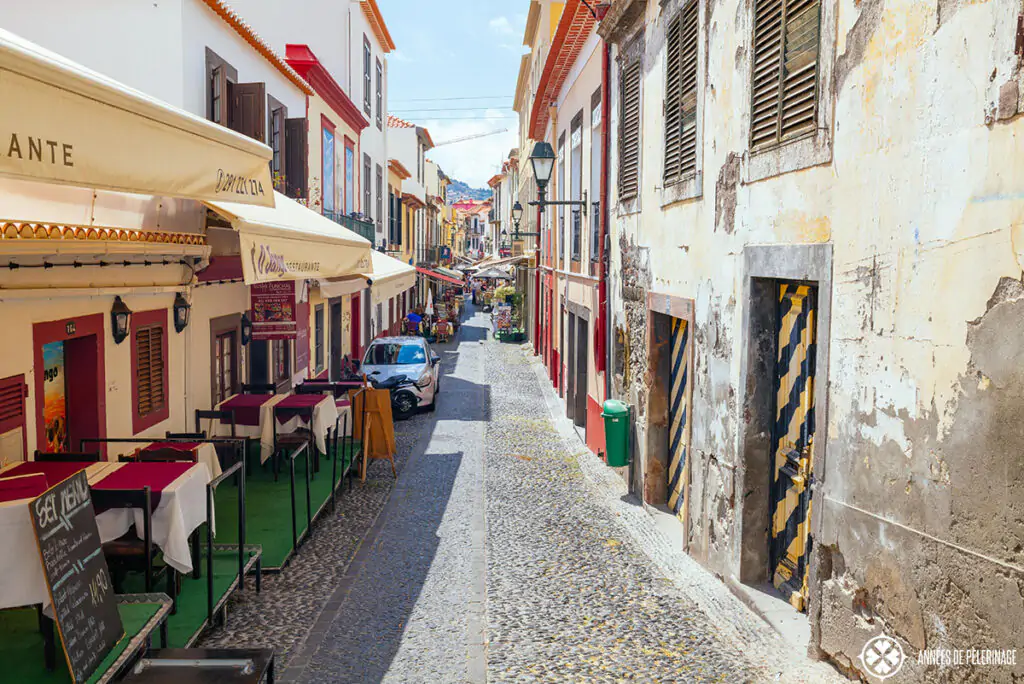 There are many little restaurants and souvenir shops you can explore and there's even a little fort at the very end of the old town. If you have been to old European cities before, it's definitely nothing that will make your jaw drop but still a very pleasant walk.
Definitely make sure to stop at the Mercado dos Lavradores (preferably in the morning). Here you'll get the chance to sample all the exotic fruits that farmers grow on the rich volcanic soil. Truly a delight!
11. Funchal cable car
Once you are done exploring the old town, the cable car (right at the harbor promenade) will take you up in the hills where quite a couple of spectacular tourist attractions can be found (like the aforementioned Monte Palace Tropical Garden).
But the ride itself is quite lovely in its own way as it awards you with a bird-eye view of Funchal itself and you get to take a peek into private gardens and local life from above.
12. Funchal Botanical garden
One of the lesser-visited tourist attractions in Funchal is definitely the Botanical garden. Guess most people will stick to the Monte Palace and then one more garden sounds like too much horticulture. And in a way they are right. You won't see anything utterly new and the garden is in need of a little renovation on top of that.
Still, the way it abuts the hills above Funchal is utterly enchanting – especially the central terrace with its mosaic-like floral arrangements. You will have to take a car/taxi to get to the entrance.
13. Toboggan sled ride
One thing you will find in almost all Madeira travel guides is the famed toboggan sled ride. I am a bit reluctant to mention them here. Once, long ago, this was a valid way for the rich and wealthy to traverse the steep incline down to the harbor in a much faster (albeit also more dangerous) way.
These days, it's a pure tourist attraction and does not serve any local needs anymore. In fact, there's just this one place left on a secured tarmac road. Is it fun? Definitely! Is it pricey? Yes, indeed (25€ for a single person)! So, I leave it up to you to decide whether you want to do it or not.
Note: Conveniently, you will find the starting point right at the exit of Monte Palace Tropical Garden BUT the sleds won't take you all the way down to the harbor. You will have to take a taxi to get back to the harbor, which will add to the costs. Make sure to only get a one way ticket for the cable car if you plan to do this!
14. Santana Traditional Houses
Here's another tourist attraction I am equally as reluctant to mention. Right in the center of a small town called Santana you will find a couple of "traditional" houses. They look very beautiful on the pictures but it's very important to note that it's not the whole village that looks like this.
It's just a couple of huts scattered around the city hall and each and every one of the houses a little tourist shop. So, well…does it look nice? yes! Will you gain any deeper historical insights and learn and see how the poorer people once tried to make ends meet? No! I thought it was quite disappointing.
15. CR7 Museum
What's Madeira famous for? Well, there are those who would argue: Christiano Ronaldo. It's where he was born and some argue that he become the footballer he is because he had to practice in the steep streets of Funchal. While his mother still lives on the island and he does have a house, he occasionally visits, his contemporary mark on the island is neglectable.
With one exception: Right at the harbor you will find the CR7 hotel and museum. If you are not a football fan, then it will probably offer nothing of interest to you. Sure, the museum houses almost all major trophies Ronaldo received in the past decades – and there were many.
I am not a football fan and this had me quite surprised. But I also have to admit that looking at all these golden football shoes, medals, and so on from 2 decades of football, well I thought it was quite boring because none of them hold any intrinsic artistic value.
Other things to do in Madeira
Now, I want to be very clear that this list is by no means exhaustive. There are many smaller and bigger places you could visit. I just didn't mention it because I am always annoyed when guides list trivial things like "watch the sunset" or "go to the beach" or other obscure attractions just to create more entries.
If there's one thing I can recommend then simply rent a car and enjoy the view along the way. And I mean this quite literally. Every 500 meters you will find a sign with the name of another "Miradouro". So, just wheel to the right and take a little break.
In particular, the northwest of the island is just so verdant and at times it feels as if you were driving through a botanical garden. So, instead of spending your time driving from one levada walk to the next tourist attraction, I do urge you to set aside some time to enjoy the actual way to get there. It's worth it!
And of course, with the ocean all around you, nothing speaks against renting a boat or going on a little day cruise. Seeing the beautiful coast of Maderia drifting by or visiting one of the neighboring islands (like Desertas or Porto Santo) is definitely a nice option if you plan to stay more than just a week.
Best places to stay in Madeira
By common acclaim, Funchal is the best place to stay in Madeira. Not only because it offers an abundance of restaurants and bars to enjoy your evenings and it's close to the airport on top of that but also because it makes the most sense trafficwise.
The capital sits, more or less in the middle of the island and you will have no problem exploring neither the very East nor the West. Only if you have a very avid interest for the very Northwest (like Porto Moniz) you might consider finding a second accommodation there as well. Do be warned, however, that the weather tends to be a bit rainier and mistier in the north.
No matter which hotel you, there's one thing you have to understand. Maderia is not a proper beach vacation spot. So, none of the hotels will be able to offer you pristine sandy beaches and shallow waves beckoning you to float basking in the sun.
The Atlantic Ocean is rough, somewhat cold, and the coast rugged. Especially when traveling with small children, look for a nice pool rather than a bathing platform/ocean access.
I personally loved my stay at the Belmond Reid's Palace hotel the most.* It's by far the best luxury hotel in Madeira and even has its own Michelin star restaurant. It has a very lovely pool, a very lovely bathing platform, and an outstanding garden you can take a stroll through.
I felt it was a bit pricey for the quality/service offered but there's no denying that the hotel has this historic charm money can't buy. There's even a little exhibition in the lobby with former heads of state and illustrious persons who resided here.
*affiliate link
Best time to visit Madeira
Madeira is one of the few places you can truthfully visit all year round. Sure, there is a "rainy" season in the winter months (Nov-Feb) but we are talking about 5-7 days of rain per month. Sure, it is a bit warmer in Mai through August (22-28° Celsius) as opposed to 19-22 degrees in the winter months.
Madeira is a destination for an active vacation with a lot of hiking and exploring the many highlights of the flower islands. Thus the off-season, with its lower prices and fewer crowds, is a very valid option. Only if you want to plan a couple of beach days into your itinerary, would I say there is a need to stick to the summer months.
January and February are the coldest months of the year, and generally speaking, the weather is a bit more favorable up north in late spring. But thanks to the climate divide along its central mountain ridge, I recommend checking the weather forecast upon arrival and planning your itinerary accordingly. If it rains in the North, go South and vice versa.
What to pack for Madeira
With its mild and predictable temperatures, you can pack quite light for Madeira. I would definitely recommend two pairs of comfortable walking shoes – one of them suitable for the mountains. You will be walking a lot!
Since temperatures are not that high on most days (and it's colder up in the mountains) I don't think you need to invest too heavily in bringing sandals (one versatile pair you don't regret taking to the beach).
Definitely don't forget to bring a light windbreaker or rain jacket. It can get a bit colder at night, it will rain and there are those super misty days where you definitely don't want to go running around with just a t-shirt (except maybe in high summer).
Do remember that, especially along the levadas, things can quickly become quite humid. I recommend breathable shirts and trousers. And I would do a mix of long and short – especially as temperatures can change dramatically throughout a day. So you might your hike/walk while it's raining and an hour later the sun peeks through and your long shirt suddenly feels too warm even though you were somewhat chilly in the morning.
Also, make sure to bring a little day pack. There are no restaurants or cafés up in the mountains. You will have to carry your own drinks and snacks. Older guides recommend bringing a torch as there are many little tunnels you have to traverse when you do a levada walk. But these are typically short and most mobile phones have a similar function that is quite sufficient.
15 The best things do in Maderia Portugal:
Go on a Levada Walk
Monte Palace Tropical Garden
Ponta de São Lourenço
Parque Forestal de Queimadas
Cabo Girão
Whale Watching
Pico do Areeiro
Faja dos Padres
Old town of Funchal
Funchal Cable Car
Funchal Botanical garden
Toboggan sled ride
Santana Traditional Houses
CR7 Museum