Winter or summer: A massive list of the most popular day trips from Munich as ranked by a local.
Munich is an amazing city. I should know, I live here. Architecture, art, tradition, food, beer – there is virtually nothing my hometown cannot offer (check my list of the 50 best things to do in Munich). But that is not the only reason Bavaria's capital is often ranked as one of the most livable cities in the world. There is also a sheer endless mass of tourist attractions in the close vicinity. Here is my list of the 20 best day trips from Munich.
The easiest way to reach most of the places on this list is by car or guided tour. You'll find the average time to reach them in parenthesis. As Bavaria has a very good public transport system, there is (almost) no location you cannot reach via train or bus in southern Germany. In some cases, it will take longer, though. I usually take the train.
Note: I earn a small commission for purchases made through links in this article
1. Day trip to Neuschwanstein castle (1h 50min)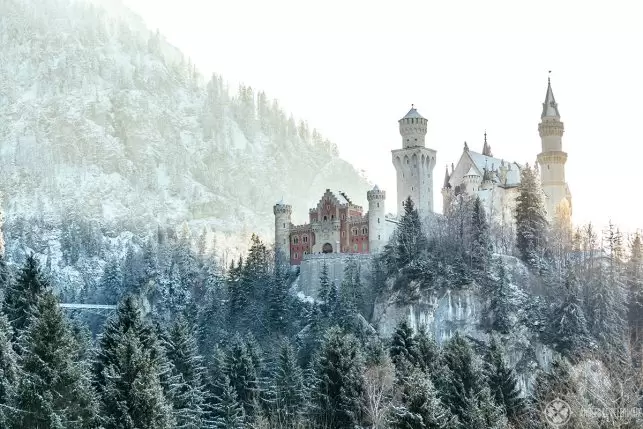 The probably most popular reason to leave Munich is Schloss Neuschwanstein, near Füssen. The picture-perfect castle inspired Walt Disney for the Sleeping beauty castle and countless generations of photographers. The most stunning part: It's even more spectacular from within than from without. Construction started in 1869 as a private mansion for King Ludwig II but it never got finished due to his untimely death and the astronomical costs.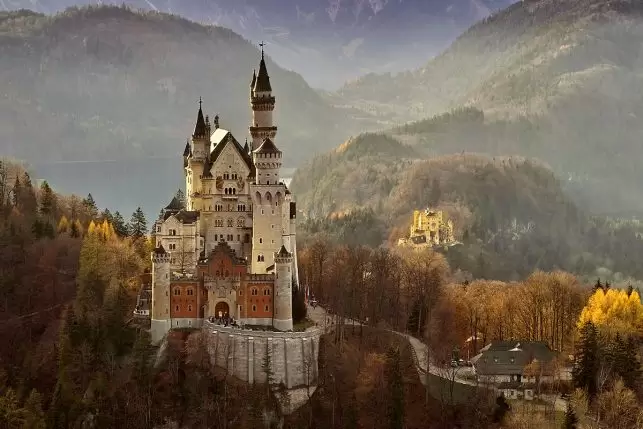 Plan some extra time to visit the adjacent castle Hohenschwangau. It's a bit older, but nevertheless quite charming. As Neuschwanstein is pure fantasy, Hohenschwangau will also give you the unique opportunity to see a real castle of the Bavarian Kings.
How to get there: It's a bit more complicated to get there by public transport, so I recommend a tour.
Recommended tour: This is the tour I booked on my last trip to Neuschwanstein
Related blog post: How to get from Munich to Neuschwanstein Castle
Note: If you plan a visit definitely pre-book your tickets on the official website, especially during the summer months.
2. Regensburg (1h 30min)
Regensburg is another well preserved medieval town worth a visit listed as a UNESCO World Heritage Site. The capital of Upper Palatinate ("Oberpfaltz") was founded in 179 AD under the reign of Emperor Marcus Aurelius and started to flourish after the Stone Bridge across the Danube opened up the international trade routes between Europe and Venice.
Truly a remarkable city with fascinating architecture and lots of history! So, put a Regensburg day trip from Munich on your bucket list, eh?
Related blog post: You can read my detailed Regensburg travel guide here.
Recommended tour: Here is a lovely direct guided tour from Munich.
How to get there: There are direct trains from the central station every hour. It only takes 90 minutes.
3. Nuremberg (1h)
Nuremberg is a medieval town of epic proportions and quite a spectacular old town. It has also quite a sinister Nazi-past, so it makes for the perfect day trip from Munich. If you are visiting Germany in winter, then the famous Christmas market in Nuremberg will be a more than welcome diversion.
I personally love the Germanic National Museum (one of the best museums in Germany), and the Toy Museum is also quite special. Above all, walking through the historic old town will be a treat. The Hangman's Bridge is half-timbered medieval perfection if you ask me! Although most of it was destroyed during World War II, you should reserve some time to walk along the historic city wall and of course, the medieval Kaiserburg (emperor's castle) abutting the old town.
Related blog post: Here is my travel guide to Nuremberg
How to get there: Take the train from the central station. If you take the expensive high-speed train, it only takes 60 minutes. The direct regional train is about 2 hours.
4. Würzburg (2h)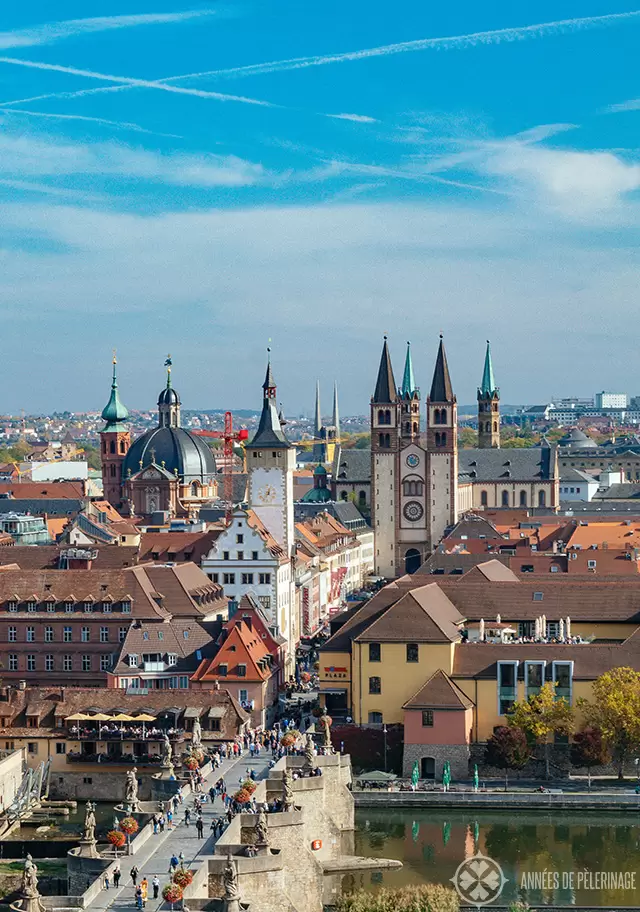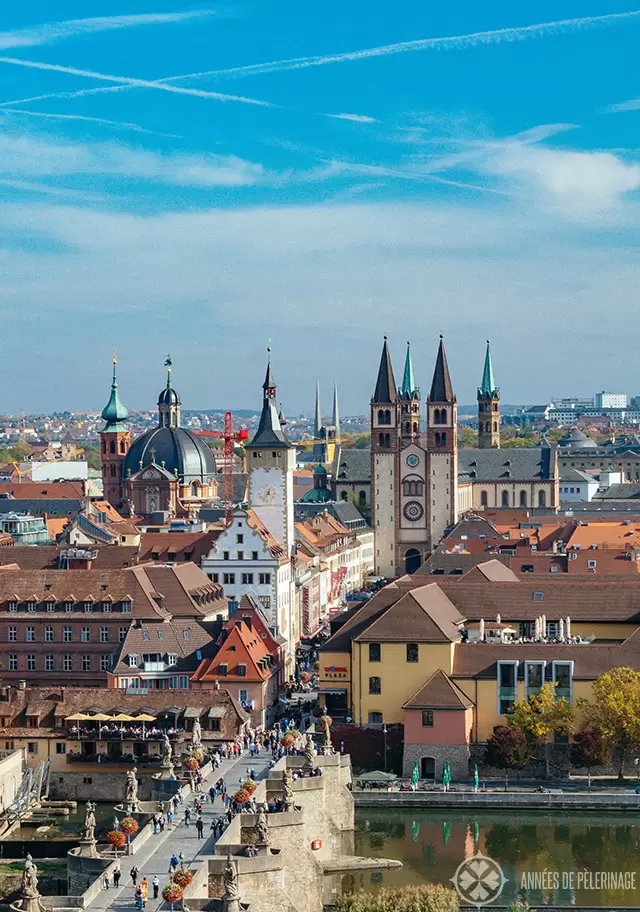 Another UNESCO World Heritage site you shouldn't miss can be found in Würzburg. The drive might be quite long, but the Würzburg Residenz is worth it. The vast castle complex is especially famous for its stunning Baroque style interiors, and the world's largest fresco created by none other than Giovanni Battista Tiepolo.
Related blog post: Read my Würzburg guide here
How to get there: The highspeed train takes 2 hours from Munich central station to Würzburg. The fastest regional connection is 3 hours 15 minutes, so not sure if that is feasible.
Note: If you just want to see the castle, I'd recommend visiting on route to another city in Germany like Frankfurt, Cologne or Berlin.
5. Bamberg (1h 40 min)
Looking for more UNESCO World Heritage sites? Then Bamberg might just be the perfect place for you. The medieval old town of the city is world-famous and beyond pretty. It's not that close to Munich, but the highspeed train (ICE) will get you there in no time to make it feasible. I've done it plenty of times.
Related blog post: Here's my Bamberg travel guide.
Recommended tour: Definitely consider booking a private brewery and walking tour! You'll thank me later.
How to get there: Again, the easiest way to get to Bamberg from Munich is by train. There is a direct train every hour (and a couple of slower trains in between).
6. Salzburg (1h 30min)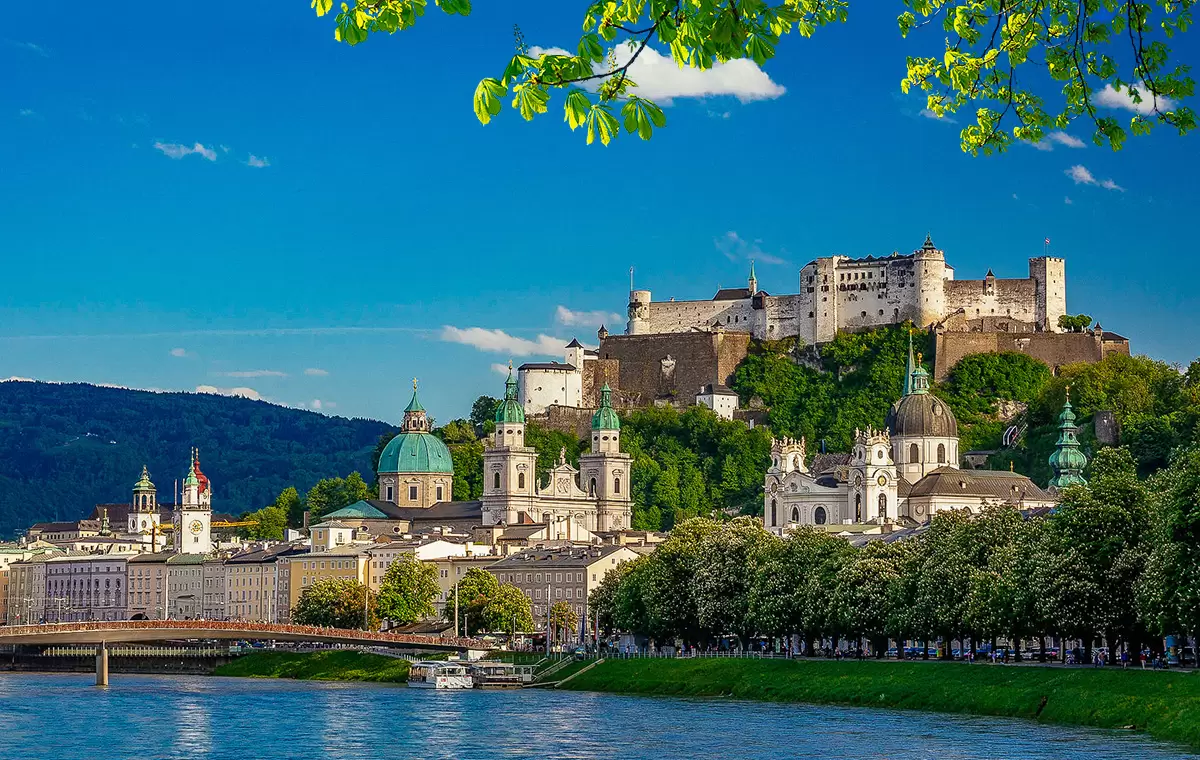 Not all that far away from the Königsee, hides another wonderful day trip option from Munich: Salzburg. Often coined the town where Mozart was born, has much more to offer than just music. The fourth-largest city in Austria is renowned for its impressive Baroque architecture and is listed as a UNESCO World Heritage Site since 1997.
Related blog posts: Click here for my detailed Salzburg travel guide)
Recommended tours: You can book a day trip from Munich here.
Definitely also consider doing the authentic Sound of Music tour!
How to get there: A RailJet Express leaves every hour from Munich central station and only takes 90 minutes! You'll have to walk a bit from Salzburg central station to the old town (quite scenic) or take the regional bus.
7. Altötting (1h 20min)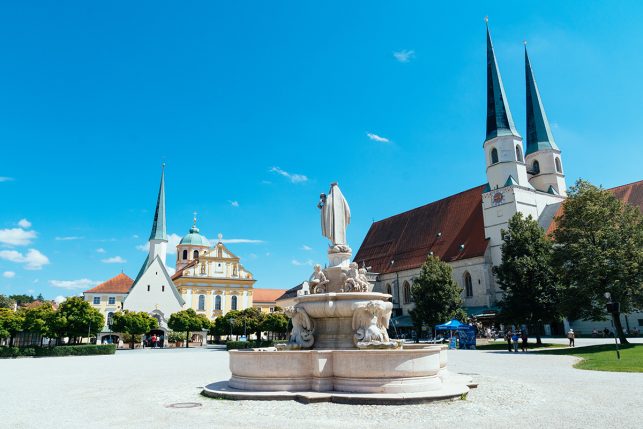 The small town of Altötting is a true insider tip. It is here, almost all Bavarian Kings had had their hearts buried, it is here Germany's oldest and most important shrine to Mary can be found. And it is here all past three Popes came to pray in front of the black Madonna. It is a quiet place, a place for contemplation, but nevertheless stunning. Doubly so, as almost no international tourists come here.
Related blog post: Read my full Altötting guide here
How to get there: There are no direct trains from Munich central station. You will first have to catch one to Mühldorf and then change to the Regional Train to Altötting. It takes about 1 hour and 45 minutes one way.
8. Zugspitze (2h 25min)
Looking for an adventure? They how about climbing Germany's highest mountain? But fear not, for those short on time or too lazy to hike, three cables cars run all the way up those 2.962 meters (9.718 ft). The panorama of the Bavarian Alps from the top is truly spectacular.
There is a big skiing resort at the Zugspitze, so it is also a perfect winter getaway. If you are looking for further things to do between December and March, check out my guide to the best things to do in Munich in winter.
Recommended tour: Here is a comfortable direct tour from Munich.
How to get there: It is a bit more complicated to get to the Zugspitze. First, you have to catch a train to Garmisch-Partenkirchen, they leave every hour. Then you have to take the Regional bus to the Eibsee Cable Car and from there you can buy your tickets to go all the way to the top.
9. Blaubeuren (1h 40min)
In 2017 the UNESCO inscribed Blaubeuren and the nearby prehistoric cave dwellings as a World Heritage site. Even before, the medieval town was famous for the Blautopf, a natural spring of the deepest blue. Such a scenic setting.
There really is no way around visiting this amazing town near Ulm. Why? Well, in the URMU museum in Blaubeuren you get the chance to see the oldest human figurine ever found (The Venus of Hohle Fels; 42.500 years old) and the oldest human music instrument (The Geierknochenflöte; same age).
Related blog post: Read how to visit Blaubeuren on a day trip from Munich here.
How to get there from Munich: It takes about 90 minutes to get to Blaubeuren by train, but you will have to catch a connecting train in Ulm. If you start your day early, you could even do a tour of Ulm for 2 hours (see below).
10. Innsbruck (1h 45 min)
Innsbruck is another lovely Austrian town, you really should visit. Fear not, as Austria is in the EU, crossing the border is utterly hassle-free. Innsbruck is the capital of Tyrol and famous for its mountains, its old town, ski-resorts, and excellent cuisine.
It also happens to be the birthplace of the Swarovski crystals and there is a Swarovski Theme park quite close to the city worth visiting. Actually, I'd say Innsbruck is one of the best weekend trips from Munich, as there is so much to be explored in Tyrol that one day is probably not enough.
Related blog post: Read my detailed Innsbruch guide here
How to get to Innsbruck: There is a direct train from the central station every two hours. So, try to catch this one, as the alternatives take considerably longer.
11. Breitachklamm (2h 10min)
In the most southern part of Germany hides another Gem you will find in very few tourist guides. For some reason, the region called Allgäu is not all that popular among tourists. Berchtesgaden is closer, but traffic jams are frequent and its often a bit crowded. The Breitachklamm is the deepest rocky gorge in Central Europe and you really have to see. It's a wonderful day trip from Munich in winter or summer.
How to get there: This one is a bit tricky. I actually recommend you to go there by car as taking public transport is difficult and slow. First, you have to catch a train to Fischen. And then you need to take bus 44 which will take you directly to the gorge (3 hours+ one way); With the car, you can make it in less than 2 hours.
12. Burghausen (2h)
Burghausen is home to the longest castle complex in the world. The medieval fair tale castle stretches for more than one kilometer along a high mountain ridge. Burghausen Castle was founded in 1025 AD and has quite a history to tell. You won't need a full day to explore the complex, though. As both Salzburg and Altöttingen are quite close, you could possibly combine them.
How to get there: Take the train to Mühldorf from the central station and then catch the connecting train to Burghausen.
13. Königsee (2 hours)
Few spots in Bavaria, if any, are more beautiful than the Köngisee (Lake of the Kings). Located in the scenic area of Berchtesgaden, the lake and its picturesque church Saint Bartholomäus have been a tourist's favorite for more than 200 years.
While you are in the area, definitely make sure to drop by at the famous Eagle's Nest (or Kehlsteinhaus, how it is properly called). It was erected during the third Reich-era for special diplomatic receptions and was visited by Adolf Hitler many times. These days, it's just a beautiful restaurant in a stunning setting.
Recommended tour: You can book an organized group tour here, which will be way easier than public transport
How to get there: I recommend you to book a tour or take the car. As an alternative, you could take the train to Salzburg and then catch Bus 841 to Schönau. From there, you can walk to the lake (1 kilometer)
14. Dachau Concentration Camp (40min)
Germany is a proud nation with a very long history and many accomplishments. We invented the computer, the car, the electro engine, planes, television, we reformed Christianity and so much more. But we also committed atrocities beyond imaginations.
The Nazi regime and Hitler are a stain we will never get rid off and one we should never forget either. Visiting one of the concentration camps, where hundreds of thousands of Jews and political enemies were killed under the most inhuman conditions might not be the most cheerful day trip from Munich, but it will leave a profound mark on your itinerary.
Recommended tour: This experience really calls for a guide, you can book it here.
How to get there: Take the suburban train S2 to Dachau. From here, you can catch bus 726 which will stop right in front of the memorial.
15. Rothenburg ob der Tauber (2h 30min)
I was somewhat reluctant to put Rothenburg ob der Tauber on this list of the best day trips from Munich. It's quite far away. At the same time, the romantic medieval old town has always been a tourist's favorite. If you start your day early, I'm sure you will enjoy your stroll through what once has been one of the Free Imperial City of the Holy Roman Empire. Rothenburg is part of the world-famous Romantic Road.
Recommended tour: If you don't want to navigate public transport and would like a guide, this is a tour I can really recommend.
How to get there: Rothenburg is actually not that close to Munich and you will have change trains 3 (!) times. First, you have to get to Nürnberg, then catch the train to Ansbach, from Ansbach to Steinach, and from Steinach to Rothenburg. As you don't have a lot of time to reach the other tracks, a tour is probably better for first-timers.
16. Linderhof palace (1h 15min)
Linderhof is another beautiful residence of King Ludwig II you have to see. It's perhaps the most private, most intimate place he commissioned and thus the most intriguing. It is also the only of his castles and palaces that got finished during his lifetime.
The small villa and it's surrounding park was never meant to be an official place, but rather some kind of Hermitage for a man who was more constantly longing for the lost glory of past ages.
Related blog post: You can find a list of the top castles near Munich here.
Recommended tour: This is the tour I booked on my last trip. It is the fastest and best way to see the castle (& Neuschwanstein castle)
How to get there: Linderhof castle is located in the middle of nowhere and there are no easy direct connections by public transport. Book a tour or rent a car. As an alternative, you can take the train to Oberau, then catch the bus 9606 to Ettal and then another bus (9622) to the castle. It will take roughly 2 hours 30 minutes if you don't miss any connections. The bus service can be a bit unreliable.
Note: Do drop by at the fantastic Ettal monastery which is only a 20-minute drive away.
17. Bayreuth (2h)
There are many UNESCO World Heritage sites in Bavaria, but in my opinion, Bayreuth beats them all. The Margravial Opera House is out of this world. Then there is the Eremitage and quite a host of other wonderful Baroque style buildings you won't be able to see anywhere else. Bayreuth is one of my favorite day trips from Munich!
Related blog post: Check out my full Bayreuth travel guide here.
How to get there: The only feasible way to visit Bayreuth from Munich is taking the highspeed train to Nuremberg and then catch a connecting regional train to Bayreuth. Then, you will only need 2 hours to get there. Regional trains might take close to 4 hours.
18. Museum Buchheim (1h)
One of my personal favorite places to visit near Munich is the Museum Buchheim – or Buchheim Museum of Imagination. Buchheim was a German author and art collector. The museum is home to one of the finest collection of expressionist art and a beautiful starting point to explore idyllic lake Starnberg.
Note: Kloster Andechs is quite close. So why not combine the two for an extra special day trip
How to get there: There are direct trains to the city of Kochel from central station Munich (RB 59653), but you will have to get out in Bernried and then you can walk the rest (1 kilometer). There is a bus, but it basically makes no sense, as you will have to walk almost half the way to get to the next bus station.
19. Augsburg (30 min)
Augsburg is the third oldest city in Germany (founded in 15 BC!!) and played a major role in our history. There are magnificent buildings from the very earlier medieval times (like the Cathedral, founded in the 9th century), beautiful Renaissance architecture and the oldest social housing estate in the world (the Fuggerei). It's also home to one of the very few Synagogues to survive the pogrom during WWII.
Related blog post: Read my Augsburg guide here.
How to get there: It's quite easy to get from Munich to Augsburg. There are direct trains every 15 minutes. The highspeed train will only take 30 minutes, while the cheaper regional train takes 45 minutes to get there.
20. Ulm (1h 15min)
Ulm should be on any list of cities near Munich to visit. It's not only the birthplace of Albert Einstein but also home to the tallest steeple in the world (161m / 520ft). The long and winding climb up the Ulm Minster is a truly unforgettable experience – both in terms of the pain your legs will experience and the amazing view in grants over the old town. I especially liked walking through the old fishermen's quarter with its many half-timbered houses and narrow cobblestone streets.
How to get there: There are direct trains from Munich central station to Ulm every hour.
21. Wieskirche (2h 20 min)
Close to the alps, there is a region known as the Paffenwinkel (the 'shavelings quarter'). The people in this part of Bavaria have always been very religious and value their ancient traditions a lot. There is a sheer endless mass of outstandingly beautiful churches you can explore, but the Church of the Wies is probably the crowning achievement.
Right in the middle of nowhere, you'll find a UNESCO World Heritage site of such beauty, it's hard to comprehend. The small rococo church is famous for its awe-inspiring frescos. It also is an important pilgrimage site and weirdly enough not very popular among international tourists. This is entirely weird, as the most visited attraction in Germany (Neuschwanstein castle) is only 10 kilometers away.
Blogpost with more details: Here is my Wieskirche guide.
Available guided tours: I could only find this combined tour, which also visits Neuschwanstein castle.
How to get there from Munich: You have to take the train to Füssen and then there is a tourist bus right to the entrance. You could also rent a car and visit all the highlights in the area in one day.
22. Herrenchiemsee Palace (1 hour 30 minutes)
Visiting the fantastic Lake Chiemsee is one of my favorite tours from Munich. In summer, it's a good place to escape the heat of the city, but most tourists want to visit the wonderful Herrenchiemsee Palace no matter the season. The Bavarian King Ludwig II visited Versaille in France and was so inspired by all that splendor that he too wanted a piece of it.
That's why he commissioned the wonderful Herrenchiemsee Palace on a picturesque island on Lake Chiemsee. I love strolling through the park and just enjoying the beautiful scenery. There's another island close by, the so-called Fraueninsel, which you should also check out. There are an ancient church and some lovely restaurants where you can eat fresh fish!
Recommended tour: Here is a wonderful direct tour to Herrenchiemsee.
How to get there: Probably the easiest way to get there is catching a train to the city Prien am Chiemsee, walk down to the harbor (or take the bus) and then take the ferry to one of the islands.
23. Kloster Weltenburg (1h 30 min)
There are many smaller and bigger monasteries near Munich. Ottobeuren, Ettal or Andechs instantly come to my mind. But probably none is as beautiful as the Weltenburg monastery. Being founded in 617 AD, it is also the oldest monastery in Bavaria.
To me, the setting makes Weltenburg so special. The view from the other side of the Danube is nothing short of spectacular. You should definitely combine your trip with a visit to the Hall of Liberation in Kehlheim, which is quite a beautiful neoclassical memorial.
How to get there: The only feasible way to get there is by renting a car. You'll get there in about 90 minutes. Otherwise, you have to catch a train to Ingolstadt and then navigate the public bus network, which will be a bit frustrating and will take around 3 and a half hours.
24. Oberammergau (1h 45 min)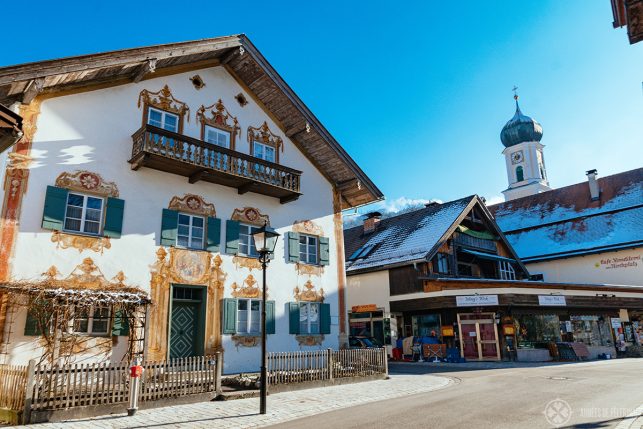 Air paintings are very popular in the rural areas of Bavaria. Often, you will find huge murals adorning the facades of private houses – most of them with a religious background. Sadly, it is slowly vanishing art. The town of Oberammergau is the exception. Virtually every house is painted one way or another.
Oberammergau is world-famous for its woodcarvers and it could be the perfect opportunity to buy a wonderful sculpture. There is one more thing you should know: Every 10 years the citizens are performing a Passion Play. It is recognized by the UNESCO and draws hundreds of thousands of tourists. And here is the good news: The next performance is scheduled to be in 2020. You can get your tickets here.
How to get there: Many tours to Neuschwanstein stop there, but you can also get there by public transport. Take the regional train to Murnau and then change into the train to Oberammergau. Takes about 1 hour and 45 minutes one way.
25. Fürstenfeld Abbey (25 minutes)
Just outside of Munich's city gates, you will find a baroque masterpiece: The Fürstenfeld Abbey. Founded in 1258 AD by the Bavarian dukes, the huge monastic ensemble is often compared with the El Escorial in Madrid.
Related blog post: My Fürstenfeld Abbey guide
How to get there: Take the suburban train S4 to Geltendorf from the central station and get out at Fürstenfeldbruck
26. Therme Erding (1 hour)
Wondering what to do in Munich on a rainy & cold day? Well, you should know that you'll find the largest thermal bath in Europe in Erding on the outskirts of Munich (here is the official website).
It is truly huge and separated into three main areas: The waterpark with plenty of slides for the kids, the wellness and swimming area, and the spa & sauna area for adults only.
How to get there: Suburban train S2 will get you to Altenerding in about 40 minutes. From here you have to catch bus number 550 directly to the thermal bath.
[Bonus] The best day trips for Kids: Legoland + Wildpark Poing
Searching for the best day trip from Munich with kids? Then Legoland is what you are looking for. The Lego theme park is a wonderful mixture of rides and theme worlds built from Lego bricks. While young adults might still enjoy Legoland, it's probably more suitable for ages 4-14. Here is the link to the official website.
Another wonderful place to visit with kids is the Wildpark Poing. It's not so much a zoo and more like a safari park where a huge emphasis lies on species-appropriate husbandry. To give you a good impression: The housing of the bear is 30,000m² large. For adults and kids, I think this is the best way to experience the local wildlife in a sustainable way. Here is a link to the official website.
Other day tours from Munich
Believe it or not, but calling this list finished would be a lie. There are many, many more beautiful day trips from Munich. I really didn't mention Kehlheim, the Walhalla, Kempten and it's Roman fort, nor Schwaz and its medieval silver mine. Even Erfurt in Thuringia is a possibility!
You also have to remember, that the Alps are only an hour's drive away and there are so many beautiful hiking trails it would warrant another article (or two!). The surrounding area is also home to a couple of outstanding churches (like the UNESCO World Heritage-listed Wieskirche).
Once it starts snowing, things change dramatically as well. A list of the best day trips from Munich in winter would definitely have to include all the amazing skiing resorts in Germany and across the Austrian border. Garmisch, Kitzbühl, Schladming, Stubai, and Ischgl instantly come to my mind. And let's not forget the fabulous Christmas markets.
To tell you the truth: I have been living in Bavaria all my life and hardly a month passed where I did not explore something new. Ever since the Roman time new and outstanding architecture has been added, while the landscape has been developed by the local farmers since eons before. Certainly, there have been a couple of wars in between, but the remains still more than you could possibly explore in one lifetime.
Looking for more Munich inspiration? Here are some of my other articles:
Anyway, I'll conclude my list here. Hope you liked it. If you got any questions, feel free to drop me a comment below. And don't forget to pin this to your Pinterest board.