Everything you need to know about planning a day trip to the Bastei bridge in Saxon Switzerland
There are some spots on earth that are so stunning, they appear to be a computer-animated and hardly real. The Bastei Bridge in Saxon Switzerland, only a short day trip from Dresden, is one of them: A daredevil bridge spans over a group of 190-meter tall rock needles, while the mighty river Elbe forms a generous bend the background. So insane!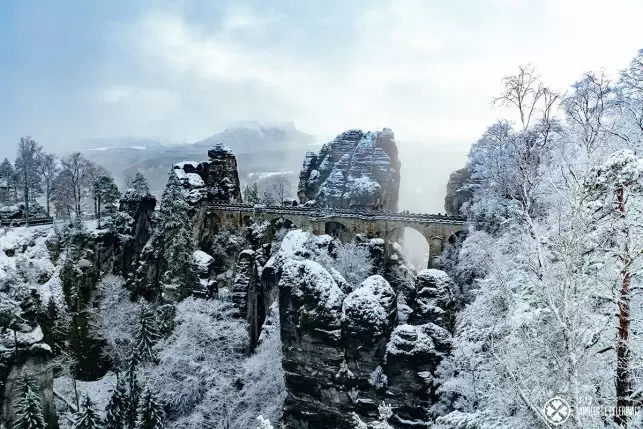 Seriously guys, if you are visiting Dresden (make sure to read my guide) a quick day tour to Bastei Bridge is a real no-brainer. No matter if you are visiting in summer or winter, the ancient sandstones will impress you like no other! The best part: There isn't even an entry fee for the national park!
Here's what to expect:
Visiting the Bastei Bridge
The Bastei Bridge is a truly unique tourist attraction that dates back to the early 19th century. Back then, the first tourists came to admire the awe-inspiring view, and very soon the first wooden bridge was built (1826).
In 1851 the wooden bridge was replaced with a more durable one built with sandstone. 76 meters long, seven arches and up to 40 meters high – this is the mighty Bastei Bridge. It serves no purpose whatsoever, other than letting tourists admire the panorama of Saxon Switzerland from the various viewpoints. 1,5 million people come to visit each year.
Yet, the Bastei is way older and more important than these numbers suggest. During the medieval times, first mentioned in 1289 AD, a castle abutted the mighty rock needless behind the current Bastei Bridge: The Castle Neurathen ("Felsenburg Neurathen")
Nothing remains of the original castle these days other than the foundations, as it was built with wood, rather than stone. Not too much is known about the little castle, and sources name it a ruin as early as 1530.
Yet archeologists worked hard to convert the scant remains into an open-air museum. Ever since 1984 the ancient walkways are reopened, giving you a little glimpse of what Castle Neurathen must have looked like in ancient times. The Entrance fee is 4 Euros – the only part of the Bastei that is not free.
Fun fact: The name Bastei derives from an Italian word "bastia", which means bulwark (and bastia derives from the Germanic word bastjan, to build).
I want to be quite honest with you, though. The main reason to visit the Bastei Bridge are the views and not the castle. While walking the actual bridge is fun, there are also a couple of promontories where you can catch a magnificent view of the valley of the River Elbe.
Actually, this is why hiking all the way to the top is recommended, though it is entirely feasible to walk a bit down from the top – the best viewpoints of the valley below are, quite unsurprising, at the very top.
There used to be quite a famous panorama platform at the very top as well. The platform is still there, but ever since 2016 it's been closed for tourists as the rock below appears to be unstable. There are plans to build a new platform, but construction will probably start no earlier than 2022. In all earnest, the view is almost as good from 10 meters back, so it's no big worry.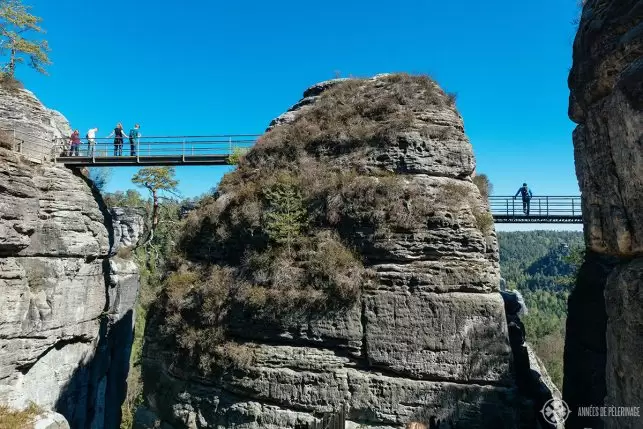 Definitely consider walking a bit in the other direction as well. You will be able to see the iconic panorama from another cliffside platform a bit farther back, quite close to the restaurant. This is the only part of the Bastei that is a bit scary, but as there are railings everywhere, you shouldn't worry. Germans take safety very, very seriously.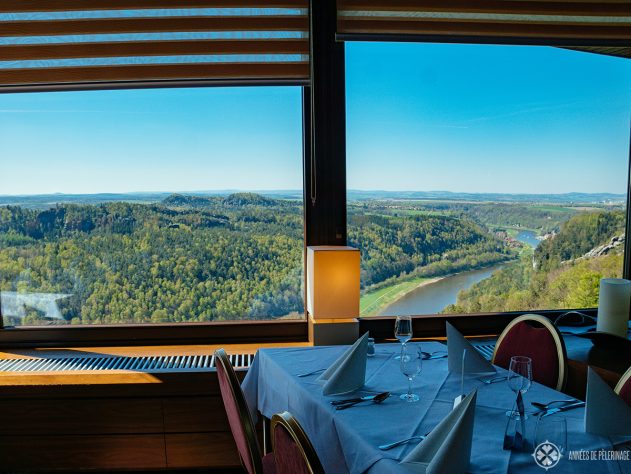 And talking about the restaurant. You should definitely consider eating there. The view from the main dining hall is nothing short of stunning. Actually, I'd be hard-pressed to name 5 restaurants on this planet with a better view. They serve quite authentic Saxon food.
Note: If you want to sit at the window, you need to reserve in advance. The restaurant is very popular among locals.
There is not only a restaurant but a whole hotel. The mountain hotel Bastei (click for prices & more pictures) dates back to the 18th century as well. If you want to explore the rest of Saxon Switzerland (and even the Bohemian Switzerland), then this could be a very nice spot for you.
How to get to the Bastei bridge from Dresden?
Now you are probably wondering how to get to Bastei from Dresden. The good news: It's just 50 kilometers away, and, popular as it is, it's quite easy to reach with public transport. You can either go by boat, bus or train. Naturally, you can also hire a car, which would make sense, if you want to explore the rest of Saxon Switzerland.
If you want to save yourself the hassle of organizing this yourself, you can book a prearranged guided tour. Book it here.
But, let's take a more detailed look:
From Dresden to Bastei bridge by train (hike included)
By far the easiest and most versatile way to get to Bastei bridge from Dresden is taking the train to the village of Rathen. Train S2 departs every 20 minutes and will get you there in 35 minutes. Once you arrived, you need to go to the ferry (no worries, there are signs all over the place and it's virtually impossible to miss the River Elbe) and cross the river.
The ferry in Rathen is used by locals and tourists alike, so it operates all year and during the waking hours (roughly 5 am till midnight). Tickets are 2 Euros both ways.
Once you are on the other side, you have to follow the signs (or the other hikers) and hike all the way up to Bastei Bridge. You will see the famous rock formations from the bottom. The hike will take about 30-45 minutes.
The hike is quite pleasant and will only cover a height of about 110 meters. Sturdy walking shoes are enough. The pathways are well maintained and there are railings almost throughout the whole hike.
Time: 90 minutes
Price:16 euros (if you get a day ticket for the train & bus)
Note: Someone asked where you can buy the train tickets to Bastei Bridge and if you can do so in advance. You'll find vending machines at all stations (easy switch to English). There is no need to buy them in advance as there are no reserved seats, etc. You could buy them online as well on the official website of the Germain Railway. But you'll have to register, etc, and as it takes literally 2 minutes to buy the tickets, I'm not sure why you would want to do it.
From Dresden to Bastei Bridge by train & bus (for non-hikers)
You could also do a combination of train and bus. This is the best version if you don't or can't hike all the way to the top. In this case, first, take the train S2 from Central Station to Pirna. It takes 20 minutes and leaves every 20 minutes.
In Pirna exit the train station and go to the adjacent central bus station (you have to walk through a little underbridge) and then wait for bus 237 towards Sebnitz. It leaves about once an hour, so make sure to check the schedule before you leave from Dresden. This bus will get you directly to the back of Bastei.
You will have to walk the last stretch, but it's an even road and only about 300 meters. Note: Don't get out at the Park and Ride bus stop, where the bus is scheduled to wait 5 minutes.
Time: ~65 minutes
Price: 14 euros (if you get a day ticket for the train & bus)
Tourist bus from Dresden to Bastei
You can also take the bus from Dresden to Bastei. During the tourist season, a couple of companies offer direct bus trips from Dresden. Usually, these tours will stop at the amazing Köngigsstein fortress as well.
Here is a fantastic Bastei & Königstein tour >
Time: 5 hours (altogether)
Price: 40-50 Euros (depending on the agency)
Taking the steamboat to Bastei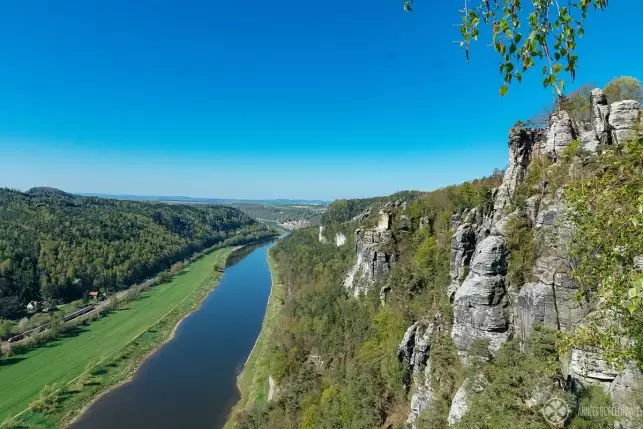 You could also take the steamboat to Bastei, or rather the village of Rathen and then hike to the top. I have to say that the valley of the River Elbe is truly stunning in this part, and taking the boat really is worth it. That being said, boats do NOT leave from Dresden. Again, you have to take the train to Pirna and then take the bus (or walk) to the pier in Pirna.
Here is a tour you might want to check out
Time: 5 hours
Price: 34 Euros
Note: You can also do a day trip from Prague to Bastei bridge
Best time to visit Bastei Bridge
Seriously, there is no good or bad time to visit Bastei. As it is so easy to access, it will be beautiful no matter when you come. Germany has four very distinct seasons, and each of them is wonderful.
If I had to decide, then I'd try to visit in winter. There are hardly any people visiting then, and after a fresh snowfall, Bastei is the most stunning. Autumn can be very beautiful as well, while summer will be very busy.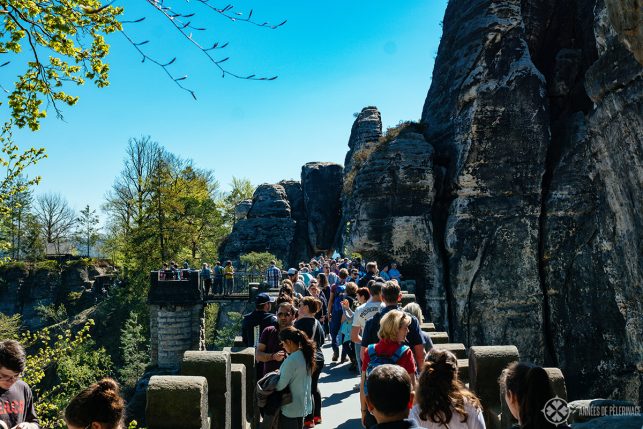 I'd absolutely avoid visiting on national holidays. Weekends are usually very busy as well. Usually, noon is the busiest time, so either get there early in the morning or later in the evening. For taking pictures, late afternoon or very early in the morning is best.
So, this was my little guide on how to visit Bastei Bridge on a day trip from Dresden, Germany. Hope I was able to convince you to plan a trip. Got any questions? Leave them in the comments below.