Everything you need to know to plan your perfect day trip to Blaubeuren, Blautopf and see the caves and ice age art in the Swabian Jura
Blaubeuren is a scenic little town just a short train ride from Ulm away. It is famous for a deep natural well of the most iridescent teal color ever, the Blautopf ("blue pot"). In 2017 the nearby Ice Age caves have been inscribed a UNESCO World Heritage site. So for me, it is certainly one of the best day trips from Munich.
The oldest artworks unearthed in the cave "Hohle Fels" are over 35,000 years old. As far as figurative art goes, these are the oldest specimens ever found! It's truly beyond imagination.
Here is everything you need to know to plan your day trip to Blaubeuren (and remember to check out my local's guide to Munich).
The best things to in Blaubeuren
Blaubeuren will easily occupy you for a day. There are just so many things to see in the city, despite its small size. Here is my list:
1. Blautopf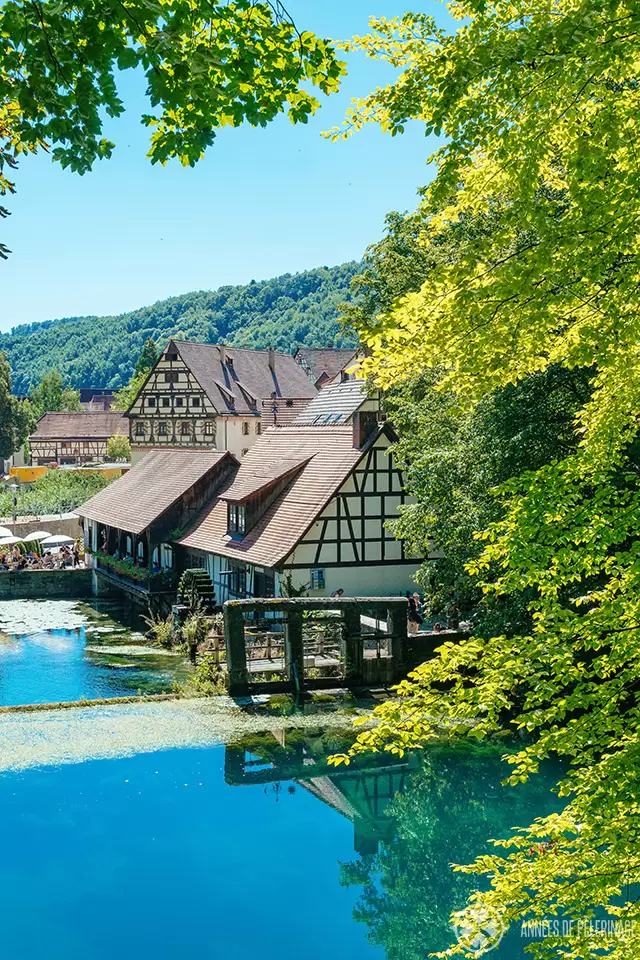 The main tourist highlight in Blaubeuren is certainly the Blautopf. It's the second most powerful karst spring in Germany and famous for the blue hues of its water. Limestone nanoparticles are responsible for the dazzling effect that is most intense in the morning and until noon.
Know then, that the Blautopf is more than just pretty. It marks the entrance to an important underground cave system of epic proportions and beauty. Regular tourists are not allowed to go diving there, though.
Also, the Blautopf has been used to generate power since ancient times. Even today you can still find a little underdrift mill being operated at the outflow of the Blautopf. For a little fee, you can go even go inside.
2. The Hohle Fels Cave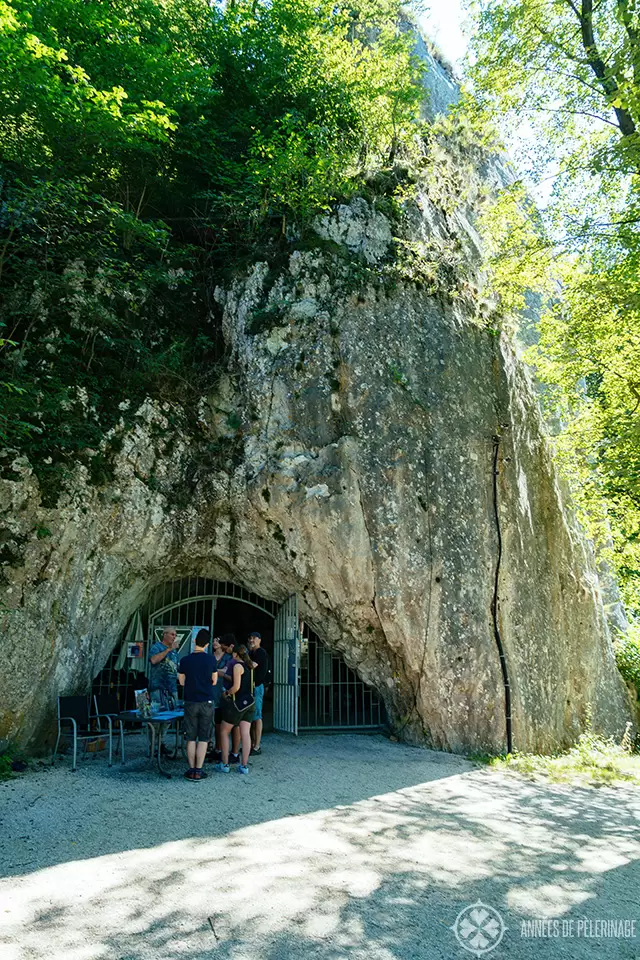 The Hohle Fels cave ("hollow rock") is a true must-visit in Blaubeuren. It's the single most important archeological digging site in the world when it comes to artwork from the Upper Paleolithic age. Just one of the reasons it was inscribed a UNESCO World Heritage site in 2017 ("Caves and Ice Age Art in the Swabian Jura").
Now, don't expect fancy prehistoric murals inside – It's no large cave (about 5,000 square meters), and there aren't any stalactites (left). What makes this cave special is the rather inconspicuous soil underneath. The natural cave has been used as a shelter for 65,000 years. Both, the oldest humane sculpture (the Venus of Hohle Fels) and the oldest musical instrument (the Geierknochenflöte) ever found where discovered here.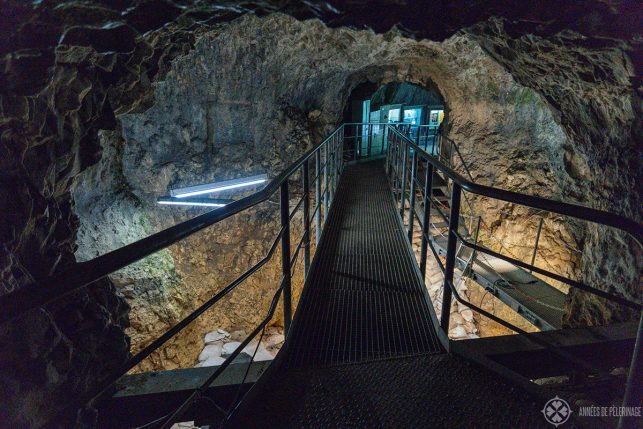 Note: There is a small exhibition at the entrance of the cave, but the prehistoric highlights are in the URMU museum in Blaubeuren; see below
2. URMU – The Prehistoric Museum
If you were really short on time and could only see one place in Blaubeuren, then you'd have to visit the URMU ("Urgeschichtles Museum"). Here you'll find almost all important artifacts from the nearby caves.
Among them is the Venus vom Hohle Fels. The tiny figurine was carved from mammoth ivory and is said to be around 40.000 years of age (the website itself says 42.500 years, while you'll find 35.000 years in some English speaking publications). The little full-bosomed venus marks the oldest (undisputed) example of a depiction of a human being.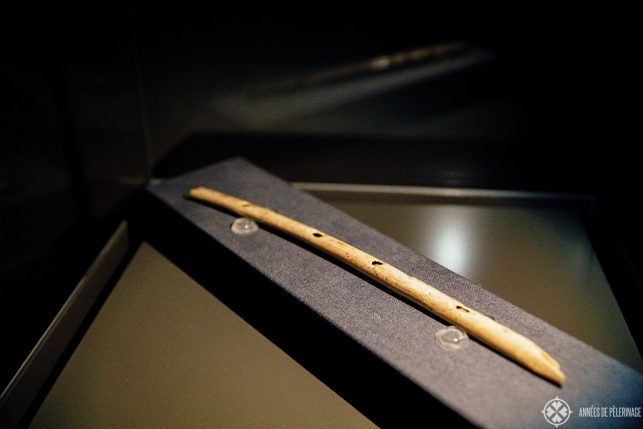 The Geierknochenflöte – a flute made from the bone of a vulture is also housed in the museum. This amazing music instrument comes from the same period and is also roughly 40.000 years old and is equally the earliest of its kind.
Words cannot describe just how amazing this museum is. You'll learn all about the earliest presence of the Cro-Magnon in Europe. It will give you the deepest possible insight into what life for the first anatomically modern humans was like and our first tentative steps into the realm of art.
4. The Blaubeuren Abbey & the bathhouse of the monks
Not very far from the Blautopf, you'll find an ancient monastery founded in the 11 century: The Blaubeuren Abbey. Definitely, consider going in. You'll find one of the prime examples of late gothic art in Germany.
The high altar of Blaubeuren Abbey and the choir stalls are both true masterpieces from the early 15th century. The form one of the very rare examples where such medieval church interiors survived as one intact ensemble.
Oh, and don't miss the former bathhouse of the monks a little further down the way. The medieval house will give you a glimpse into what everyday life inside the abbey must have been like. Quite fascinating, in fact.
5. The old town of Blaubeuren & little Venice
In case you were looking for some pretty half-timbered medieval houses, Blaubeuren will not disappoint you. In fact, Blaubeuren is full of them.
The city is not especially large, mind you. Still, you should reserve about half an hour to wander the many little streets. There is even an official city tour. Just follow the omnipresent signs to the main highlights.
Don't miss the little street at the east end of the old city wall. Local's call it "little Venice", because of the picturesque water canals. Here you'll find a row of fantastic medieval houses. My favorite one is called "Hoher Wil". It looks a bit like the architect was drunk when he designed the houses.
6. Castle Hohengerhausen
The Castle Hohengernhausen ruin, sometimes also reveres as Rusenschloss, should also be on your list of things to do in Blaubeuren. The castle dates back to 1080 AD and is perched high above the old town.
It is a ruin, but quite beautiful to look at. Every hour a little tourist train leaves from close before the Blautopf what will get you there and to a couple of other lovely viewpoints. The ride takes about 75 minutes.
Hiking in Blaubeuren & the Swabian Jura
Blaubeuren is a fantastic spot to go hiking with your family. The Swabian Jura is not very high, so it's perfect for beginners and small children as well. There are over 20 official tours you can take (here is a list, german only sorry; google translate will help you).
Some of these tours even follow the tracks of the prehistoric hunters. Imagine caves, meandering rivers, ancient forests with a castle ruin sprinkled in here and there.
If you don't like hiking, you can also go on a bike tour. It might be a bit difficult for international tourists, though, as there are no bike rentals in Blaubeuren. Still, there are dedicated bike routes in the vicinity especially locals enjoy on the weekends
How to get to Blaubeuren from Munich on a day trip
It's quite easy to do a day trip to Blaubeuren from Munich. Trains leave every hour and it will take a bit less than 2 hours to get there. You will have to change trains once in Ulm, but I don't think that will be a big problem. Just go to the website of the German Railway Service (click here) and you can plan your itinerary.
Now here's the caveat: If you want to visit the prehistoric caves, renting a car might be the better options. There are no regular buses that will get you there and taxis are virtually nonexistent in Blaubeuren as well. Your own car (or bike) will make it so much easier to explore the vicinity
How to visit Hohle Fels cave with public transport
That being, it is possible to visit the Hohle Fels by train. I did it (as I don't even have a driver's license), but it will involve some walking. You have to take the train from Blaubeuren to Schelklingen. Trains leave every hour (costs 2.90 €)
From there, you have to walk for about 2 kilometers along the river Ach. Google Maps will be your best friend and it's basically just staying on one road (click here). It will take about 20-30 minutes to get there.
Where to stay in Blaubeuren
Note: I earn a small commission for purchases made through links in this article.
When it comes to accommodations in Blaubeuren there really is not much to choose from. While there are a couple of traditional inns and guest houses, none of them can really be booked online.
The Hotel-Restaurant Ochsen is the only hotel in the city you can book online (click here for pictures & prices) and it is actually quite a good choice. There is also a simple youth hostel, you might want to consider.
As an alternative, you can also stay a night in Ulm and take the train in the morning (10 minutes). In this case, the Maritim Hotel Ulm (click for pictures & prices) is probably your best choice.
Now, do you have to stay a night in Blaubeuren? Obviously, I already mentioned that you can easily visit it on a day trip from Munich. As there are many scenic hikes in the area, staying a night could be a lovely option, if time is no consideration.
Best time to visit Blaubeuren
Blaubeuren is quite popular among the locals. Actually, not many international tourists come there. So, weekends are always busy, while you basically will have the town to yourself during the week.
For the perfect warm and sunny weather, June, July, and August are probably the best time to visit Blaubeuren. If you plan to do a lot of hiking, May and October can be a good alternative, when temperatures are not as high.
Winter can also be a beautiful time to visit Blaubeuren, as the landscape will be especially pretty on a sunny, snowy day. Please be aware that the UNESCO World Heritage caves are only open from Mai to Oktober. As the caves are not actually that spectacular (visually) that wouldn't keep me from visiting. The museum, where the excavation is documented, will be open.
So, this was my little guide to visiting Blaubeuren on a day trip from Munich. Hope I was able to provide you with all the information you need. Still got any questions? Leave them in the comments below!