This is the story of how I set up my own WordPress blog on my own domain and started travel blogging.
I've been traveling all my life. I've been writing all my life. I've also been working for internet companies my whole professional career. But never in all these years did I combine that knowledge. Now I do!
---
Update: Ever since I wrote this blog post things changed drastically. Read all the lessons I learned from one full year of travel blogging and how I ended up with 40.000 page views.
My reasons to start a travel blog
"Ten random stock photos of dubious copyright that will tell you exactly nothing!" – the internet is full of boring listiciles that won't help a dedicated traveler along at all. Now, of course you got tripadvisor, Lonelyplanet and the other international travel forums. But most reviews will be written by casual travelers that either lack the experience, the money or a profound education to provide true insider tips. That being said, I wanted to focus on stories that can help the travel pros. People like me. People willing to invest their all into traveling!
This is my niche and I guess these days every successful travel blog needs one! Then again I don't like the word niche – I'd rather call it business model! Why limit yourself to a specific topic if you actually want to explore the world? Yes, it will get you ranked faster on Google – but other than that? And this directly leads me to the next reason why I started travel blogging. Obviously, I also wanted to earn some money in the process. Free trips, free admissions, and priority booking – I will openly admit that in the back of my mind these ideas kept spinning around as well. But to be frank I certainly didn't have the illusion that I would get rich really fast – which is quite a healthy attitude all things considered! In fact for now I'd rather continue on my normal job and use that income to finance my travels. Oddly enough that seems less stressful.
My goals for the first month of travel blogging
Still, my expectations were set quite high. After all, I have been working on websites with millions of page impressions each month since years. But the professional inside me urged me to set some realistic goals. Goals I knew that were achievable but wouldn't depress me too much if set too high. So here is my list for my first month:
I wanted to build a small following
I wanted my articles and pictures on the google index
I wanted to get the social media machine rolling
I wanted 1000 page impressions
So what did I do to achieve this?
I started with some research on hosting services. I already knew I would be going for a self-hosted wordpress blog. Not only because it seemed the easiest way, but also out of SEO considerations. There are so many good themes out there – together with a dot.com domain I was positive that google would be accepting my site really quickly. Later on, it would leave me the freedom to monetize my blog according to my own desires!
But back to the hosting service. Like many fellow traveler bloggers, I decided for Bluehost. Obviously, I didn't want to pledge too much money on a project with an uncertain outcome. Bluehost offers domain hosting starting from $ 3.95! And here comes the biggest plus for tech newbie like me: they will handle the wordpress-installation. All you have to do is click and 5 minutes later you will be ready to start. Now I certainly don't claim to be an authority on hosting services. I can just tell you that Bluehost worked out for me and it seemed to offer the biggest bang for my buck. Hey – I am running a blog, it works, you found it. What more could a starting travel blogger wish for? (Check out their services here if you want to get started yourself!)
The next thing you will want to do is get yourself a domain. I found it best to research free names on United-domains.com. Some hosting services will handle the domain registration for you, though (Bluehost did in my case).
Setting up themes & analytics for my travel blog

After that, I simply googled for the best SEO-optimized wordpress theme out there. Seriously – that's what I did! My thoughts were: Okay if someone manages to rank high in the search engine then he will most likely have the necessary skills to offer a high ranking theme as well. My searches lead me to the "Schema"-theme from MyThemeShop. It looked clean, there seemed to be many positive reviews and it really handled the most basic SEO stuff (Headlines and metatags) satisfactory. You can pretty much individualize it as you want. In case you like the design of my blog and you are looking for a good SEO-optimized theme, check it out here. I didn't go for a free theme since I felt like I might need support from professionals, lol. Also, I couldn't find one that handled things along generally accepted SEO-standards. (as it turns out I frequently asked for support, so the premium theme was money well invested).
Another thing I did right from the start was setting up some statistic tools. Yes! Right. From. The. Start. Without proper tracking of your website (and all other channels) I knew I would be writing in the dark – never knowing if I actually reached someone. The industry standard is Google Analytics and the Google Webmaster tools. I set up both. There are tons of guides on the internet on how to do that, so I'm not gonna bother. (WPbeginners has a decent guide on their website)
So once my website was all set up I typed tons of articles. Content is king. Google will index quality articles very fast. Long articles with plenty of pictures will be able to shoot to the top of the search results very easy, while your average listicle with 10 random stock photos of the most beautiful beaches might never even make it into the index. I also reviewed 10 years' worth of photos from my travels, so I would have a good stock once I started! But naturally good content and breathtaking pictures alone are not enough. Quite far from it! I knew I had to do social media to get anywhere.
Exploring the bottomless pit of social media travel blogging
I am proud to say that I had my own online journal since the beginning of time. Literally! I started sharing my daily crap back in 1998 with a website designed with Microsoft Frontpage (no, I am not ashamed to admit that I used that program!). But somehow during the last few years, I had more pressing matters on my mind. Basically, I was just using Facebook to stay in contact with a few friends. Even today my friend list counts only 102 friends – Justin Bieber gets more friends each second! (Though I am proud to say those are real friends and people I like to spend time together.)
But obviously, I knew I had to be a lot more aggressive if I wanted to market my travel blog on the internet. At day one nobody knew my blog even existed and I wanted, no needed to change that! The neat part about having your own hosting service is that you can create your own mail-addresses. For example, if you want to drop me an e-mail just hit me up with [email protected]. So basically I just created a couple of different e-mail addresses to manage my different social media accounts efficiently.
I already was tumbling a bit so I decided to set up a tumblr as a first step. I am not entirely convinced that google actually ranks the backlinks anymore since the whole medium got a bit too spammy in recent months. Still, I figured it couldn't hurt. Also, I really like Tumblr a lot and I figured that I should stick to the things I enjoy doing and not force myself to partake in a community I feel uncomfortable with. In the long run that will most certainly backfire. (Note: I stopped using tumblr by now; Pinterest really gives me the most bang and it's the only platform I am really focusing on these days. BUT – it does boil down to personal preferences! Do what you are most comfortable with – you will be doing it for quite some time!)
Then obviously I had to create a Facebook page and I also added a twitter account. I have to admit I am new to twitter. Twitter was and actually still is a bit too fast for me –and too shallow. So I am a bit doubtful that I will really stick to that account. But I am willing to give it a try. I grudgingly have to concede that twitter, so far, gives me the biggest return on investment. (Note: Twitter now is my second strongest social media presence; it doesn't generate a lot of traffic but lovely inspiration and connections)
Last but not least I decided to try out stumbleUpon. It's one of the lesser known social media platforms. Obviously, this also gives you the chance to gather a big following more easily if you are dedicated to the cause. I personally really like it, especially since you will also be able to discover new blogs and wonderful articles in the process. A different perspective and new ideas for stories will certainly help you along when you start travel blogging.
What I didn't do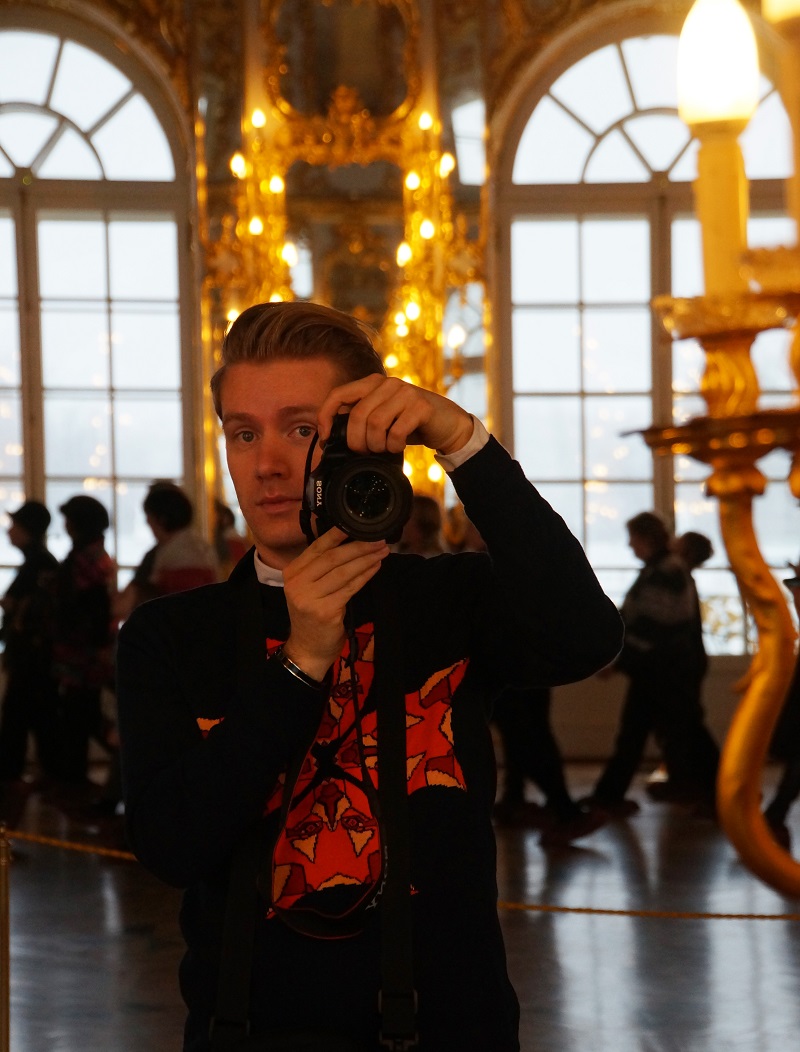 I didn't tell aunt Martha or Patsy to share or like my blog. First of all, I didn't want my family and friends to judge me by my stumbling attempts to hit the internet. Maybe you are more self-confident! Also, I wanted real likes – not favors! In a way, it really wasn't an option for me anyway. My native tongue is German and so almost all my friends speak German. There really is no point in sharing an English blog.
I didn't personalize my blog all too much either. I figured that my travel blog would need some authenticity. So of course, I would have to share my personal views to some extent. I also didn't want to hide behind some abstract entity few people would know what to think. My Name is Norman, I live in Munich and I'm proud to share my fledgling knowledge with you.
But I decisively decided against confronting people with the details of my daily toiletry. Now I'm aware that many experienced travel bloggers will tell you a different story. But that's nothing I am comfortable with. Most of all that's nothing I want to read myself! I'm not the guy to follow individuals. I want to hear about great travel destinations. For me, there is little point in reading how Ann Sue managed to climb up the Eifel tower all by herself, even though she had sore muscles the following days – pictures of said sore legs included.
I also didn't promote my blog in any way. I know Facebook gives you the options to pay quite a lot of money so your article will appear on other people's timeline. I don't want to force my content on anyone. Plus you really need a good plan for a return on investment. Right now I do not have any ads on my website (even though I registered for google adsense). As long as I don't sell anything I really don't see the point in promotion – neither on Facebook nor through google AdWords. And if I do, I will re-invest the money earned with the project. (Note: I changed that about 6 months into the game, but use it very sparingly).
I did not get a logo yet either – even though I already got an idea. It just felt wrong to ask some random person on Fiverr to create something I am supposed to stick to for the next years. I know I need to do this, but I want to do this properly. And this will take some time and money.
Update: as you can see I now do have a Logo. It's my own idea and I commissioned it on Fiverr. That was in my third month of blogging.
Last but not least I decided against adding stupid pop-ups to promote my mailing list, even though this travel blog certainly has one. There is nothing I hate more than moving the mouse pointer in the wrong direction and some stupid "join our mailinglist for regular updates!" blocks my screen. It makes me angry and it makes sure I don't return to a website. But naturally I should take the opportunity to point you to the form for my newsletter on the right side of this blog – you might also find some good reads there. Since you made it that far down you will have to scroll up quite a bit, though!
Update: After 4 months of blogging google finally started to index my content consistently. I am now getting increasing amounts of traffic via organic search (about 50 hits per day). This is expectable since there really isn't a real focus keyword to my site (like say "Travel japan"). Maybe there is "luxury" and "culture" – but I'm not spamming these enough. Mainly because it feels wrong. From past experiences, it will take another two months till Google will show my keywords anywhere on the top 10.
How am I doing so far with travel blogging?
While I am typing down these lines my blog is almost one-month-old. Google Analytics informs me that my site generated 330 page impressions. From the webmaster tools I know I have been listed 13 times on the organic search in google. My Facebook profile has 5 followers and so does my twitter profile. There are 24 people following me on tumblr and nobody on stumbleUpon. These are hard the facts after I spent roughly 100 US-Dollar on setting up my website and probably 60 hours on writing articles like this one. I did not meet my goals for this first month. But all things considered, I did fairly well. After all convincing your first few visitors to come back is the hardest part of all! Now that I have filled my travel blog with content, I guess I am ready to start promoting it in earnest!
Is travel blogging worth it?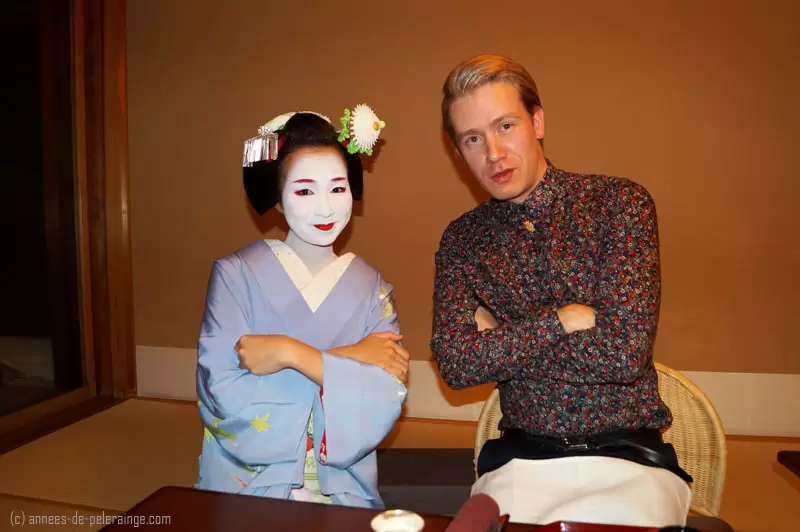 I wonder what my Fukumari would have to say to this. She loved my writing when I showed her the barely legible scratchings in my moleskin notebook (read more about my Geisha Party experience here). But speaking for myself I can only say I love travel blogging just as much as I love traveling around the world. It's almost addictive! And even if just 10 people would be reading my stuff I'd continue. So far I am not making any money, I am not reaching the world and I certainly didn't hit the newspapers. But I really like what I am doing. And after all, I plan to travel on for the rest of my life. So who knows what the future has in store for me!
And maybe, very maybe I can convince you, as one of my precious first readers, to start following my travel blog. One can hope, no? :)