James Bond Island attracts thousands of tourists each day. But is it worth the hype?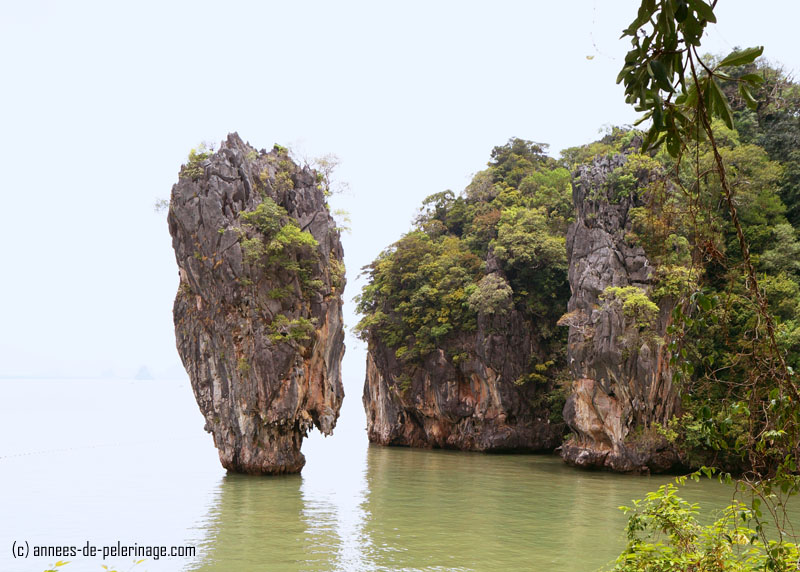 James Bond Island explained
There is probably no island in Thailand more famous than James Bond Island. In 1975 Roger Moore, then embodying the classic double-oh agent, landed in the bay behind the island where the villain from the movie The Man with the Golden Gun had his secret hideout. Slowly, but steadily the nail-shaped island formerly known as Ko Tapu became the magnet for ever increasing numbers of tourists over the past four decades.
The island itself consists of pure limestone that rains and other weather phenomena in the eons past transformed into the impressive tower karst. In fact, the whole landscape around the island belongs to the Ao Phang Nga National Park where equally impressive rock cathedrals can be seen.
James Bond island is roughly 20 meters high (so quite small in fact) and geographically belongs to the island of Khao Phing Kan roughly 50 meters behind. The whole karst landscape of Khao Phing Kan is densely covered with forests and its steep shores make it almost inaccessible, excepting a little bay with a sandy shore. Since intense touristic activity actually endangers the fragile tower, no boats are allowed in that bay or anywhere too close James Bond Island. All tourist boats make their landing on a shallow beach close by. A steep rock path (that actually offers a scenic view onto the island) leads closer to the rock needle and down into the bay.
What to expect on a tour to James Bond Island
Be prepared to meet a lot of tourists. Sometimes there are so many boats there they can't be moored directly on the small beach. The narrow pathways on the island itself will also be packed, making the short, but steep path quite treacherous. Adding to the (small) danger, most tourists will have improper clothing and/or shoes.
In the main bay itself, you will find plenty of souvenir shops – nothing worth mentioning can be found there excepting the usual cheap trinkets. Everyone will take selfies and pictures and more selfies. So expect to be asked to help along with group pictures and other pretentious insanities. While the island itself is truly spectacular, the tourist industry around it feels more like a nightmare. On the main island itself, you can also find an impressive vertical rock slide that forms up quite a big cave.
Is it worth visiting Khao Phing Kan?
Visiting James Bond Island really boils down to getting there, trying to minimize your contact with the crowds, taking a picture and be gone as fast as possible. Now mind you: James Bond Island is located in the Phang Nga Bay and there are many other interesting things to visit. The whole area is one big national park and world famous for its scenic views, long beaches and colorful marine life (read my guide to Khao Yao Noi – Thailands best-kept secret).
So I recommend you to rent a private boat and plan for a whole day where Khao Phing Kan will be a short stop. The densely populated island of Koh Panyi (which is quite close) with its many restaurants and its big market comes to my mind, but other destinations or snorkeling grounds are certainly possible as well. At low tide, there will be a lot of karst caves you can explore with a canoe nearby.
If you are truly desperate, you can hop on one of the many ferries and schedules tourist boats. That will probably save you a couple of hundred baht and most likely spoil the whole nature experience, and waste away a long day on the boat. Just ask around – all traveling agencies and local guides around the whole Phang Nga Bay offer regular trips to the island.
Thus ends my little review of James Bond Island. If you enjoyed it, don't be shy to leave a comment below. Maybe you visited Khao Phing Kan yourself and had a different experience?