Experience the Phang Nga Bay in style and silence. The Six Senses Koh Yah Noi luxury resort offers you both and more. Here is my hotel review.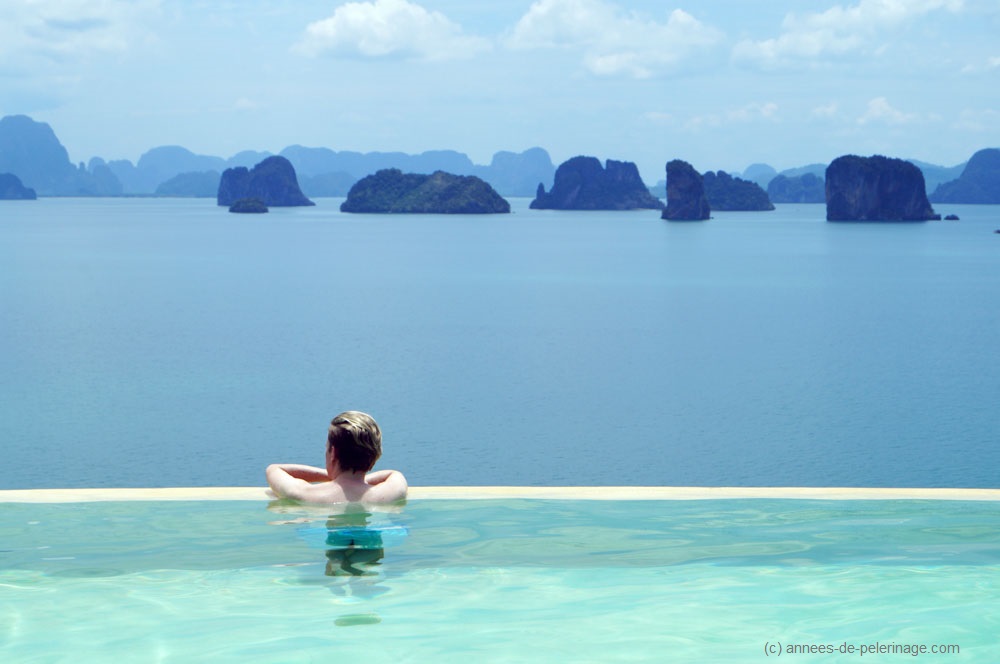 If you think of Thailand you might not think of lonely beaches and quiet nature. Recent years have seen a real tourism boom in the country that swept away all wishes for solitude. On Koh Yao Noi, a small island in the middle of the Andaman Sea close to Phuket, you can still celebrate ennui in style (check out my travel guide to Koh Yao Noi). While Koh Yao Noi offers little in the way of infrastructure and major touristic attractions, it does offer a world class resort: The Six Senses Koh Yao Noi. There is probably no better place to stay in Thailand if you are looking for solitude, breathtaking nature, a respite from the stress at home and responsible tourism.
Note: I get commissions for purchases made through links in this post. I had no association with the Six Senses whatsoever when writing this review. My opinions are my own, as was the money that paid for my stay.
What to expect at Six Senses Koh Yao Noi hotel
The Six Senses resort Koh Yao Noi belongs to the luxury hotel chain of the same name. The focus of Six Senses lies on sustainable luxury tourism. So in this Koh Yao Noi resort, you will eat only organic food (they actually produce some of it themselves!), all buildings and furniture will be made from renewable materials, and even for outdoor activities there will be a noticeable emphasis on sustainability. The whole resort actually feels more like a national park and not so much like a hotel.
Now don't be fooled by this somewhat misleading preface –the hotel offers all the amnesties of an international 6-star hotel. In fact, the whole resort doesn't offer single rooms at all. Everyone will have his or her own villa located on a hill with the perfect view of the Phang Nga Bay and more than enough distance to your neighbor to allow for all the privacy you could want for.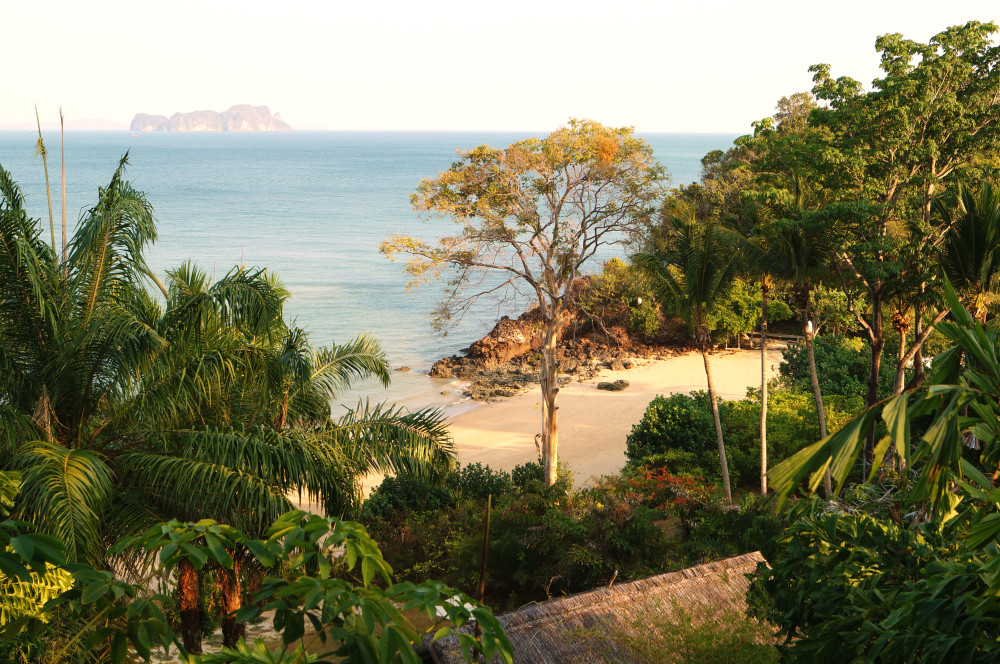 The food, while being organic, is way above what you can normally expect in Thailand. In fact, I haven't eaten better anywhere else. There is also an excellent spa at the hotel, a water sports center, one of the most beautiful outdoor yoga centers in the world and even a kickboxing ring! At the highest point of the hotel, you will find a large infinity pool with a very opulent bar and probably the best view of the Phang Nga Bay in Thailand.
For those who like to be on the beach and hear the wave crashing against the surf, the hotel also offers two spectacular private beaches. Given that most of the roughly 100 resident tourist will have their own private beach, or stay at their own private pool or visit the big infinity pool on the hilltop, you will have those two private beaches mostly to yourself. There will be a big outdoor cinema at the beach at night as well.
If you expect plush furniture and staff wearing frocks, you will be disappointed, though. In accordance with the general theme of the hotel, everything and everyone will be very relaxed and low key. Nothing whatsoever should distract you from the beautiful nature around you. The whole Koh Yao Noi resort is well designed – but rather in terms of not offering a distraction and the perfect setting for a relaxing holiday. To enhance this experience everyone is allotted his or her own butler. He will care for all your outdoor activities and any other need you should have. You will not lack anything at all.
Rooms at Six Senses Koh Yao Noi
I already mentioned that there are no single rooms to be had at Six Senses. The whole resort is located on a hill and consists of 55 distinct villas. Since the villas are not only quite big but also very far away from each other, the whole resort is interconnected by small roadways. To get anywhere you will need to pick up an electro golf cab. The staff is very friendly and calling one to get anywhere only takes a minute or so. Naturally, you are allowed to walk as well. But taking the cab is quiet fun!
But back to the rooms! Each villa features its own spacious infinity pool, a sun deck, a big living room, a dressing room, a very big bathroom, an additional outdoor shower and a kind of patio-like living room amounting to a total of roughly 150 square meters. Some villas in the Six Senses Koh Yao Noi hotel do have their own access to the beach (with the downside of not offering such a good view). Basically, all villas share the same amnesties – the difference lies in the location.
Some villas are located on the back of the hill and don't offer a view over the bay, some directly on the beach, and others high up on the hill. I highly recommend you to get one of the 'Ocean Pool Villas'. The glorious view of the Phang Nga Bay is more than worth the upgrade. You will spend a lot of time in your villa (since you got your own private pool there is actually little reason to get outside); you will regret looking only at the jungle foliage.
Naturally, all hotel rooms also offer the obvious stuff like a telephone, docking station for mobiles, a big fridge (that actually deserves its name), coffee and tea machines, satellite TV and so on. The staff will also provide you with daily fresh fruit, organic mineral water, and snacks on a complimentary basis.
Restaurants and Food at Six Senses Koh Yao Noi
The resort has 3 restaurants worth mentioning (there is a 4th, but that is some sort of cooking school). One is located high on the hill offering a spectacular view, and two others overlooking the beach in quiet the romantic settings. All three can be easily recommended, all three offer organic food, and all three stick to the highest international standards.
They are not even particular expensive and leagues above anything you will find on the island – if not in the whole of Thailand. Should you want to experience some local cuisine, you probably should leave the resort once to give it a try. You will be disappointed, though – doubly so since Six Senses focuses on local food as well (with some Italian classics on a side menu).
The Six Senses Koh Yah Noi resort also offers spectacular dinner events. Like a picnic on the beach or on an island in the middle of the Phang Nga Bay (they will also prepare delicious lunch boxes for you if you are going out on a day trip). Since your villa will be very big, you can also arrange for a private barbecue at your room – with your own private chef preparing the choicest meats.
Breakfast at Six Senses Koh Yao Noi resort is also worth a special mention. From my experience breakfasts in southern countries so far away from Europe are usually good, but not outstanding. Not so here: There is a definite focus on local breakfast cuisine. Still, the hotel is aware that many westerns will want to enjoy their bread, cereals or egg delicacies for breakfast. The kitchen really tries to make you feel at home, even though all food stuff has to be shipped in from far away and under constant cooling.
You will find the best Italian hams and sausages, aromatic French bakery wares and an extraordinary cheese selection. In fact, the buffet is split up into different little shops. So it almost feels like going grocery shopping for breakfast – yet in a very relaxed way. What makes this breakfast so outstanding is that they really focus on the best food stuff available on the planet. They won't offer you any average ingredients whatsoever to fill up the buffet!
All in all, you will definitely enjoy the food at the hotel – even if you are no big fan of Thai food like me.
How to get to Six Senses Koh Yao Noi hotel
Since Koh Yao Noi is located off the common tourist routes, but someone from the hotel will pick you up from the international airport in Phuket. A limousine will take you to the harbor on the east coast of Phuket. From there they'll provide a speed boat to take you to Koh Yao Noi. All in all, this will take roughly two hours. Admittedly this sounds like a lot, but the staff really tries to make your transfer as relaxing as possible. Also keep in mind that the boat trip will be straight through the spectacular karst islands of the Andaman Sea, and you will be rewarded with the utter solitude on the island. Naturally Six Senses Koh Yao Noi offers the same service on your way back.
In fact, the resort has its own little harbor and a couple of boats you can rent for a day trip to any destinations of your choice. Since Koh Yao Noi is located rather close to Koh Phi Phi and other famous natures reserves, this is definitely one of the big advantages of the hotel. If you want to experience how the locals come and get to the island, you could also use the regular ferries. Just ask the hotel staff for directions and the departure times. Also, read my travel guide on things to do in Koh Yao Noi to get the most out of the quiet island.
My Summary
Six Senses Koh Yao Noi is a resort that really deserves its 6-star rating. The location, the solitude, and the food are truly outstanding. The staff is very friendly, English speaking and for the most part well trained. Due to the fact that the interior design focuses on sustainable materials, you might miss a bit the stylish class of other leading houses around the world. In my opinion, it is one of the few hotels in Thailand worth visiting. I, at least, thoroughly enjoyed the hotel and its utter remoteness.
Check out prices for Six Senses Koh Yao Noi here >
What is your opinion? Would you visit Six Senses Koh Yao Noi? Or is the island just too remote for you?
Disclaimer: I had no association with Six Senses Koh Yao Noi whatsoever when writing this review. My opinions are my own, and so was the money that paid for the stay. All in all, I stayed 10 nights at this luxury hotel. All pictures are authentic and my own.