A comprehensive travel guide to Iceland that covers all the major highlights and unique alternatives.
Are you currently planning a trip to Iceland and you can't decide what to see and where to stay? 10 days, 5 days or maybe just 48 hours? Then we have something in common! Before my first trip to Iceland, I was totally dumbstruck by the sheer beauty of the Iceland, but also by the amount of information available on the internet. That's why I decided to compile my perfect Iceland itinerary. It took long, long hours and a lot of effort, but the result helped me tremendously!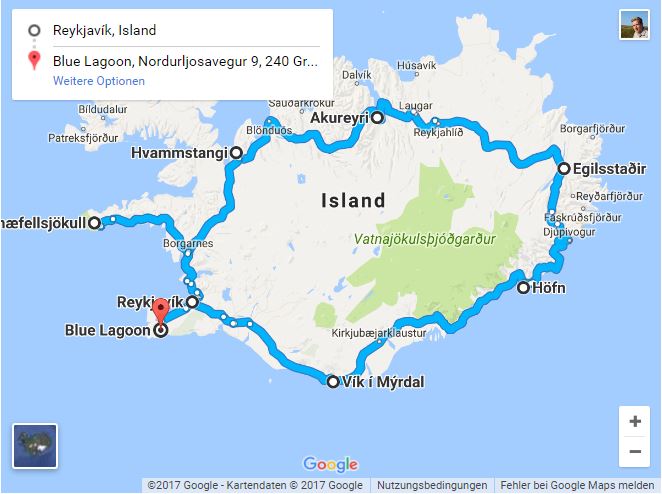 In the end, I collected so much information, pictures, and alternatives that I realized a standard article on my blog really wouldn't do. I also realized that people traveling around the nordic country might be interested into an off-line source of information. So I decided to create a PDF instead and ended up with 28 pages loaded with information and pictures.
The good news: You can download my personal itinerary for free. Just enter your details into the form below and I will send it right to your mail box!
[convertkit form=4979563]
Now, it would be bad manners if I wouldn't tell you a bit about my perfect Iceland itinerary. It covers, all in all, 10 days and follows the ring road of Iceland. You will see all the spectacular waterfalls, visit the famous blue lagoon, have time for whale watching and certainly see geysers and volcanos galore!
Not everyone can afford to spend 10 days in Iceland, though. Optional days are marked as such in my Iceland itinerary. As I poured in a lot of additional information and useful links, you might also use it just as a source of inspiration and create your very own customized itinerary with it. Here's a quick overview of the stops on the road:
Starting out in Reykjavík
Tour the golden Circle
Landmannalaugar (optional)
Journey to Vík
Enjoy Höfn
Egilsstaðir
Akureyri
Hvammstangi
Snæfellsjökull
Soak in the Blue Lagoon and catch your plane
There are also a couple of options if you are in for a longer stay in Iceland. Did you know that Greenland and the beyond beautiful Faroe Island are not very far away? Why not plan a stop-over there?
A lot of travelers also can't decide when to visit Iceland. While that is quite a tough question to begin with, my Iceland Itinerary highlights the advantages and disadvantages of every season, as well. (hint: there really is no bad time for Iceland).
Now, I could go on and on about the benefits of this itinerary, but you might just as well download it now. I really proud of what I created & I am sure it will help you a lot as well!
Got no time to download the Iceland itinerary now? Pin it for later!

Picture credit: Lovepro, David Phan, Sigurdur Bjarnason, Ómar Smith