A detailed packing list for Scotland. All the essentials you have to bringt to enjoy the Highland & beyond.
Scotland is an amazing country. It's so easy to have the time of your life there. Just check out my list on 20 amazing things to see in Scotland to get a good impression. Since most activities in Scotland are outdoors and the Scottish weather is a bit, shall we say fickle, it's a wise idea to think ahead. Here's what to pack for Scotland and also what you should probably leave at home.
Things you should know BEFORE packing for Scotland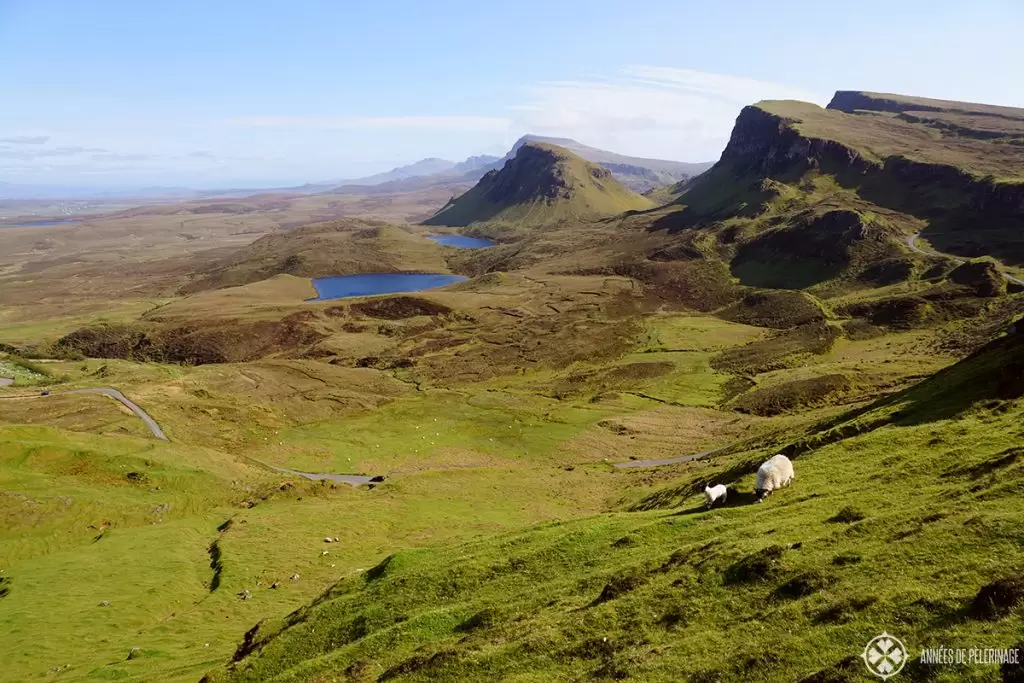 First of all, Scotland can roughly be divided into the Lowlands (meaning Edinburgh and Glasgow) and the Highlands. You will probably want to see the Isle of Skye (if it's not on your list yet, read my guide to the Isle of Skye!) and the big cities. The climate in both areas is a bit different, though the general pattern prevails: Scotland is cold and wet.
Even in May, you will have 11 days of rain in Portree on the Isle of Skye – and that is the driest Month of the year. In December it will be 20. July generally sees the highest temperatures, but it's a rare day you will see temperatures above 17° Celsius. On a cold and rainy day, temperatures around 10° Celsius are more likely.
Edinburgh is a bit milder. With temperatures climbing up to 19° Celsius in Summer and an average of 9 days of rain (winter is 12).
The good news: The Scottish winter is quite mild. Actually, you shouldn't even be expecting minus degrees.
The bad news: There is no summer. A local once joked to me on a particularly fine sunny day in May that they didn't expect summer to be on a Tuesday this year. Even then it will still be somewhat cold. If you take a closer look at the pictures below, you will mostly see me wearing rather warm stuff despite the splendid sunshine!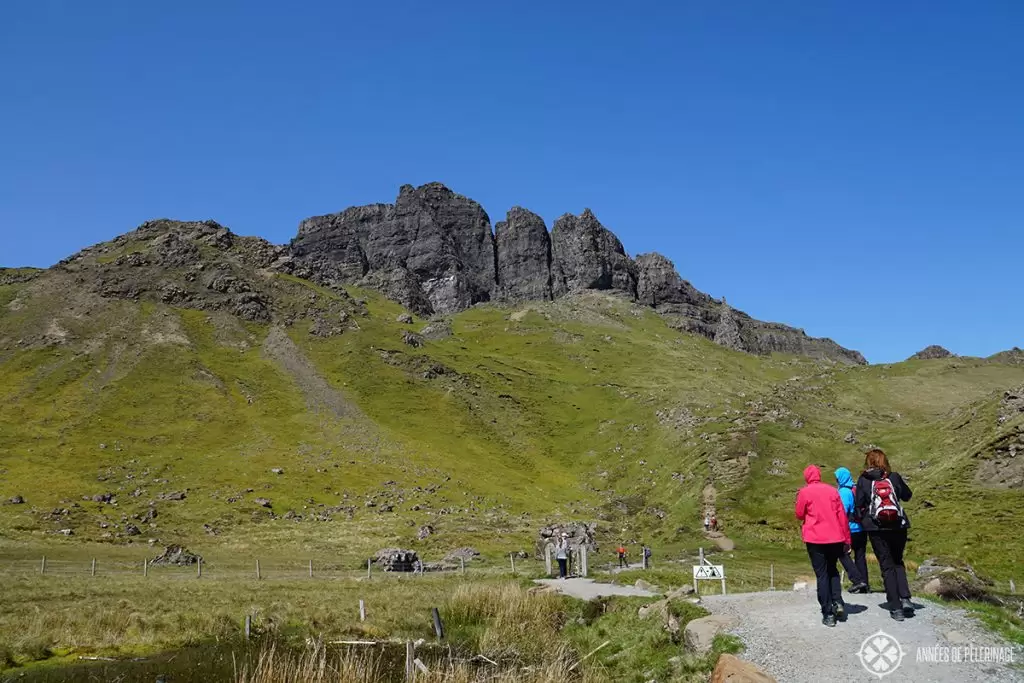 Apart from the weather, it pays off to consider the rugged Scottish landscape. Edinburgh, Glasgow, and Aberdeen are the only cities worth their name. If you want to go shopping or clubbing, better choose another country. Scotland is all about amazing landscapes, wildlife experience and beautiful castles (here's my list of the most beautiful ones in Scotland).
Thus, you really should think practical and not like a fashionista. Your beautiful suede boots will not look as pretty after walking through a bog. You know, I don't really love walking around in trekking pants and hiking shoes either. BUT they were created for a reason and having an outdoor adventure in Scotland was one of them.
Note: I get commissions for purchases made through links in this post. I do not recommend products I have not reviewed thoroughly myself.
Clothing to pack for Scotland
You will get wet during your trip to Scotland, so no matter what you take along, you should have at least one set of clothes made for the colder & wetter side of the beautiful country. If you don't need them, thank the Lord, if you need them, you will thank the Lord for bringing them. So, for Scotland you should pack:
A waterproof rain jacket (not water resistant, but truly waterproof! I am using one from the brand Columbia. It's fairly cheap, light-weighted and truly waterproof)
Trekking pants (Loving the Lundhags Baalka Pant; but not cheap; these are the ones u see on the pictures; they dry so fast, it's unbelievable and don't make you look like the biggest outdoor nerd either)
A fleece jacket or something similar (to wear under your rain jacket or on a warm day)
Jeans (or something you are comfortable with sitting in the car and walking around towns)
T-Shirts
Cotton socks & Trekking Socks (!!)
Sweatshirts or jumpers
cardigan or zipper
Long-sleeved trekking shirt(s)
One dressier outfit (for a night at the pub)
Even in summer, you really don't need to bring a bathing suit. There are some really pretty beaches in Scotland (especially out on the Isles), but water temperatures are usually so low, that a day out on the beach is nothing you can be looking forward to – at least not to go bathing.
Footwear you need to bring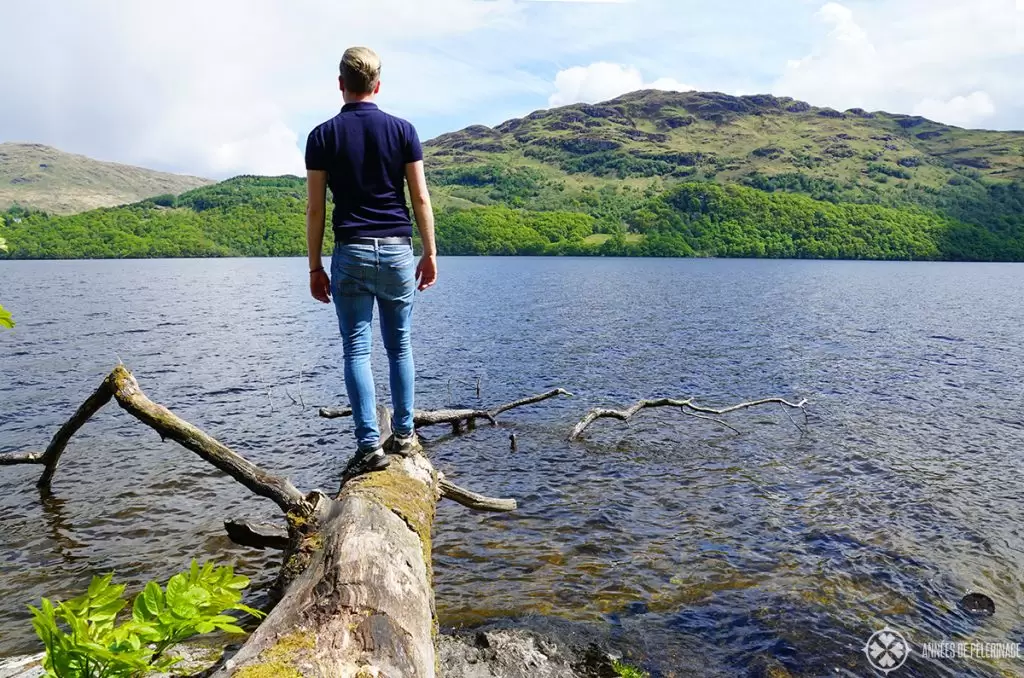 You will spend most of your time in Scotland outdoors (except you just stick to Edinburgh and Glasgow, which I honestly don't recommend), but usually also a lot of time driving around. Luckily, few Scottish mountains/hikes are truly challenging. You should bring along:
Two comfortable pairs of walking shoes/trainers. I am using the Adidas Terrex Swift as they are also sort of waterproof and very good traction for medium hikes. (two, in case one gets wet)
Waterproof shoes (depending on the season & your planned outdoor activities)
One pair of shoes you would want to wear to a good restaurant
(optional) hiking shoes with high ankles. Only if you plan to go on a real hike (like the Cuillin range); I can recommend the Lowa Renegade GTX Mid Hiking Boots
Accessories to pack for Scotland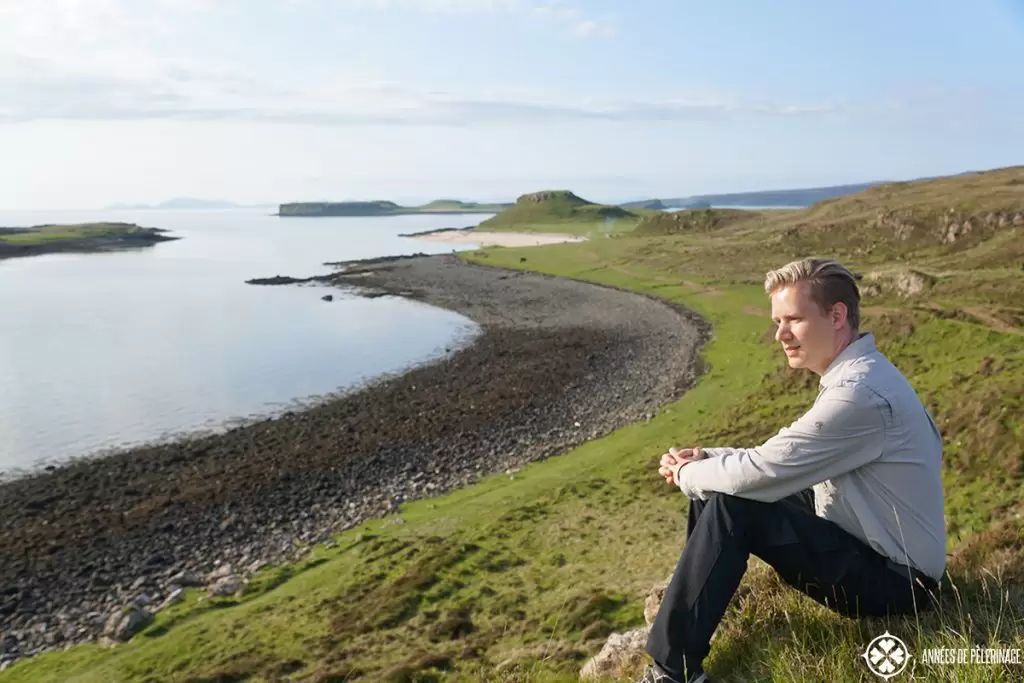 Like I said, you will be on the road and outdoors, so you really don't need to bother which necklace you want to bring. In fact, chances are higher that it gets tangled below your poncho than anyone taking notice. Some other things you will definitely need.
Daypack (waterproof or buy a waterproof cover ); I got a special camera backpack I am very satisfied with and basically carry it wherever I go (check it out here); Either way, pick something to store some little extra clothes, some snacks and a bottle of water on your hikes
Umbrella – as I said before, it does rain a lot (so something like this)
A scarf (against the wind/chill in the evening; good for the airplane as well)
a small dry-pack for your electronics if you plan to do a little boat trip (which I recommend; I am using these)
A hat (there can be a lot of wind)
(optional) a hiking cushion; there are tons of stones around to sit – no worries, but they can be cold.
As for sunglass, weird as it may sound, I'd urge you to bring some. Sun is not unheard of (as you can see on my pictures) and I like wearing them on the boat – mostly against the wind.
Electronics & Gadgets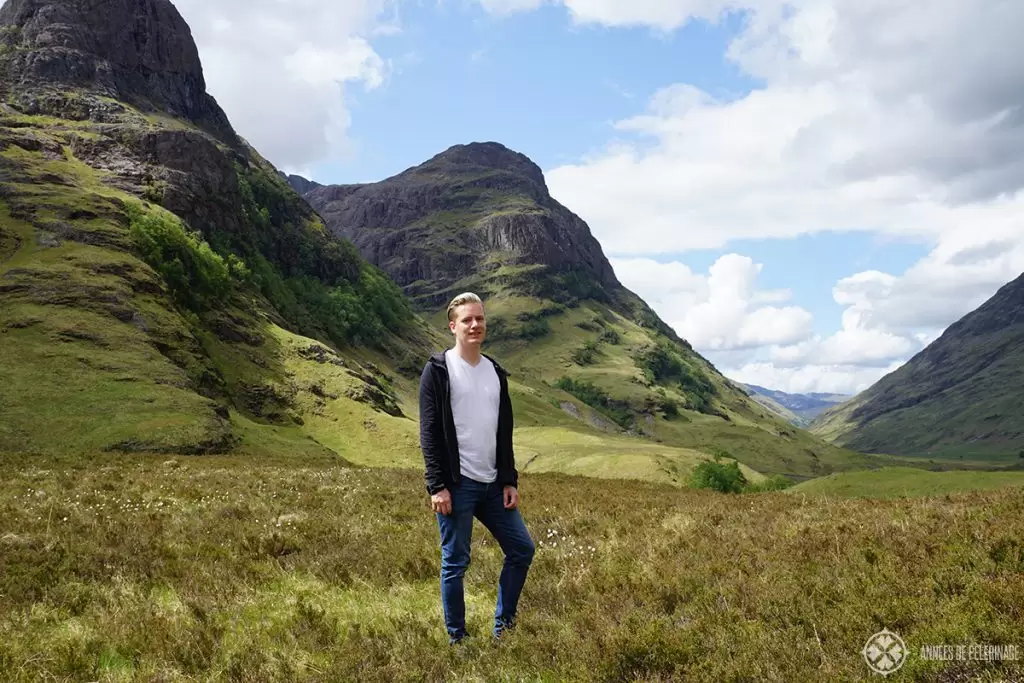 Electrical sockets in Scotland supply electricity between 220 and 240 volts. The primary socket type is the British BS-1363. Depending on your homeland, you will have to adjust for that, by bringing an adapter or even a step-down transformer (in case of US citizens)
I also took along my a dual voltage travel hair dryer – not all guesthouses will have one.
But that's just personal preference because my hair dry super slow and I hate nothing more than wasting half an hour in front of the mirror using that model from the 80ies (with a high focus on smelling of burnt hair and not so much built for its drying capabilities) supplied by the landlord.
Toiletries & Medicine
Scotland is as civilized as it gets. You won't need any special vaccinations or any precautions against diarrhea. You will probably stay in guesthouses and bed & breakfast kind of accommodations, so girls will want to bring their favorite conditioner and a body lotion. Other than that bring:
Travel first-aid kid (in case someone stumbles during a hike; so something like this)
Compede blister plasters (you are walking a lot)
(optional) something against a cold
Some painkillers for the night after the pub ;-)
Last, but not least, you might want to consider bringing sunscreen if you are visiting during the summer months. Chances are pretty low that the sun will shine continuously, but it's not unheard of either, especially on a boat trip. During my last visit, I actually managed to get a sunburn. A sample-sized bottle will suffice!
Other stuff to pack for Scotland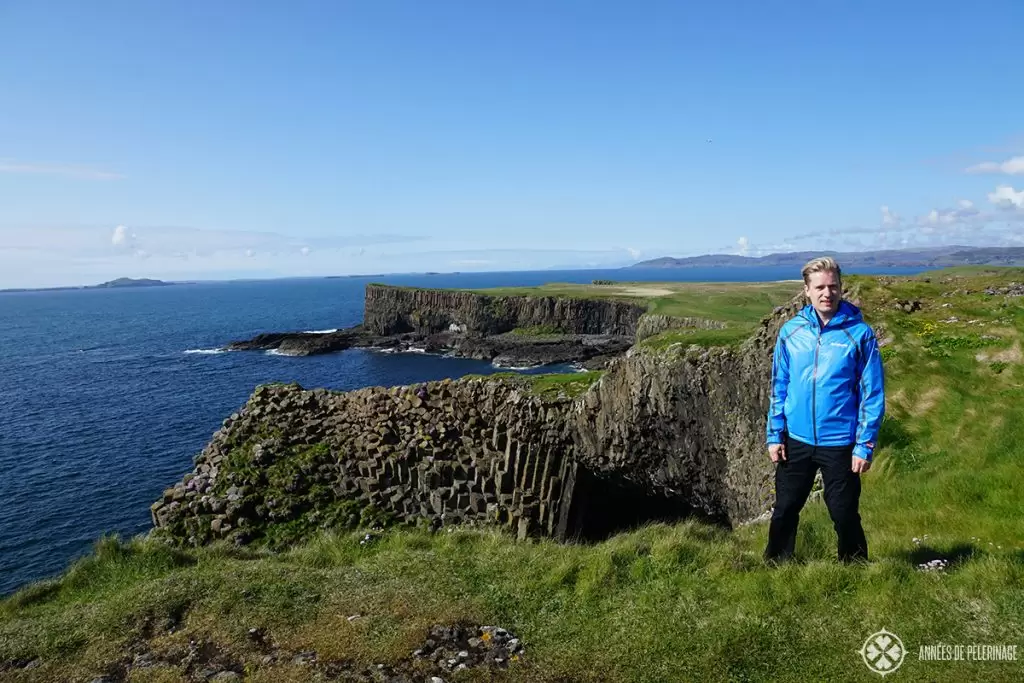 Now this list is already rather long and there really isn't anything I haven't covered. As usual, I recommend to take copies (digital & paper) of your important travel documents along and store them in a safe way. You also will want to get a hardcopy travel guide (l think the Rick Steve's Scotland guide is currently the best out there)
Don't overpack for Scotland, as most people move around a lot and it's just super annoying if you are traveling with too much luggage.
But also, a word of warning in case you plan to pack too light. While there are stores in the Highlands, it can be quite a nuisance to search for them and they might not have what you want.
That's it. That was my list of what to pack for Scotland. If you got any questions, feel free to ask them below! And don't forget to pin this for later.