A tour through the historic buildings of Peter and Paul Fortress, St. Petersburg, in winter.
It is very hard to miss the impressive battlements of the Peter and Paul Fortress in St. Petersburg. More than 5 meters of perfect masonry and mortar hide a wealth of Russian history. Here is where the first Romanov tsars resided before the Hermitage was built. Here is where the Russians rulers were buried, and here is where Maxim Gorky and other Bolsheviks had been imprisoned. Join me on my tour through the historic UNESCO World Heritage Site in Russia's former capital.
---
Also, check out my guide to Peterhof and its spectacular golden fountains
The Peter and Paul Cathedral
I would be lying if I said Peter and Paul Fortress was St. Petersburg's most famous attraction. Especially on a bleary winter day things sometimes appear less than impressive. It certainly was cold enough to discourage a casual visitor– bone freezing minus 15 degrees to be precise. Still, Hermitage, St. Isaac's Cathedral and Peterhof stand, quite literally so, in the shadow of the three-hundred-year-old buildings. The tower of the Peter and Paul Cathedral is, with a total of 122.5 meters, the tallest building in the city center.
It is, to be quite honest, also one of the most extraordinary churches in Russia. Take for example the altar of the church. Normally this is where you'd expect some sweeping iconostasis – a flat wall full of archaic portraits of saints and the holy family. At the Peter and Paul, you will find an altar, losing itself in the height of its golden arabesques and lintels, instead.
Behind a golden gate and flanked by two glorious angles, then, hides the actual apsis. It might be important to notice that the Peter and Paul Cathedral is a museum these days. It certainly explains why I was allowed to take pictures! Still, the holy doors remain shut for common visitors.
Scatters around the nave of Peter and Paul Cathedral in St. Petersburg are marble sarcophagi. Maybe clustering would be a better verb since all unused space that remains are very small aisles. Quite understandable, since the whole Romanov dynasty is interred here – starting with Peter I. up to the last Russian tsar, Nicholas II. By the turn of the last century, the space in the tomb of the tsars got so sparse that they had to add an outbuilding – for the lesser members of the royal Russian family. The Grand Ducal Burial Chapel was undergoing renovation works on my visit in January 2015 – so there are no pictures to show you.
The Trubetskoy Bastion Prison at Peter and Paul Fortress
I continued my tour through Peter and Paul Fortress with a short visit at Trubetskoy Bastion Prison. I say short because there really isn't a lot to see. Sure, you can breathe in the smell of history in the making here: Maxim Gorky, Leon Trotsky, and even famous writer Fyodor Dostoevsky have been imprisoned here. In fact, I believe even the last tsar, Nicholas II, was held captive here for a short time before his execution.
But to tell you the truth: the large prison complex only consists of hundred or so cells. Each and every single one looks the same – which really shouldn't come as a surprise but still had me disappointed. Now in front of every cell, you will find information on who has been interred here and for how long. Except you are a major connoisseur of Russian history (especially the Bolshevik movement), you will find these boards increasingly boring.
The view from the battlements of Peter and Paul Fortress
Keeping my visit at the Prison as short as possible, I moved on to climb the battlements of the Peter and Paul Fortress. This cost me another 300 Rubles but was more than worth it -despite the winter cold! (I think the official price is 500 for adults, but somewhere I picked up a map with a couple of discount vouchers).
From here you can enjoy the lovely view across the river Newa. In my case, it was already getting dark. Sometimes you forget how high up north St. Petersburg actually is. In winter it will get dark in the early afternoon (while in Summer it practically never gets dark at all!).
Other attractions at Peter and Paul Fortress
There are a couple of other attractions and smaller museums at Peter and Paul Fortress. Since I knew I would be seeing the full wealth of Russian imperialist Splendor at the Kremlin in Moscow in a few more days, I decided to skip them all. (Check out the official website if you want to know more). During my visit this winter, a small ice sculpture park had been installed inside one of the courtyards. Nothing too fancy, but still worth seeing, considering that we don't have that here in Germany.
I also passed some weird wax figure museum that looked more than cheap, a "Da Vinci Mysteries"-something and other questionable side venues that looked more private than anything else. Perhaps most notably among all attractions, if you can call it that, will be the grand fireworks on New Year's Eve. They are, however, best viewed from the other side of the bank (read more on spending New Year's Even in St. Petersburg here).
The small hut of Tsar Peter I.
Since it was slowly, but steadily getting dark (and colder yet!), I decided to take my leave of the Peter and Paul Fortress, without exploring every niche and cranny. I exited the grounds through the thick walls of the east gate, where some souvenir shops are located. Cheap trinkets and overpriced matryoshkas can be bought here. They all looked the same and really couldn't catch my attention.
Instead of returning to my hotel I followed the promenade along the banks of the Newa, where an utterly nondescript house can be found hidden in a small park. Looming behind is the doubtful artistry of soviet architecture, ready to devour this last sanctuary, it seems.
Why you might ask, is this important. This little log house (now covered with brick walls to stabilize and protect it), was the first building in St. Petersburg – ever. It is known as the Cabin of Peter the Great and served as tsar Peter's "palace" from 1703 until 1708, before the Peter and Paul Fortress had been finished. The following day the overwhelming splendor of the Hermitage, also known as the Winter Palace, would be on my schedule. Makes for a stark contrast, wouldn't you say?
How to get to Peter and Paul Fortress
Just like I didn't take a taxi from Peter and Paul Fortress back to my hotel, I also walked all the way to Hare Island, where the famous redoubt is located. Now I certainly knew that trams No. 6 and Bus No. 40 would drop me out straight in front of the gates. But walking gives you the opportunity to explore all the attractions that are lined up on your way to Peter and Paul Fortress – besides it is not a very long distance! From Palace Square, in front of the Hermitage, it's just about 2 kilometers. Excessive picture taking included, it took me about half an hour. Though I have to say that my hotel was located right in the city center (read my review of the amazing Four Seasons Lion Palace here)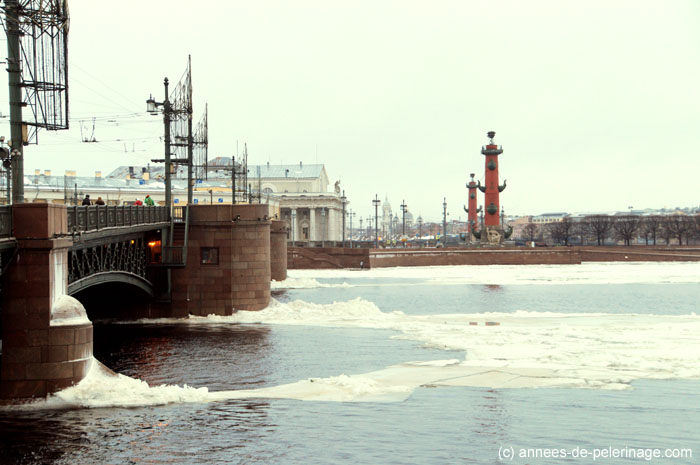 I got rewarded, however, with a wonderful view on Peter and Paul fortress from the Dvortsovyy bridge. It also gave me the chance to pass the impressive Rostral Columns in front of the Old Stock Exchange.
Tickets for Peter and Paul Fortress
Tickets can be bought near both entrances. One ticket office is located right next to the Peter and Paul Cathedral in quite a lovely ochre building. If you are visiting St. Petersburg in winter, you will have no problem at all getting tickets. Summer, however, is a different matter and I recommend you to come early in the morning since you can't buy tickets online. Also, check out the PeterburgCard. As a card holder you are entitled to get into the Peter and Paul Fortress for free (or well, rather at a discount, considering the card itself will cost you a couple of thousand rubles).
That's it. Hope you like my little walk through Peter and Paul fortress. How do you feel? Would you go visiting or is there too much historic politics mixed in for your taste?