Landscape photography at its best: The most beautiful cataracts & waterfalls in Iceland
When it comes to beautiful waterfalls, few countries in the world can compare with Iceland. The frequent rainfalls, the sparse vegetation, and the rugged volcanic landscapes are ideal conditions for a landscape photography. That's why I decided to compile a list of most beautiful waterfalls in Iceland.
On my last trip through Iceland, I realized that most people focus on the famous waterfalls in the South. This is a mistake! The north of Iceland has so many virtually unknown waterfalls most tourists never even knew existed (remember to check out my list of the 20 best things to see in Iceland). I hope this list will convince you to go an extra mile or two to discover the wild side of Iceland.
1. Kirkjufellsfoss (Snaefellsnes)
There is probably no waterfall as famous as Kirkjufellsfoss. I'd estimate that 50 percent of all Iceland travel guides use this iconic waterfall as a cover image. And who could fault them? It's certainly one of the most beautiful spots on the Snaefellsnes peninsula
How to get there: Just stick to the road 54. Kirkjufellsfoss will be right after the little village called Grundarfjörður
2. Migandi waterfall (Dalvik)
Most big waterfalls in Iceland are crowded with tourists and famous beyond the borders of the little Nordic country. For me, the most beautiful waterfall in Iceland is located in the Eyjafjörður bay near Dalvik. It goes by the name of Migandi and is best observed from a boat. As the bay is probably the best stop to observe whales in Iceland. Migandi drops almost 100 meters into the Atlantic Ocean and is, therefore, one of the highest waterfalls in Iceland
How to get there: Take a boat from Dalvik to the north and it will be on the right side. There is a parking lot nearby that grants partial views as well.
Also, check out my article on how to get from Reykjavik to Akureyri.
3. Sigöldugljúfur (Landmannalaugar)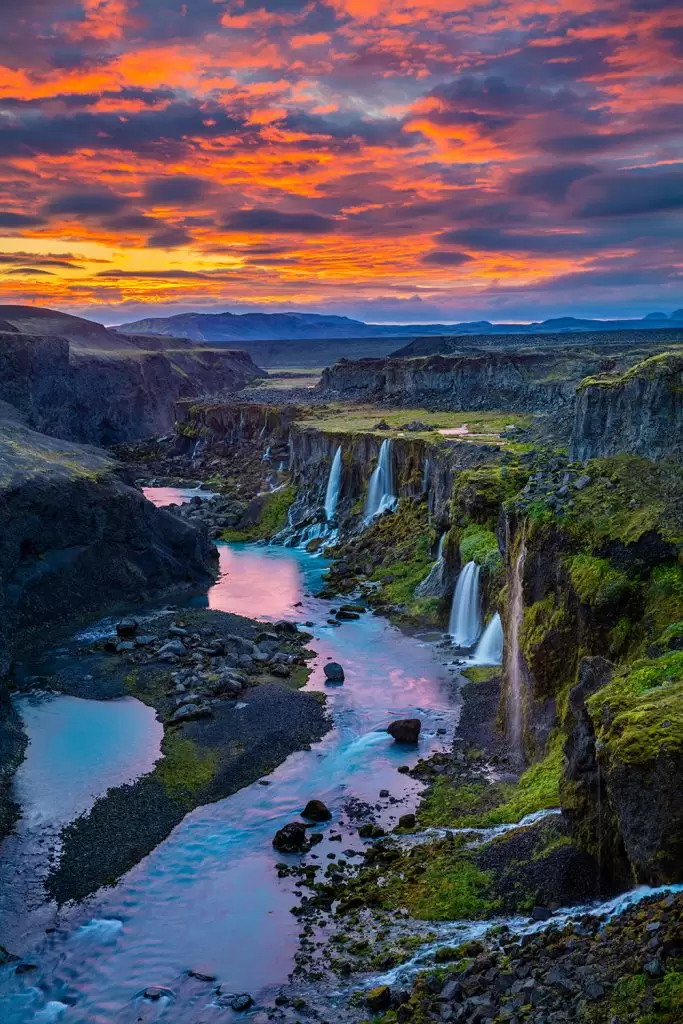 A true insider tip and one of the least visited sites in Iceland is certainly Sigöldugljúfur. The artificial canyon close to Landmannalaugar can only be reached via one of the infamous F-Road. But that shouldn't keep you from going – it's by far the prettiest place in Iceland.
How to get there: Drive South on the F208 coming from the F26. At one point you will cross a river, this is where Sigöldugljúfur canyon starts. Good 4WD Vehicle needed, will take quite some time to get there. The best view is from the east side.
4. Gljúfrabúi (near Vík)
They say those who take the road less traveled, will find rewards around every corner (my Iceland sample itinerary is full of such hints). And nowhere could this be truer than in Iceland. In plain (or rather not so plain) sight of famous Seljalandfoss, you will find Gljúfrabúi – certainly, one of the most fascinating waterfalls in Iceland, as it is hidden in a cave you cannot enter without getting wet.
How to get there: Stop at Seljalandfoss and walk the path (road 249) further north. After 300 meters it will be on your right side. You need to walk into the cave and through a little stream/pool.
5. Seljalandsfoss (near Vík)
Right next to Gljúfrabúi is another famous Icelandic waterfall. Seljalandsfoss is one of the very few waterfalls on this planet where you can walk behind the water curtain. It may not be the entrance to a fairy kingdom, but it's still insanely beautiful.
How to get there: Stick to the ring road and drive towards Vík. Seljalandsfoss will appear on your right side after you crossed a big bridge. Road 249 branches off here.
6. Hafragilsfoss (Reykjahlíð)
Probably the most impressive waterfall in Iceland goes by the name Hafragilsfoss. It's neither the highest and nor the broadest but certainly the waterfall with the most impressive setting. It looks a bit like the Icelandic version of the Grand Canyon.
How to get there: Hafragilsfoss is located on the 864, a road that branches off the ring road some 15 kilometers before Reykjahlíð.
7. Háifoss (South Iceland / Edge of the Highlands)
Haifoss waterfall is not exactly easy to reach. But those willing to leave the famous golden circle for a little detour, are rewarded with a view of Iceland's fourth highest waterfall.
How to get there: Take the road 32 until it branches off onto the 332. There is a parking lot above the waterfall. You can also hike from Þjóðveldisbærinn Stöng farm, which will take around 2,5 hours one way.
8. Skogafoss (Vík)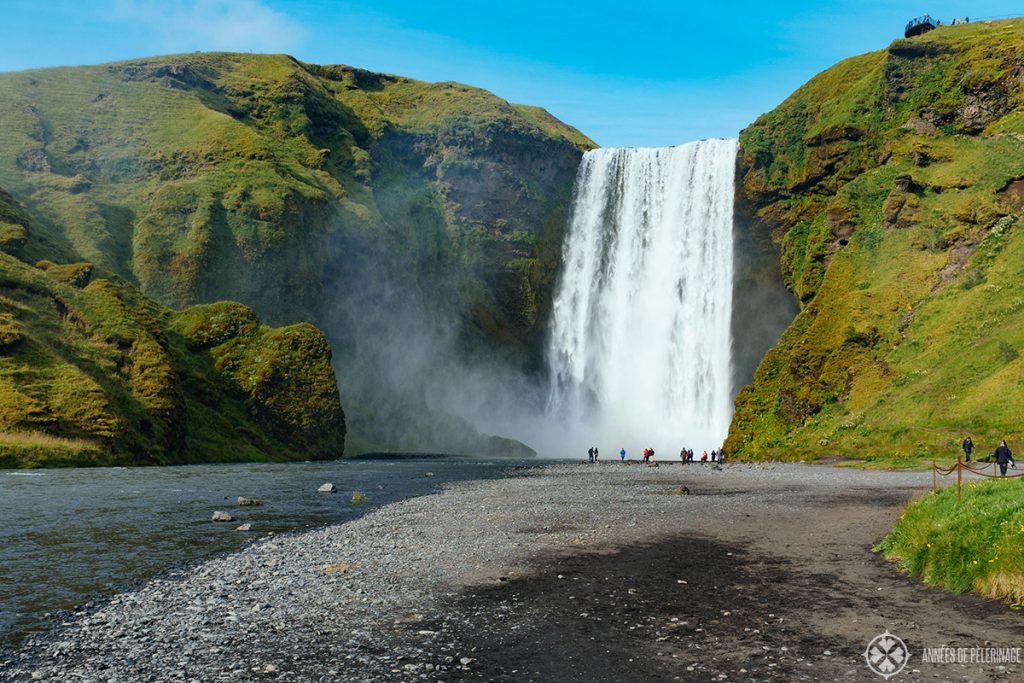 If I were to paint the perfect waterfall, then I'm pretty sure that I would draw something like Skogafoss. The massive waterfall in the south of Iceland is a tourist's favorite and the endpoint of an extremely beautiful mountain gorge. Definitely, bring some extra time to explore the mountain trail behind it (~ 3 hours)
How to get there: Skogafoss can be seen from the ring road some 10 kilometers before Vík. There is a huge parking lot and camping ground in front of it.
9. Fagrifoss (Kirkjubæjarklaustur)
Fagrifoss is a beautiful twin waterfall few tourists ever get to see. With a height of 80 meters, it ranks among the tallest waterfalls in Iceland, but it is only accessible with 4WD vehicles.
How to get there: Take the F206 north some two kilometers before the village Kirkjubærjarklaustur. Note, you will have to cross a river to get there.
10. Svartifoss (Vatnajökull National Park)
Have you ever seen pictures of the Giant's Causeway in Ireland? Well, then you have to visit Svartifoss! The secluded waterfall features the same unique basalt columns and can be reached after a hike of around 1 hour.
How to get there: Take the road 998 close before the village Hof. There is a huge parking lot you can't miss after about 1 kilometer on this road. From here it is a scenic hike up to Svartifoss and a couple of other, minor waterfalls through the Skaftafell national park.
11. Godafoss (Akureyri)
Goðafoss means Waterfall of the Gods and it is truly a magnificent sight. The might cataract has a u-shape and there are visitor's platforms on both sides. Take some time and explore them both!
How to get there: Just follow the ring road from Akureyri to the south. Goðafoss will be on the right-hand side after about 15 kilometers.
12. Gullfoss (End of Golden Circle)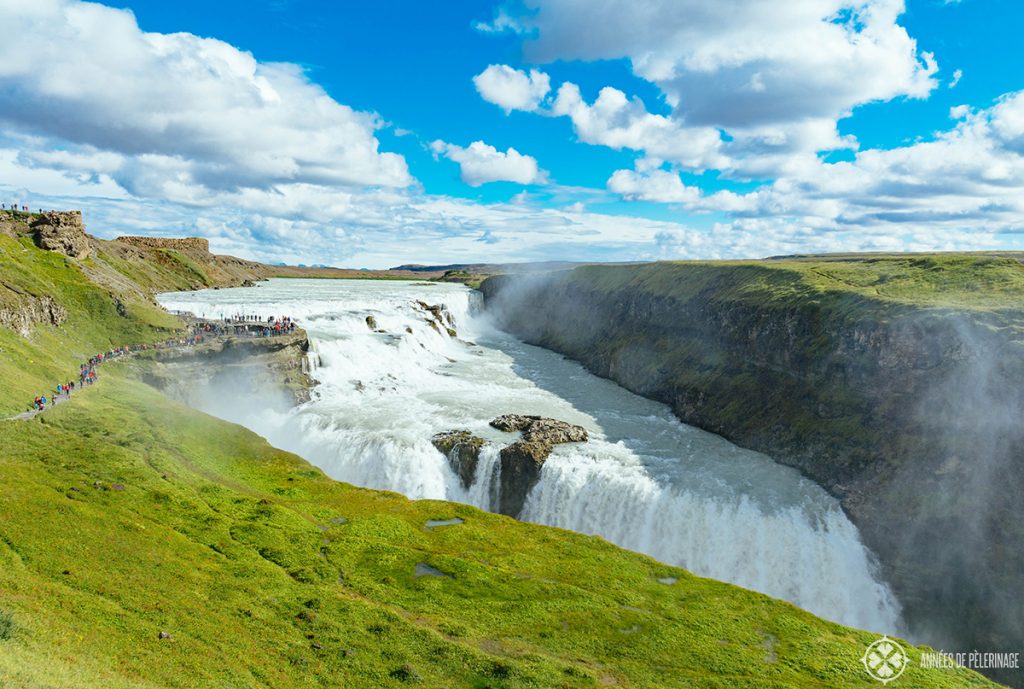 Gullfoss is one of my personal favorite waterfalls in Iceland. From a certain angle, it appears like the waterfall would be vanishing into the earth itself (which is not the case). Still, what a sight!
How to get there: Gullfoss marks the end of the so-called "Golden Circle". It's a well-maintained tourist route. Just follow route 35 and you will see the signs all over.
Still looking for accommodations on the Golden Circle? Read my review of the wonderful ION Adventure hotel.
13. Dettifoss (Reykjahlíð)
Dettifoss is Iceland's mightiest waterfall. 193m³ are said to crash into the ravine below per second. There are no railings, so you can walk straight to the edge and look into the water-sprayed abyss. Truly a mind-changing experience.
How to get there: Both route 864 and route 862, a couple of kilometers from Reykjahlíð lead directly to Dettifoss. The east bank (route 864) has the prettier view (as above), in my opinion
14. Glymur (West Coast)
Glymur impressive cascade reaches a height of 198 meters. Up until 2011, it held the record for the tallest waterfall in Iceland (but was surpassed by a newly form waterfall near Morsárjökull glacier). Still, Glymur and its lovely canyon make a fine addition to any Iceland itinerary.
How to get there: Take the ring road to the north of Reykjavik (route 47). Instead of driving through the tunnel under the fjord, drive through the read end of the fjord. You'll see a sign. From there you need to hike – extremely scenic but will take ~ 3hours
15. Hengifoss (Egilsstaðir)
The third highest waterfall in Iceland (128 meters) is called Hegifossa. A lovely hike of around 1 hour will let you pass Litlanesfoss (quite impressive itself) and into the rocky canyon of Hegifoss.
How to get there: From Egilsstaðir follow the route 931 on the east side of the lake. Close before the bridge across the fjord, you will see a parking lot and a sign.
Other beautiful waterfalls in Iceland
I want to be quite truthful with you. Compiling this list was tough. There are so many beautiful rivers and canyons in Iceland and almost each of them features a small waterfall. I tried to list the 15 most beautiful waterfalls in Iceland, while still highlighting some places you won't see in a lot of other guides. I hope I succeeded.
That being said, I highly recommend you to drive around Iceland with open eyes. Beauty can be found everywhere, and you really wouldn't do the country justice, if you just followed the tourist masses on the popular ring road. Reducing Iceland to its waterfall is like reducing Italy to ice cream. There is so much more and I invite you to explore it!
Also, keep in mind that all these waterfalls will look completely different in winter. Check out my guide to the best time to visit Iceland to find out more.
Thus ends my little guide to the best waterfalls in Iceland. Got any question? Feel free to leave a comment below. And don't forget to pin this to your Pinterest board!
Picture credits: Sigurdur Jonsson