Akureyri is the capital of Iceland's north, the second biggest city in the Arctic country and a must visit for anyone wanting to see wildlife, volcanoes and the Northern Lights (which is why its featured in my list of the 20 most amazing things to do in Iceland). At the same time, the city of 18,000 inhabitants is located some 400 kilometers away from Reykjavik. So, a lot of tourists wonder how to get from Reykjavik to Akureyri. Here is how:
From Reykjavik to Akureyri by car
The probably most common way to get to Akureyri is by car, as most tourists opt to see Iceland on a road trip (check my perfect sample itinerary here). Renting a car in Iceland can be quite expensive, especially so, as you will need a 4WD jeep for all the smaller roads that aren't the ring road (jokingly often referred as the only proper road in Iceland).
If you want to get to Akureyri by car, you only got two options:
1) Ring Road (Road #1)
The easiest and fasted way to reach Akureyri by car is taking the ring road up north. It's almost 400 kilometers and will take you roughly 6 hours, as there is a speed limit of 90 kilometers per hour.
Do know that this is not the scenic option, as there are little highlights on the road. You can do it in two days and explore the beautiful Snaefellsnes Peninsula as a more scenic alternative. If you are driving from Reykjavik to Akureyri in winter, this is basically your only option, as most other routes are either blocked or not operated.
2) Golden Circle and then F35
No trip to Iceland is complete without visiting the Golden Circle. But did you know that you can continue on the road F35 from Gulfoss onwards to the amazing Hveravellir geothermal fields and then take a "shortcut" towards Akureyri?
It's not really a shortcut – only kilometer wise. The going on the F-road is beyond slow (50ish kilometers per hour). But you'll get the unique chance to cross the highlands and see this amazing part of Iceland as well. And truth be told, Hveravellir is truly amazing and worth a visit on its own.
Note: No matter which option you pick, it's not feasible to see Akureyri on a day trip from Reykjavik. The least you will need is 3 days, as you almost need a full day for the whole tour.
Bus from Reykjavik to Akureyri
There are regular buses leaving from Reykjavik to Akureyri. This option is definitely cheaper than renting a car and more or less takes the same time (~6 hours). You cannot really stop on the road, but then again there is not all that much to see. Straeto is the bus company you will want to choose (here's the website/timetable). Not that the timetable differs in the winter months when the highlands are less accessible.
From Akureyri to Reykjavík:
10:15 am, arriving at 4:44 pm
4:20 pm, arriving at 10:49 pm
From Reykjavík to Akureyri:
9:00 am, arriving at 3:29 pm
5:30 pm, arriving at 11:59 pm
During the summer months (June to September), Sternatravel also offers hop-on-hop-off tours around the ring road. They also serve the route between Reykjavik and Akureyri, though they are making a little detour around the Tröllaskagi peninsula, so you'll enter via Dalvik. Find more information on their website.
Another bus alternative for summer would be https://www.sba.is/.
Note: There is a sheer endless amount of tour companies offering various tours around the ring road.
Reykjavik to Akureyri: flight
Akureyri has a small airport and taking the plane might just be the fastest and most comfortable way to reach the scenic town in the north of Iceland. Icelandair has a lot of connections from the domestic airport, but during the summer months, they even started to offer a once a week connection directly from Kevlavik.
Reykjavik to Akureyri by helicopter
The probably most spectacular way to reach Akureyri from Reykjavik is by helicopter. As of now, there are no standard tours, but some of the helicopter companies starting out from the capital area will still bring you up. Here's one of them.
Mind you, taking the helicopter is certainly not the cheapest option. You can expect prices of around 1,000 US-Dollar per person for the two-hour ride.
Getting from Reykjavik to Akureyri by bike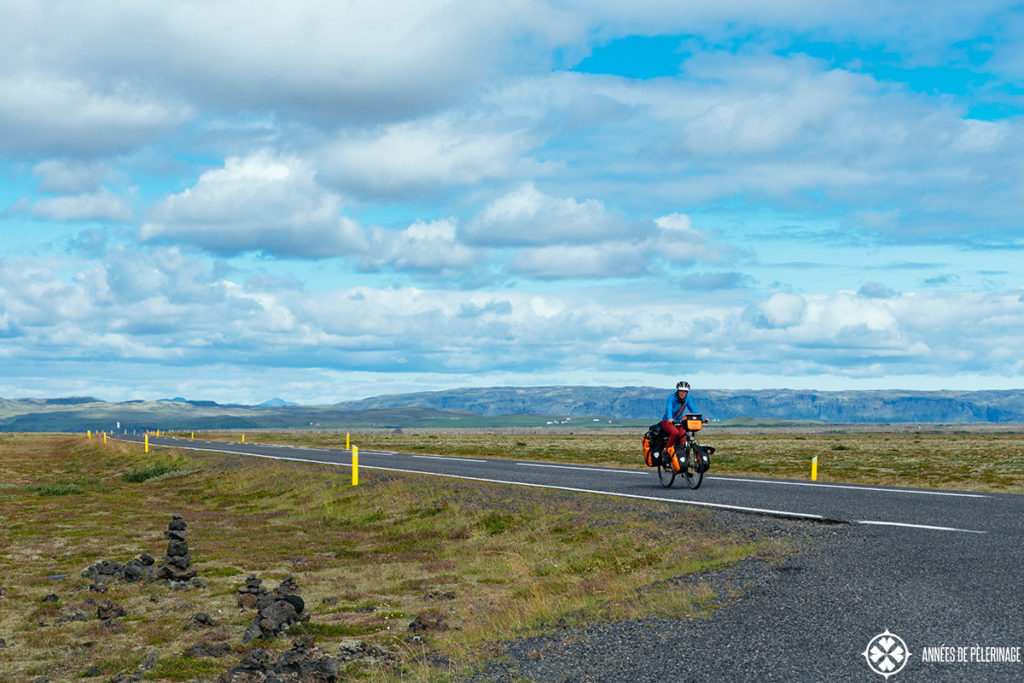 Biking is quite popular in Iceland. First of all, the wide open landscape is best experienced directly. I find that a car or even a bus adds a weird distance to the whole affair. Also, Iceland is not exactly the cheapest country and biking around certainly has its appeal to all frugal travelers. It's only an option for the summer, obviously, and even then there can be rains.
There are a couple of routes, though the F35 is probably the fastest you can take, with the least traffic, but it's a gravel road. You'd have to have your own tent along, though there are two guest houses on the road (one in Hveradlir, where you'd want to stop anyhow).
Or you could opt to take the route via Snaeffels peninsula, which certainly is pretty as well, but will take way longer.
That being said, most people biking around Iceland stick to the south, so I'm not entirely sure making your way that far up north is a good idea.
Last note: Now you probably didn't see me mentioning anything about a Reykjavik to Akureyri by train. There are no trains in Iceland, so this is, sadly, no possibility.
Things to see between Reykjavik and Akureyri
I already mentioned there are not too many sights on the way to Akureyri without making a detour. But if you start out early enough, you got a couple of lovely options.
Hvitserkur is a unique rock formation on the F 717 you really shouldn't miss. It kind of looks like an elephant, but the name actually means white shirt (as it is covered in guano).
You could also visit the birthplace of Leif Erikson, the first man to discover Amerika from Europe, in Eriksstadir
The two waterfalls Barnafoss and Hraunfossar also make a nice side trip on the F 518.
Directly on the ring road, you can explore the craters of Gabrok, where a lovely walking trail is built to walk the ring of the crater
Before you drive to Akureyri you might opt to visit the swimming pool at Hofós, said to offer the best views of any swimming pool in Iceland
If you decided to visit Hvitserkur, you can also visit the Borgarvirki Viking fortress, which is also located on the F 717. In fact, the whole Vatnsnes peninsula is a worthy stop on your way up to Akureyri.
So, that was my little guide on how to get from Reykjavik to Akureyri. Liked it? Why not pin it to your Pinterest board!
Picture credits: Angi English, Land Rover MENA