A list of 20 activities in Lima, including all the major points of interest & must-see attractions in Peru's capital.
Are you currently planning a trip to Peru? Then, you are probably wondering if Lima is worth a visit and how much time you should be spending in the city, right? So let me tell you, of all the cities in South America, Lima surprised me the most. There are just so many amazing things to do in Lima!
Before my first visit to the city, I mostly heard downright awful things about Peru's capital: It has no true highlights, suffers under a high rate of criminality, there is so much poverty, it constantly struggles with water scarceness and just so many other half-truths. Some of the guides I read even went as far as telling me to skip the city altogether and move right on to Cusco or Machu Picchu. Cusco is certainly great (find my perfect Cusco itinerary here), but so is Lima.
Yet, I'll willingly admit that Peru's capital has problems, and maybe a tiny tack too many of them. It's probably not the best place to flash your western riches and it certainly lacks the luxury gloss of Paris or Dubai. If you are, on the other hand, looking for a young, creative city, with quite a long historical background, then there is no way around visiting Lima. The city is nothing short of amazing if you know where to go, which obviously is the purpose of this article. So here are the must-see activities in Lima:
________________________
What to pack for Lima & Peru? Check out my detailed packing list!
1. Plaza de Armas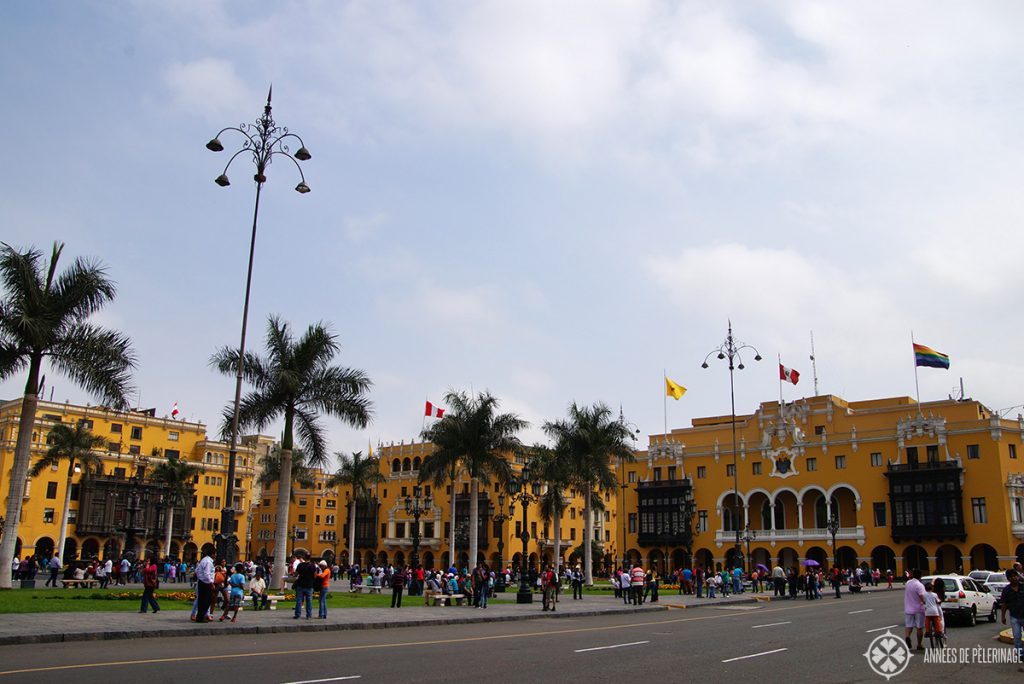 Any tour through Lima should start at the central Plaza de Armas (or Plaza Mayor how it is also called sometimes). Many shops and restaurants are lining the surrounding streets and there is just so much South American flair to breathe in.
Definitely, check out the Archbishop Palace and its unmissable wooden balcony. A true work of art. You'll see many similar balconies throughout Lima and the rest of Peru, but you'll be hard pressed finding a more beautiful one.
At the far end of the Plaza de Armas, you'll find the Presidential Palace (Palacio de Gobierno). It is possible to visit the palace, but you'll need to register without your passport at the public relation office around the corner.
Pro tip: Be here at noon when they celebrate the changing of the guards! You'll have to watch through the fence, but it's still worth it.
2. Iglesia y convent de San Francisco
From Plaza de Armas it is only a short walk to the Iglesia y convent de San Francisco. The convent is truly ancient and dates back to the very beginning of the Spanish Conquest. Famous artworks, an ancient library and so much more can be explored within.
Definitely, make time to visit the catacombs. They might be a little bit grizzly, but so worth visiting. A word of warning, though. You will see a looot of human skulls. So this is definitely not for the faint of heart and maybe nothing for young children.
3. Museo Larco
Of all the museums in South America, this might be the best. The Museo Larco combines an excellent collection of pre-Columbian artworks with an outstanding way to display them. I am aware that not everyone is sharing my passion for all things Inca, but really, don't skip this museum!
Not the museum guy or girl at all? The museum has also one of the loveliest restaurants in Lima, so definitely drink at least a coffee and enjoy the beauty of the courtyard.
4. Parque de la Reserva
If you are traveling with kids, this will be a no-brainer. The Parque de le Reserve is a huge park with hundreds of water fountains right in the middle of the city. Go here at night when all the fountains are illuminated by fantastic light shows.
Personally speaking, I had qualms visiting the Parque. Lima does have a huge problem with drinking water. It virtually NEVER rains in Lima, so all water has to come from the mountains (or the frequent mist). Wasting so much water feels like a huge waste. Still, the park was completed in 1929, when today's problems were probably less dire.
5. Walk the Miraflores boardwalk
Of all the things to do in Lima, this really was my favorite part. The district of Miraflores is abutting the high cliffs to the Pacific Ocean. The whole setting is just so utterly beautiful, it's hard to describe with words. There are so many wonderful restaurants & bars in Miraflores, and certainly the best hotels in the city. There's also a huge shopping arcade and lots of nightlife.
Definitely, take your time and explore the many parks lining the cliffs. Most famous of them is probably the Parque del Amor, but there are so many others as well. At the far end of the miles-long walkway along the cliffs, you'll even find a little lighthouse.
6. Huaca Pucllana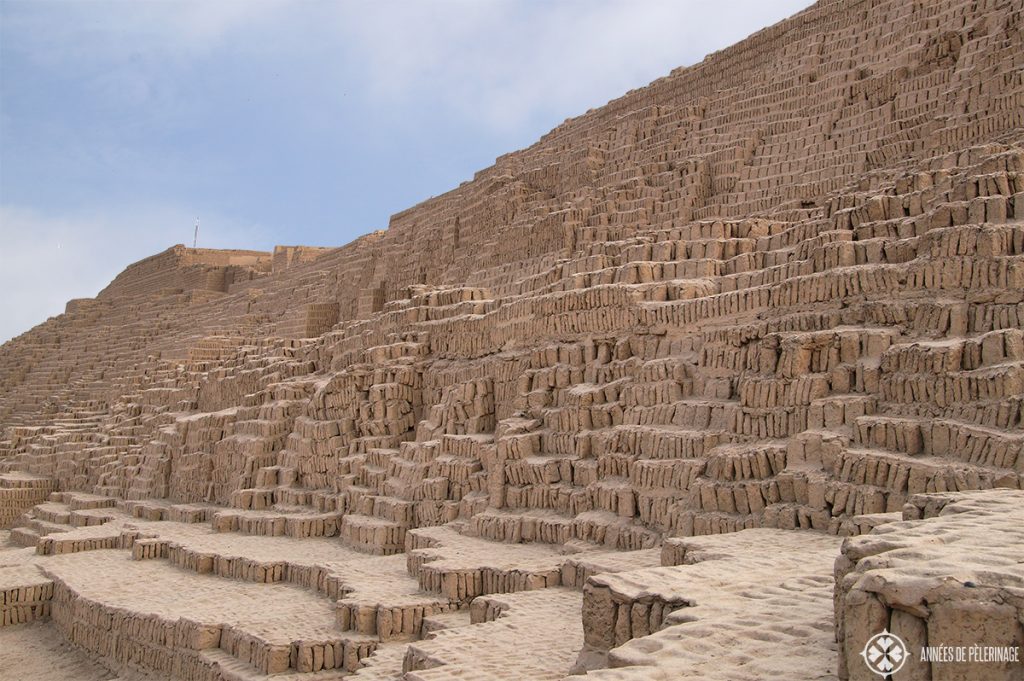 Lima is an ancient city and was well established long, long before the Spanish arrived. Between 200 and 700 AD, the so-called Lima culture had its political and ceremonial center in what is now known as Lima. Many remains of this culture can be found throughout the city, but none is more impressive than Huaca Pucllana.
Huaca Pucllana is a huge pyramid built from adobe and clay right in the center of Miraflores. It's even more impressive when you realize that the whole pyramid survived more than 2,000 years almost unscathed. All it would have taken was a big rain shower to wash it all away. Which luckily never happened (yes, Lima is that dry!).
Insider tip: Book a table at the restaurant inside Huaca Pucllana and watch the pyramid at night while eating some traditional Peruvian food!
7. Tour the Centro Historico de Lima
I already mentioned a few historic highlights in Lima, but there are certainly more. In 1988 UNESCO declared the whole historic Center of Lima a World Heritage Site. So definitely plan on exploring these ancient houses and its beautiful balconies!
8. Museo Oro del Peru
This was one of my favorite museums in Peru. Sadly, the museum is in desperate need of funds and not exactly located in the center. The display cabinets are just so out of date. BUT, the museum is also home to a glittering collection of pre-Columbian works in gold.
Burial masques, ceremonial knives, the famous earplugs of the Inca and so much more. If you are into this kind of things, take your time and plan an hour or two to view the extensive collection.
9. Pachacamac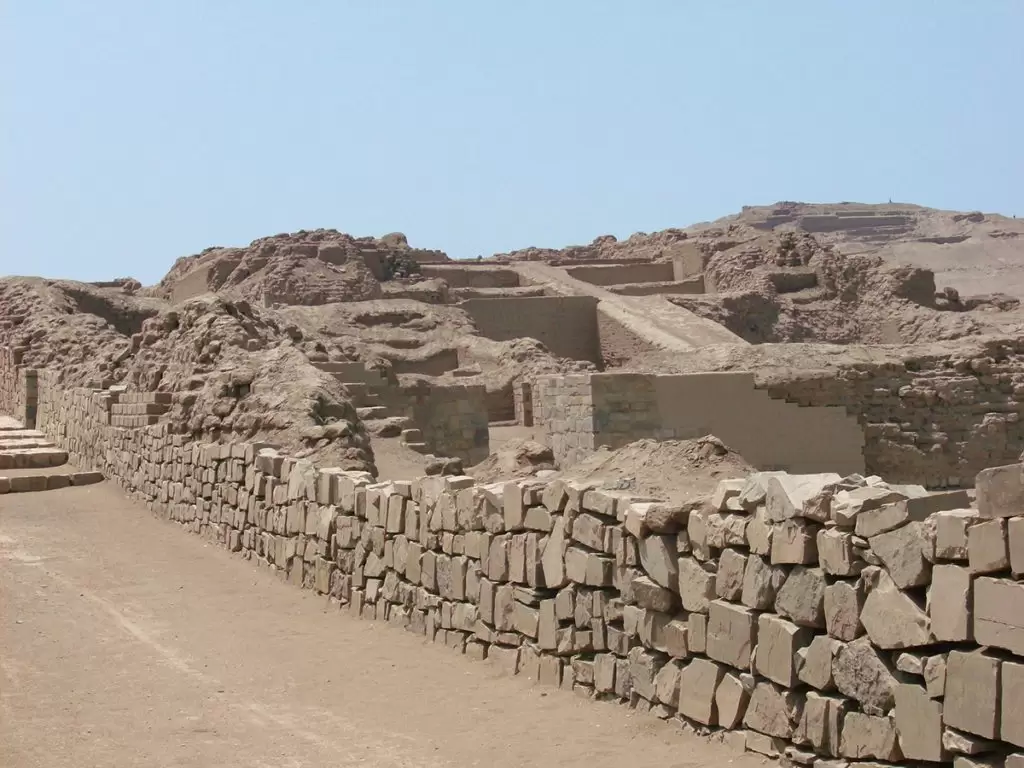 Pachacamac is a huge archeological site some 40 kilometers southeast of Lima. The oldest buildings date back to around 200 AD but the site was continuously used up until the Spanish Invasion. Machu Picchu certainly is beautiful (definitely read my guide), but there is more about Peru than just the Inca. Here you'll get to see the chance to see the true heritage of the country. So, why not consider this day trip from Lima, eh?
10. Windsurfing and surfing ( Beaches in Lima)
The Pacific coast around Lima might not be the best place to go swimming, even though it is actually quite beautiful. There is no sandy beach, the wind can be quite strong, and the water isn't particularly warm during the height of the tourist season from May to September. Instead, there are excellent conditions to go windsurfing/surfing. So if you are into that kind of sports, Lima has a lot of options for you should not miss.
You can even see spectacular wildlife. Here's an awesome post about swimming with sea lions in Lima.
11. Museo de la Nacion
The Museum of Nation is actually the biggest state-run museum in the city, and home to an outstanding archeological collection. Sadly, the museum is undergoing an extensive reconstruction phase and all the permanent collections are closed (definitely check before you visit, if they reopened). Currently, there is a wonderful temporary exhibition about the Shining Path movement. I really loved it, especially because I was not aware of the true depth of this militant communist uprising in Peru.
12. Attend a fiesta
You really haven't been to Peru, if you haven't attended at least one fiesta. If you are visiting during May and June, there is a high chance of being able to attend one of the many religious festivals. I loved watching the colorful costumes and joyful music.
13. Lima at night
I already mentioned visiting the water park and Huaca Pucllana at night, but you really should extend your walk through the city beyond that. Miraflores is wonderful at night, as is the historical center of Lima (especially the Plaza de Armas). Lima actually does have an active nightlife with many lovely bars and some nightclubs. A word of warning, though, try not to stray too far from the main roads, as criminality is an issue in the city.
14. Museo del Banco Central de Reserva del Peru
I really liked this museum in the heart of the city. I have to stress that the museum is all about money and monetary history. So expect to see lots of coins in uncounted shapes and many different metals. It is a good collection, covering the whole South American history. But obviously maybe not for everyone.
15. Go paragliding
Are you scared of heights? No? Well, then you should definitely consider going paragliding in Lima. Where? Miraflores! The cliffs are only some 50 to 100 meters high, but the weather phenomena responsible for Lima's arid climate also creates a very constant upwind along the cliffs. So despite the lack of high mountains, it is possible to go paragliding there. No need to worry about your lack of experience. There are tandem flights available.
16. Casa di Aliaga
Casa di Aliaga is a precious little gem in the center of Lima. The mansion dates back to the 16th century and is said to be the oldest surviving house in South America. Considering there have been many earthquakes, fires, and other calamities in the century between, it is quite fascinating to see it in such a pristine condition. Do go!
17. Eat some ceviche
You shouldn't visit Lima (or Peru) without eating Ceviche at least once. Okay, to be quite honest with you, there is more to the Peruvian cuisine than the famous seafood dish. But, as they say, you gotta start somewhere and Ceviche definitely should be on your list.
18. Go shopping at Gamarra
Gamarra is a shopping queen's wet dream come true. It's a whole district full of 20,000 textile shops, manufacturers, and outlets. There is basically nothing you can't find here. Cheap fakes from international designer brands, but also lovely local fashion (I'd concentrate on these if I were you). Expect a crowd (especially on a weekend), but also lots of stuff you won't find in Europe or the USA.
Here is the official website (which is actually a bit dull): http://www.gamarra.com.pe/
19. See a bullfight at the Plaza de Acho
Some items on my list of things to do in Lima are a bit controversial, and this is one of them. The Plaza de Toros de Acho is the premier bullring in Lima and is actually classified as a national historic monument. It's actually the second oldest bullring in the world (opened in 1766) and part of the Peruvian tradition. Bullfights are not held the whole year, but only during a special festival. So depending on the time of your visit (and your ethical stance towards the sports), you might consider attending a performance.
20. Drink a Pisco Sour
Lima is a very young city. Young in terms of its residents, its nightlife and its art and music. At the very least you should sample the most famous cocktail of the country at least once: The Pisco Sour. Pisco liquor, lemon juice, syrup and egg white are mixed together to create one of South America's most iconic cocktails. Go to a salsa bar to enjoy it, or one of the rooftop bars in Miraflores.
Where to stay in Lima
Read all my inspiration and am wondering where to stay? I got a couple of recommendations for you! First of all, I'd like to talk about the general area you should be staying. In my opinion, Miraflores is the ideal place. It's a very modern district with equally modern hotels. The historic center is, weirdly enough, home to a couple of rundown hotels and guesthouses, but nothing worth noting.
This is kind of bad because Miraflores is quite far away from quite a lot of the other highlights and official taxis are not downright expensive but not exactly cheap either. Still, I'd really recommend you to swallow that pill, as other districts in Lima can be less safe and less suitable for a western tourist. You'll hear a lot of warnings from other tourist guides, a lot of these are exaggerated, but that doesn't mean you should leave your common sense at home.
Note: I get commissions for purchases made through links in this post.
The Belmond Miraflores Park
In really loved the Belmond Miraflores Park. It's located right on the cliffs of towards the Pacific Ocean, has a lovely rooftop terrace and rooftop pool, and all the charm of a wonderful 6-star hotel. Considering the excellent service and location, it isn't even that expensive.
If you want to opt for a little cheaper hotel in Miraflores that still has a pool, do have a look at the Radisson Decapolis Miraflores. It's obviously not a 6-star hotel, but still very, very decent and a good alternative for smaller budgets.
Weirdly enough there are no good hotels in the city center at all. If you really want to stay close to the tourist attractions, you could try out the Hotel Continental Lima. It is the best option in the heart of the city in my opinion, but can't hold up to the standard of the newer hotels in Miraflores.
If you are looking for more recommendations you should absolutely read my article about the best hotels in Peru. Lot's of information and pretty pictures!
When to visit Lima?
I already mentioned it, but I'll say it again: Lima is one of the few capitals in this world, where it never rains. As Peru isn't that far away from the equator, temperatures are fairly moderate through the year. So there really aren't any true bad times to visit the city. You have to know, however, that Lima is more or less continuously hidden behind a very thick veil of fog during our summer months (meaning April through October). It will be warm, it won't rain, but you probably won't see the sun for more than a couple of hours either.
Most tourists want to see more of Peru, though, and May to September is the dry season for the rest of the country. Lima is perfectly enjoyable with a little fog clouding the skyline, but hiking the Inca trail in January and its frequent rains in the Andean highlands is no fun at all!
So, I hope you liked my little (or looking at the word count maybe not so little) list of things to do in Lima. If you got any questions, feel free to ask them in the comments below. I'd be more than happy to answer them. Oh, and don't forget to pin this for later!
Credit for pictures: Patty Ho, Jorge Gobbi, Christian Córdova, Ivan Mlinaric, Vladimir Terán Altamirano, Cathrine Lindblom Gunasekara