A detailed list of the best tourist attractions and day trips from Cusco and how to get there.
Are you currently in the process of preparing your Peru itinerary? And now you are wondering about the best day trips from Cusco? Then you came to the right place!
Cusco is one of my favorite cities in the world. The ancient capital of the Incas sits in the heart of the magnificent Sacred Valley. So, it really pays off to leave the city limits as well. There might be many amazing things to do in Cusco but the surrounding Inca ruins and towns are just as amazing. In this travel guide, I'm going to show you the best day tours!
I want you to be in the position to plan your perfect trip, but definitely make sure to read my detailed Cusco Itinerary as well. Further down below, I'll also show you the best and cheapest way to use public transport and your alternatives for getting around.
Anyways, let's get started, eh?
Note: I earn a small commission for purchases made through links in this article.
1. Machu Picchu day trip from Cusco
No list with the best day trips from Cusco can exist without mentioning Machu Picchu in the same breath. The famous Ina citadel is one of the top tourist attractions in South America, a UNESCO World Heritage Site, a modern New World Wonder and, above all, a mystic place that will overwhelm you with its beauty.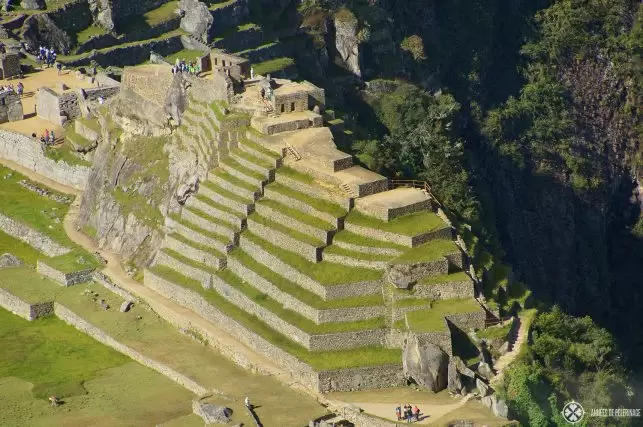 A lot of people chose to stay a night in Aguas Calientes (the town closest to the lost city of the Incas), but it's entirely feasible to do a day trip to Machu Picchu from Cusco. Your ticket is only valid for a time slot of 4 hours anyways, so if you catch an early train, things will definitely work out in your favor. Hotels are much cheaper in Cusco as well.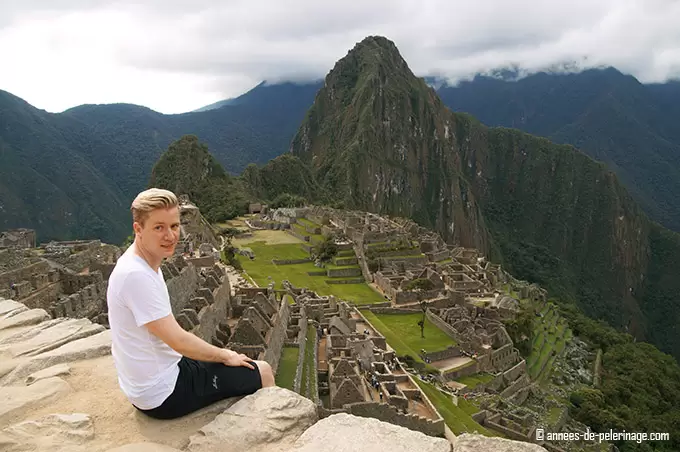 Personally speaking, I love the afternoon in Machu Picchu much more than the early morning. And watching the sunrise is a myth anyway. Just make sure to book your tickets well in advance (they sell out fast).
While you can definitely arrange your train tickets independently (especially if you stay a night in Machu Picchu), it makes sense to actually book a guided tour for your day trip. Here's a Machu Picchu tour from Cusco with good reviews.
Further reads:
2. Pisac Inca ruins & market
Often overlooked but extremely beautiful at the same time is Pisac. The small town to the Northeast of Cusco is famous for its colorful market (an excellent spot to buy your souvenirs). But abutting the mighty mountain above the town is another Inca ruin you have to visit.
I wrote a detailed guide to visit Pisac here. The many smaller archeological sites of the huge complex are quite breathtaking. I do recommend you to take some time and hike through it all. Most tourists just visit the fortress at the very top, which is quite a big mistake.
If you walk a bit further down, you'll be able to enjoy some grand vistas of the whole valley and see some amazing other ruins. In fact, the temple of the sun further down below is the true highlight of Pisac.
Here's a full tour through the Sacred Valley that stops in Pisac and most other highlights I mention below.
3. Rainbow mountains
10 years ago, the rainbow mountains weren't even a thing among Peru insiders. But one infamous Instagram picture later, and almost everyone wants to see them! You will have to hike about 1.5 kilometers from the start of the trail and it will be quite exhausting at these high altitudes.
But the landscape is extremely beautiful in this area and it's quite worth it. You'll notice that the colors of the mountains are probably a tiny bit less intense than they appear on some heavily edited pictures. It will take a full day to do the tour and if you are not as sure-footed, definitely bring walking sticks!
Here's a link to an organized tour to the Rainbow Mountains
4. Tipon water gardens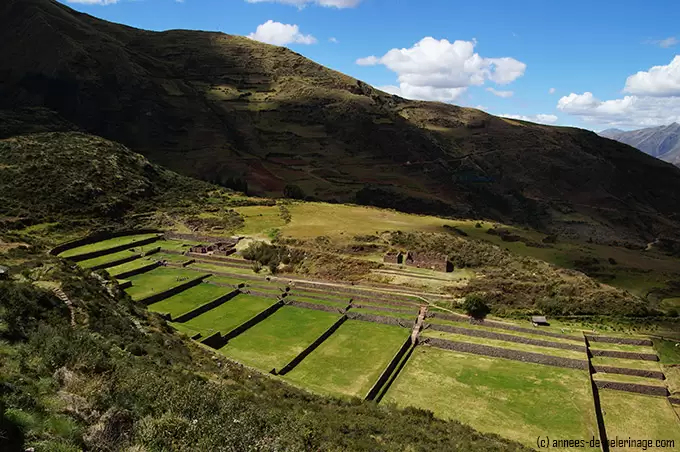 My personal favorite ruin in Peru? By far Tipón. The ancient water gardens of the Incas are a truly mystical place and it's still somewhat an insider tip. Back when I visited the first time, I had it almost completely to myself. Things changed a bit in the past year, but it's still a pristine place.
I recommend you to take some extra time and climb the hill behind Tipon so you can get a nice view of the ruins and see the ancient temple above it as well. Here is my full guide to Tipon
5. Ollantaytambo Inca fortress
A good alternative to Machu Picchu? Ollantaytambo. The last fortress of the Incas is a true sight to behold and almost as fascinating as the former. The ruins are split into two parts and hug the mountains surrounding an ancient city that still looks every part as it might have looked 500 years ago during the reign of the Inca.
As Ollantaytambo is the last stop on the train to the famous Inca citadel, it can make sense to sleep a night here. Read my Ollantaytambo guide here.
6. Maras salt mines
Not all places and tourist attractions near Cusco are ruins. Some of them, even though they date back to the times of the Incas, are still in use. The Maras salt mines are one of them. It's a place where people from the Sacred Valley have produced salt since ancient times.
Years ago, you could walk around the evaporation ponds freely. As the site got increasingly popular (it's just so beautiful!) that is no longer possible. Still, don't hesitate for a second to visit Maras! Read everything you need to know about Maras salt mines
7. Moray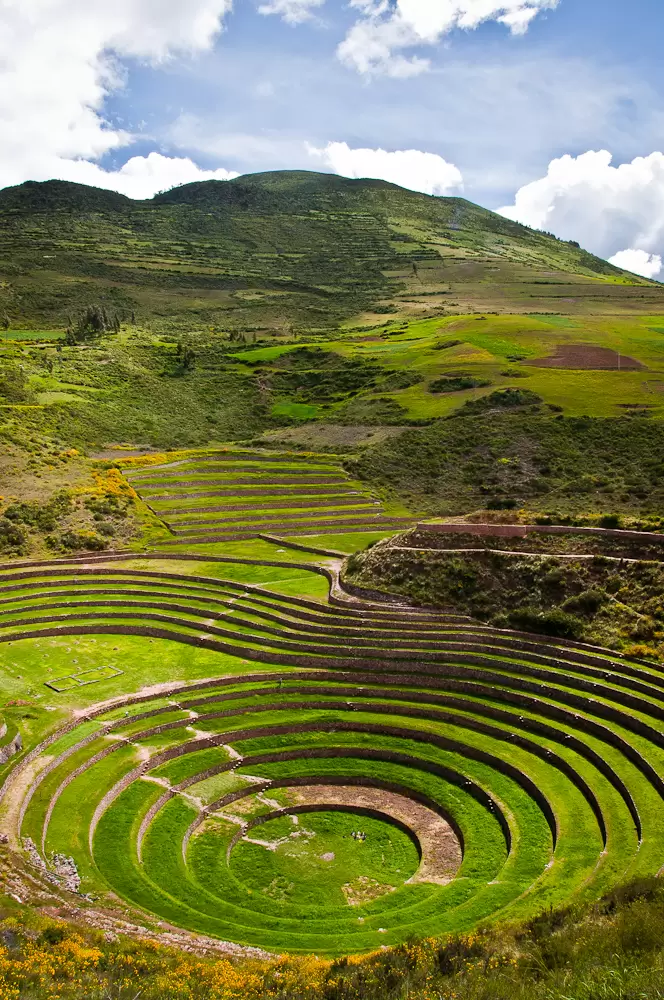 Right next to Maras you'll find another important Inca site. It's perhaps the most mysterious place as it kind of looks like a ufo landed or something. Most scientists believe it was an agricultural testing site, but that interpretation is still up for debate.
One thing is for sure. The Moray ruins are as beautiful as fascinating and they'll be a beautiful stop on your day tour through the Sacred Valley!
8. Ausangate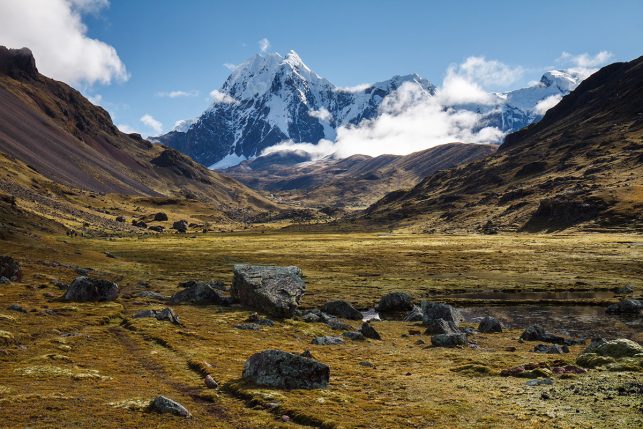 Do you like trekking? Then the Ausangate mountain in the Cordillera  Vilconota range should be on your list of the best day trips from Cusco. There are many different trails available and even some wonderful multi-day hikes!
Note: Once a year, two weeks before Corpus Christi, there's an important festival held here. The Quyllur Rit'i which attracts thousands of pilgrims!
9. Huchuy Qosqo
Huchuy Qosqo or "Little Cusco" is one of the smaller archaeological sites near the capital. It dates back to around 1400 CE and was once an important country estate of the Viracocha Inca (1410-1438). It was actually the very estate he flew to evade the onslaught of the Chancha people which is son defeated.
The Spaniards razed the country estate after their conquest, but the remains are still quite fascinating.
10. Sacsayhuaman
Technically speaking, Sacsayhuaman is still within Cusco's city limits. But since it involves quite some hiking and the ruins are actually quite bit, you'll probably still need a half a day to tour them, which is why I felt like listing it in this guide.
Sacsayhuaman was once the fortress above Cusco. The Spaniards razed the ancient citadel for its building blocks (and as a visual testament of their power). The few remains are utterly impressive nevertheless. Read my detailed guide to Sacsayhuaman here.
Other day trips from Cusco
The sacred valley of the Incas is an incredibly rich destination. And there are quite a couple of other tours from Cusco you could plan during your stay. It's easy to spend a week or more here. Played like Humantay Lake, Q'engo, Chonta or Chinchero are certainly also worth visiting.
Above all, you should try to enjoy the unique food and the amazing culture of this magical region. Just hiking or driving through the valley can be a beautiful experience. So, don't fuss around too much :)
Day trip to Lake Titicaca from Cusco
I have gotten quite a lot of questions regarding doing a day trip from Cusco to Lake Titicaca. This is not possible. The train or bus takes 10 hours + and flying for one day makes little to no sense at all. Personally speaking, I feel Lake Titicaca is the most beautiful part of Peru and it really makes sense to spend 3 or 4 days there. Here is how to get from Cusco to Lake Titicaca
Further reads:
Day trip to the Amazon Rain forest from Cusco
It's really not feasible to see the Amazon Rain forest on a day trip from Cusco either. In fact, as remote as the rain forest is, staying less than 4 days is really not recommended (you'll need one full day to get to a lodge and another to return).
But, it's really worth it. The animals you will see will blow your mind. Do keep in mind two things, tho. Machu Picchu is located in a very dense cloud forest, so you'll get your first impression here. And the Amazon Rain forest is bigger than just Peru. You could also visit one of the beautiful national parks in adjacent Ecuador (which is what I did) and book a stay at an Amazon Rain forest lodge there.
How to get around in Cusco
Peru is a fairly inexpensive country. You can catch a full-day tour through the Sacred Valley for less than 30 USD. So, I personally wouldn't fuss around to much about taking a local guide. It's really worth it, plus you are supporting the local tourist industry with it.
That being said, you can also take a bus or colectivo (shared minivan taxi). Most of them will depart at Calle Pavitos in Cusco and they can be a super budget alternative. Regular taxis are fairly inexpensive as well and you can actually book a driver for the whole day.
If you are traveling in a group of 3 or 4, I'd recommend taking a taxi. Haggle a bit but depending on the distance and the car 50 to 100 USD per full-day is what you can expect. Colectivos will only cost a couple of pesos but might be a bit more cramped and nerve-wracking, though.
So, this was my guide to the best day trips from Cusco, Peru. I hope I was able to give you a good introduction and feel free to ask any questions in the comments below