An inspirational list of the top tourist attractions and places to see in Aswan, Egypt
Egypt is a fantastic place, and one of the highlights on the Nile is certainly Aswan. The small city in the far south of the country has been a tourist's favorite for more than 200 years. And let me tell you, there are quite a lot of things to do in Aswan!
Even Agatha Christie cherished Aswan and wrote one of her most famous books here (Death on the Nile), staying at the fabulous Old Cataract Hotel. That's why you absolutely need to visit as well (make sure to read my 14-day Egypt itinerary, to find out how).
Still not convinced? Then I would also like to highlight, that positions three and four of my grand list of the best things to do in Egypt are both taken by tourist attractions in Aswan. It's just such a special place, and I doubt anyone could ever regret visiting – especially if you do a Nile cruise from Luxor to Aswan. Also, make sure to read my ultimate Egypt travel guide for more information.
Anyway, let's get started with the best things to see in Aswan, shall we?
Note: I earn a small commission from purchases through the links in this article.
1. Philae Temple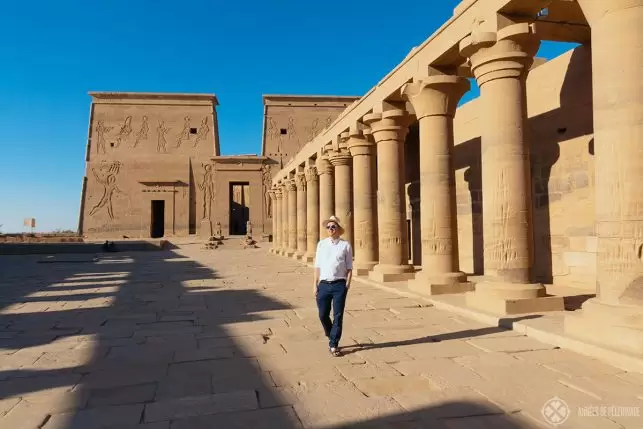 Listen, guys, if there is one reason to visit Aswan, Egypt, then it's the magnificent Philae Temple. It's the single best-preserved temple in all of Egypt and also the most stunning of the lot. Philae is said to be one of the burying-places of the Egyptian god Osiris and was thus a major site of worship.
Philae is said to be the place where the last hieroglyphs were ever written. Long after the fall of the Pharaohs, up until 537 BC, the old gods were still worshiped in this place. It was the Eastern Roman Emperor Justinian I who ordered the conversion into a church back then.
After the construction of the Aswan Low Damn in 1902, Philae temple got submerged. In its hour of birth, the UNESCO relocated the whole temple complex to an adjacent island some 500 meters away. Due to the inundation, most of the murals are colorless now. Here's a motorboat tour to Philae you might want to check out.
Note: There is a sound and lights show (almost) every evening. It is kind of kitschy but still worth seeing, as it gives you the unique opportunity to see the beautiful temple in another light. You can book tickets here.
2. Day trip to Abu Simbel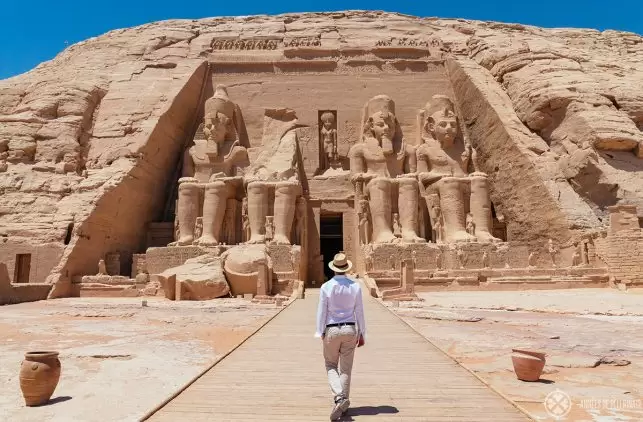 Most people come to Aswan to visit Abu Simbel (click to read my guide). Which is funny, because Abu Simbel lies some 250 kilometers away from Aswan. Still, Aswan is the closest big city to the famous UNESCO World Heritage site, and there are multiple flights and buses each day.
It can be a bit expensive to do the day trip to Aswan (check out the various possibilities here), but in my opinion, it is so worth it. Not just because of its historic significance, but also because the temple of Ramesses II is just so awe-inspiring.
Here's a reasonably cheap bus tour to Abu Simbel you might want to consider.
3. Nubian Museum
Another very popular place to see in Aswan is the Nubian Museum. It is quite the marvelous building, but above all, it documents the history of the ancient Nubian kingdom that now lies mostly beneath Lake Nasser. Absolutely do visit, as the exhibition is truly outstanding.
4. Elephantine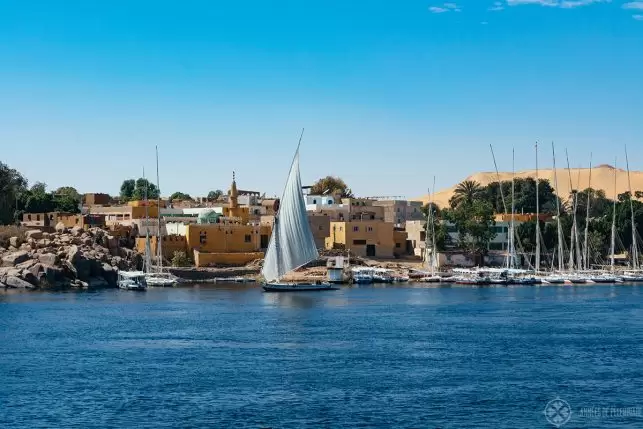 Elephantine is a small island on the Nile, you really should consider visiting. You will find a couple of archeological sites on the island, most notably the temple of Khnum on the far southern end and the Pyramid of Elephantine.
There is also the Aswan Museum and another Nilometer, which you can visit. Best of all is probably the many colorful houses by the Nubian minority, so visiting a Nubian village it makes for a lovely afternoon trip with a felucca (book one here).
5. Aswan Botanical Garden
One of my favorite memories from Aswan is riding a traditional felucca to the verdant island of the Aswan Botanical Garden. Leave it to the British to build a garden in one of the hottest places on the planet. But hey, the result is so beautiful!
Don't expect manicured lawns and a well-maintained arboretum. Instead, it's more like a lovely park to spend an hour strolling through the rows of high palm trees.
Fun fact: It's officially forbidden to hunt for birds on the island. You'll see the signs all over the garden. So, keep your guns at home ;-)
6. Monastery of St. Simeon
Walking along the banks of the river Nile in Aswan, you can't help but see the magnificent ruins on the other side (west bank). At the very top is the Monastery of St. Simeon, an ancient Coptic monastery dating back to the 6th century BC and part of the UNESCO World Heritage site "Nubian Monuments".
Quite close to the monastery, you will also find the Mausoleum of Aga Khan and the Tombs of the nobles, so visiting the area is highly recommended, but best take a local for a guided tour to show you around!
7. Aswan High Dam
The Aswan High Dam brought prosperity to Egypt as we know it today. Before, the River Nile and its yearly floods dictated everything from planting season to where you could build houses.
As a tourist, you can visit this architectural wonder. Still, I am actually a bit hesitant to mention it here, because you don't actually see a lot from the top of the dam itself. It's just so wide and flat. As you will be in the area when going to the airport or on your way to Philae islands, it's still worth visiting!
8. Temple of Kom Ombo
One of the most intriguing ancient temples in Egypt is certainly Kom Ombo. For a start, it is an unusual double temple. The left is dedicated to the god Hathor, while the right is consecrated to the crocodile god Sobek. This is why you will find tons of ancient crocodile mummies in a small museum right next to the temple (absolutely do visit).
In Kom Ombo, you will also find one of the very few remaining Nilometers. These ancient instruments were meant to measure the height of the Nile flood. The measurements were used to determine the tax for any given year (high flood meant, high fertility!).
Note: Kom Ombo is located quite a bit outside of Aswan (about 1 hours drive), so visit it when you move onwards to Luxor (don't forget to read my guide)
9. Unfinished Obelisk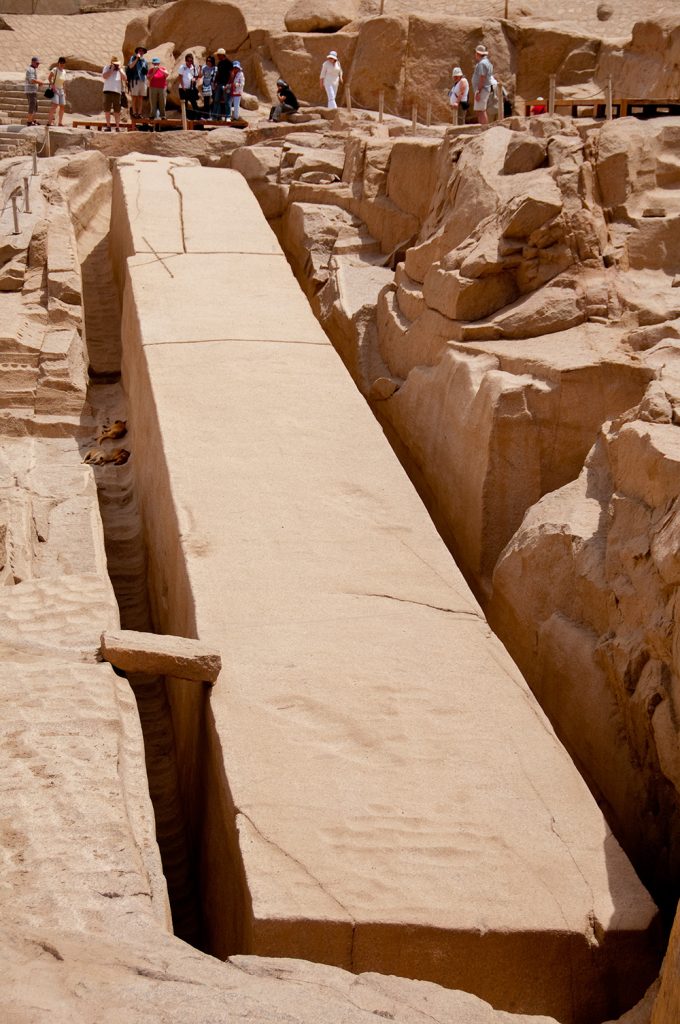 How did the Egyptians build their pyramids? How did they build their temples? While we know pretty much everything about their funeral rites and gods, the tombs and steles of the Pharaohs very seldom depicted everyday crafts. Aswan is home to an ancient granite quarry, where you can see an unfinished obelisk.
The top of the gigantic obelisks (one third bigger than any other ever built) cracked at one point before it was finished, so the project was abandoned. The remains, give us a fairly good idea just how these gigantic monoliths were created without the help of steel & dynamite. Ancient Egypt demystified, eh?
10. Temple of Kalabsha
One of the best examples of Egyptian architecture in Nubia is the almost unknown temple of Kalabsha. Much like Abu Simbel, it was moved after the construction of the Aswan High Dam. The best way to get there is by boat and can be seen when standing on the top of the dam.
Other things to do in Aswan
I want to be honest with you, other than my list here, there aren't many other places to see in Aswan. There are a couple of other minor archaeological sites like Sehel Island (where you will find the Famine Stela, among others).
Right next to Philae, you will find the Island of Bigeh, with a couple of other ancient ruins, and you could also visit the El-Tabia Mosque. But I am not sure how interesting all those places are for casual tourists. The most notable place would be the Nile Museum at the far end of the Aswan Low Dam, but again, it certainly not a must-see place.
I do, however, recommend going to the souq at night. It's certainly not as grand as in Cairo, but it is authentic. Here, you won't find souvenir booths, but rather a winding series of passages that caters to the exclusive need of the locals.
Best hotels in Aswan
Most tourists to Aswan get there on a Cruise from Luxor, so there aren't all that many good hotels in town. As a rule of thumb, you really shouldn't stay in any hotel that is below 4 stars in Egypt and have a very thorough look at the pictures before you book.
There are many sanitary issues due to the hot climate and hotels that can't cope with preparing meals and water for westerners, are plenty. Please keep in mind, that it's incredibly easy to catch severe cases of diarrhea in Egypt (we are talking hospital, not visiting the toilet one time too often, and these will quickly spoil a hotel).
Of the few good hotels in Aswan, I can recommend the Sofitel Legend Old Cataract from the bottom of my heart (click for a direct link to booking.com). In fact, even if you don't stay here (as it is quite expensive), you should visit at least for afternoon tea. This hotel breathes history like no other in Egypt, and the list of famous guests is so long, a book wouldn't be enough.
The second hotel you should consider for your stay in Aswan is the Mövenpick Resort Aswan (click for prices & more pictures). You'll find it at the very tip of Elephantine Island, with a stunning view of St. Simeon's Monastery. I feel it is the only true alternative to the Old Cataract and in reasonable shape!
If your budget is a bit more sensitive, then the only other hotel in Aswan I can recommend would be the Pyramisa Isis Island Aswan Resort (click for prices & more pictures). I have to admit, that I personally wouldn't stay there, but if the standard is high enough to be safe, and of course it still has a nice pool and the whole property is modern enough.
Oh, one more thing. If you were wondering about the best time to visit Aswan, read my full guide here.
So, this was my guide to the best things to do in Aswan, Egypt. Hope I was able to show you the top tourist attractions you need to see. Got any questions? Feel free to ask them below!
Picture credits: Clarence, David Stanley, Güldem Üstün