The top tourist attractions and places to visit in Meknes – a fabulous imperial city only a short day trip from Fes, Morocco.
Red walls so, long the eye can't follow, colorful mosaics decorating every doorway, and an arid wind full of spices wafting through the air is probably the best way to describe the beautiful imperial city. There are quite a lot of beautiful things to do in Meknes, even though it is often overlooked in many Morocco itineraries. If you ask me, a big mistake!
Lonelyplanet named Meknes the best city to visit in 2019, and the famous travel community certainly did so for a reason. In 1996, the UNESCO put the Historic center on its list of World Heritage sites, it belongs to the top 10 tourist attractions in Morocco, and the city served as the capital of Morocco starting from the mid of the 18th century.
If you are looking for more reasons to visit the imperial city, then you will love this list of the best things to see in Meknes. I took extra care to list all the major tourist attractions and points of interest, and chip in little insiders tips along the way. It's very easy to reach from Fes (read my guide here) and I definitely recommend staying an extra night there to plan a day trip.
1. Marvel at the majestic Bab Mansour el Aleuj
Bab Mansour is probably the most beautiful city gate in all of Morocco. It was once the entrance to the extensive imperial district but now serves as an art gallery. Even though it only dates back to the 18th century, it is an integral part of the UNESCO World Heritage site 'Historic City of Meknes'.
Note: There is another beautiful gateway into the historic medina of Meknes: Bab el Khemis is lesser known but just as beautiful
2. Visit the Bou Inania Madrasa
Few places in Morocco are more serene than the Bou Inania Madrasa in Meknes. I was literally alone when visiting this architectural highlight, while similar landmarks in Marrakesh are so overrun with tourists it gets hard to even breath.
You can explore the little cells where students once lived on the upper floor and even go on the rooftop to enjoy a view of the inner medina. This is THE must-see in Meknes – at least for me!
Note: Definitely go see the toilet (I am not joking). The ancient bathhouse of the madrasa is maybe a bit in dire need of some renovation, but the flaking plaster adds its very own charm to the whole affair.
3. Make a pilgrimage to the Mausoleum of Moulay Ismail
The mausoleum of Moulay Ismail is truly unique as it is one of the very few religious sites in Morocco you can actually visit as a non-muslim tourist. Moulay Ismail reigned Morocco between 1672 and 1727 and he was the king who moved the capital to Meknes.
Absolutely put the mausoleum on your list of things to see in Meknes. The courtyards within are beyond stunning. And the cenotaph of the sultan is quite the work of art as well!
Note: The Mausoleum is currently closed for restoration works.
4. Explore the Royal Stables
One of my favorite places to visit in Meknes was definitely the ancient Royal Stables. Moulay Ismail built his city to rival Versaille and he was particularly fond of horses. So fond, that his stables were built to house 12,000 of them. The result: A gigantic warren quite impossible to comprehend.
The sheer logistics of feeding so many horses must have been quite a nightmare. Which is probably the reason why you'll find the equally Heri Es-souani granary next door. Sadly, both buildings were destroyed quite heavily in the grand Lisbon earthquake in 1755, but what remains is incredible nonetheless.
5. Stroll along El Hedim Square
What Jemaa el-Fnaa is to Marrakech, Place Hedim is to Meknes: The central square is lined with restaurants and salon de thé inviting you to stay a while. It is not as lively and vibrant as its counterpart in Marrakech (just in case: check out my Marrakech guide), but all the more authentic – especially in the evening.
Tip: Try to get up to the rooftops once (close before sunset) to see the merchants built up their booths and get the best view of Bab Mansour
6. Explore the ancient Medina
What would be a Morrocan town without a souk? Inside the ancient medina of Meknes, you will find sheer endless corridors of shops. From clothing to spices and food there is literally nothing you won't find here. The streets are so narrow that scooters or cars can't drive here – only the occasional hand wagon or donkey. Such a relief!
The best part: Meknes souks cater almost exclusively to the demands of the locals (yet). So, you won't find the cheap trinkets so common in Marrakech, and certainly no Chinese plastic souvenirs either. I loved it! Okay…there are quite a lot of fakes on sale…but those are produced for the locals.
7. Visit the Prison of Habs Qara
Deep down below the streets of Meknes, one would hardly guess from outside, lies an ancient prison of gigantic proportions. Habs Qara was home to up to 60,000 poor wretches; mostly slaves and Christian prisoners of war. It is said that Moulay Ismail forced these prisoners to help him build his Moroccan vision of grandeur. The place is actually quite a bit creepy, but certainly one of the most unique things to do in Meknes.
8. Do a day trip to Volubilis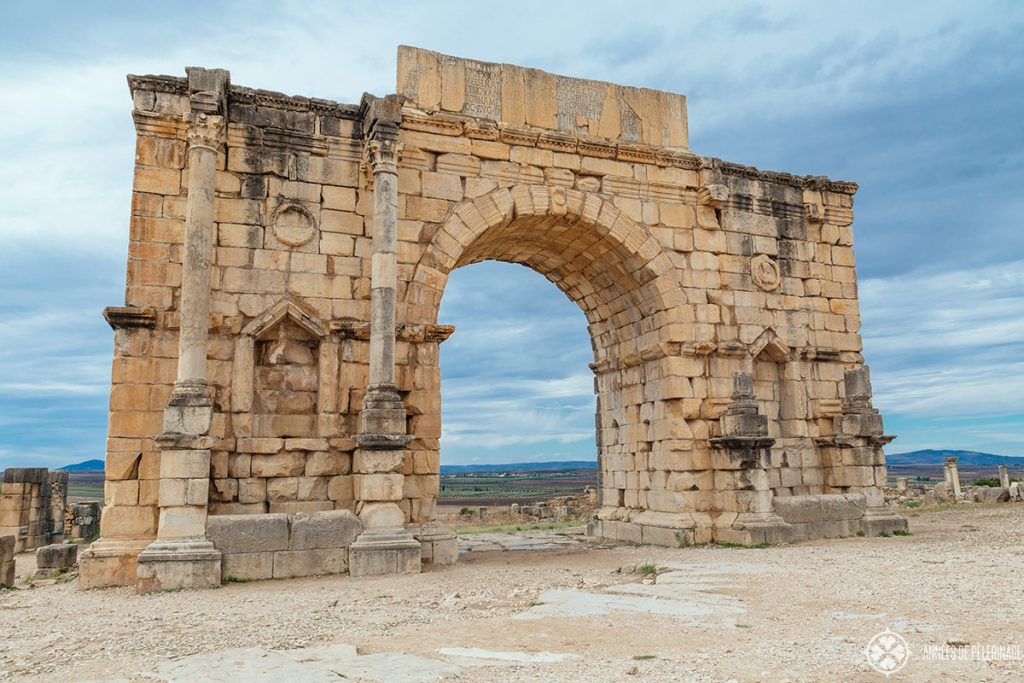 You really can't escape visiting Volubilis on your trip to Meknes. Volubilis is an ancient Roman garrison just 30 kilometers away from the imperial city and a beautiful UNESCO World Heritage site itself.
At first, I thought this was just another field of ruins with a couple of re-erected pillars here in there. I have to admit, I was totally wrong. Volubilis is quite amazing and there are just so many ancient mosaics to be seen.
Note: The pillars of Bab Mansour have been pillaged from Volubilis! So, don't forget to take a closer look.
9. Learn everything in Dar Jamai Museum
There are a few museums in Meknes. While I really have to say, that some are, more or less, tourists traps (like the Meknes Museum next to the Bab Mansour), the Dar Jamai Museum is one of the better of the lot.
Note: Please be aware that the exhibition is not up to western standard, but you will be able to see quite a lot of historical items that once belonged to Sultan Moulay Ismail.
10. Sahrij Swani Basin
If you can't get enough of Moulay Ismail's megalomaniac architecture projects, make sure to visit the gigantic water basin below the royal stables. This basin was once built to provide water for the many horses (and retainers) within. It might not be one of the top tourist attractions in Meknes, but as it's just a 200 meters walk from the stables, I'm sure you don't want to miss it.
[Bonus] Ride a fairy tale calèche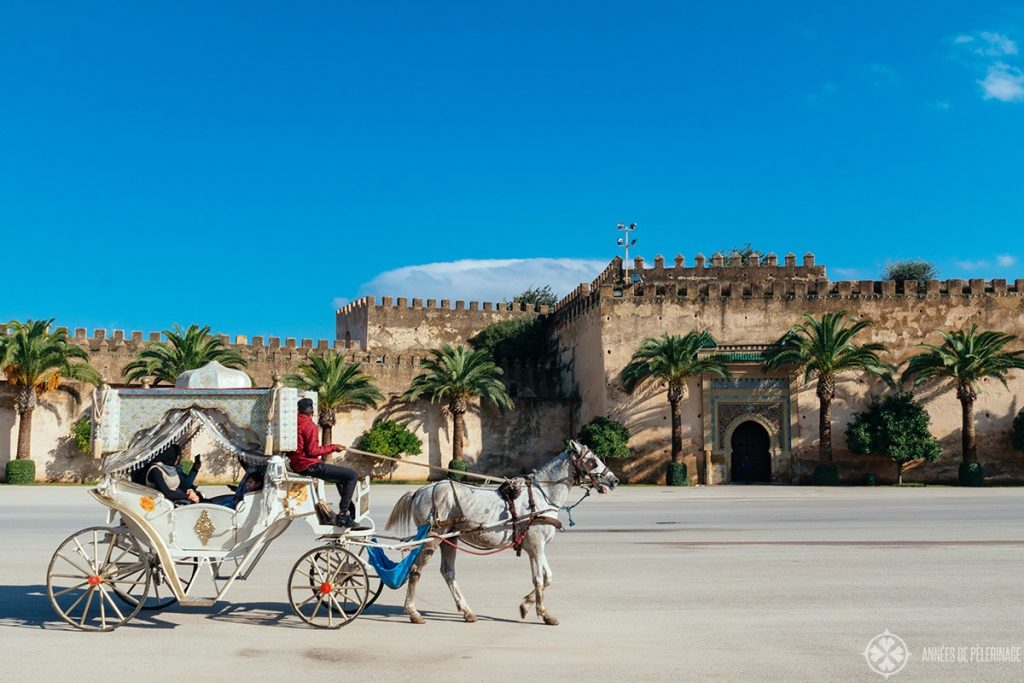 Usually, I'm not a big fan of riding in carriages around a city. Mainly, because in a lot of cases the animals are not treated like they should be, and the loud noises of the traffic are not exactly pleasing for horses.
That being said, Meknes has a whole army of horse carriages for hire. The unique part: All of them look like straight from a fairy tale. So, if you want to feel like Cinderella, you really should take a ride.
It's actually quite the smart decision, as you don't want to walk all around the city wall to get to the royal stables anyway! The city wall around Meknes is huuuuuge.
Other things to do in Meknes, Morocco
Meknes is a lovely city, and I barely mentioned it all. There are many lovely little restaurants and riads you can visit, and certainly just strolling along the city walls is a true highlight in itself. You might not be able to visit the Royal Palace, but just seeing its beautiful doors might be worth your time.
Also, do remember that there are a couple of lovely day trips you can do form Meknes. I already mentioned Volubilis, but the adjacent hilltop town of Moulay Idriss Zerhoun is another beautiful day trip from Meknes.
You might even consider doing a day trip to Fez, though I recommend you to stay a night there as well. But as it's just a 1 hour's drive, you can choose either as a home base. Where Meknes is more authentic, Fez certainly has the better hotel options.
Hotels in Meknes, Morocco
Note: I earn a small commission from purchases through the links in this article.
Now, you are probably wondering where to stay in Meknes. There is no easy answer, as it really depends on your budget and what you plan to do in the ancient imperial city. If you plan to explore the old medina at night, you should definitely pick a riad in the vicinity, as things will get awkward.
Otherwise, I'd recommend picking a hotel on the outskirts and taking a taxi into the city. Please be aware that I personally stayed in Fes and only spoke to our guide which hotels he can recommend. But all things considered, you really don't have a lot of options.
The Menzeh Dalia Hotel is probably the only thing that passes as luxury in Meknes (check it out here). With 4 stars to its name, you really shouldn't expect too much. They do have a large pool and it's probably the best choice for those expecting standard Western rooms and service.
There is also an Ibis hotel in Meknes (check prices here). It is probably a good choice for anyone looking for a budget hotel with an acceptable standard. As the Ibis is only marginally cheaper than the Menzeh Dalia, the latter would be my first choice.
As far as riads in Meknes are concerned, the top address is probably the Riad Ritaj (check current prices & more pictures here). I loved the little courtyard, and the rooms seem to be quite lovely as well. I can't really speak for the other riads in Meknes. There are a couple of more and prices all seem to be around 60 USD a night.
Personally speaking, and judging from the pictures, not many of them a true highlight (despite good ratings). Ryad Dar El Meknsassia (check it out here) seemed quite cozy, but a bit more rustic than the Ritaj.
How to plan a day trip from Fes to Meknes
If you know what you are doing, one day is enough to see everything in Meknes and visit Volubilis. While there are tour agencies around, I recommend you to hire your own car. If you want to have a guide along, your hotel or riad in Fes will be able to arrange a guided tour.
There's a highway connecting with Fez with Meknes (the A2), so it barely takes an hour to get there. But I recommend you to ignore Meknes and drive straight onward to Volubilis, which is another 30 minutes North from Meknes. Here is a possible day trip itinerary that worked out great for me:
8:30 am: Departure from Fes
10:00 am: Arrival in Volubilis
11:30 am: Head over to Moulay Idriss Zerhoun and enjoy the view of the ancient pilgrimage site
12:00 am: Drive on to Meknes
12:30 am: Arrival in Meknes
start on Place Hedim and settle in for lunch in one of the many restaurants lining the square
Explore the city until 6:00 pm but return once again to Palace Hedim to see the merchants arriving close before sunset; Decide for yourself if you want to eat here or back in Fes.
9:30 pm arrival in Fes (or later, if you decided to have dinner)
Best time to visit Meknes, Morocco
The best time to visit Meknes is either spring or autumn. Both October and April will offer you the ideal conditions to explore the ancient imperial city. It's not gonna be so hot you will melt, but not so cold either that you would need a jumper or even a jacket. The weather will be mostly sunny as well – perfect for taking pictures or sitting in one of the many outdoor cafés.
Other than that, I really couldn't say there is a bad time to visit Meknes. Winter will be quite cold, while Summer might be a bit too hot for most people, but it will be quite manageable. I'd rather attune your stay in Meknes to the rest of your Morocco itinerary. If you plan to go to the desert, July or August are probably not the smartest months to plan your stay (and neither would be December or January, as it's quite cold then).
If, on the other hand, you also want to go see the coast and maybe even go bathing, then June or September are probably the best months to visit Meknes and then move on to Tangier (via Chefchauen) or any of the other coastal cities.
No matter which month you pick, just try to avoid visiting on Fridays. While the traditional  Jumu'ah (Friday Prayers) won't lead to a public standstill, traffic is still much reduced and a lot of shops and restaurants are closed.
Is it safe to visit Meknes, Morocco?
I've heard the Morocco travel safety question so many times, it actually starts to get annoying a bit. I'm not exactly sure where and when it surfaced the first time, but essentially it's bollocks. I wrote a detailed guide about safety aspects to consider in Marrakech. Meknes is a bit further off the common tourist roads, so you don't have to worry about scams so much, if at all (I noticed nothing!).
The worst that could possibly happen to you in Meknes is probably overpaying in a restaurant or for a carriage ride. But those really are the least of all problems, and nothing, absolutely nothing speaks against visiting Meknes. The city is as safe as it gets. That being said, if you run around with an open purse around New York it might not be a good idea either. Use your common sense, and you will be fine!
So, this was my guide to the best things to do in Meknes, Morocco. Hope you got a good idea what you should expect and which points of interest should go into your itinerary. Got any questions? Leave them in the comments below.
Picture credit: Ian Cochrane;David Stanley