3000 years old and sitting on a cliff a hundred meters high – Dún Aonghasa is probably the most spectacular sight on the Aran Islands in Ireland.
Are you a fan of prehistoric sites and culture? I certainly am. For me, there was no way around visiting Dún Aonghasa on my last visit to Ireland. The ancient fortification from the late bronze age, called Dun Angeus in English, is perched high on a cliff on the island of Inishmore, part of the Aran Islands.
The island is famous for its soft wool and knitted sweaters. Since I wanted to bring home an authentic souvenir, there was all the more reason for me to visit Dún Aonghasa fort (if you want to know what else I packed, check out my ultimate Ireland packing list). Join me on my tour!
Getting to Dún Aonghasa
Ferries operate on a regular schedule from Galway to Inishmore. So, you will probably not have a hard time to incorporate a visit it into your Ireland itinerary.
I decided to take the first ferry in the morning to avoid the major crowds and get the most out of my single day on the Aran Islands. Since the weather was more than awful on this day, that turned out to be easier than I wanted it to be. But I guess you got to allow for bad weather when visiting Ireland. The island is, after all, not known for its spectacular beach resorts!
Half soaked through, despite wearing a waterproof jacket, I took one of the many taxis waiting for me at the harbor of Inishmore. You can also hire a carriage or take a bike. Generally speaking, I would have preferred a bike. But when another sudden downpour made everyone flee into the souvenir shops and restaurants, I decided that staying inside as long as possible would be my best bet!
The climb to Dún Aonghasa
The taxi driver told me he would be back in two hours and waiting for me at the museum shop, where he dropped me off. More than enough, he said in barely understandable English, to tour the site. Dún Aonghasa is located high up on a cliff, so it goes without saying that you have to climb a short stretch to reach the fort. This might, however, sound more strenuous than it actually is. The ancient gravel path will lead you on a slight incline – altogether perhaps a difference in altitude of 100 meters.
Your tour will start at the Dún Aonghasa museum (little more than a shack in fact), where you will get your tickets. I was forced to wait there a couple of minutes until the rain stopped. Generally speaking there seemed little of interest in there. So I rather tried to tease out some interesting facts from the staff – sadly with little success.
I saw the sun peeking through the clouds some 10 minutes later and decided to dare the short trek to the World Heritage site of Dún Aonghasa. It took me roughly a quarter of an hour, while another heavy (but luckily short) rainfall surprised me. Since I was still all wet from the ferry anyway, I was beyond caring. If you really want to see all the highlights in a country on a tight schedule, you have to allow for less than perfect circumstances – at least that's what I kept telling myself.
Visiting Dún Aonghasa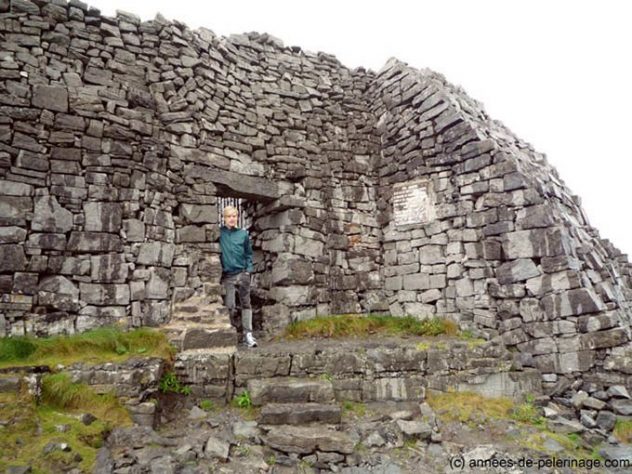 I entered the terraced rings of Dún Aonghasa through a narrow gate between the piled up stone slabs. I honestly didn't expect the stone ring to be that thick. At some points, it was more than 4 meters high. Be warned, though, that there is actually little to see at Dún Aonghasa. The place is roughly 3,000 years old, and it is more or less just stones piled up to form several concentric rings. Little in the way of advanced masonry can be seen. You can, however, get on top of the wall and explore some niches inside the wall.
The main attraction of Dún Aonghasa is certainly the cliff. Which is actually quite dangerous! If you suffer from vertigo I really recommend you to skip Dún Aonghasa. The oval ring of the fort is open to the vertical cliff on one side. And with open I mean open. There is no barrier, no handrail, no nothing. A sheer drop of roughly 100 meters awaits those who take that extra step. Weirdly enough you will see blockades to the sides of the inner ring. To me, that made little sense. But maybe there are conservative issues to be regarded as well.
I have to admit that I am not scared of heights in general. A cliff of more than 100 meters is another thing though! What seems quite casual on the picture above was anything but that! Oh and before you ask: I didn't wet my pants – the rain did. But I felt very close to doing so. I slowly inched myself forward holding to dear life at the outer ring of Dún Aonghasa. Only for the last seconds before the picture, I let go of what I imagined to my be last lifeline.
To be quite frank the slippery stones didn't really increase my courage either. I even saw a family visiting this place with small children. I couldn't fathom how the mother could bear their offspring jumping around the edge. It's kind of weird. I normally never drip over. So there really shouldn't be a difference between standing on a raised pavement and the cliffs of Dún Aonghasa. Somehow there is. Needless to say that I absolutely didn't make it closer than 1 meter away from the edge.
Taking my leave of Dún Aonghasa
My tour through Dún Aonghasa really didn't take more than one hour. Since I knew my taxi driver wouldn't be back for quite a while, I used the spare time to breathe in the beautiful landscape of the Aran Islands. It's a rough country, make no mistake! I think there is not a single tree that actually deserves the name on the whole island. But the sparse singularity makes it almost a spiritual place that somehow appeals to my rather shy self.
Close to the museum, I found a little restaurant to get the chill from my bones. I normally don't drink beer (much to the dismay of my Bavarian family and colleagues!) but then and there I ordered a Guinness. They really didn't have a big menu, and I guess cake and beer don't go well together. But please don't despise me for saying: That was my first and last Guinness.
Last thoughts on Dún Aonghasa
Okay – here's the deal: Dún Aonghasa is one of the most important prehistoric sites in Ireland. It offers you a spectacular view of the Atlantic Ocean and the rugged cliffs of the Aran Islands. The island of Inishmore as a whole is a very secluded, yet very authentic place where most inhabitants still speak Irish. So yes, Dún Aonghasa is worth a visit. Yes, I thoroughly enjoyed my tour – despite the rain and the lack of sunshine. But really don't set your expectations too high – at the end of the day, it is little more than a big pile of stones.
How about you? Would you visit Dún Aonghasa? Or are you afraid of heights?