Fushimi Inari Shrine (伏見稲荷大社) is perhaps Kyoto's most famous Shinto shrine. Dedicated to the goddess Inari the shrine is best known for its 10.000 red gates (torii).
I was 16 when I got a calendar full of pictures from Japan for Christmas. July captured me with the red glaze of Fushimi Inari Shrine in Kyoto. The image intrigued me so much that I didn't want to turn the page anymore, and thus defying the passage of time not unlike the 500-year-old temple itself. It was the first site I wanted to visit on my first trip to Japan and remains an essential element of my Japan itinerary.
Even today I am not entirely sure of it, but there certainly is no way denying that Fushimi Inari Shrine in Kyoto is a truly magical place. Join me on my tour through the UNESCO World Heritage site! And make sure to read my guide to the 20 top highlights in Kyoto, as there is much more than just this shrine!
Visiting Fushimi Inari Shrine in Kyoto
Fushimi Inari Shrine is located on the gentle slopes of the Inari Mountain (Inariyama) south of Kyoto's center. In fact, it might be better to say that Fushimi Inari Shrine is covering the Inari Mountain. A total of 4 kilometers of walkways are said to be arched with the iconic red gates – interconnection small sub-shrines littering the mountain face.
A picture can express more than a thousand words and in the case of Fushimi Inari shrine my best approach might be letting a couple of pictures do the talking. But know that the hazy red of the iconic tunnels will convey an incomplete impression. Especially so, since there are more than 10.000 of those red torii – and who would want to skim through that many pictures!
Before my first time visiting Fushimi Inari Shrine I still suffered from the misconception that there would be a short stretch of those red gates – maybe hundred meters or so. Little did I know that I would spend an entire 2 hours (yes you read that right!) hiking the mountain paths, never once leaving the crimson umbrage of the wooden gates.
I didn't expect that many tourists at Fushimi Inari Shrine either. Especially taking a picture proofed to be quite a challenge. The red tunnels not only create an almost tangible spirituality, they also confine the visitors on that small, domed space. So keep your camera at the ready and exploit those rare moments of a view unobstructed. I heard that visiting in the late afternoon might be beneficial, but then the light will be bad as well – so I guess there is no easy way out. In my experience, the friendly and photography-loving Japanese would, once they noticed you are trying to take a picture, wait a couple of seconds before moving into my line of sight.
But not everything about the crowds is necessarily bad. While I was making my way up to the top of mount Inari, where a couple of shrines can be found, I stumbled across a class of primary school children enjoying a picnic in the shades of the trees. Quite a few western tourists visit the country (which is quite a shame in fact), so most of the little kids were quite awed at seeing a blond guy like me. But neither were they shy!
One of the boys took the courage and actually offered me some delicious morsel from his bento box. Thus favored I even had a little chat with him in my stumbling Japanese before I moved on. I can still hear them all unitedly saying "goodbye" (which rather sounded like gu-do-bai-yu). Apparently, they already learned some basic English and the heedful teacher took the opportunity to make them put that learned vocabulary to good use.
Shrines at Fushimi Inari Taisha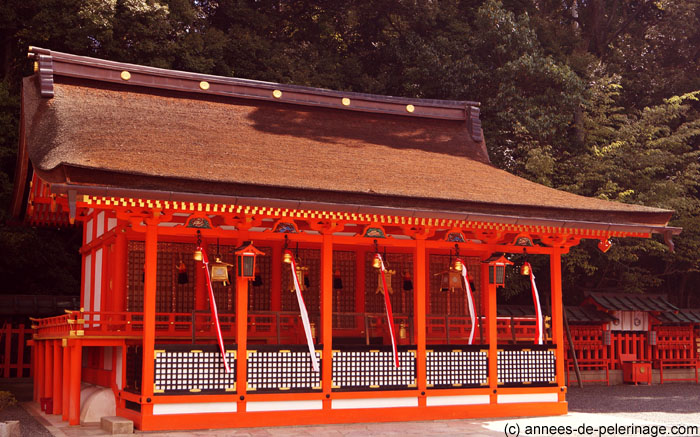 I don't want to quit this travel guide on Fushimi Inari Shrine without mentioning the actual shrine. Most pictures of the UNESCO World Heritage Site will focus on the red tunnels. And I can understand that. But be aware that the actual shrine buildings close the entrance will be quite worth a sight as well.
Since the Inari Shrine heads roughly 32.000 sub-shrines through the country, you don't even need to be all that lucky to watch a service. The droning sing sang of the Shinto prayers certainly captivated more than my camera lens!
About the red torii at Fushimi Inari Shrine
Generally speaking, a torii will mark the entrance to a sacred Shinto shrine. The probably most famous torii will be found at the Itsukushima Shrine in Miyajima. The biggest is said to be the o-torii at the entrance of the Meiji Shrine in Tokyo. The Fushimi Inari Shrine in Kyoto, however, takes the dichotomy between sacred and profane to a next level.
Inari is the patron goddess of fertility, rice, tea, sake, agriculture, and industry. That's why businessmen throughout the country feel the need to make donations to the shrine in the form of torii constructions. Depending on their funds (and probably need for protection), the size of the sponsored torii varies greatly. Some are more than 3 meters high, while others are not even big enough to walk through, and thus stand to the side of main paths. (Just in case you were wondering: The largest gates will infer a cost of 1.3 million yen. So better start saving!)
No matter the size, however, each crimson gate will feature the donator's name in black Japanese characters on the left column and the date of the sponsorship on the right. So, in essence, the torii of Fushimi Inari Shrine still mark the entrance to a Shinto shrine – only in this case, the entrance got longer than the actual shrine.
The spectacular view at Fushimi Inari Shrine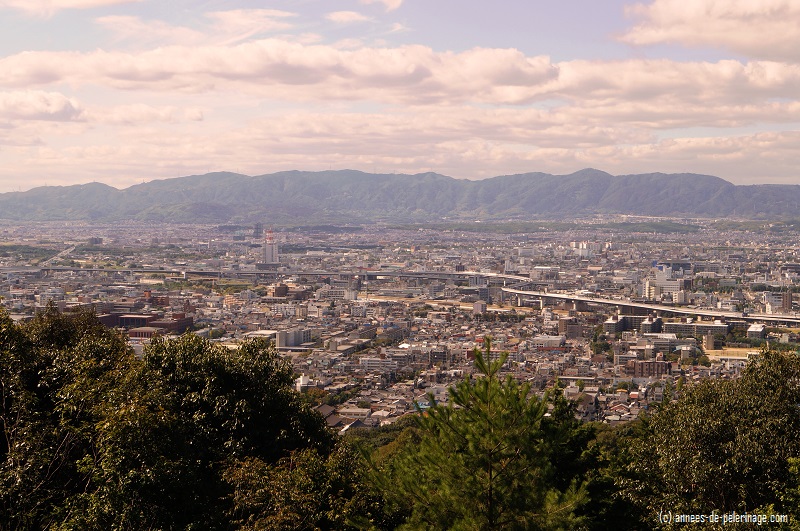 It may seem tedious, but I do recommend hiking to the very top of Mount Inari. It will roughly take 45 minutes, depending on your constitution. From there you will be able to breathe in a beautiful overview on Kyoto. Expect some steep steps close to the top, but otherwise a more than manageable path. Reaching the top you will also leave behind the tourist's crowds at the bottom. Bear in mind, however, that the red torii tunnels are densest close to the entrance as well.
Food at Fushimi Inari Shrine
The goddess Inari's favorite messenger is the fox (kitsune). This is the reason why you will see many fox statues and figurines around Fushimi Inari Taisha in Kyoto. Foxes are believed to love fried tofu (I really can't see the connection at all, haha!), so you will find many small inns along the paths leading up to the summit serving tofu-specialties. Most famous among them is probably Kitsune Udon – thick udon noodles, served in a salty broth and topped with thin sheets of fried tofu (known as aburaage). I really do recommend you to try it out. It certainly is one of my favorite dishes (and I am not a vegetarian!).
Getting to Fushimi Inari Shrine
Fushimi Inari Shrine is located close to JR Inari Station in the southern part of Kyoto. Getting there from Kyoto main station really is no problem at all. Just get on the JR Nara line and five minutes and two stations later you will exit directly in front of the main entrance of Fushimi Inari Taisha. Personally speaking, I took the taxi. My ryokan was located rather close to the Imperial Palace. Actually, I really wanted to try out public transport, so I spent almost 10 minutes getting directions from my butler.
Since I was on a tight schedule that day and the weather was just so breathtakingly beautiful, I decided against wasting too much time on changing train lines multiple times. And to be honest, I really grew fond of Japan's taxis with their automatic passenger doors and their kitschy crochet covers on the back seat! The cheaper way will certainly be by public transport, though.
Further reads:
Thus ends my little travel guide on Fushimi Inari Shrine in Kyoto. This doesn't necessarily mark the end of this story. In fact, this is where your story starts! So please, share your experiences in the comment section below!