What to pack for Ireland. From May to September, this is your comprehensive packing list for Ireland.
Ireland is an incredibly beautiful country. There is an abundance of ancient culture to explore and certainly the beautiful Irish castles (check out my list of the 20 must-see attractions in Ireland). But it is also known for its frequent rains and rather cold weather. That's why I compiled an ultimate Ireland packing list so you come prepared.
Having visited Ireland a couple of times, I really have to stress that fear of rain really shouldn't keep you from visiting. In fact, I'd even go as far as saying that you really need to see the country on a rainy day to fully understand the beauty of its landscape and the mentality of its people. That being said, without proper gear you might not be able to really enjoy your time in Ireland.
Preface: The weather in Ireland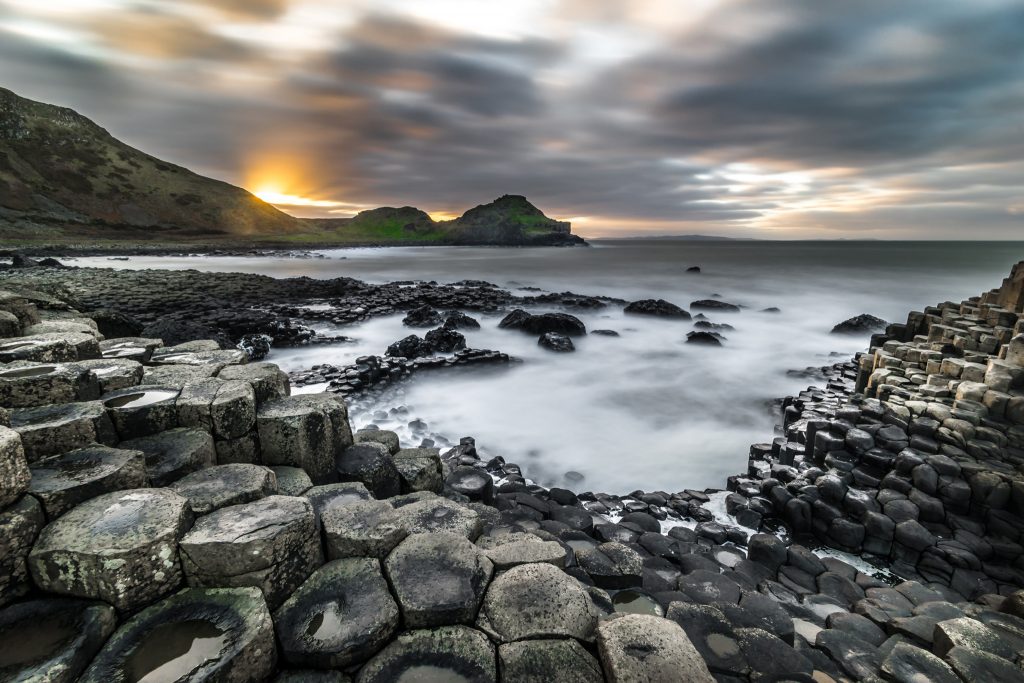 The good news ahead. Thanks to the Gulf Stream the weather in Ireland is fairly mild throughout the year. Even in winter (despite being so far up north) you won't see temperatures below the freezing point anywhere but high up in the mountains.
And now the bad news. On average, the beautiful west coast of Ireland sees 225 days of rain per year, while it is "only" 151 days of rain on the east coast. This basically means: On a road trip of 10 days through Ireland, you can expect 7 days of rain. I'd like to stress that you will also see some sunshine. ;-)
On a more positive note: The weather changes rather quickly, so rains (heavy though they may be) seldom last a whole day. Frequent winds coming from the Atlantic Oceans are responsible for that.
April is the driest month of the year, while temperatures can rise to 20 degrees Celsius in July and August (up to 25 on a rare day). May through September is commonly seen as the best time to visit Ireland.
To put it in a nutshell: Expect wind & rain, and a fairly mild climate without extreme highs and lows.

Note: I get commissions for purchases made through links in this post. I do not recommend products I have not reviewed thoroughly myself.

What to wear in Ireland: The basics
As the weather is fairly mild, but may change at any time, the answer to "what to wear in Ireland in May" is almost the same as it would be for August, March or September: You really have to think as versatile (and as waterproof) as possible.
A good waterproof raincoat will be your best friend in Ireland. I am incredibly satisfied with this Colombia Outdry jackets. It's not only 100% waterproof, but also super light and offers excellent quality for its fair price. The best thing: You can even wear it on a bad day back at home (at least I do), as it doesn't look too outdoorsy if you get what I mean.
You might consider bringing a Poncho (especially if you plan to go biking or on a long hike)
Fleece jacket to wear under your rain jacket or on a warm day (I like this one from Columbia)
Outdoor/trekking pants (it does rain a lot and you will want something that dries super fast. I am a huge fan of the Lundhags Baalka Pant; They might not be cheap, but they are so durable, so fast drying and I really love their fit.)
Jeans (For visiting the cities/museums; shorts are probably not needed – even in summer)
Trekking Socks (to prevent blisters on your outdoor adventures)
Sweatshirts or jumpers (though you might want to buy one of the traditional Irish wool sweaters once you are there)
A Cardigan or zipper
Some long-sleeved trekking shirts
One dressier outfit (for that dinner at the good restaurant or the afternoon tea)
Obviously, you also want to take along a couple of regular t-shirts, socks, and underwear, but I feel you can easily manage this yourself, eh? And you probably know that packing your bathing suit might be a bit too optimistic (except your hotel has a pool)?
What type of shoes to bring to Ireland?
The best shoes to wear in Ireland are waterproof and light-weighted. Except you are planning to do any real hiking, you'll want something you can easily spend the day without getting too wet and still giving you enough support on the sometimes a bit stony terrain. For the most part, there will be very well-maintained pathways and roads, with little to no inclination. You should bring
On a regular trip to Scotland, sandals are probably not needed. The temperatures just don't climb that high. Warm boots are not needed either, even in winter.
Electronics you will need to pack for Ireland
The electrical sockets in Ireland are the same as in the rest of the United Kingdome. So, a three-pronged type G socket. The electrical supply is 230V 50hz. This means travelers coming from the US or Canada will probably need both an adapter and a step-down transformer (check the label on your appliances; some gadgets work between 100 – 240 Volts, some don't).
Now the last item is totally optional, but I did pack my Dual voltage travel hairdryer. If you are just staying at excellent hotels, you will probably not need it. My hair takes ages to dry (and maybe I am a tiny tack vain *lol*) and I just can't abide these yellow-whitish 5 Watt models straight from the 80ies some bed & breakfasts still deem functional.
Accessories to pack for Ireland
Sometimes it is the little things that decide whether a trip turns out perfect or ugly. Most of your activities in Ireland will be outdoors and most tourist highlights are not within the cities either. So, the ladies might refrain from packing a lot of jewelry or handbags.
Toiletries & Medicine
I truly believe there are no special toiletries you need to pack for Scotland. Some girls (or vain boys like me) might want to pack their favorite hair conditioner and a body lotion, but these days most better hotels do offer these anyway. Other than that, you might want to bring:
I am probably not telling you a secret that you won't need to bring sunscreen. Also, know that there is an abundance of pharmacies & drug stores, so you really don't need to pack a well-stocked travel first-aid kit.
Other things to pack for Ireland
Apart from waterproof rain gear, Ireland really doesn't put a heavy strain on your packing list. Most tours around Ireland will also be in between 7 and 10 days, so there really is no need to overpack. Ireland is not all that densely populated, but finding a store to stock up on vital items should be anything but difficult. Personally speaking, I rather pack wisely than wasting a lot of time searching for these stores, though.
The only other item you should put on your Ireland packing list would be a hard copy travel guide. The Rick Steves Ireland will be your perfect travel companion whenever you don't have wireless LAN – at least it was for me!
Last, but not least, I'd like to point out that over-packing might not be the smartest move in Ireland. Most people go on a road trip, which means changing accommodations frequently. Cumbersome big suitcases really don't facilitate this process, if you get my meaning.
So, that's it. This was my list of what to pack for Ireland. Feel free to ask any questions in the comments below. Oh, and don't forget to pin this guide if you liked it.
Picture credits: Eoin Gardiner, Giuseppe Milo