How to dress for Oktoberfest, blend in perfectly and not embarrass yourself.
Oktoberfest or the Wiesn, how the locals are calling it, is the biggest traditional folk festival in the world. Each year more than a million tourists visit Munich during the festival to enjoy the excellent Bavarian beer, traditional food, and music (make sure to read my insider guide). But what would Oktoberfest be without Lederhosen and Dirndl? If you want to blend in, there is no way around buying an authentic Bavarian Oktoberfest outfit.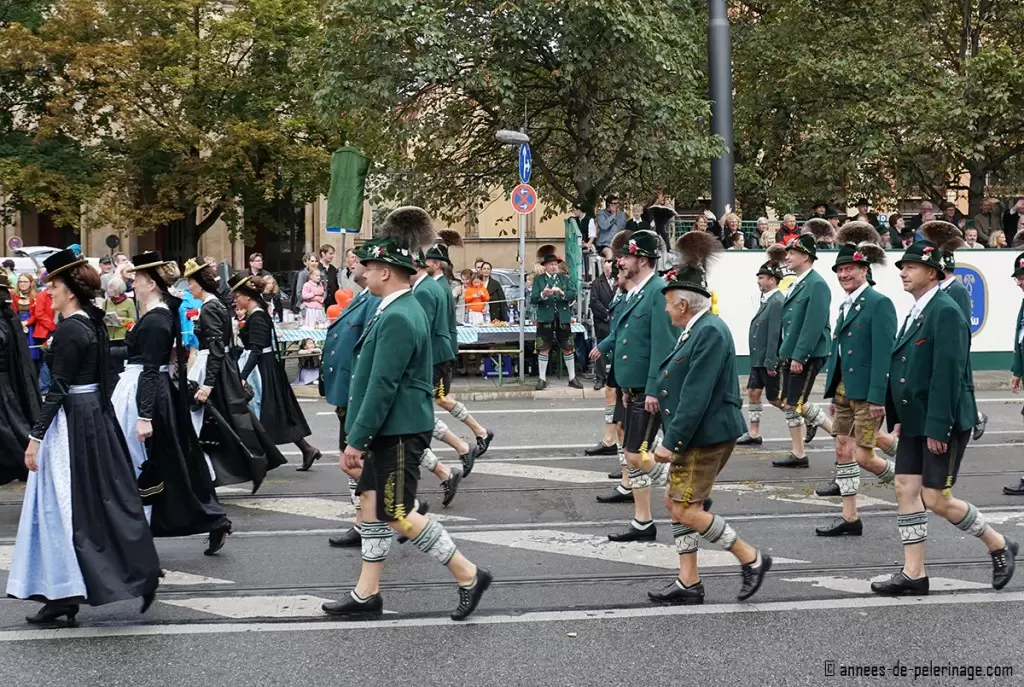 As a local, I really have to confirm that the party will be twice as much fun if you are wearing an Oktoberfest costume. And maybe costume really is the best word, because it is in a way a bit like Halloween or Carnival. Most locals don't walk around in lederhosen all year – only on special occasions. Authentic Oktoberfest costumes can be incredibly expensive, but it's utterly feasible to strike a nice bargain as well. Here is my guide:
I'll be talking about women's outfit first -> scroll down to the men's section

Note: I get commissions for purchases made through links in this post. 

Women's Oktoberfest outfit: The Dirndl
Let's start with the preface: You will see a lot of different folkloristic outfits when you walk over the festival grounds (Theresienwiese), but that doesn't mean they are authentic. Some outfits are just a bit too daring & revealing while others a bit too old fashioned & dusty. I feel picking a middle ground is always a smart move.
The traditional Bavarian dress for women is called Dirndl (pronounce it as "deand'l) and that's what you want to wear. It's not only very cute but is also cut in a way to present your womanly assets in the perfect way (pushes up your boobs and perfectly hides that extra donut you had last week). So, let's start with the basics:
A traditional Oktoberfest outfit for women consists of:
Usually, Dirndl and the matching pinafore are sold in a set. As a tourist that's probably what you want to get, a set. There are special traditional custom clubs all over Bavaria that would probably tell you buying those sets is your fastest tickets to hell. But you don't want to spend 5,000 Euros or more for your outfit, so I think it's totally okay.
Muted colors are usually reserved for older women, while young girls can easily get something colorful. Try to stay away from Dirndls that are too pink or too gaudy.
Short or long dress?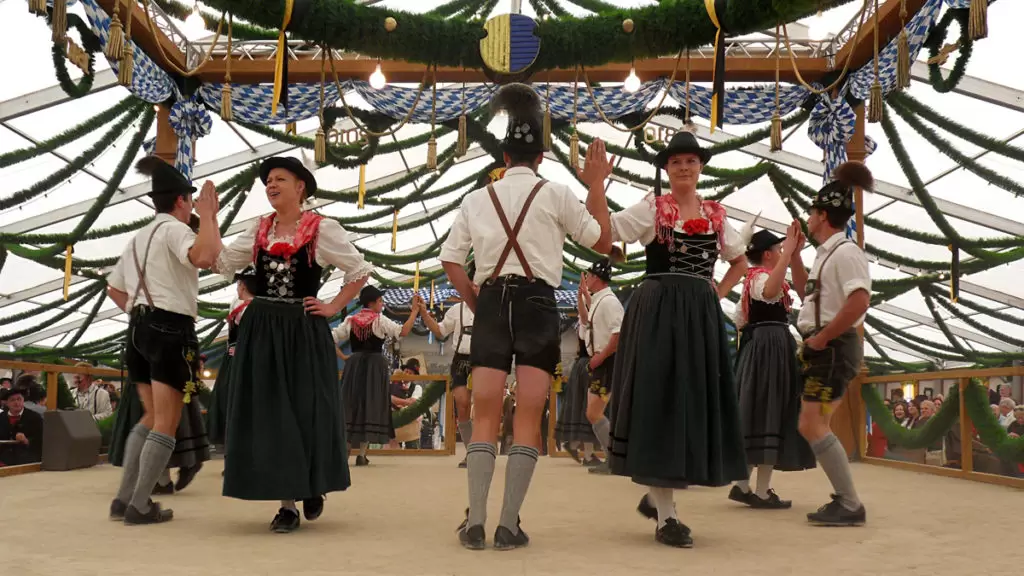 Generally speaking, a Dirndl should reach over the knees. Wear it shorter, and everybody will call you are a slut, wear it longer, and they will think you are a spinster. Also, remember that it can be quite cold in Germany in late September (especially in the morning). You don't want to be freezing.
What to do with your hair?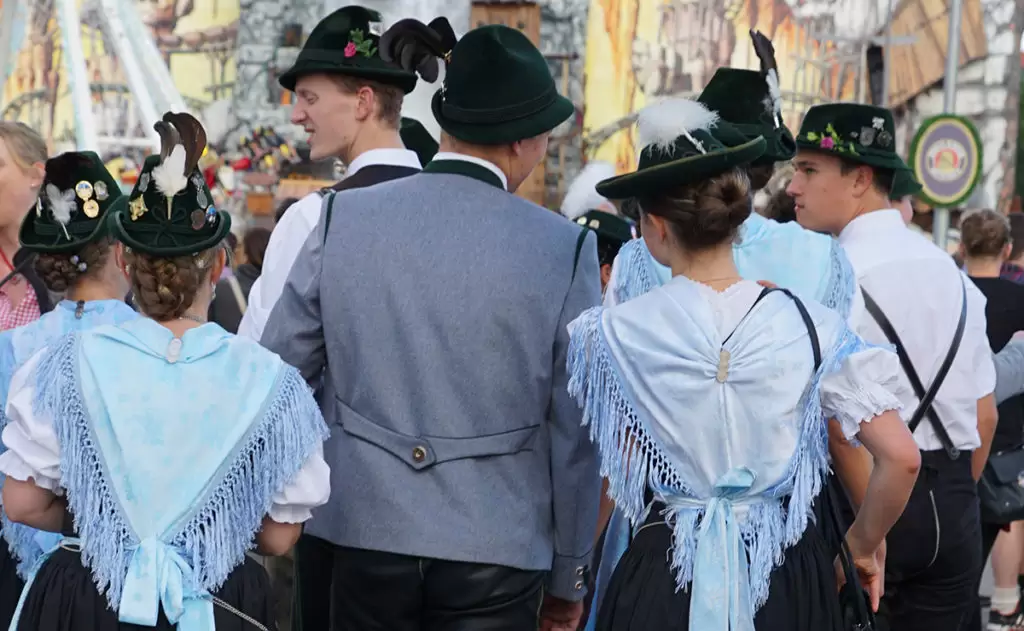 There is one big no-go for women visiting the Oktoberfest: straight hair. Do whatever you want, but don't  let them hang down. Anything braided is awesome, but you can also decide to wear a bun or even flowers in your hair. A traditional hat is also an option, but I'd stay away from any tourist hats with LEDs and/or moving elements. They tend to advertise that you're a) not from Bavaria and b) too drunk to care.
Can I wear a lederhosen as a girl?
Technically speaking you could. I'm all for emancipation, and equal rights. But if you aim for those super short lederhosen in pink, I'm not sure whether that choice is all about girl power or one step closer to prostitution. So as a local, I'll give you the well-meant advice: stay away from them ;-)
How to tie the pinafore: left, right or middle & what does it mean for the boys?
Traditional Bavarian dresses are loaded with cultural references and subtle intricacies. The way you tie your pinafore sends an important message to the men around you.
Bow to the left = single
Oktoberfest is all about fun and having the time of your life. If you don't mind a bit of flirtation then a bow tie to the left will send the signal that you are both single and willing to have some fun. It definitely doesn't mean you don't want to sleep alone tonight!
Bow to the right = you are in a relationship
Whether you are married or dating, a bow tie to the right will tell everyone that you are in a relationship and don't want to flirt.
Bow to the middle = virgin
Now I know you might be tempted to tie your pinafore with the bow in the middle, but this is really just saying you are a virgin. While in ages past, this was indeed an important message if you were a young girl, it's actually just a bit awkward today ;-)
Bow on the back = widow
For those who sadly lost their loved one, a bow tie on the back will signal everyone you are a widow.
If you don't want to buy an Oktoberfest dress, you can also try to mix traditional looking items to blend in. Felt hats, knitted jackets, a nice lacy shirt and maybe even a wicker handbag will go a long way.
Men's Oktoberfest outfit: The Lederhosen
No other traditional clothing is more readily associated with Bavaria (and Germany as a whole) than the Lederhosen. A traditional Lederhosen will be handmade using deer skin or even chamois leather. The embroidery is usually done with quills or green to yellow yarn. These authentic Bavarian Lederhosen are usually prohibitively expensive (starting at about 1,000 US-Dollar) and made to last a lifetime.
All around Munich, but certainly also on the internet, you will find cheap imitations and good alternatives using industrial production. The cheapest sets will cost around 80 Euros, while the better ones range around 250 to 500 Euros.
Insider tip: The more used a lederhosen looks, the more precious, as the coveted patina takes years and years of hard usage to show.
Anyway, here's your shopping list for an authentic men's Oktoberfest costume:
Lederhosen: Which length: Short, medium or long?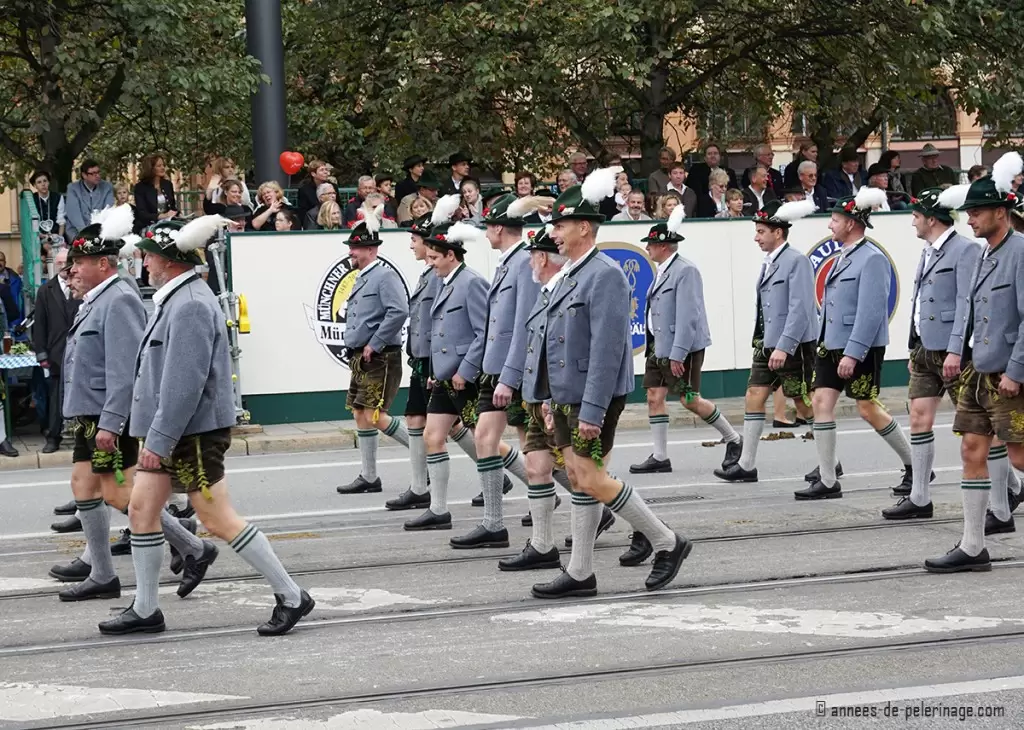 There is no easy answer, as Lederhosen are worn throughout Bavaria, in Austria, and in Switzerland as well. Each region has different models, designs, and lengths. Where I am from (Allgäu), men usually wear super short Lederhosen (ending way above the knee), while the areas around Munich usually prefer Lederhosen covering the knee.
Older men often wear the long Lederhosen, but at the end of the day it really boils down to preferences. You can't do anything wrong with buying a medium long Lederhosen reaching almost to your knees. As far as I can guess, the super short ones are preferred in mountainous regions as they are more comfortable when hiking and tending the mountain pastures. I also have to admit that these super short Lederhosen were way more fashionable 20 years ago and feel a bit outdated right now.
Which socks to wear with your Lederhosen?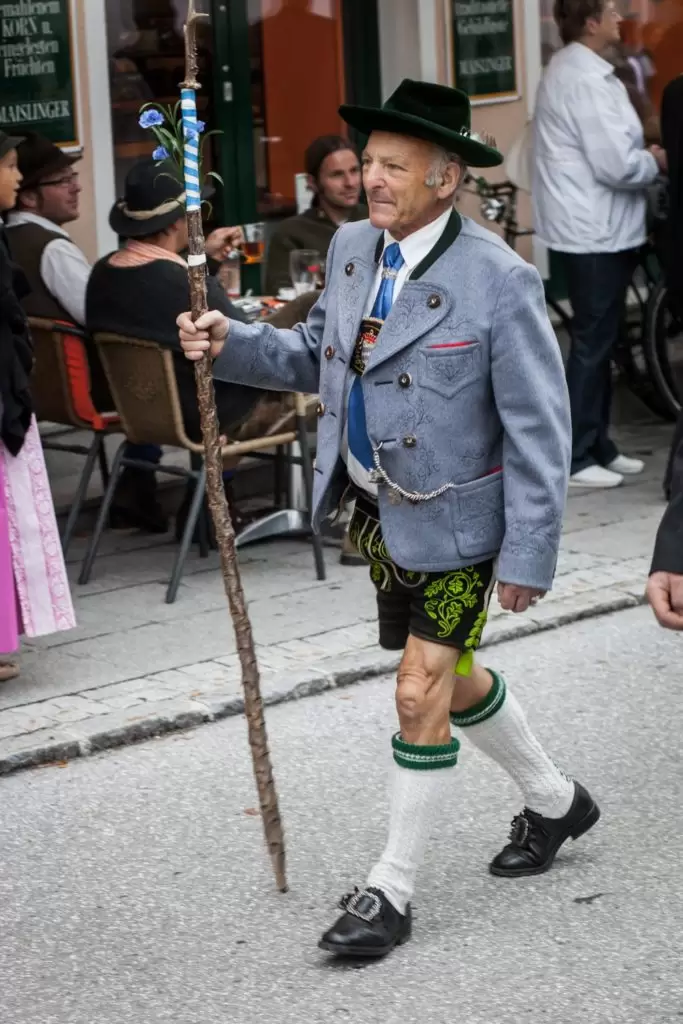 The easiest choice would be knee long knitted socks in undyed wool. Grey and green are also very common alternatives. To complete an authentic Oktoberfest attire, hand-knitted socks are a must. These can be outrageously expensive (way beyond 100 US-Dollar) and might not be your first choice. But maybe you got a grandma or aunt who can help you out – there are tons of pictures and patterns all around the internet.
If you got a long lederhosen (the ones with a tight cuff reaching almost to your ankles), you have to wear long socks so you don't show any skin.
If you decided to wear short lederhosen, you can also wear long socks, or you go for the Loferl or Loiferl. These are a peculiar sock split in two halves. In ages back, these allowed for easy temperature regulation but developed into a showcase for a women's knitting art and to set a particular focus on those (hopefully) muscular tights.
If your lederhosen is short, you can wear both long socks or Loferl. You are allowed to scramble the socks down if it's getting too hot inside the tent.
Suspenders or no suspenders?
You've probably seen guys wearing lederhosen with and without suspenders. And now you are wondering if you should don them or not? The first thing you should know: The suspenders are actually a showpiece. They can be (again) horribly expensive due to intricated quill embroidery and what not.
Young men really should leave them at home and wear a leather belt instead (something like this). If you are wearing a long lederhosen, you should definitely not wear them.
Also, if you are wearing a gilet or a jacket, stacking suspenders below them will be quite uncomfortable and might make the jacket bulge. In fact, you don't even need a belt, as there is a drawstring in the back of a traditional Bavarian lederhosen. This looks a bit sportier and allows you to wear them in a more casual way.
Why guys should not wear checkered shirts at Oktoberfest
You have probably seen it a million times: a guy wearing lederhosen and a checkered shirt in blue or red. I am not sure anyone really has a clue where this custom originated, but I'm telling you it has nothing to do with traditional Bavarian clothing. Nothing. Period. You might find napkins or tablecloths made from that fabric, but an Oktoberfest shirt for men is white.
And truth be told, all women will agree that guys in white shirts usually looks very dashing. In a checkered shirt, you will rather look like the farm help. And who wants that?
On a sidenote: 95% ofthe me wearing checered shirts are either tourists or german men from other states within Germany.
For that matter, you should also throw the handkerchief away that comes with most sets. The men you see wearing them, they are not the locals but the tourists! ;-)

Where to buy your Oktoberfest outfit
I already linked you a couple of examples above. Do note that, as a German, I did not test or review these items. I just used searched for stuff that looks authentic to my local eye & as good examples for you. The reason? The shops you get the super exclusive authentic Oktoberfest costumes usually don't have an online shop: they are made to order/fit. Some even have a waiting list.
That being said, amazon.com has quite a decent choice, if you know what you are looking for. And don't just look out for a tag that says "traditional Bavarian clothing" – if it looks the right way, buy it.
But you also got a different choice: Close before Oktoberfest, virtually a million stores pop up all over Munich selling Lederhosen and Dirndl sets.
Angermaier is your luxury shop, where you will find authentic costumes with attention to details and usually a special twist. There is one store very close to the Viktualienmarkt (here is the website).
Steindl has a couple of stores all over Munich and sells medium priced lederhosen and dirndl. I feel they are decent if you don't plan to wear your Oktoberfest dress for the rest of your life. Here is the website
Almrauschen would be your alternative if you are looking for cheap Oktoberfest costumes. If you walk down from Marienplatz to Isartor, you will see a store on the left side. I believe they offer sets starting from 49 Euros. There usually are a couple of pop-up stores around the central station as well.
Want something super authentic and modern at the same time? Gössl is a luxury manufactury that will offer you very chic traditional Bavarian clothing at an admittedly steep price. There is a store right opposite the Munich opera (here is the website)
For a full outfit at the cheaper stores, you can expect to pay something in between 150 and 250 Euros. Made in China, you might get it for less. An authentic traditional outfit for guys might cost up to 10,000 Euros. Just remember, you get what you pay for!
Picture credits: _dChris, Roman Boed, Nemoralis,digital cat