Schloss Neuschwanstein is one of the biggest tourist magnets in Europe. The place inspired Disney's Sleeping Beauty castle and is certainly one of the best day trips from Munich. But how do you actually get from Munich to Neuschwanstein Castle?
I have been living in Bavaria's capital for almost 20 years now and grew up 20 kilometers away from Bavaria's most beautiful castle. I am going to show you four valid options to visit Neuschwanstein Castle from Munich and list all the pros and cons.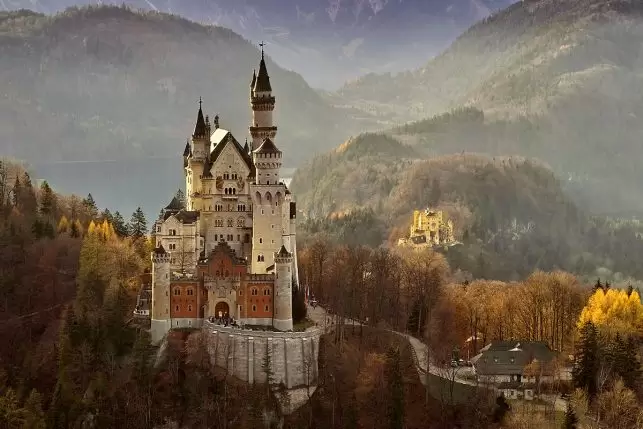 I can't even count the times I've been to Schloss Neuschwanstein, because basically every time relatives and friends from other parts of the world visit, they want to see this fairy tale castle. During my youth, a lot of my friends even worked as tour guides in summer.
From all those past experienced I distilled this ultimate guide on how to visit Neuschwanstein castle from Munich. So, let's get started, shall we?
Note: I earn a small commission for purchases made through links in this article.
Here are four options to get from Munich to Neuschwanstein
1. Booking a Neuschwanstein Castle tour
The fastest, easiest and most comfortable way to get from Munich to Neuschwanstein Castle is booking a tour. Period. There are daily guided tours starting from the central station and you can choose between half-day trips and full-day trips.
Listen: I know people are always wary when travel bloggers recommend tours. And you should, because there are affiliate commissions to be earned. But in this case, it really makes the most sense. Why? Well because there is no direct connection with public transport from Munich to Schloss Neuschwanstein (see below).
On top of that, you get a tour guide, which I feel a lot of people will appreciate. Also, most tours visit Linderhof castle as well, which is otherwise rather complicated to fit into the same day.
Of course, you are somewhat limited and you have to follow the tour schedule precisely. See, I am not a big fan of tours myself, but here is the thing about Neuschwanstein: You cannot visit the interiors without a tour, and it's not like you will be the only one visit either. You will be surrounded by thousands of people all the time.
And there is one last and very important advantage. Million of people want to visit Schloss Neuschwanstein each year, but the castle obviously was never built with modern mass tourism in mind. Tickets are quite limited and there is no easy way to book them online directly! If you book a tour, the tour operator (usually) takes care of booking your tickets for the castle (do check in advance!).
In fact, half of the times I visit I actually do so on a cheap tour. You get to see everything and because they are doing it so often everything runs like a clockwork. Plus the guides use the whole journey from Munich to fill you in on the history and interesting anecdotes! They also offer a luxury version, which is even better.
This is the tour I always book | This would be the luxury version with snacks & drinks
Pros:
the fastest option
most comfortable option
tour guides for a memorable stay
easy to combine with Linderhof and/or Hohenschwangau castle
tour operator reserves tickets for Neuschwanstein Castle
Cons:
The most expensive option, especially if you are more than two
very inflexible (tours almost all start at the same time)
2. From Munich to Neuschwanstein Castle by train
Some people are traveling on a tight budget and 50 euros or more per person and tour might just be too much for you. Fair enough, but it's not like there isn't a cheaper option. Taking the train is a very viable alternative, especially for bigger groups. You should know, however, that it will take about 3 hours to get there (instead of 1h 50 by bus or car).
Here is how to get from Munich to Neuschwanstein Castle by train:
Step 1:
All trains leave from the Central Station (Hauptbahnhof). Direct trains to Füssen (where the castle is located) only leave every 2 hours. If you don't mind changing trains, you'll find options every hour, though.
You can check your connections on the official website of the Deutsche Bahn (German Railway Service). I recommend you download the app so you know exactly which platform you need to be, etc. It's pretty awesome and I couldn't live without it (you can even register and buy your tickets online).
It takes 2 hours to get to Füssen and the cheapest option is probably the Bayern Ticket (Bavaria ticket). It's 25 Euro for one person and 7€ extra for each additional person. It offers unlimited rides on the regional trains in Bavaria on that day and includes public transport in Munich as well. For a group of 4, you'll only pay 46 Euros which is still cheaper than a guided tour for one person.
Also, you can catch any train you like. So, when you finished your tour, you can head straight to the train station and take the next train back. There is just one important caveat: The Bavaria Ticket is only valid after 9 am (except on weekends)!
You can buy the tickets at the vending machines inside the central station. Just remember to switch the language and the process is quite straight forward and it should say "Bayern-Ticket" already on the first screen. Also, remember to adjust the number of people traveling in your group and you need to sign the ticket with your name.
Note: If you got a tourist card with free public transport in Munich, taking the Regio-Ticket Allgäu Schwaben ist still not cheaper because you need to take the bus in Füssen, which is covered by the Bayern ticket, but not by the Regio-Ticket!)
Step 2:
Once you arrived in Füssen you need to catch Bus 78 or 73 to Hohenschwangau Schloss Neuschwanstein. They leave directly in front of the railway station in Füssen and roughly every 10 minutes, so it will be no big deal. Just follow the crowd, you won't be the only one.
Step 3:
The public bus doesn't actually take you directly to Neuschwanstein castle but drops you off at the bottom of the hill. From here you can either walk or take the shuttle bus. There are also horse carriages, but they are quite expensive, so I'm not sure it makes a lot of sense if you are on a budget. An uphill trip costs 7 Euros per person, but there is no denying it is romantic (the horses are treated very well and are only allowed to do two consecutive rides in a row).
Note: The shuttle bus service does not operate in winter. Only the horse carriages.
If you are reasonably fit, walking will be no problem. It takes like 30 minutes and you will have to walk quite a bit if you are taking the shuttle bus as well. So, I wouldn't stress over waiting for the next bus if you just saw it leaving, especially as it costs 3 Euros per person for a return trip.
Very important: You absolutely need to reserve tickets for the castle in advance (via the order form on the website) or be there very early. They sell out pretty quickly during the day.
Pros:
By far the cheapest options (especially for small groups)
rather flexible
Cons:
the most complicated route
rather inflexible when it comes to visiting adjacent places
you have to reserve the tickets yourself
takes the longest time
3. Taking the car to Schloss Neuschwanstein
You should definitely consider taking the car from Munich to Neuschwanstein castle. German highways are world-renowned and it will only take about 1 hour and 45 minutes to get there. The connection is pretty straight forward as well and there are basically road signs (to Füssen) the whole way.
You might still follow the route on google maps (or rent a car with a navigation system), but if you are traveling in a group of 4 or 5, this might actually be the best option for you.
First of all, you can leave and depart whenever you wish, plus it's easy to visit St. Coloman church and the famous UNESCO World Heritage site Church of the Wies (which is just 10 kilometers away) and do the tour of the two castles in Füssen (Hohenschwangau & Neuschwanstein) as fast or slow as you like. There are a couple of parking lots and from here you have to walk or take the shuttle bus as well.
Also, if you want to see the amazing Linderhof palace in nearby Ettal (another palace built by King Ludwig II.), things will be faster and easier with you than on a guided tour, while you really cannot visit both sites on the same day with public transport.
I do advise you, however, to take a quick look at German traffic rules. The most important thing Americans might want to know is: If there is no sign, then there is no speed limit. And perhaps most importantly: On a highway, the left lane is for fast drivers, so don't block it by creeping along with 80 miles per hour ;-) The slower you want to go, the further right you drive. Otherwise, the rules are almost identical.
Pros:
the most flexible option
the fastest way to get there
the easiest and fastest way to visit the adjacent attractions
Cons:
rather expensive
need to find the way yourself
need to pick up the car first (takes time)
you have to reserve the tickets yourself
might run into traffic jams
4. Flixbus to Neuschwanstein
There is even a fourth option and it's actually the cheapest option of them all. Flixbus is a private bus company famous for its rather inexpensive connections between all major cities in Germany (so definitely something you need to keep in mind for your trip). They also have a daily connection from Munich to Schangau Neuschwanstein.
A return trip is only 20 Euros, so 5 euros cheaper than taking the train if you are traveling alone. But here's the caveat: There is just one bus in the morning (9 am), which returns 4:50 pm in the evening. So, you are somewhat inflexible. Plus, they leave from the central bus terminal and not the central station.
Personally speaking, I feel this is the worst option. It might be cheap, but if you miss your bus, then your screwed. And if you are faster than you thought, you are stranded in Füssen for an hour or two. Plus, it really makes no sense to take the bus in a group of 3 or larger as the Bayern-Ticket is hard to beat in terms of value (Bayernticket for three is just 39 Euros, while you'll pay 60 with Flixbus).
Pros:
extremely cheap for solo travelers
bus with free wifi
Cons:
inflexible times; only once a day
no guides
leaves from the central bus station
you have to buy the tickets yourself
FAQs
How far is Neuschwanstein castle away from Munich?
Neuschwanstein castle is roughly 110 kilometers away from Munich if you take the B2 and the B17 highway. Depending on the traffic situation, taking the A96 autobahn to Landsberg or the A95 to Sindelsdorf for the first leg of the journey is a viable option as well, though marginally longer.
How long is the train from Munich to Neuschwanstein Castle?
It takes about 2 hours to get from Munich to Füssen by train. From here, you have to take first a bus and then a shuttle bus to get to the castle. So, you will need around 3 hours from Munich to Neuschwanstein Castle.
How long does it take to visit Neuschwanstein Castle from Munich?
Traveling by public transport, you will need a full day to visit Neuschwanstein Castle from Munich. The train ride is 3 hours each way. Then, you will need around 1 hour 30 minutes to walk around the castle. The tour itself is only 30 minutes, BUT your tickets are only valid for a specific timeslot so you may have to wait quite a bit. Make sure to start out early and check out the adjacent Hohenschwangau castle as well.
How hard is the climb up to Neuschwanstein Castle?
It is a paved road from the parking lot right up to the main gate. The hike up to Neuschwanstein castle takes about 30 minutes if you take the direct approach and I would say anyone can do it if you take your time. The inclination is rather moderate. Please be aware that, even if you take the bus or horse carriage up, you will have to walk the last 300 meters. Also, there are quite a lot of stairs inside the castle.
Can I visit Neuschwanstein Castle with a wheelchair?
It is actually possible to do a tour of Neuschwanstein Castle in a wheelchair (or people with restricted mobility). There are two things you have to know:
a) You are not allowed to take a private car to the castle. So you have to take the bus (the public buses in Bavaria are fit to carry a wheelchair and they got a retractable access ramp to bridge the cap) and then the road for the last meters. Tuesdays and Thursdays the German Red Cross can organize a special vehicle to bring you up to the castle as well.
b) There is an elevator inside the castle but you need to reserve it ahead. The door is only 0.85 meters wide and 1.30 meters deep, though. Definitely contact the castle management before your visit to reserve the elevator.
What else is there to see in Neuschwanstein Castle/Füssen?
You can also tour Hohenschwangau castle, and see the Museum of the Bavarian Kings. You might also want to check out the Ludwigs Festspielhaus where you can see Ludwig II. musical. Then there are three lakes (Alpsee, Forgensee, and Schwansee) which are incredibly beautiful. You can also take the ropeway up to Tegelberg, where you will have an amazing view of Neuschwanstein castle and the whole Allgäu region.
What to do when tickets for Neuschwanstein Castle are sold out?
There is nothing you can do. There is no black market for Neuschwanstein Castle tickets or anything like it. What you can do is visit the adjacent Hohenschwangau castle. In fact, the interiors are way prettier and authentic in this castle. Schloss Neuschwanstein was never finished and you can't even visit all the rooms.
So, this was my guide on how to get from Munich to Neuschwanstein Castle. I hope I was able to answer all your pressing questions, but feel free to comment below if there is more you need to know.