A massive list of top places to see in Tenerife by car – in the South or North of the beautiful Canary Island.
Are you planning a trip to the Canary Islands? And now you are wondering about all the must-see places to visit in Tenerife? Then you came to the right place. I've been to the beautiful Spanish islands 5 times already and I will show you exactly what you need to see – even if you just plan to stay in the South.
Luckily Tenerife isn't a big Island. It's only about 100 kilometers or one hour by car from the very south to the capital Santa Cruz. When we visited the first time, back in the 80ies, the street situation was a bit difficult, and getting to some of the tourist attractions took ages.
However, that situation improved a lot, and now, save for the east of the island, you'll find a very well-developed ring road that will get you anywhere in no time. And that might explain why you still find a couple of conflicting information floating around the internet. But if you rent a car, you can see a lot even if you only stay 7 days.
Anyway, let's dive right into my list of my personal favorite tourist attractions on Tenerife
Note: Also check out my guide to Spain's capital and the 20 best things to do in Madrid. Or about how visiting nearby Madeira as an alternative?
What to see in Tenerife – 10 must-see attractions
In my opinion, Tenerife is the most existing of the Canary Islands. There are just so many things to see and places to visit, quite a lot of them are truly spectacular. While there are certainly beautiful places on the neighboring islands as well, most of them aren't truly unique and – to be quite frank – only mildly interesting. But Tenerife is packed if you ask me!
1. Pico de Teide
The central volcano of Tenerife is called Pico de Teide and it's certainly a must-see. It sits right in the middle of the island and is 3,718 meters high! In fact, it's so high that you will see it from almost anywhere on the island. And as a result, the views from the top can be equally as exciting.
On a clear day, you can practically see the whole island from there. The vistas are truly breathtaking. And no worries, you don't have to hike – a cable car will bring you (almost) all the way to the top.
On top of that, it is an active volcano. So you will be able to see smaller fumaroles venting sulfurous gas. The top caldera is quite small and you do need a special permit to get there. If you can't get one (and you really need to be quick about it as they are often sold out months in advance) then don't worry – the view from the cable car station is almost as nice.
Note: A word of warning here. The Teide is really high and you will definitely feel the high altitude. Shortness of breath and even headaches are quite common. So, even though the walkways at the very top are almost level (except you want to hike the last bit to the top) you will need to be considerably fit.
2. Teide national park
Upon closer inspection, you will notice that the Teide sits in the middle of a much larger caldera 30 or so kilometers wide. Here, you will find the Teide national park. And I absolutely urge you to take some time (2 hours or so) and visit it.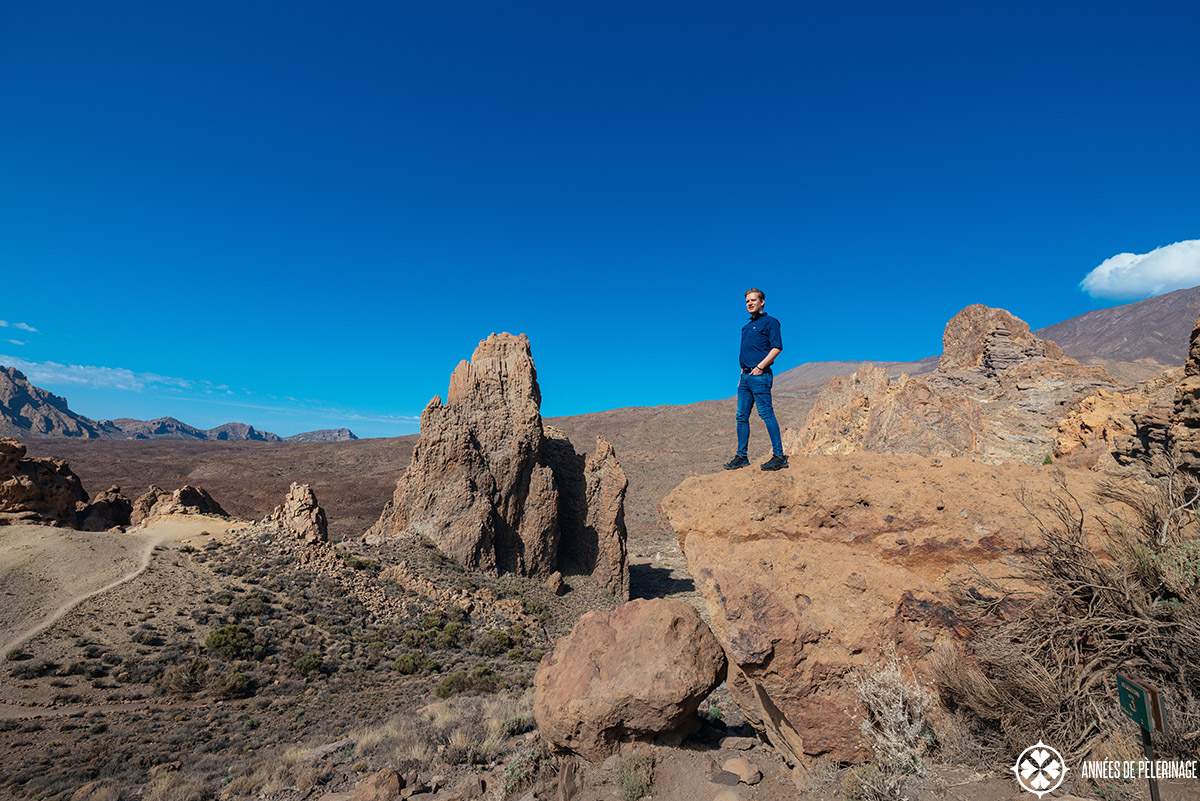 You will find the most fascinating rock formations here. The "Mirador de la rueta" viewpoint with its almost alien rock sculptures is certainly a must-see and you'll find it on almost every postcard.
But don't neglect the many paths and hiking trails across the plateau. These are just as nice and hardly see any tourists – while things can be quite crowded around the "main attractions" you will find in every travel guide.
I certainly loved walking along the endless (and quite flat) pathways that seemingly offered a new and equally as spectacular view of the iconic volcano every 500 meters.
3. El Drago Milenario
If you drive along the scenic north-east of Tenerife, you should definitely stop at Icod de los Vinos. Here, you can see a thousand-year-old dracaena tree. It's one of the icons of Tenerife and truly spectacular.
The "El Drago Milenario" sits among a verdant park with lots of beautiful plants and nice views of the imposing tree. Even if horticulture is not your thing, I'm sure you will love this place. There is quite a lovely café at the exit of the park.
There is a small entrance fee (5€ for adults) to access the park and it's quite worth it if you ask me.
4. Masca & the Teno mountains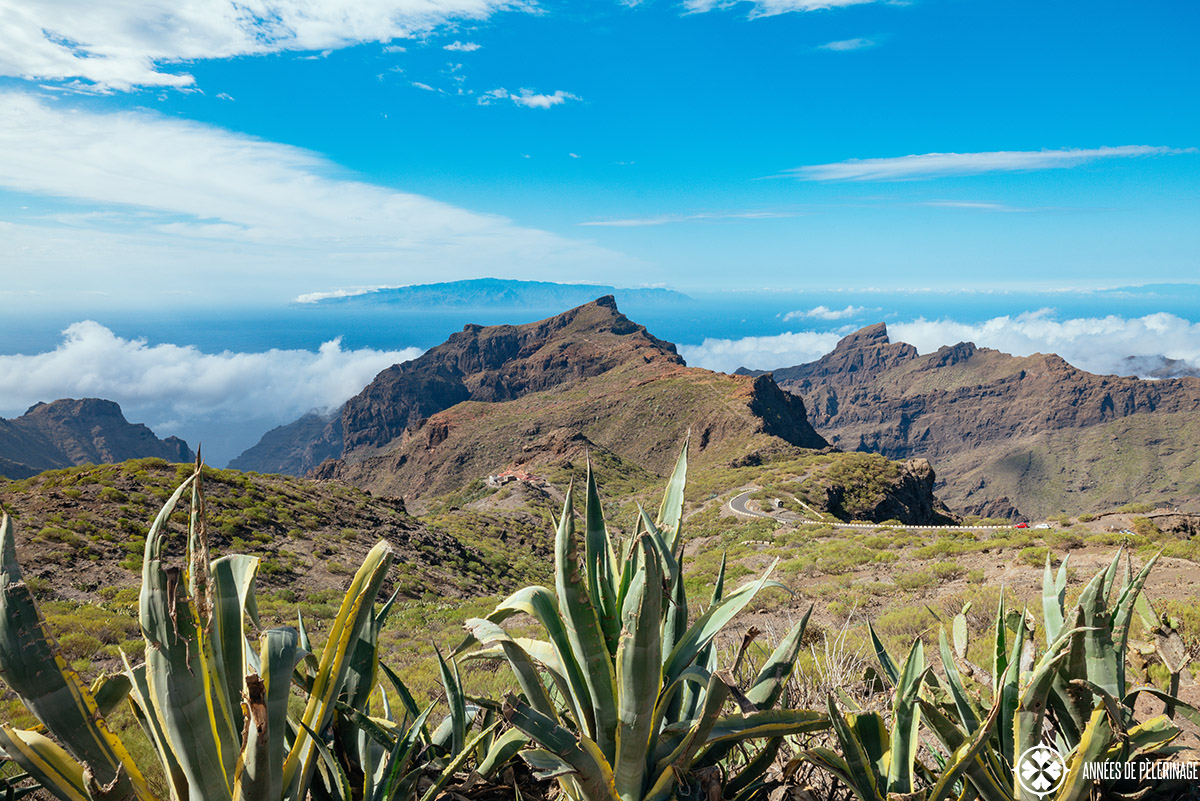 Getting a bit off the beaten paths is always a good idea. Now, on Tenerife that is a bit more difficult because almost all parts of the Islands have been "discovered" by an endless horde of social media affectionates. The very West of the island is, however, quite a bit quieter.
Taking the car and driving through the fantastic Teno mountains will be very rewarding. The winding roads will take you from one spectacular view-point to the next. Truly, you will want to stop for a photo every 500 meters!
The most famous stop is certainly a little town called Masca. When I first saw it, it reminded me a lot of Machu Picchu in Peru. The way those small houses are abutting the mountain ridge is just so impressive.
Other than the beautiful views, there is not much else to see in Masca. But simply sitting down in the Café, enjoying the beautiful scenery, walking a bit along the cobbled-stoned paths will be its own reward.
5. Los Gigantes
Half of Tenerife's East coast is one massive cliff. It's called "Los Gigantes" and certainly worth a detour. The best viewpoint is certainly from Acantilados. It's a bit harder to find it as it's basically at the end of a cul de sac and you need to drive through the whole town and it's a bit confusing street plan.
Acantilados is also where most tourist boats start to take you along the rugged coasts with its up to 800 meters (!!) high cliffs. It's a truly fascinating place where you can also see a lot of marine life. Think dolphins, whales, eagles, etc.
6. Barranco del Infierno
Now, maybe you are wondering about my favorite place to see in Tenerife. And that's probably the Barranco del Infierno. You could translate that as "Hell's Gorge". And it truly a god-forsaken place. Or is it?
As you enter the valley (it used to be free, but now there are well-maintained paths and you need a permit), you'll walk through a jagged landscape full of cactus. Ever so often, you'll see lizards jolting through the dry bushes, and maybe a lone bird flitting by.
But as you proceed deeper into the valley, things get greener with every meter. And at the very end of the gorge, you will find a verdant little oasis that culminates in a waterfall – the only one on Tenerife.
Now, mind you, if you've seen waterfalls on Iceland, then this puny little trickle probably won't take your breath away. For me, it's the walk through that arid landscape that's the most fascinating part. It's so beautiful you could almost think it's a botanical garden.
7. Punta de Teno
Tenerife is located in the middle of the Atlantic and so it may be not very surprising that there are quite a lot of lighthouses scattered around the coast of the island. But to be frank, most of them are not very scenic and noteworthy. They are, most or less, just modern buildings that hardly qualify to be on a list of the best photography spots in Tenerife.
The only exception is the Punta de Teno. This lighthouse is quite spectacular. It marks the western-most spot of Tenerife and it sits on a small volcanic outcrop. The wild Atlantic is continuously trying to erode the precarious promontory with hardly a plant eking out a living in the cracks of the rock.
The road to the point is quite difficult, to say the least. And in fact, you do need a special permit to get there. But I promise you, it's worth it! Just don't look down, lol!
8. Parque Natural corona forestal
Tenerife is quite a special island. Most of the Canary Islands are quite dry, some you could even call a desert. But Tenerife is different because it does see a lot of rain – or moisture, to be more precise. And that's how a very unique forest of pine trees subsists in the arid climate. You will only see in the higher regions – so take the car and have a look!
Right in the middle of the national park, you will also find the Paisaje Lunar – a very unique and dramatic area of lava rock formations. It's quite a hike to get there (14km total), so probably not a viable option for most tourists. Still, I wanted to mention it. A drive through the scenic park (at least on the outskirts) will give you a good impression nevertheless.
9. Pyramids of Güímar
Did you know there were pyramids in Tenerife? Well then, you are in for a surprise! If you want to delve into the island's most ancient past, then you should definitely visit the Pyramids of Güímar. Now, don't expect something similar to the great pyramids of Giza in Egypt. Still, I do believe it is a fascinating place and worth a stop!
10. Loro Park
Did you know that there is a very big zoo in Tenerife? The Loro Park (Loro Parque) could be a very fun place to visit with kids. You can see a lot of birds (especially parrots), gorillas, jaguars, lions, and even orcas and dolphins.
The park itself with its many flowers and greenery is quite beautiful as well. Now, while the pools for the dolphins are orcas are quite huge, they are definitely not the ocean. I leave it up to you to decide if that's a place you want to go or not.
Other things to do in Tenerife
Now that I covered the must-see places in Tenerife I don't want to keep a couple of other things you definitely should do on the scenic Canary island. While you can certainly rush from one highlight to the next, I think it's very import to reserve a little bit of time to relax and experience the island (instead of just taking pictures).
A) Go to the beach
Going to the beach while you are in Tenerife is probably a no-brainer. Yet, finding a good beach that is not too crowded can be quite a challenge. Most guides will point you towards the Playa de las Terestias in the North of the island. Its golden Sahara sand is certainly a stark contrast to the reddish volcanic sand you find everywhere else.
But I would certainly also mention the Playa Del Duque and the Playa de Troya in the very south. Both are quite lovely. Now, don't expect the be alone there, most of Tenerife's beaches are quite crowded. I still think they are lovely!
B) See a Flamenco show
No matter where you stay, I'm reasonably sure there will be a Flamenco show in town at least one evening per week. And I really urge you to see it. The dance is such an important part of the cultural life on the island. Certainly, these shows are all done for tourists, and one could question if the dance was still as important as it is now without them. But setting these things aside, the shows ARE entertaining – and that's all that matters, eh?
C) Walk through a banana plantation
Agriculture is a bit difficult in Tenerife but there is one plant you will almost see everywhere: Bananas. Some of the plantations are truly huge and I think you should stop at least once to take a closer look. Now please, when you do, be respectful and don't enter private property unasked.
D) Drink a Barraquito in one of the many small villages
Barraquito is perhaps Tenerife's most famous drink. It's a coffee liquor served in a layered way and you should definitely give it a try! So, why don't you stop in one of the many small little towns of the common tourist routes and enjoy a glass or two (there are non-alcoholic versions available for the driver *hint*).
E) Drive along the rugged North-East coast
My 9th entry on my list of places to visit in Tenerife is a bit unspecific but spectacular nonetheless. All along the North-East Coast of Teneriffe, you will be able to spot places where the wild Atlantic explodes through the rugged volcanic rock. Watching these blowholes (and trying not to get wet) is quite fun.
It's quite hard to point you to a specific spot, as there are just so many beautiful places there. But definitely do consider driving the scenic coastal road from Buenavista del Norte to around Icod. It's worth it – especially places like Garachico.
F) Get close to nature (whale watching, etc)
It's probably no big surprise you can see a lot of fish in the waters around Tenerife. That's not to say it's the best snorkeling spot on this planet (quite to the contrary). But there's one thing you definitely should not miss – seeing one of the many pilot whales and dolphins living on the East coast of the island. Now, of course, you need to be lucky and it needs to be the right season. But booking a tour and seeing them in nature is, if you ask me, much better than visiting Loro Park!
G) Star gazing
Did you know there is quite the huge observatory on Tenerife? Well, the higher regions of the island are quite good for star gazing and there are many tours offering to get a glimpse of the universe. Personally, I am a huge fan of it and some hotels even have their own observatory. That being said, it's only possible on a clear day so you have to be lucky!
And that was my list of the top places to visit in Tenerife, Canary Islands. Feel free to ask your questions below.