A massive list of the top points of interest and things to do in Toledo (on a day trip from Madrid or not).
Toledo is the best day trip from Madrid. That's a fact. But do you know about all the amazing things to do in Toledo, yet? Is Toledo a must see or are the better places for your Spain itinerary?
Well, then this travel guide was made for you. I'm going to show you the top tourists attractions in Toledo and how to get there. I visited this amazing UNESCO World heritage site multiple times (one of my best friends lives in Madrid) and poured all my knowledge into this travel guide.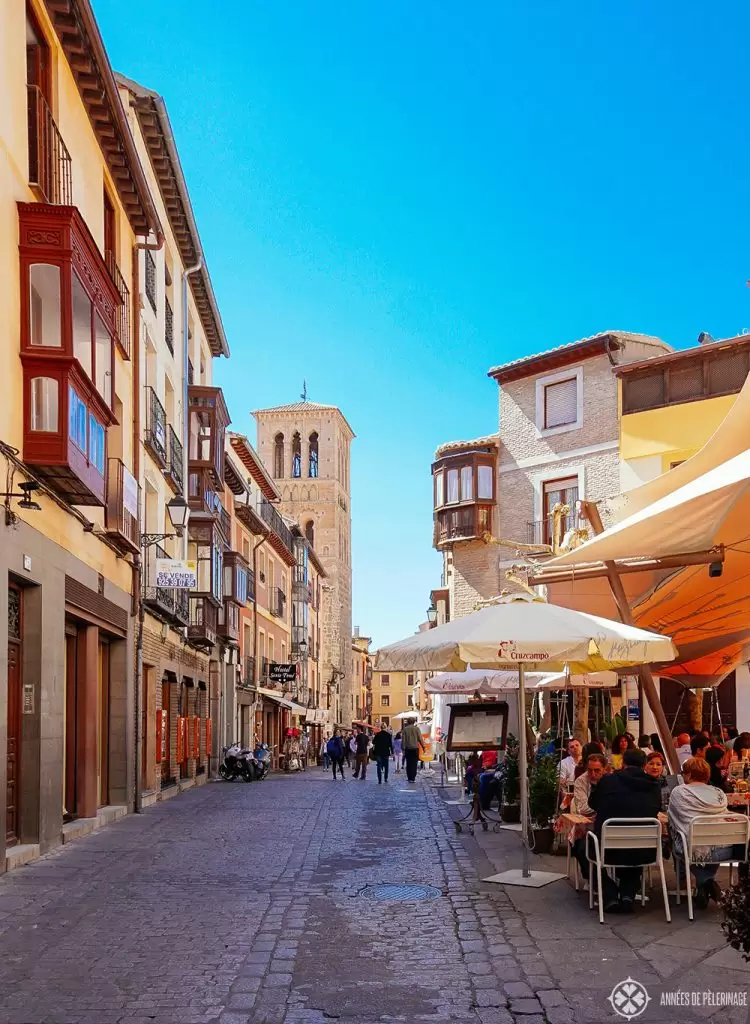 Toledo played an important role in Spain's long history and served as its capital before Philipp II moved the court to Madrid in 1561 (don't forget to check out my guide to the best things to do in Madrid!). It often called the "City of Three Cultures" for its Muslim, Christian, and Jewish heritage and can be found in the hills above the plains of Castilla-La Mancha.
But enough of the preface, eh? Let's dive right into the best things to see in Toledo, Spain!
1. Mirador del Valle (Classic viewpoint)
No visit to Toledo is complete without enjoying the spectacular view of the city from the other side of the river Tagus. The most famous viewpoint is called "Mirador del Valle". The scenery is just unbelievable!
If you got a lot of time, you can walk there from either Puente de San Martín or Puente de Alcántara, but it's probably better to hop one of the tourist trains and take a round trip (walking you'll probably need an hour or even more). If you are visiting on a day trip from Madrid by bus, most tour companies will stop at the viewpoint before you enter the city.
Pro tip: Go first thing in the morning and start your sightseeing tour here, as the sun will be behind Toledo in the evening, which is not exactly ideal for taking pictures.
2. Toledo Cathedral
Toledo Cathedral or rather the Catedral Primada Santa maría de Toledo is Gothic masterpiece dating back to the 13th century. Among the many churches in Toledo, the Cathedral is by far the most impressive.
It's not only the sheer size of it (believe me, it's huuuuuge!), the golden splendor, the beautiful stained glass windows, and the intricate masonry, it's also the quite peculiar layout of the church. Many different chapels and a giant golden retable form a stunning ensemble so rich in history, almost impossible to comprehend.
Definitely, make sure to visit the sacristy with its impressive treasure exhibition as well. The ten feet tall Great Monstrance of Arfe (18kg of gold and 183kg of silver) certainly blew my mind away.
There is also a beautiful cloister to one of the sides, you shouldn't miss on your tour. As everything is so vast, it really pays off to get an audio guide. Otherwise, you will be lost! Plan at least one hour to see it all. If you are interested in special events and pastoral action, do check out the website of the Catedral Primada.
3. Alcázar of Toledo
Where else would you find a stone fortification than in the highest part of the city? The Alcázar of Toledo dates back to the Roman times and played an important role in the Spanish civil war starting from 1936. Today it houses the Museum of the Army (Museo del Ejército), you might want to check out if you got a lot of time in Toledo. Here's the website of the museum.
Pro tip: There is a public library inside the Aclázar. From the top floor (inside one of the towers) there is a little café where you can enjoy one of the best views. The best part – it's one of the few free things to do in Toledo.
4. Monastery of San Juan de los Reyes
One of my favorite spots in Toledo is the Monastery of San Juan de los Reyes. I simply love the cloister with its small garden built in the so-called Isabelline style. It's just such a calm space full of tranquility. The terrace in front of the Monastery is also a good viewpoint. Definitely put it on your list of things to do in Toledo
The grizzly detail:  As per order of Queen Isabel the manacles of the Christian prisoners from Granada (held by the Arabs & later released) were incorporated into the facade of the Monastery of San Juan de los Reyes.
5. Synagogue of Santa María la Blanca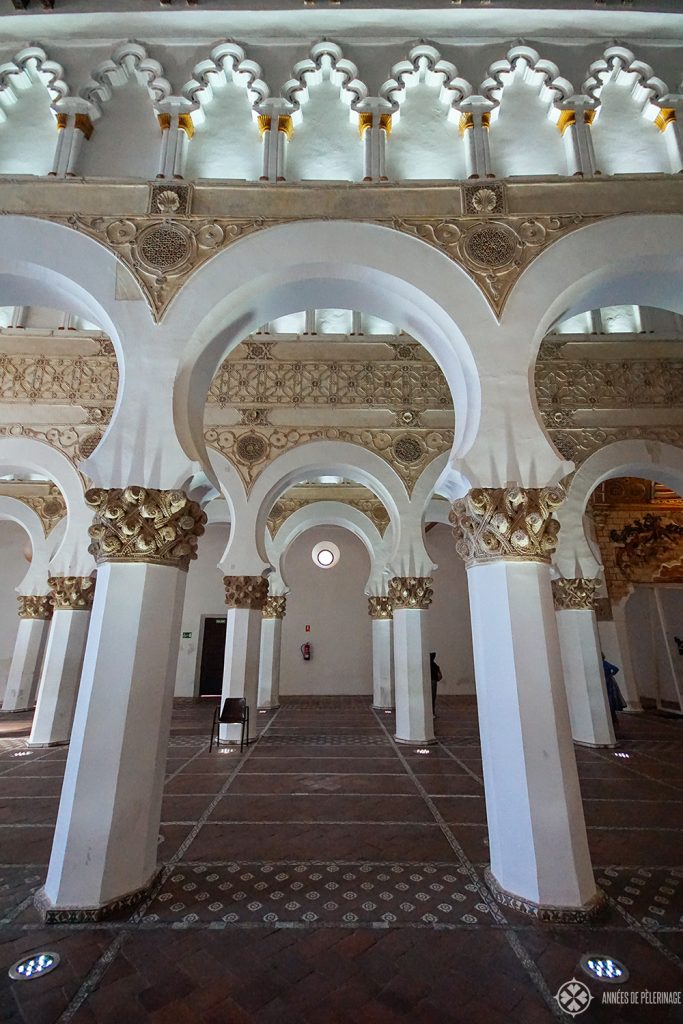 Like I said, Toledo is often called the city of the Three Cultures. So, you should definitely put visiting one of the many synagogues on your list of things to do in Toledo. The most beautiful, and by far the oldest, is the Synagogue of Santa María la Blanca.
It was erected in 1180 AD, got turned into a church in the 15th century and was only returned to the Jewish community in 2013. It is the third most visited historic monument inToledo and certainly one of the most beautiful. It is a museum – no ceremonies are held here anymore.
6. Iglesia de Santo Tomé, Toledo
El Greco is one of the most prominent Spanish painters and renowned throughout the world. One of his masterpieces, The Burial of the Count of Orgaz, can be seen in the Iglesia de Santo Tomé. The church itself is not very noteworthy, but El Greco's painting is truly one of the must-sees in Toledo.
7. El Greco Museum, Toledo
And talking about El Greco. The painter was born on Crete but spent the last years of his life in Toledo (starting from 1577). It may come as no surprise that Toledo has a whole museum dedicated to El Greco – one you really should not miss. Here's the link to the official website of the Museum.
8. Mosque of Cristo de la Luz
Toledo once housed ten mosques – all built during the Moorish period. Most of them got converted into churches or were torn down. The Mosque of Cristo de la Luz is the only one that remains in almost the same state it was when it was built. It's a small building, but quite beautiful with its horseshoe arches and grill-work.
9. Iglesia de San Ildefonso, Toledo
The best view of Toledo's old town can be enjoyed from the towers of the Iglesia de San Idelfonso. You will find the entrance to the belltowers on the far left side of the side aisle. The towers are not very high, but there are no elevators.
The church itself is pretty, in the way almost all European churches are, but otherwise not especially noteworthy. But that view….!
10. Puerta del Sol & city wall of Toledo
The Puerta del Sol is just one of six beautiful medieval city gates. Another one is the Puerta de Bisagra Antigua from the 10th century. If you got the time, you really should take a stroll along the old city wall. It's beautiful and also one of the quieter places in Toledo.
11. Puente de San Martín & Puente de Alcántara
There are two ancient bridges across the River Tagus and you should definitely visit at least one of them. The Puente de San Martin from the 14th century is the prettier bridge an allows entrance to the city from the west.
The Puente de Alcántara is even older (construction started during the Roman times) and offers the better view of the city. But you can basically start at the Puente de Alcántara and move through Toledo and end your tour at Puente de San Martín if you are short on time (Remember to pick up a city map at the tourist information!).
12. Plaza de Zocodover
Most of the museums and churches require an entrance fee. If you are looking for free things to do in Toledo, then you really don't have a lot of options. One place you should definitely visit is the Plaza de Zocodover. Many restaurants and cafés line the square at the entrance of the old town.
Pro tip: Definitely stop by at the giant marzipan shop (Toledo is famous for the delicacies) and buy some souvenir.
13. Hospital de Tavera
The Hospital de San Juan Bautista in Toledo is one of the most important Renaissance-style buildings in Toledo. It has been turned into a museum and is open to visitors. The collection is quite noteworthy (paintings by Tintoretto, Titian, El Greco, etc).
Here is the (somewhat simple) website.
14. Iglesia de Santiago del Arrabal
Another beautiful mosque that has been turned into a church is called Iglesia de Santigo del Arrabal. The building dates back to around 1245 AD and retains many of the original details of the so-called Mudéjar architectural style is famous for.
15. Castle of San Servando
Not far from the Puente de Alcántara hides one of the hidden gems of Toledo. The castle of San Servando is a medieval monastery later fortified and occupied by the Knights Templar. It's quite the enchanting little escape and has been named a national monument. Not one of the must-sees, but certainly charming and a great place to end your walking tour through Toledo.
Other things to do in Toledo, Spain
With a history as long an illustrious, there are many other things to see in Toledo. I didn't mention the Roman circus in front of the city gates or the beautiful Puerta del Cambrón. Also, there are many smaller churches in Toledo between the major landmarks, you really might consider visiting.
Above all, you should try to sample the food (preferably with some Arabian or Jewish influence) and try some of Toledo's famous marzipan. If you are looking for fun things to do in Toledo with kids, then you'll find a Zipline near the Puente de San Martin you might want to try. As most of Toledo's tourist attractions are somewhat loaded with history, you might want to take things slower and skip a building or two. Do consider to organize a private tour, as a local guide will be able to add so much value on your walking tour through the medieval town.
Shopping in Toledo can be fun as well, as there are many smaller souvenir shops.
Day trip from Madrid to Toledo
Just how far is Toledo from Madrid? The distance is just 72 kilometers, making it the ideal day trip from Madrid, easy to fit in most Spain itineraries. You can either take the bus, the train or rent a car. Most people are also wondering what to do in Toledo for a day. Generally, you will need about 8 hours to explore the whole city, as long as you don't want to visit every single museum and church. So, you might not be able to see everything I mentioned above.
In fact, I'd go as far as saying that visiting Toledo on a day trip is probably smarter than staying a night. Why? Segovia, the other beautiful day trip from Madrid, lies exactly on the opposite of the city and even if you are traveling onwards to the south (like Seville or Cordoba) you are not saving that much time.
That being said, if you really want to see it all and visit all the museums in Toledo (or take it slowly), you will need two days.
How to get to Toledo from Madrid?
There are three ways to get to Toledo from Madrid – by bus, train or car. All will approximately the same time
a) Bus tour (1 hour)
I am, all things considered, not a big fan of pre-organized bus tours. But if you are planning a day from Madrid to Toledo, it is actually the best choice. There are daily tourists buses leaving from Plaza de España. You can either just get the bus ticket or get a tour guide as well. These buses will usually be a bit more expensive, but they'll usually take the scenic route around Toledo and stop at the viewpoints (expect prices around 25€ for the round trip)
Or you opt to take the regular bus tour (run by Alsa) from Plaza Elíptica. Takes about 2 hours from Madrid to Toledo, starting from 7 am until 8: 30 pm and will cost around 11€ for a round trip (departure times as of 2018).
b) Train (30 min)
It is quite possible to travel from Madrid to Toledo by train. Trains are leaving every 30 minutes from Puerta de Atocha (locals will usually just call it Atocha). The Toldeo train station is a bit outside the city (it's a beautiful building!), so you'll have to walk some 500 meters into the city proper. The ticket will cost around 21 € for a round trip.
Note: The train is faster than the bus, but depending on where you are staying in Madrid, it will take you quite some time to get to Atocha, so the tourist bus might be a better choice.
c) Rent a car (1 hour)
Getting from Madrid to Toledo by car is actually quite easy. The A-42 highways will get you almost directly in front of the city gates. It should be near impossible to get lost and there is a big parking lot in front of the gates to the old town. If you are traveling in a group of 4 or 5 and would like some extra versatility, this can be an option.
Best hotels in Toledo, Spain
Note: I get commissions for bookings made through the links below.
Toledo is a relatively small city. Only about 80,000 inhabitants. As such, there are not that many hotels to choose from. The best hotel within the city limits is the Fontecruz Toledo hotel (click here). The Eurostars Palacio Buenavista (click here) is equally well situated and also offers decent luxury.
If you want to enjoy a spectacular view of Toledo over breakfast/dinner, then the Hotel Cigarral el Bosque (click here) might be an option for you. It's possibly one of the greatest places to stay in Toledo.
If you are looking for budget hotels, then the YIT Conquista de Toledo (click here) might be a decent option or the Plaza De Las Fuentes hotel (click here)
If you are looking for some accommodations on the dead cheap side of things., there are a couple of hostels scattered through the city (like the Oasis Backpacker's Toledo or the Hostal Sol),
Festivals in Toledo, Spain
There are quite a couple of wonderful (religious) festivals in Toledo throughout the year – all of them with wonderful processions through the old town. So, keep these festivals in mind when planning your trip to Spain.  Easter and Christmas obviously come to mind. The most important one is Corpus Christi at the end of May/June (always the Thursday after Trinity Sunday).
The origins of Corpus Christi can be traced back to the 15th century. The highlight of the festival is when the great Monstrance of Arfe will be carried through the streets, lined by thousands of spectators. If you can, plan your trip to Toledo in May. The route of the procession will be decorated with awnings, wreaths, and lanterns. The good thing: Decoration starts weeks before the actual festival and in the days before and after the procession there will be smaller events as well.
Do know, that Toledo will be utterly packed with tourists on these dates and hotels will be booked out months and months in advance.
Dates for the Corpus Christi procession in Toledo:
2019: June 20
2020: June 20
2021: June 3
2022: June 16
2023: June 8
The best time to visit Toledo/weather in Toledo
Other than Corpus Christi, Toledo will be worth a visit throughout the year. Central Spain is rather dry, so you will have pleasant weather in Toledo almost all year long. Even between November and February, you will only see about 8 days of rain per month.
That being said, July and August will be incredibly hot, and you might want to avoid these months. Winter can be pleasant, as there are fewer tourists, but temperatures will be only around 10 degrees Celsius / 50° F.
The touristic high season is from March until June, even though September and October can be quite lovely as well. My personal favorite time to visit this unique heritage site is the end of April, preferably around Easter. Temperatures around 20 degrees are ideal for exploring the old town without having to wear thick jackets.
So, that's it. This was my guide to the best things to do in Toledo. Hope I was able to inspire your Spain itinerary. Got any questions? Then comment below! And don't forget to pin this article to your Pinterest board.