A list with details and directions to my favorite rooftop bars in Madrid
Madrid is one of my favorite cities in Europe. There are just so many things to do in Spain's capital (do check out my list of the top 20 tourist attractions in the city). I especially love the little bars and restaurant, but it's also the perfect escape when the weather turns cold at home. In recent years a lot of rooftop bars popped up in Madrid and, for me, these are the true highlight of the city.
You see, Madrid was actually built on a couple of hills and these rooftop bars will grant you a spectacular view of the undulating blend of historic and new. In summer, Madrid can be incredibly hot, and escaping to the roofs will also offer you a most welcome respite from the furnace below. As one of my best friends lives in Madrid and I visit frequently, I thought it would be a good idea to compile a list of the best rooftop bars in Madrid for your convenience. Enjoy!
1. Tartan Roof at Círculo de Bellas Artes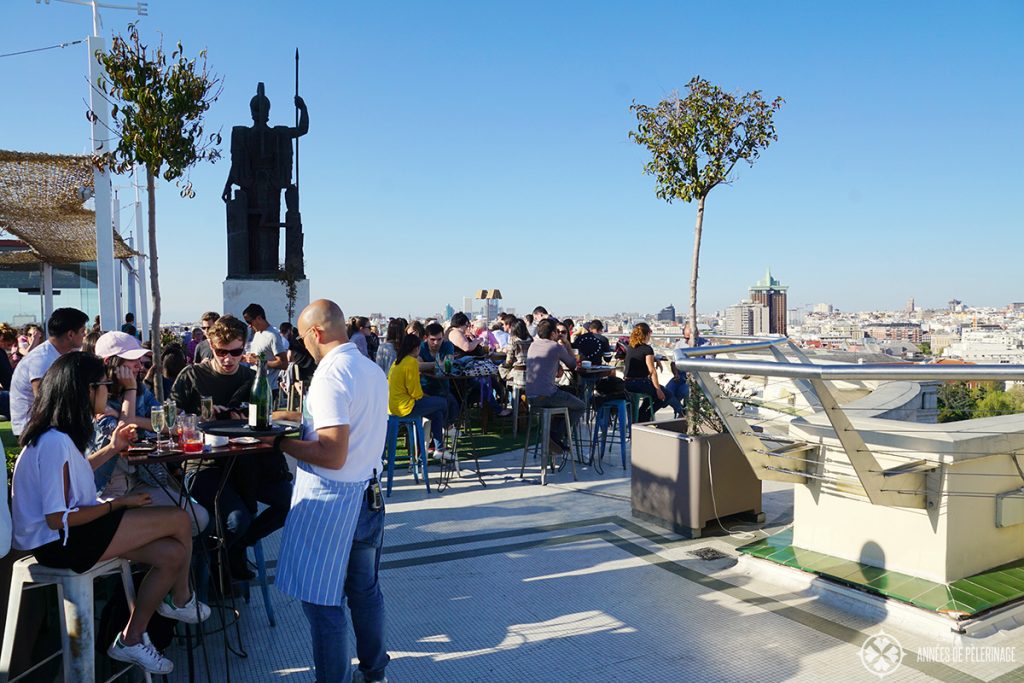 One of the most popular, most beautiful, and biggest rooftop bars in Madrid is certainly the Tartan Roof on top of the Círculo de Bellas Artes (Fine Arts Building). There are frequent exhibitions in that beautiful art deco building, but that is not the only reason you should go. The rooftop bar will offer you one of the best views of Madrid and it is certainly the liveliest one. It's sometimes even hard to find a seat, though you might just as well walk around and enjoy the view to all sides.
Note: There is an entry fee of 4 € per person, so you can't just get up and enjoy the view for free.
Website: http://www.azoteadelcirculo.com/
Address: c/ Alcalá 42
Metro stop: Banco de España or Sevilla
Directions: You will find the escalator up to the Tartan Roof inside the building. The entrance is, however, not directly on the Calle de Alcalá but in Calle del Marqués de Casa Riera right next to the Fine Arts Theatre. Go right in and head to the counter to buy your ticket. The escalator will be on the middle left end of the hall.
2. Rooftop bar at the Dear Hotel
The Dear Hotel only opened a year ago or so, but the rooftop bar already counts among the best in Madrid. As the four-star hotel is sitting right atop Plaza de España, you can see the Grand Via & the Palace of the Spanish Monarchs from the top.
If you stay at the Dear Hotel (like I did), you will even be able to enjoy the lovely rooftop pool. I certainly welcomed the refreshing respite after a day walking through the city.
>>Book it here<<
Address: Gran Vía, 80
Metro stop: Plaza de España
Directions: The Dear Hotel stands right at the crossing of Grand Viá and Calle de los Reyes 5 meters away from the subway exit. It's impossible to miss. You have to ring the bell and tell them you want to eat up at the bar (only open in the evening for non-hotel guests, though I am sure you could book their excellent breakfast as well)
Note: I get commissions for purchases made through links in this post.
3. Bar Terraza Palacio De Cibeles
The Palacio de Cibeles is one of Madrid's iconic landmarks. It's a must-visit on any tour through Madrid. You can climb all to the top and enjoy a beautiful view. But you can also enjoy a lovely cocktail while doing so, and the Terraza Cibeles will offer you that unique opportunity
Website: http://palaciodecibeles.com/terraza-cibeles
Address: Palaza de Cibeles, 1
Metro stop: Banco de España
Directions: Enter through the main entrance of the Palacio and take the escalator to the top. The last flight of stairs can only be entered with a ticket, but you don't need that as the Terraza Cibeles is one floor lower (the view is just as good); Might need to reserve a table, as the place IS popular.
4. Mercado de San Antón
The Mercado de San Antón is one the best food markets in Madrid. But what makes this one so special, is the rooftop bar. So, you can buy yourself some Spanish delicacies and enjoy the cooling respite of the air above the crowded (and often unbearably hot) streets. Unlike the other rooftop bars, you don't actually have a good view – but the gourmet food market makes up for that. Also, it's located right in the middle of Chueca, with its many bars, restaurants, and shops.
Offical Facebook account: https://www.facebook.com/mercadosananton/
Address: Calle de Augusto Figueroa, 24B
Metro stop: Chueca
Directions: From Plaza de Chueca (the metro stop) you walk down towards Calle de Augusto Figueroa and the Mercado will be right in front of you. It's a kind of foreboding brick building, but head in anyway.
5. Radio at ME Madrid Reina Victoria Hotel
The rooftop bar at the Me Hotel Reina Victoria is one of the oldest and still most popular ones. It's called Radio and is a bit of a VIP hotspot, so it might actually be hard to get in. But if you want to celebrate a party, this is really the place to go. The view is quite spectacular as well!
Website: https://www.melia.com/en/hotels
Address: Plaza Sta. Ana, 14
Metro stop: Puerta del Sol or Antón Martín
Direction: The easiest way to get to the rooftop bar at Me Hotel is to get out at Sol, Walk down the Calle de Carretas and then from there to Plaza Sta. Ana via Plaza del Ángel, where the hotel is located
6. Gau & Café
The Gau & Café is one of the hidden gems in Madrid and actually one of my favorites. It's sitting atop a university in a more or less residential area and doesn't really have this touristy feeling that clings to some of the other, more popular rooftop bars in Madrid. You can eat or drink (should reserve a table if you go there for dinner) and feel a bit like a student once more. I love it!
Website: Currently not available
Address: Calle del Tribulete, 14, 4th floor
Metro stop: Lavapies
Directions: Just walk down the Calle del Tribulete from Lavapies and it will be on your right-hand side one building before Mercado de San Fernando.
Further rooftop bars in Madrid
Okay, I have to admit that I didn't mention every beautiful rooftop bar in Madrid. In recent years hotels and restaurants alike conquered the roofs of Spain's capital step by step, so there are now, much more. I just mentioned the most popular once, those that offer the best view. It's all down to personal preferences, I guess. Hotel Silken, Hotel Urban, Hotel Oscar and the Apartosuites Jardines de Sabatini will have all have a beautiful rooftop bar as well. In fact, there seems to be new one opening each month. Whatever you decide, skipping Madrid's rooftop bars will be a big mistake!
Liked this article? Pin it to your Pinterest board!
Found a new roof top bar in Madrid? Comment below! And don't forget to pin this article if you liked it!