Are you dreaming of a trip to the capital of Russia? Maybe you already booked a flight and a hotel. But now you are wondering about the top tourist attractions and things to do in Moscow?
Well, I got you covered. I wrote a detailed Moscow travel guide with all the must-sees in the ancient city of the Russian Tsars for you. I tried to chip in an extra dose of first-hand experiences you might find helpful along the way.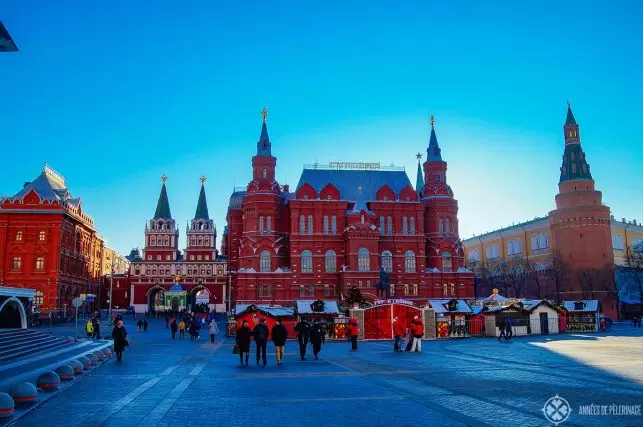 In recent years, I have heard a lot of people wondering about the general safety situation in Russia. While there is certainly a different take on politics and how to run a government, Moscow itself is pretty safe apart from the usual petty crimes. In fact, I never even noticed any apparent scams, which isn't to say you shouldn't use your common sense.
My list of the top things to do in Moscow
Generally speaking, I recommend an itinerary of roughly 3 to 4 days (and then travel on to St. Petersburg); less can be done on a tight schedule. A longer period will give you the time to truly appreciate the political and cultural center of the Russian Federation. Moscow is big and things sometimes run a little slower than you are used to here. You will soon notice you need much more time than originally anticipated.
Anyways, let's start with my list of the highlights and things to do in Moscow, shall we?
1. The Red Square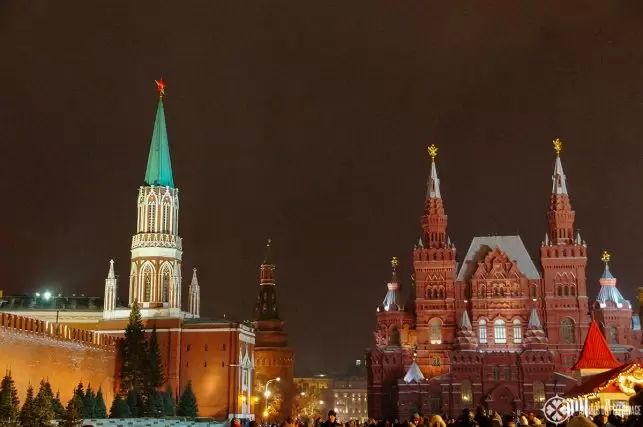 No visitor should miss out going to Krásnaya Plóshchaď, how the Red Square is called in Russian. It is located in the very center of the city and many other tourist attractions will be close by. So no matter what, you should probably start your visit there.
If you don't stay in a hotel nearby, I recommend taking the subway. Not only are the Moscow subway stations (see below) truly remarkable, but Moscow also has a big problem with traffic jams – and you really want to avoid spending 2 hours reaching the Red Square, when you can get there in 5 minutes on the subway.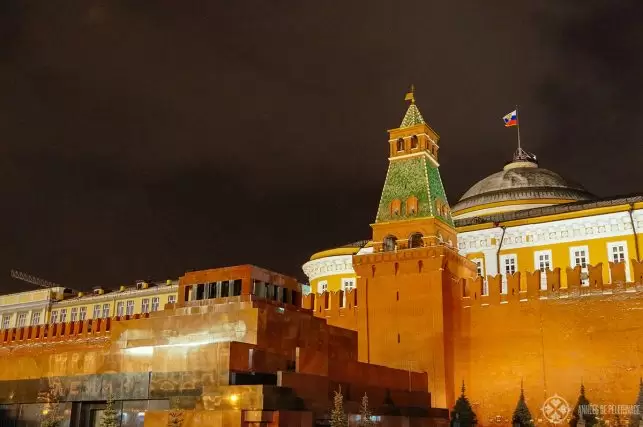 Plan about 2 hours for the square alone. You will want to see Lenin in his Mausoleum – there will be long queues (early morning is your best bet; waiting time in winter is ~30min). Facing the Red Square are the famous St. Basils Cathedral, the GUM, the Kremlin, and the Historical Museum. So you will want to start your exploration of the heart of Moscow there.
Please be warned: The Red Square will be crowded – sometimes so crowded that certain entrances (or exits) will be closed because the police will enforce one-way pedestrian traffic only.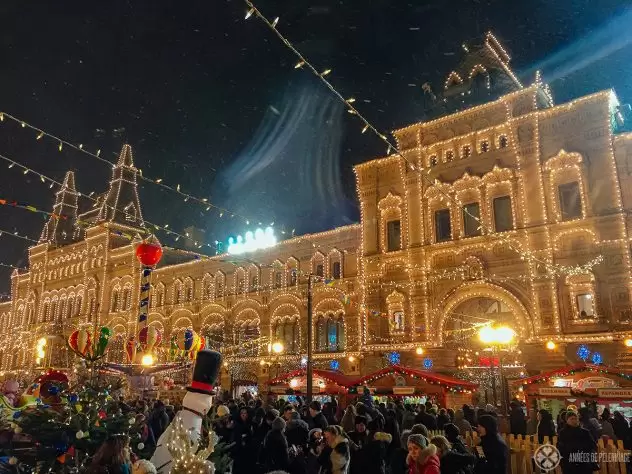 Visitors in winter will have the chance for a special treat. During the holiday seasons (New Year's Eve and Russian Christmas) there will be a Christmas market on the Red Square. You will be able to shop for traditional Russian gifts, enjoy traditional Russian food and there will be a huge ice rink. Rent yourself some ice skates and enjoy one of the most famous locations in the world in an unforgettable way!
Note: Russians celebrate Christmas in the beginning of January!
2. The Kremlin Museum
The Moscow Kremlin (kremlin is actually the Russian word for citadels) is the historic heart of the Russian capital. Here is where the tsars resided before they moved to St. Petersburg. These days it's the center of the government of the Russian Federation and the official residence of the president.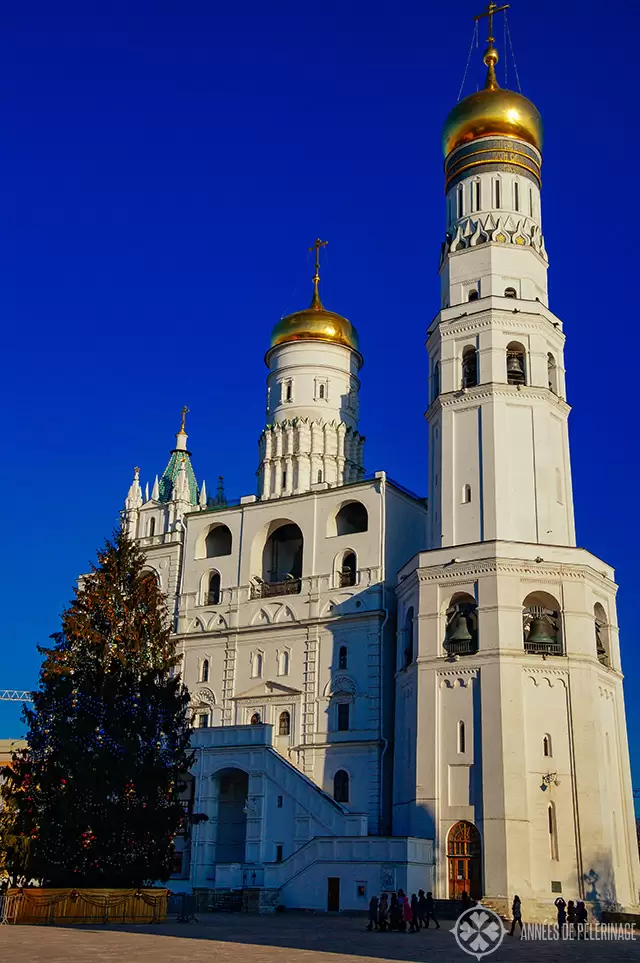 This is why most of the Kremlin ground is actually off-limits to tourists – which shouldn't give you the impression that it's not worth a visit! On the contrary – it should be right on top of your list of things to do in Moscow.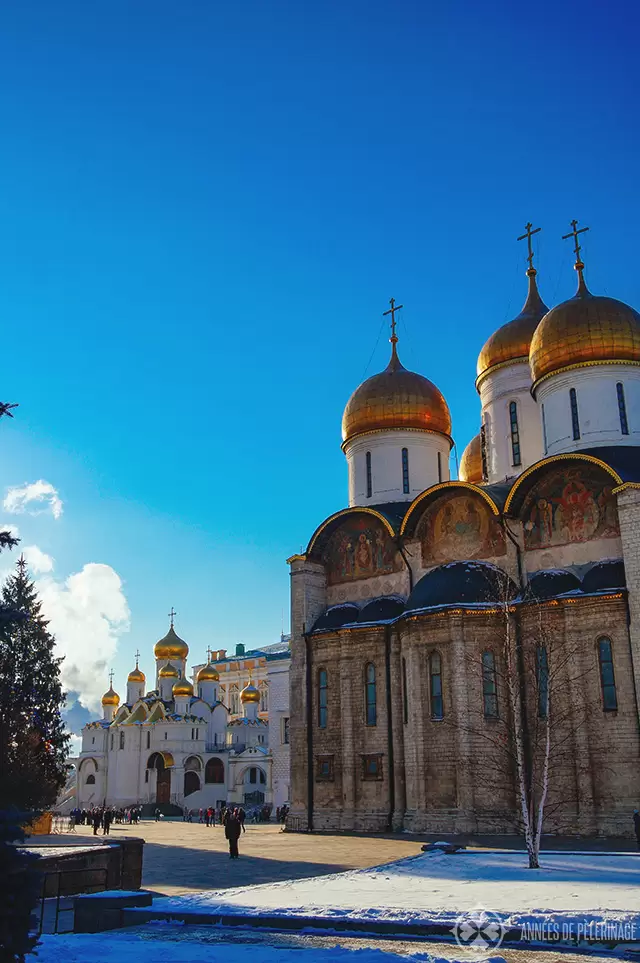 There is only one official entrance for tourists, which is close to the Alexander Garden to the west. The ticket office will be located close by. There are several types of tickets and actually several different ticket desks. Be careful – not all desks sell all tickets!! Visiting the Kremlin you absolutely will want to see the Armory and the Diamond Fund. These tickets can only be bought at one desk, are only valid for a specific period of time and are only sold 45 minutes in advance!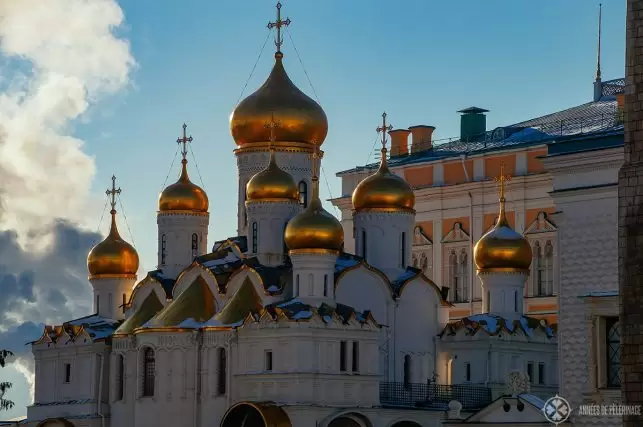 That, however, is the official story you read in most city guides! If you are smart you will use the only other entrance, close to the armory. Just follow the wall of the Kremlin along Alexander Garden. Right inside the armory, there is another ticket office and you can get all the tickets there as well.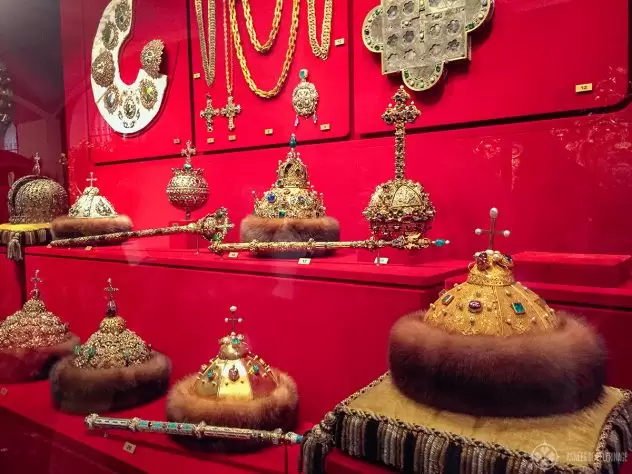 So you can start your tour of the Kremlin with the Armory, and the Diamond Fond (you will need about 2 to 3 hours for those), and then tour the grounds and see all the churches there, which will roughly take another hour – depending on how many tourists are around. Winter typically is better to visit the Kremlin, as queues will be considerably shorter!
> Check out my blog post on the Kremlin for further information (24 pictures included!)
3. St. Basil's Cathedral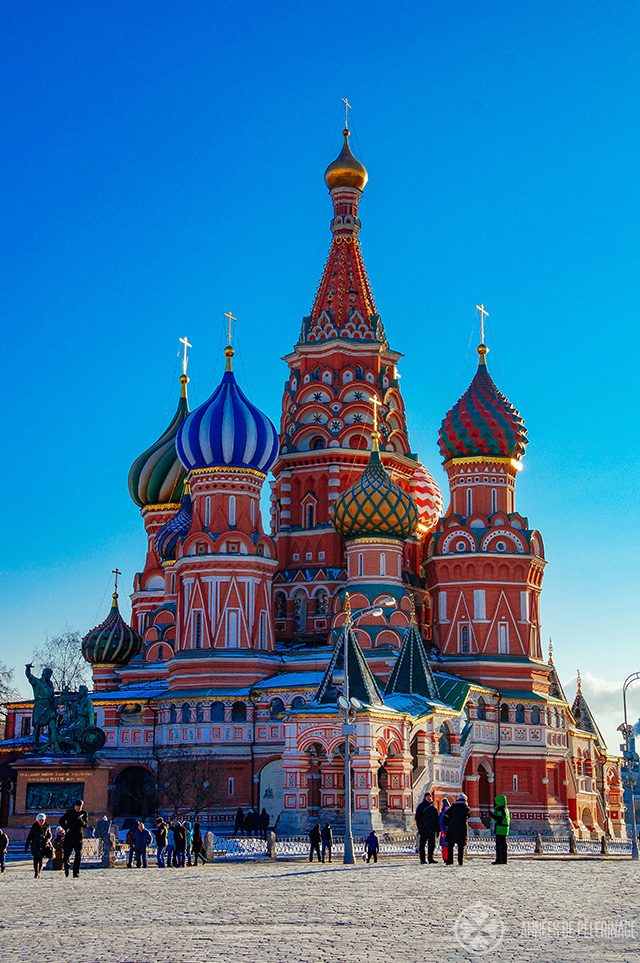 There probably is no more iconic building than the St. Basil's Cathedral. It's like the Big Ben for the UK, the Statue of Liberty for New York or the Eifel Tower for Paris. So you should definitely plan to stop by on your tour over the Red Square. In fact, you will be drawn to it like a magnet (here is a detailed guide on St. Basil's Cathedral).
A slight warning though: Going inside might disappoint you. There is a reason why St. Basil's cathedral does have so many colorful belfries – it is actually composed of many (10 in fact!) tiny churches (some only measuring 10 square meters!!). So the insides are very claustrophobic, and after having seen the grandeur of the churches in the Kremlin you might be a bit disappointed.
Make no mistake – if you got the chance to go inside, do so. It is one of the main tourist attractions in the city. But if there are long queues or you are on a tight schedule, you might want to go somewhere else, even if your Moscow city guide tells you differently.
4. GUM and TSUM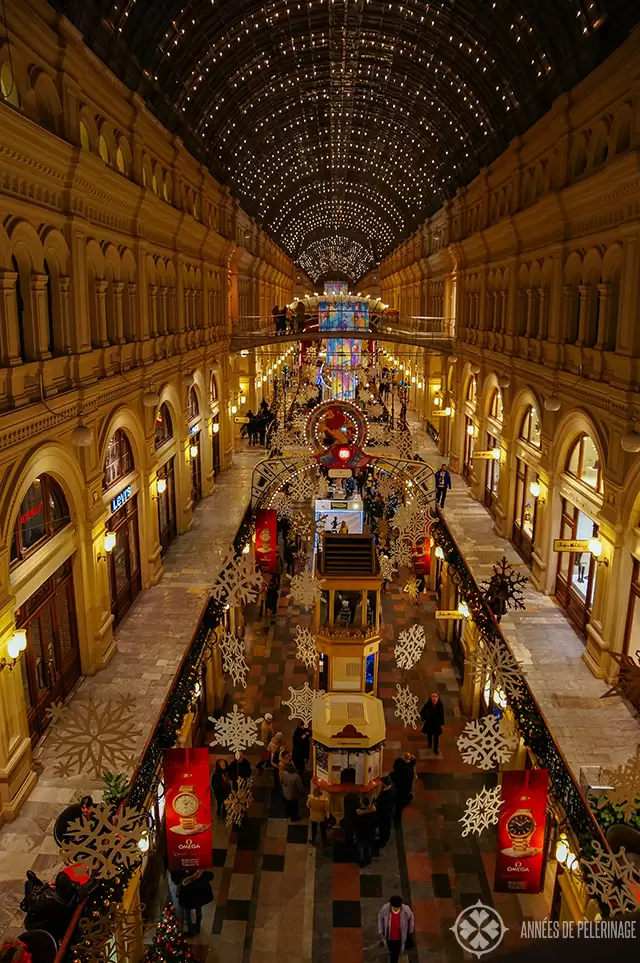 A good place to go after your tour around Red Square and Kremlin is the world-famous shopping mall GUM. It will be crowded (especially on Weekends and national holidays), but if you actually plan to shop, you shouldn't worry. Most tourists just come to see the actual building (which is quite impressive) – the shops themselves are mostly empty. I have to admit, though, that the three-tiered shopping mall is nowadays lacking truly unique Russian shops.
You will find, however, all the major labels like Louis Vuitton, Gucci, Dior, and the likes. But since they all operate on internationally fixed prices, a visit (especially considering taxes on your return) might be a bit disappointing. Since you will want to see Red Square anyway, there is no reason not to put the GUM on your list of things to do in Moscow.
The heydays of the shopping mall during the communist area, when it was virtually the only place in the whole of Russia where you could always find full shelves, is long past. Now it's just another luxury mall – in a very nice building admittedly! In winter it will be richly decorated!
5. Bolshoi Theater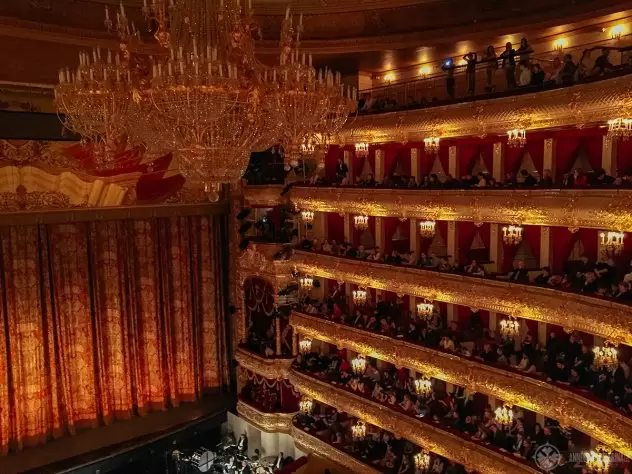 When you come to Moscow, you should really consider going to the Bolshoi Theater. But don't go to visit the building (I think you can do that during the day), instead reserve tickets for a performance. Opera or ballet – the house is world-renowned for both. Tickets will be slightly expensive when you try to book them through your concierge since foreigners will pay a way higher price than resident citizens.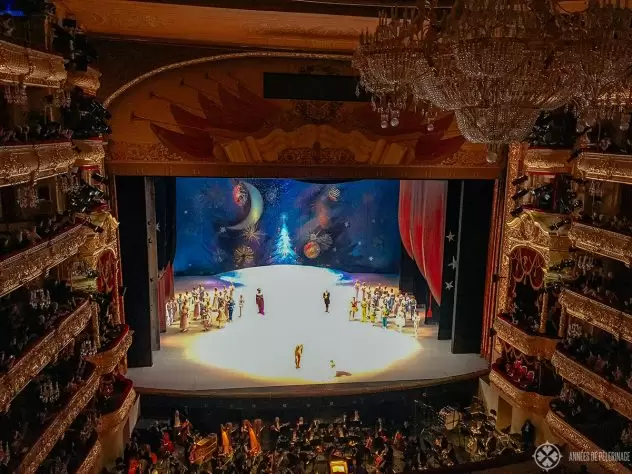 But do not let that discourage you. You will get excellent tickets in the 2nd or 3rd category (which would be the 2nd tier balcony, first row or something) around 200 US-Dollar per ticket. A fair price for the outstanding productions of the Bolshoi Theater – especially if you plan to see a ballet, where you probably won't find better dancers in the whole world. So definitely put that on your list of things to do in Moscow.
Here is the official website where you can get tickets as well.
6. Gorky Park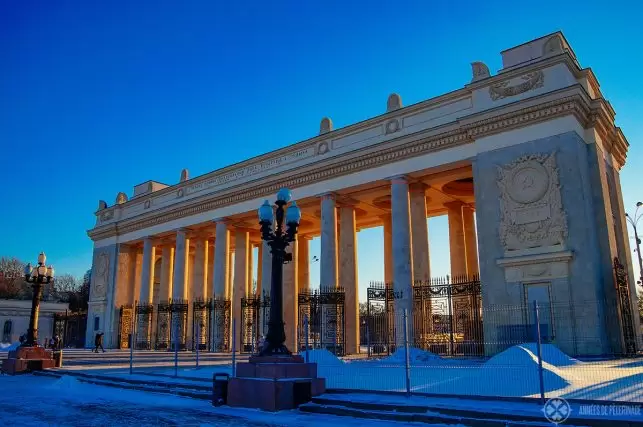 Gorky Park is located a kilometer or two south of the Red Square, right on the banks of the Moskva river and does not appear in every Moscow travel guide. You can easily reach it by subway (you will have to walk across a bridge from the station to reach the entrance).
If you want to spice up your tour through the city with some activity, this is the place to go. This is not your usual landscape park. If you want to see only pretty trees and flower arrangements, you picked the wrong park!
Gorky Park is more like an amusement park, where you will find quite a lot of tennis courts, bike rentals and things like that. Even an art gallery and lots of restaurants and cafes. If you come to Moscow in winter, you seriously don't want to miss the absolutely enormous ice rink there.
They will transform a big portion of the pathways into one big skating rink. You will be hard-pressed to find a bigger ice rink in the world. Plan at least 3 hours in winter – you will not regret it!! If you are in Moscow with kids, I am quite positive they will enjoy Gorky Park.
7. Pushkin State Museum
If you are into the arts, there is no way around visiting the Pushkin State Museum. You will find the world-famous treasure of Priam and other art reaching back to the dawn of our civilization, but there are also modern masterpieces from Claude Monet, Cezanne or Van Gogh in amounts that will wet your eyes!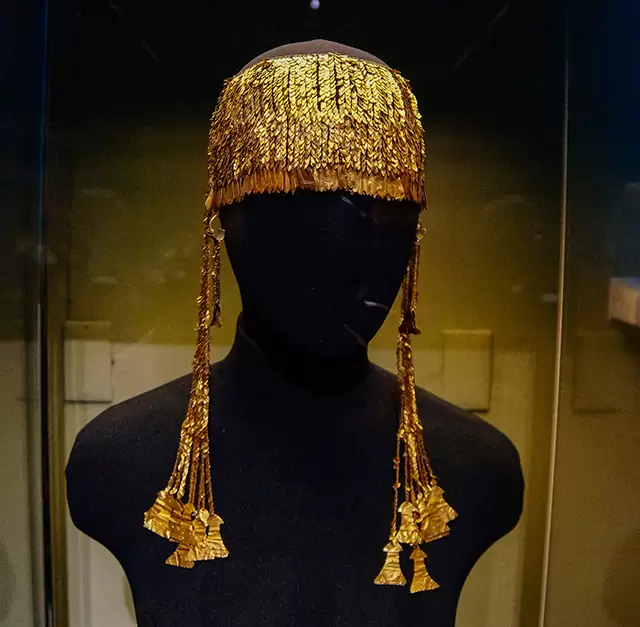 The museum is split between an old building and a building right next to it housing European and American art from the 19th and the 20th century. You will want to see both and you will want to be there as early as possible. Expect a huge queue and be prepared to wait quite a while.
Start with the main building and get tickets for the whole complex. From my experience, you can bypass the second queue outside the Modern Gallery if you already got a ticket. Here's the official website to plan your stay.
8. The old subway stations of Moscow
Now, this is sort of a bonus if your hotel isn't in the center of Moscow (which I don't recommend) since you will have to take the subway anyway. But even if you are in the center, you should take the subway at least once just for the sake of the subway stations. Tickets are dead cheap and subways come every 2 minutes.
Moscow has one of the oldest subways in the world. And while London replaced and refurbished its old stations long ago to create the current decrepit state, Moscow kept the stations from the grand imperial time still intact and added new traffic-monuments during the Stalinist era. Be prepared to see chandeliers and the big bling-bling when you step out of the subway.
Most famous of all is probably the Komsomolskaya station. This is the station on the picture and the one that appears in almost every city guide for Moscow. There are even tours offering to see the most wonderful ones. Quite a fun thing to do in Moscow, if you ask me!
8. Novodevichy Convent
A visit to Russia shouldn't isn't complete t visiting one of the old convents. If you already intend to see the Kremlin, this might lead to a bit of excess in terms of golden towers and iconographies. But let that not hinder you from going to see Novodevichy Convent. It is truly worth a visit and an outstanding UNESCO World Heritage Site.
9. Tretyakov Gallery
The Tretyakov Gallery is a unique collection of Russian art – the best of its kind in the whole world. The art gallery dates back to 1856 and the wealthy merchant Pavel Mikhailovich Tretyakov. There are more than 130.000 outstanding exhibits inside. Personally speaking, modern Russian art never really spoke to me, but they also have amazing Russian Icons and sculptures.  Here's the official link.
10. Izmailovsky market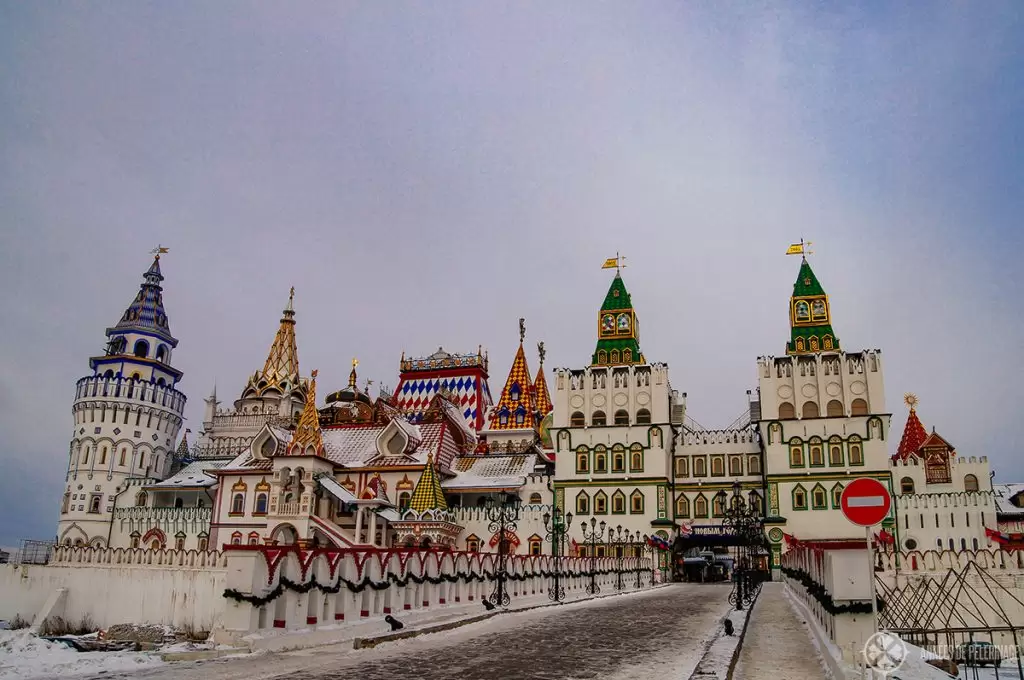 My 10th and last thing to do in Moscow: If you got a little bit of excess time and also plan to shop some truly unique Russian gifts, there is no better place to go than the Izmailovsky market. It is located in the north-east of the city on the grounds of an abandoned amusement park.
The architecture is pure Russian kitsch and just the right thing to spice up your photo album. Be prepared to haggle severely for everything you want to buy. The first quote is most certainly 5 times higher than the price you can bargain for.
Other things to do in Moscow, Russia
Note: I get commissions for purchases made through links in this post. 
I tried to mention all the top highlights and tourist attractions in Russia's capital. But obviously there are so many other fun things to do in Moscow. Don't hesitate to check out the All-Russian Exhibition Center, the fantastic Museum of Cosmonautics, the gigantic Tsaritsyno Museum-Reserve, Sparrow Hills (more commonly known as Lenin-Hill) or even the Moscow zoo.
Personally, I love Russian food and there is a canteen around every corner serving Pelmeni, Tschebureki, Borscht or Pirozhki. It's often not exactly the best fare to lose weight, but hey, you are on vacation, no?
Also, consider buying a Moscow travel guidebook. Much as I love my blog and online resources, it always pays off to have some offline information along. I can really recommend the Fodor's Moscow Travel Guide. Especially so, as it also covers St. Petersburg and it makes a good itinerary head there after you saw everything in Moscow.
Best time to visit Moscow
Moscow is an incredibly busy and large city. Most people will agree that the best time to see Russia's capital are the summer months. But I disagree, as the heart of the Russian Confederation can be extremely busy and crowded during the warmer months.
For me, the end of December is the perfect time to visit the city. And, don't be afraid: There are equally as many things to do in Moscow in winter, even though it can be quite cold. Queues will be so much shorter than in summer and I personally feel that it's actually the season I associate the most with Russia.
Hope you enjoyed my little lists of things to do in Moscow. Did I miss anything? Tell me your personal favorites in the comment section below!
Picture credit: Andrey