A comprehensive list of the most amazing landmarks, touristic highlights and things to do in Ireland.
Ireland is one of the most amazing countries in Europe. Despite its rather secluded location, it is home to one of the earliest Christian sites in Northern Europe. But certainly, don't forget the spectacular nature, the stunning castles and the (much to my surprise) quite excellent food.
The green island is not just about St. Patrick's Day & Guinness. There is really an abundance of things to do in Ireland, and you will have no trouble filling a road trip of 10 or more days with spectacular adventures and experiences. Just remember to pack wisely (do read my ultimate packing list for Ireland).
So far, I visited Ireland two times and am already planning my next visit. Rick Steves Ireland (this is the 2017 edition!) was a very good travel companion and I urge you to get a copy. Maybe it's just me, but I always need some hardcopy travel guide along – to read it on the plane, or when there is no wlan. Anyway, let's begin with my list of the most amazing things to do in Ireland, shall we?
Note: I get commissions for purchases made through links in this post. 
1. Giant's Causeway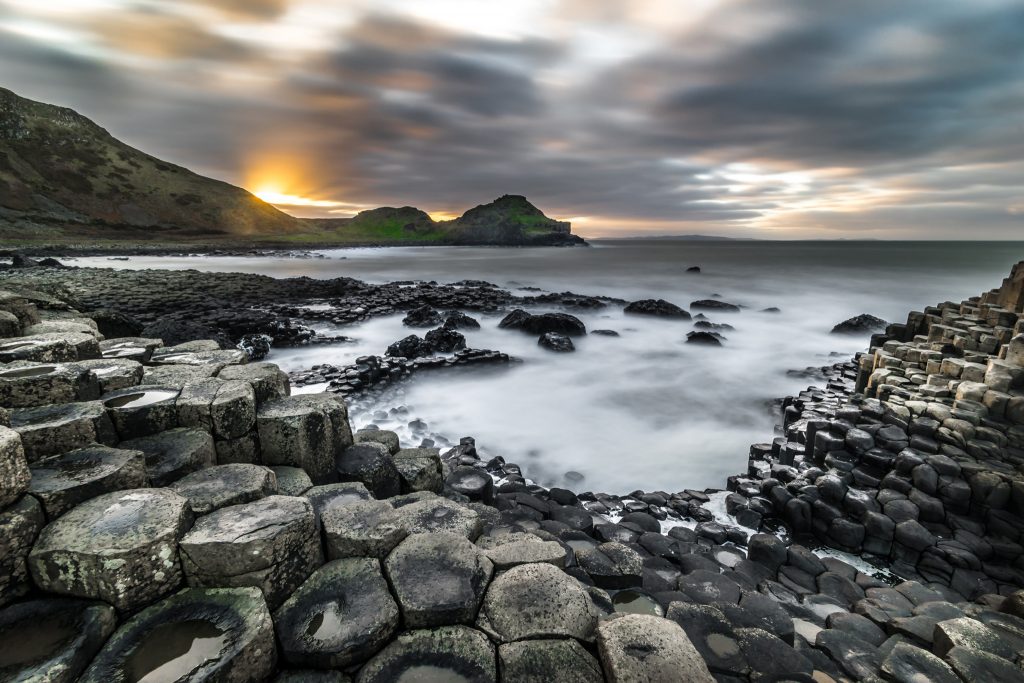 Of all the landmarks in Ireland, the Giant's Causeway might just be the most famous & most spectacular one. Declared as  UNESCO World Heritage site in 1986, more than 40,000 interlocking basalt columns form a tourist highlight like no other.
Legend has it, the Irish giant Fionn mac Cumhail built a causeway across the North Channel to do battle with the Scottish giant Benandonner. There are many different version of the outcome of that particular fight, and I do not want to get too political here. It remains a fact, that you will find similar sites in Scotland (check it out here). Please be aware that the Giant's Causeway is actually located in Northern Ireland
2. Dún Aonghasa & Aran Islands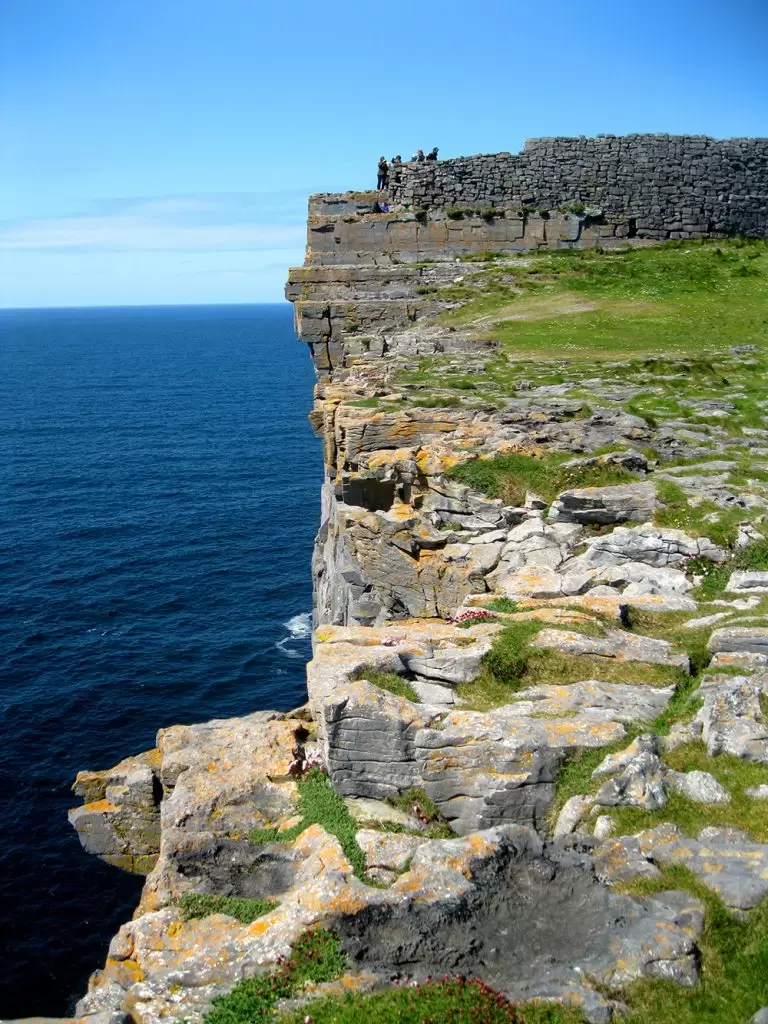 The Aran Islands were my absolute favorite part of Ireland. First of all, I think that any visitor to Ireland should get on a boat and visit one of the many islands at least once. But what makes the Aran Islands special?
Well certainly there is the famous sheep & wool. Then there is the sheer tranquility of the island, and let's not forget the Dún Aonghasa. An ancient fortress built right at the edge of the ocean. Quite a scary sight, but none the less spectacular.
3. Cliffs of Moher
And talking about Cliffs. If you thought Dún Aonghasa was scary than you might want to skip the Cliffs of Moher in the County Clare. At the maximum height, you could take a plunge of 214 meters (702ft) down into the wild Atlantic Ocean. Just try to visit the popular tourist attraction a clear day, as you will not see the sea cliff nor the approximately 30,000 birds nesting there on a misty day.
4. Killarney National Park
Of all the things to do in Ireland, Killarney National Park probably surprised me the most. I didn't expect the forests to be just that beautiful. Imagine trees half a century and older, standing side by side, as if men never interfered here. It is so incredibly pristine and amazing
Oh…and remember to stop by at the Muckross House. I loved biking around the big park and feeling a bit like a Lord! The adjoining lake is also quite worth a notice.
5. Skellig Michael
Star Wars fans behold: Skellig Michael will probably look familiar to you. Even if it doesn't, the ancient Gaelic Christian Monastery is beyond amazing.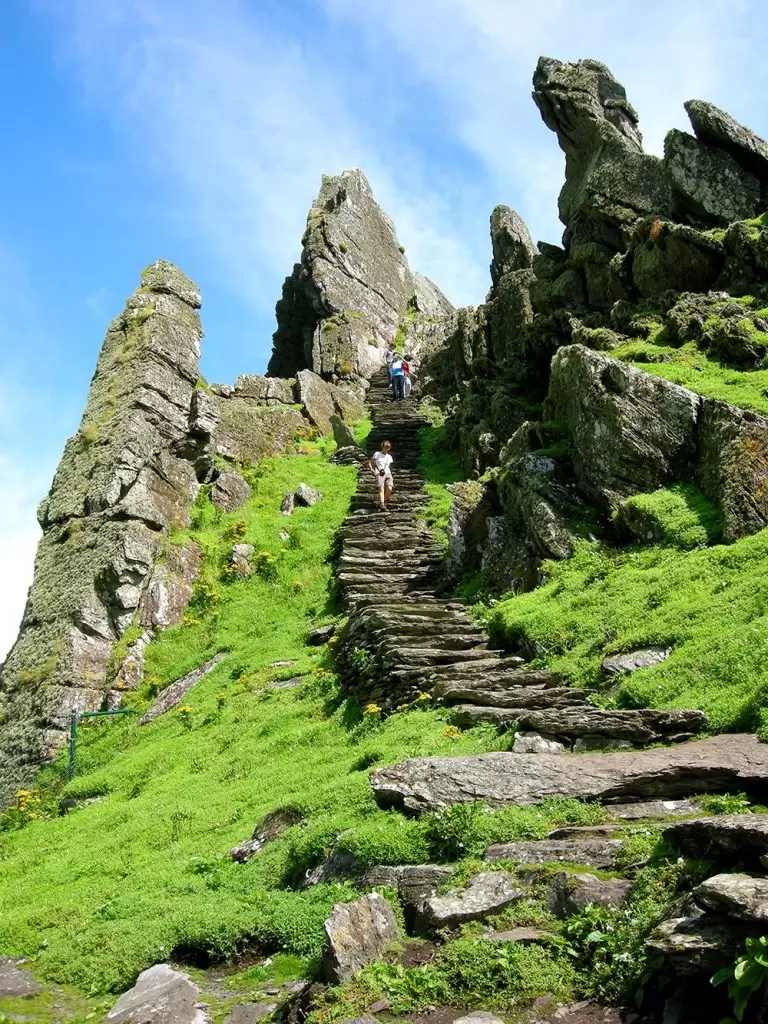 Founded in the 6th Century (!) this lonely hermitage some 11.6 Kilometers offshore, will impress you with its rugged cliffs. Today it is a UNESCO World Heritage site. Know that traffic to the tiny island is severely limited, so get your tickets in advance!.
6. Dark Hedges, Ballymoney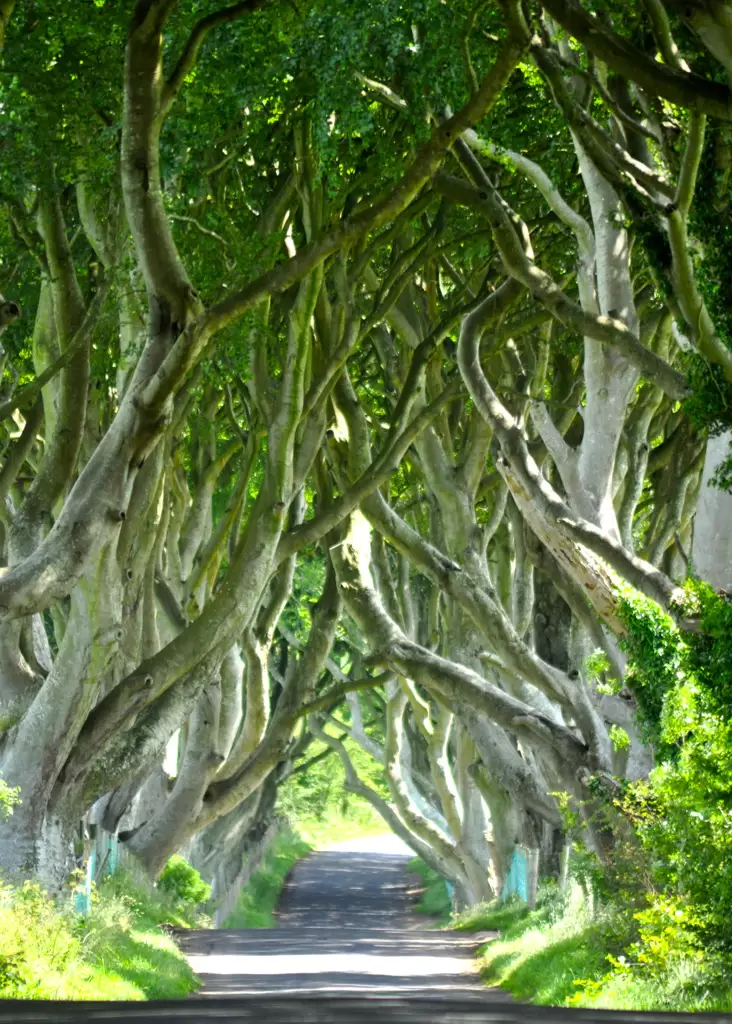 Quite close to the Giant's Causeway, you will find another tourist's favorite in Ireland: The Dark Hedges. The truly magical parkway lined by ancient beech trees leads to the Gracehill House.
7. Blarney Castle
When in Ireland, you really should visit one of the many castles. Blarney Castle is an excellent spot to start. Don't forget to kiss the famous Blarney Stone, though.
8. Brú Na Bóinne
Another World Heritage site you have to put on your list of things to do in Ireland is Brú Na Bóinne. The UNESCO World Heritage Site has been a center of human settlement for at least 6,000 years. Among the highlights is the Newgrange passage grave and other Neolithic landmarks predating the Egyptian pyramids.
Note: Want to travel deeper? Then learn a bit more about Celtish symbols before your visit to these ancient sites.
9. Malin Head
Malin Head is Ireland's most northerly point. High cliffs and beautiful nature make it a spectacular place to visit. You will have to walk a bit to reach it, though.
10. Rock of Cashel
According to mythology, Cashel Rock is the very site St. Patrick convinced the King of Munster to convert to Christianity in the 5th century. Whether you believe it or not, the picture-perfect site is still one of the few places in Europe you can experience early medieval architecture and Celtic art.
11. Dingle Peninsula & Slea Head drive
The Slea Head drive on the Dingle Peninsula is frequently mentioned among the most beautiful road trips in the world. Even on a bad day, nature, the tiny cottages along the road and the high mountains will leave you stunned.
12. Kylemore Abbey
Kylemore Abbey, a Benedictine monastery, screams picture-perfect from every angle you look at it. Ever since the 1970s, the gardens are open to the public and you really should grab the chance to explore the many nature walks and the Victorian Gardens!
13. Saltee Islands
The Saltee Islands are a pair of islands on the Atlantic coast. Unoccupied since the early 20th century, the islands are famous for its huge bird colonies. Fulmars, Gannets, Shags, Kittiwakes, and especially Puffins have their home here during the summer months. There is also a colony of Grey Seals. A true sanctuary for nature & a tourist's favorite.
14. Galway
Galway is a picture-perfect little port town on the west Coast of Ireland. It is commonly known as Ireland's Cultural Heart. There are a lot of festivals throughout the year and lovely pubs. But beyond that, the locals really try to keep the Irish Language alive. There is even an all Irish language theater.
15. Stay a night at Ashford Castle
Ashford Castle will forever have a place in my heart. The luxury hotel is truly beyond amazing. Sitting in the lobby and enjoying a very British afternoon tea could be one of your many highlights on a road trip through Ireland. The 13th-century castle and its extensive ground make the perfect home base for exploring the whole area around Galway.
16. Poulnabrone dolmen
Are you starting to see a pattern emerge? Yes! You are right. Ireland has a lot of prehistoric sites. The Poulnabrone Dolmen is one of them. The ancient Portal Tomb dates to about 4200 BC and attracts about 200,000 visitors a year.
17. Glendalough Monastic Site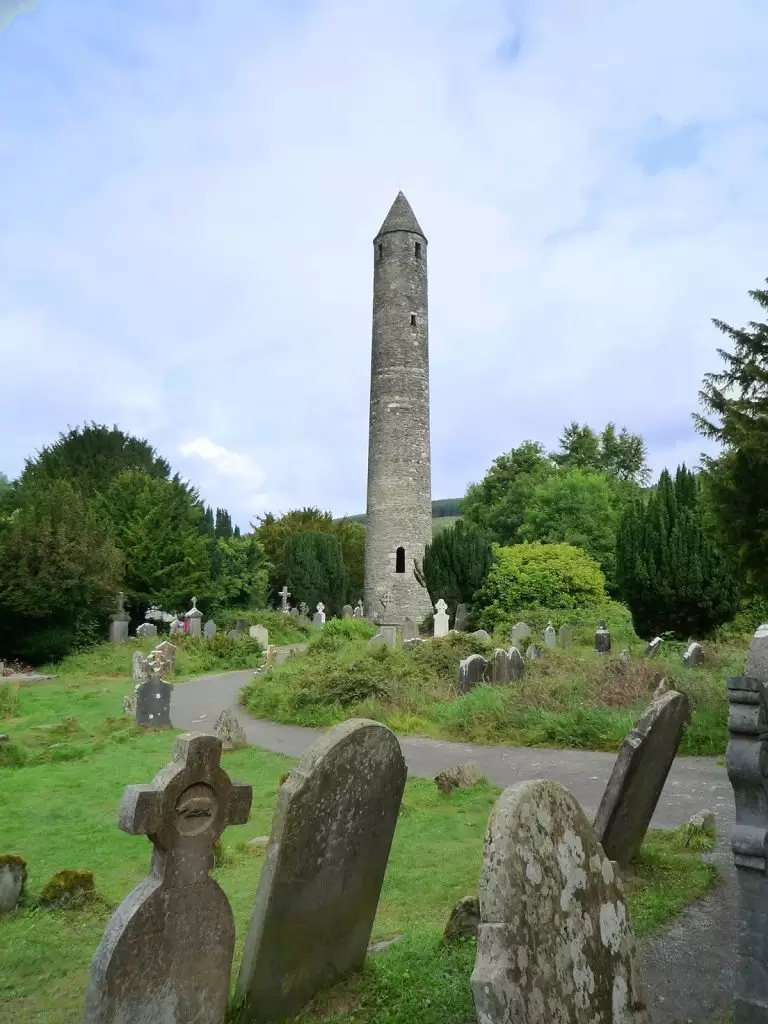 Glendalough means Valley of two lakes and is home to another early medieval monastic settlement. Founded by St. Kevin in the 6th century, little of the original buildings remain. What you see today has been built around the 10th and 12th century. Still, Glendalough and its rich history should be on your list of things to do in Ireland
18. Powerscourt Garden, Enniskerry
Powerscourt Garden was one of my personal favorites in Ireland. A gigantic landscape park surrounds the large country estate founded in the 13th century. There is even a small Japanese garden at Powerscourt. In 2014, National Geographic ranked it the number 3 garden in the World. So, absolutely do visit!
19. Drive the Ring of Kerry
If you are short on time, you might want to drive the so-called Ring of Kerry. The ring is a 179-kilometer-long tourist route in the County of Kerry. It is basically Ireland condensed into a day trip.  Just remember, if you go by car, drive clockwise as all big coaches are required to drive anti-clockwise.
20. Get Local in Dublin
Last, but certainly not least, you really should visit Dublin. The capital and largest city of Ireland and a true cultural highlight. Seen from an international point of view, there are not a lot of points of interests and landmarks in Dublin. It's more a city to eat, live, drink and enjoy the Irish hospitality. Oh, and don't forget Irish sports. Try to see a rugby, cricket or football match!
Insider tip: Visit the stunning old library of the world-famous Trinity College. Chances are high you've already seen the picture before, but that shouldn't keep you from seeing it with your own eyes, eh? You should also definitely visit the famous Guiness storehouse while you are in Doublin.
So, you made it through. That was my list of the 20 best things to do in Ireland. I hope you liked it. Got any questions or feel like adding a place from your personal experience? Don't hesitate to comment. And don't forget to pin this article for later!
Picture credits: Giuseppe Milo, Athena Lao, christopher_brown, Bob Familiar, Tony Webster, IrishFireside, Rennett Stowe, Jed, Greg Clarke, Irish Welcome Tours, Steve Moses, Phalinn Ooi, Larry Koester, Nicolas Raymond, Dyn Photo, brett jordan