A detailed list of the top tourist attractions in Scotland
Are you planning to visit Scotland? Then I have good news for you: The country is nothing short of amazing. Wild landscapes, amazing wildlife, epic castles and the most delicious seafood you ever taste. There is just one problem if you want to call it a problem. There are just so many things to do in Scotland that squeezing it all into one itinerary seems almost impossible on limited time.
But despair not. I compiled a list of all the essential tourist attractions in Scotland. Last year, I went on a very prolonged road trip through Scotland with a couple of friends (find my itinerary here). From that, I extracted everything I loved the most. So here we go:
1) Edinburgh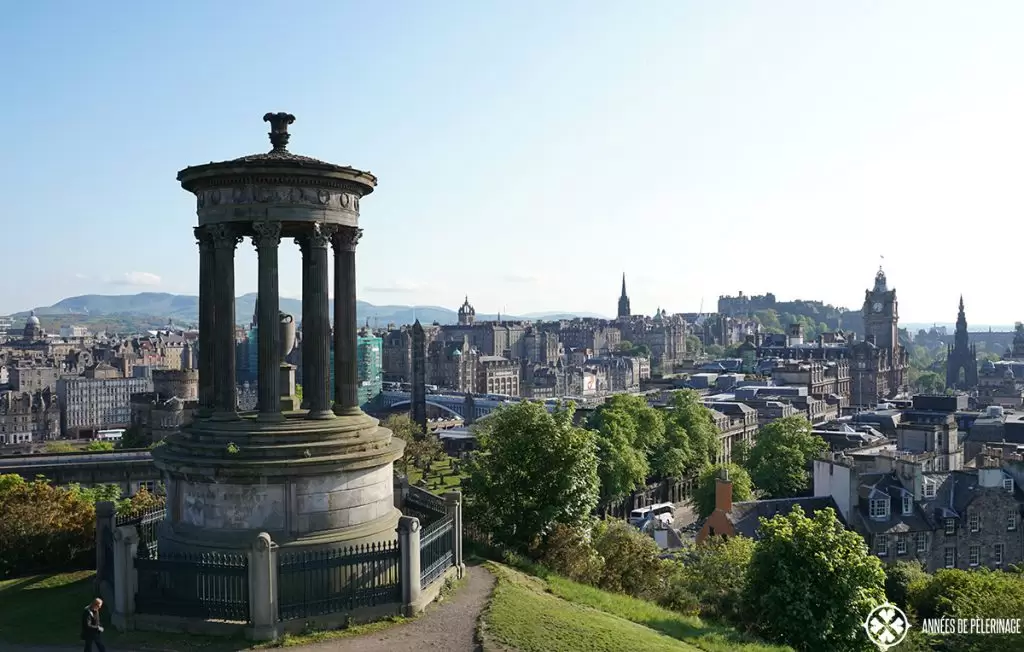 Every journey has to start somewhere, and Edinburgh might just be the best place. The capital of Scotland is a true must-visit. There is history, shopping, food, and many historic highlights. Do visit the Edinburgh castle, see the Palace of Holyrood house (where the Queen resides when she is in town) and certainly walk the Royal Mile.
At the beginning of August, there will be the Edinburgh Military Tattoo, you might want to check out. But there are certainly a lot of other festivals to enjoy in Scotland's second largest city. If chance is not on your side, then I do urge you to check out the many pubs to sample the Scottish beer and whiskey. Never a mistake!
Check out my comprehensive list of 20 amazing things to do in Edinburgh
Pro tip: Walk the way up to Carlton Hill to enjoy the best view across Edinburgh.
2) The Isle of Skye
The most beautiful part of Scotland is arguably the Isle of Skye. Truly epic locations like the Neist Point, the Quiraing, Old Man of Storr and the Fairy Pools instantly come to my mind. It's, in fact, so beautiful that it's hard to do it justice with just one picture and a couple of lines. It's easy to spend a week on the Isle of Skye itself, so I urge you to check out my article on things to do on the Isle of Skye.
Pro tip: There are many other beautiful islands along the West Coast of Scotland. I simply loved Mull and Rum. So, check these out as well. Some of them, like Islay, sport some fantastic sandy beaches. Just remember to read my Scotland packing list, as it may be a bit harder to source important items of daily need on these.
3) Eilean Donan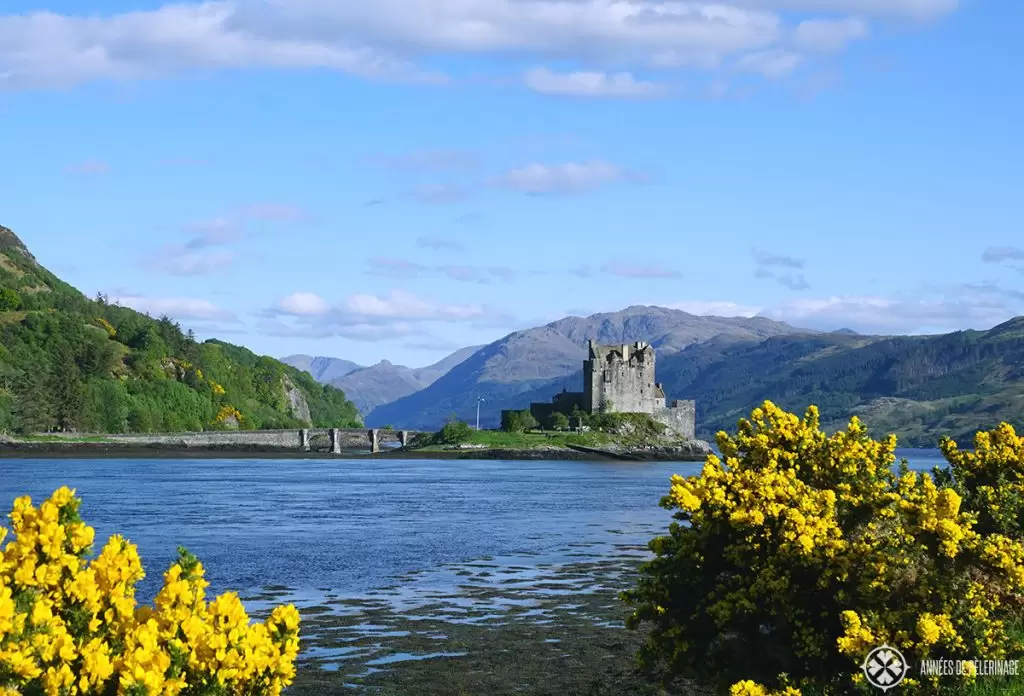 Scotland, you will soon notice, is all about the castles. It's hard to take a pick (which is why I wrote a list of the most beautiful castles in Scotland, you really should check out), but, to me, Eilean Donan is the one Castle in Scotland you have to see. It's hard to capture with words, just how beautiful the whole setting is.
Pro tip: Check a tide chart before your visit, as you don't want to see the castle with just slick algae covered rocks around it. Best visit Eilean Donan on your way to the Isle of Skye
4) Watching Puffins in Scotland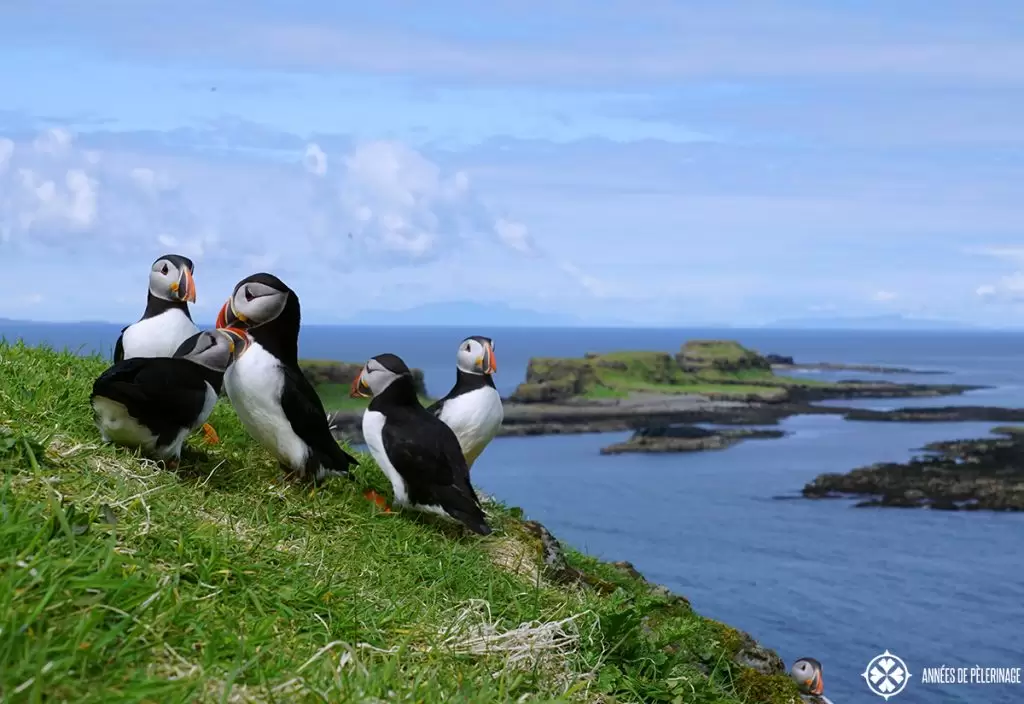 Puffins might just be the cutest animals on this planet. The very curious birds can be observed in many places in Scotland. The very best place to see them is a very tiny Islands called Lunga. I wrote a full report on what to expect there. I'll spoiler you a bit, though: 4.000 Puffins in one spot!
Important notice: Puffins can only be observed on land from mid-May to mid-August!
5) Staffa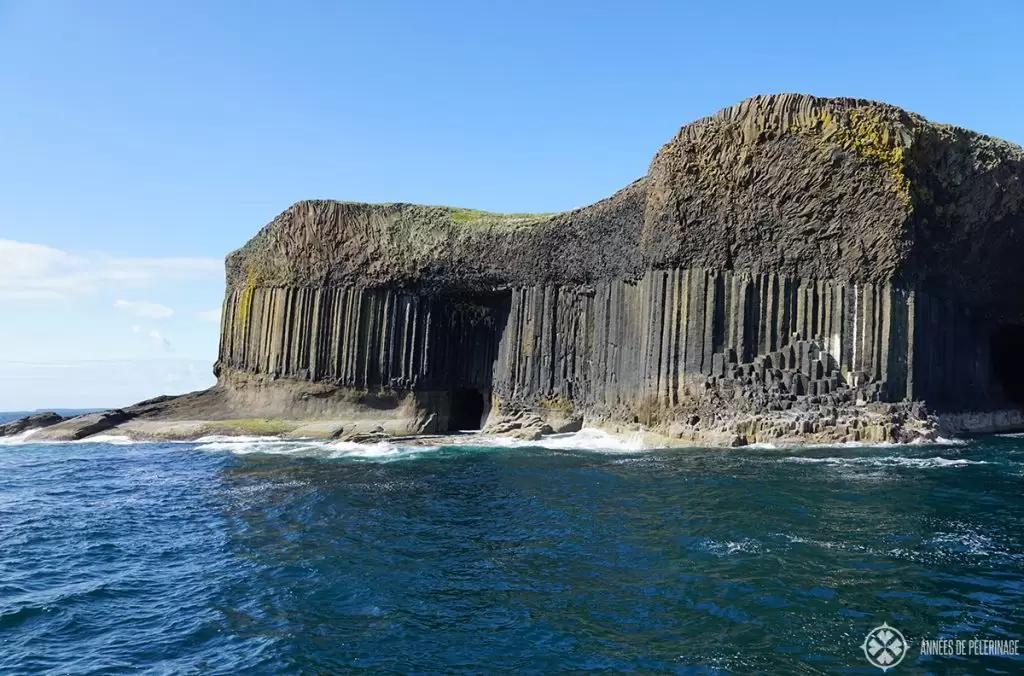 Not very far away from Lunga, is another epic highlight. You might have heard of the Giant's Causeway in Ireland and similar rock formations in Iceland. Well, I'll tell you a secret – Scotland has a whole island that beats them all. It's called Staffa. When you approach it, it's very hard to image this was not, in fact, man-made! Oban is a good place to start a day trip to the fantastic island
Pro tip: Book your trip way in advance, as there are only a couple of tourist agencies offering this trip and tickets sell out fast.
6) Glenfinnan viaduct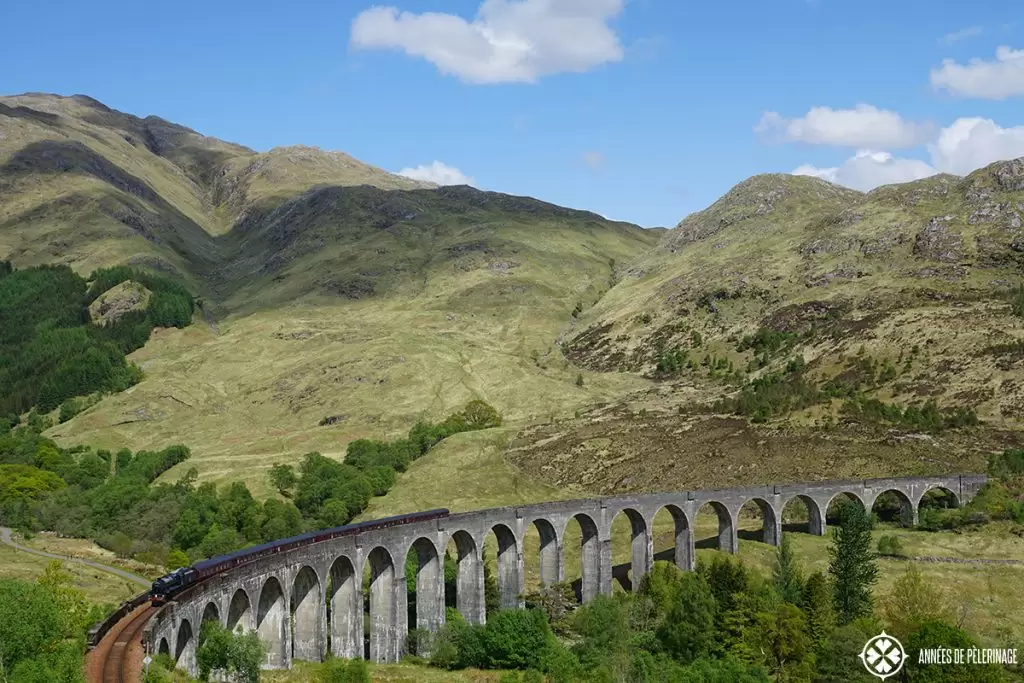 If you have seen one of the many Harry Potter movies, then the Glenfinnan viaduct will be a familiar sight. The famous viaduct can be found only a short drive away from Fort Williams and is totally worth a visit. Just make sure to check out the train schedule, so you will actually see the train passing by!
Pro tip: Take the Jacobite Steam train from Glasgow to Oban to enjoy one of the most beautiful train rides in the world.
7) Glen Coe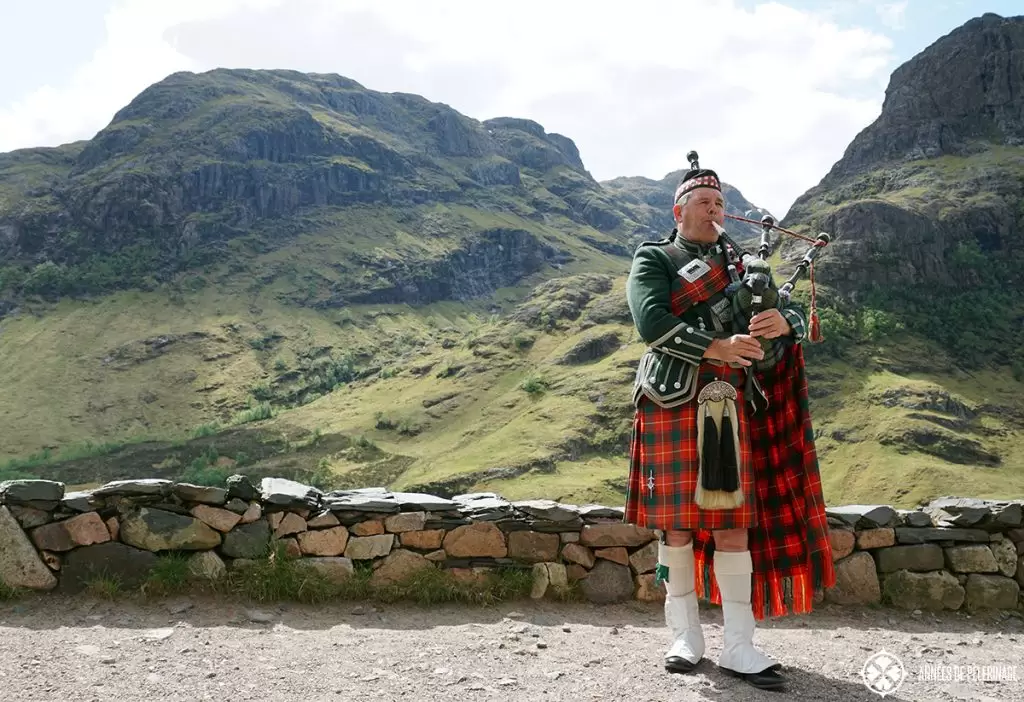 Truth be told, there are virtually no ugly spots in Scotland – especially not on one of the rare sunny days in the highlands. But naturally you will not have the time to see every Glen and Loch, so you just will have to pick the ones that are a tiny bit more beautiful than the rest. One of these places is Glen Coe.
The tranquil little valley is quite popular among tourists (so don't expect to be lonely). My fellow bloggers TwoScotsabroad went on a group tour of the Isle of Skye and also stopped here – and they certainly weren't the only bus I saw on the parking lot. But hey, popularity almost always has a reason! :)
Definitely, plan some time to hike along one of the many trails or visit the visitor's center to learn a bit about the history and flora & fauna of Glen Coe.
8) Forth Bridge
With all that nature around you, it's quite easy to forget, that Scotland is also a place of innovation and industry. The Forth Bridge, now a UNESCO World Heritage site, is one such amazing things to see in Scotland. It's a railway bridge dating back to 1890 and was the longest cantilever bridge at its time. Standing below it is quite intimidating!
9) Skara Brae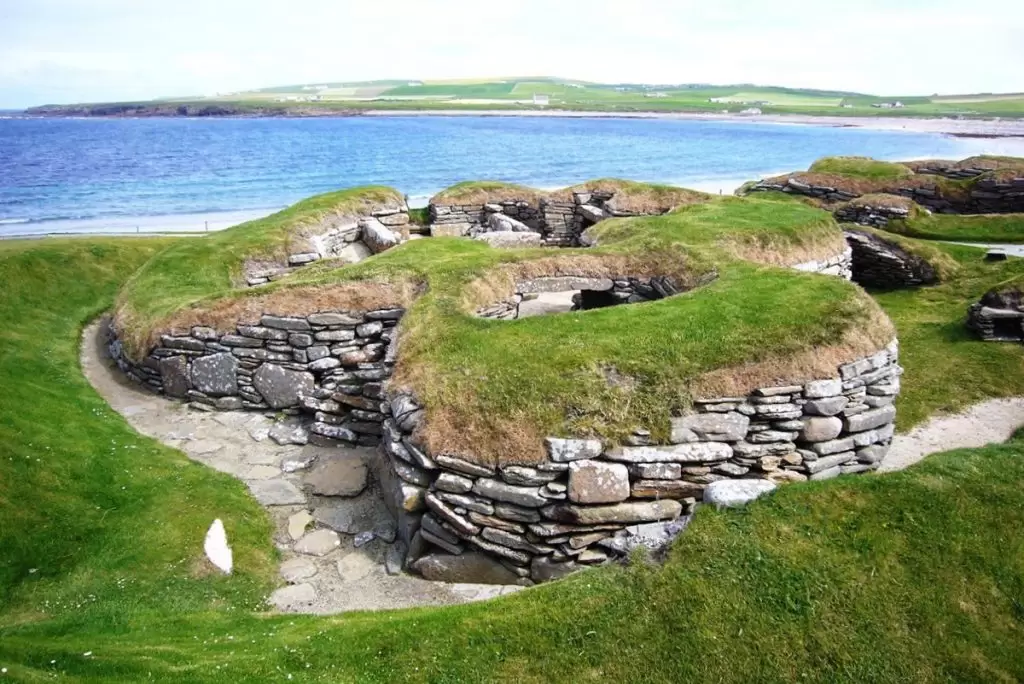 Never forget that Scotland is old. But just how old? Skara Brae, on the Orkney Island called Mainland, is an impressive Neolithic settlement dating back to roughly 3,180 BC. It was inscribed a World Heritage site in 1999 and should be one of the many reasons for you to leave the Scottish mainland (small m!).
10) Gylen Castle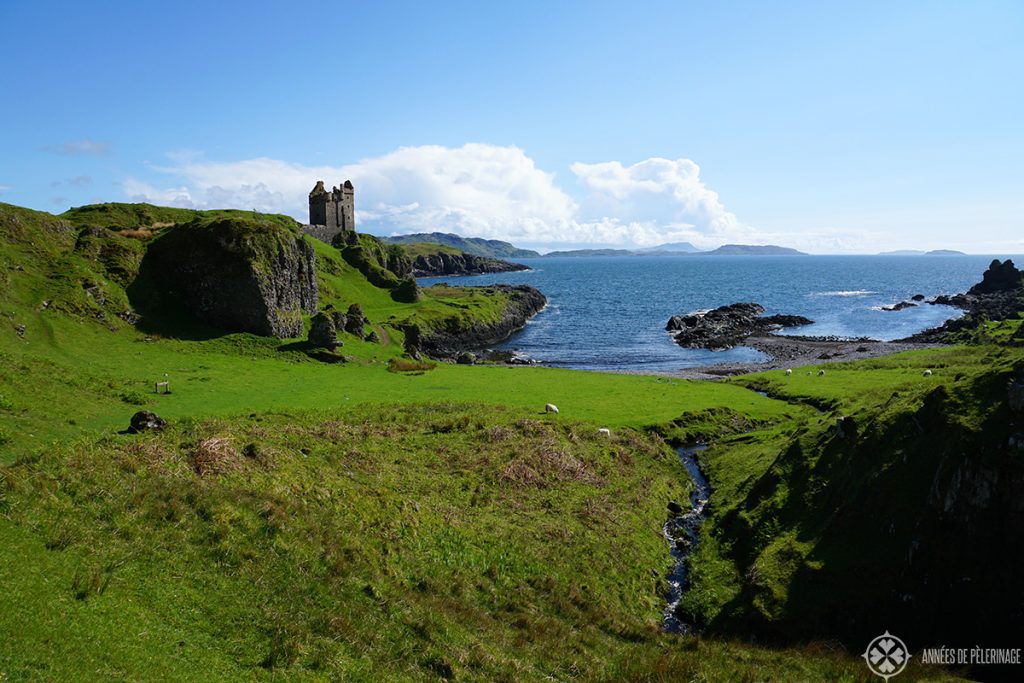 Gylen Castle doesn't appear on a lot of lists of things to do in Scotland. In fact, I personally haven't seen it on any. That being said, it is my personal favorite spot in Scotland. This hidden gem is located on a tiny island called Kerrerea, just a 5 minutes' ferry ride away from Oban. Everything shouts picture perfect!
11) Stirling / Wallace Monument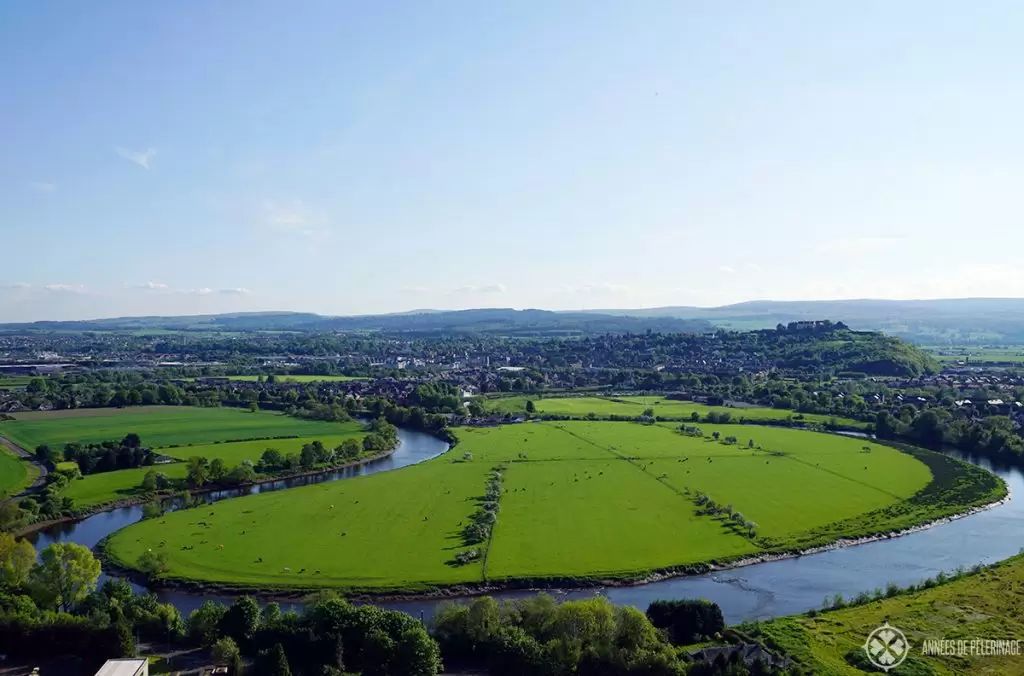 I loved Stirling. The lay of the land, the food – it all just seemed like a fairy tale. The best place to see the meandering u-turns of the River Forth is from the Wallace Monument. The monument is quite impressive in itself, but I enjoyed the view across the tranquil landscape the most! Stirling Castle is also a tourist attraction you do not want to miss as you travel through Scotland.
12) Saint Kilda
Never head of Saint Kilda? It is one of the very few places on this planet to hold a double UNESCO World heritage status. In this case of its outstanding nature and the historic importance of the tiny island. In the words of the UNESCO "it bears exceptional testimony to over two millennia of human occupation in extreme conditions" and "is unique in the very high bird densities that occur… with over 1 Million birds using the islands". Do visit, even if it is quite far out in the ocean.
13) Highland Games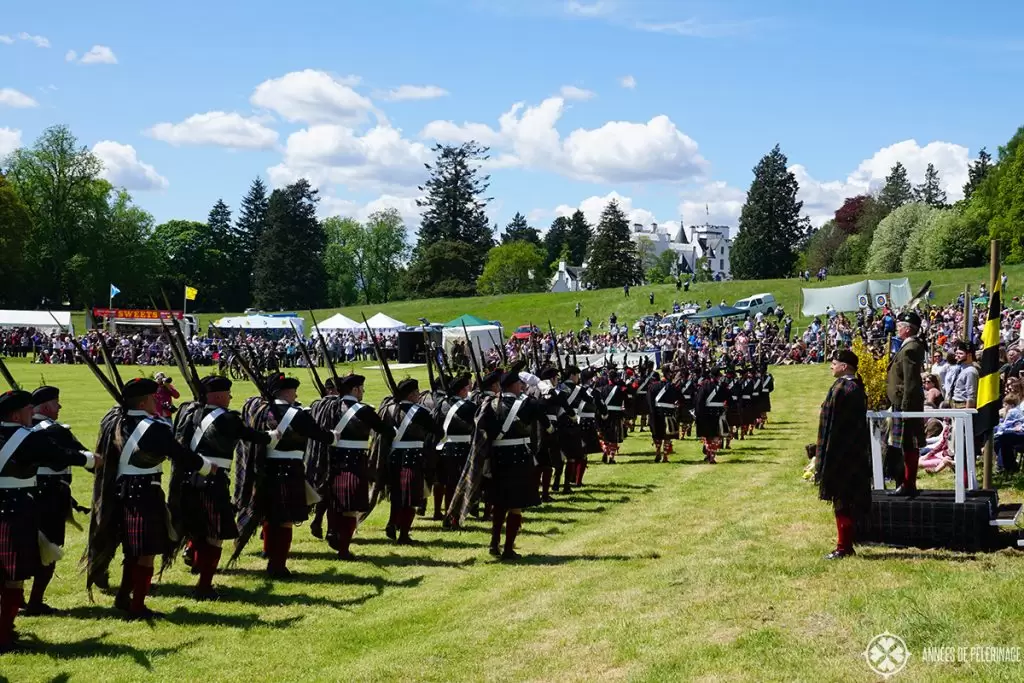 What would Scotland be without its sports? Now, I won't be able to answer that question, but you should certainly not miss the chance to attend one of the many Highland Games. All the sports are unique to Scotland. Grab a beer and a pillow and be amazed by the strength and dexterity of the Scottish uh..highland breeds *grin*
PS: Remember to check the weather forecast and dress accordingly!
14) Her Majesty's Yacht Britannia
The Royal Yacht Britannia is one of the most iconic ships ever built. Queen Elizabeth II used it in between 1954 and 1997 to tour the world. A swimming palace, at that time, long before sheiks and Russian oligarchs decided to enter the contest. It is now permanently berthed in Leith, only a stone throw away from Edinburgh. Over 300.000 people visit this amazing piece of recent history a year, making it one of the most visited tourist attractions in Scotland. Here's the official website, so you can plan your visit.
15) Visit a Distillery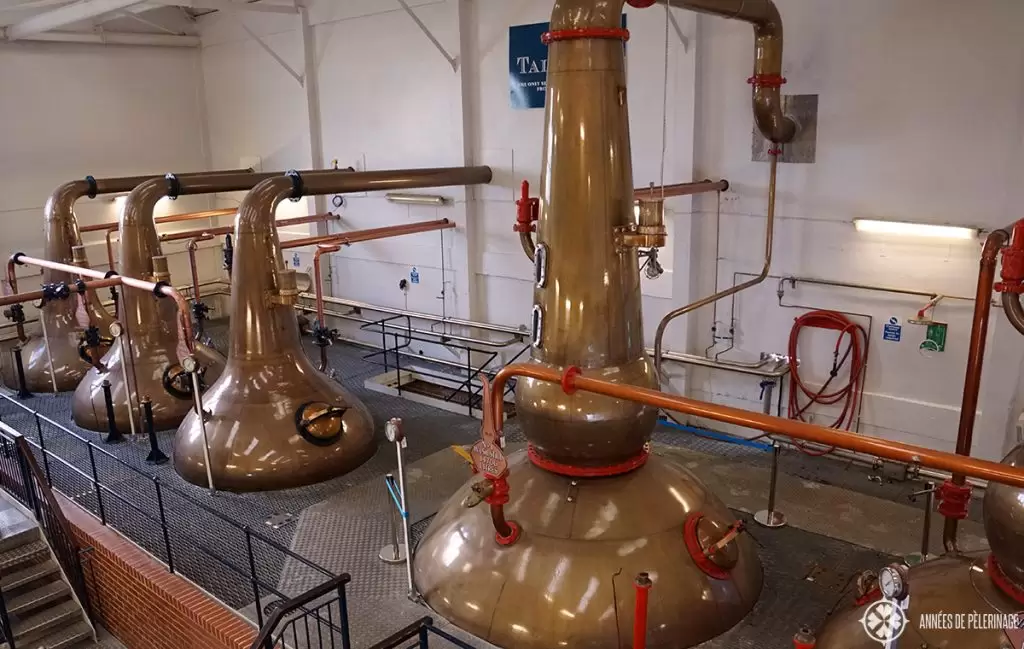 Wondering about what to do in Scotland when it rains? Well, Scottish Whiskey, or Scotch, is famed throughout the world for its rich taste and many..let's call them medical values. A bottle of single malt will make a fine souvenir. But do think beyond presents for your relatives and sample the "water of life" for yourself.
The best place to do so is in one of the many distilleries. To tell you the truth, I was never a big fan of whiskey. But during the distillery tour, I was able to sample the many different blends and ages. Guess what? Now I love it! I do recommend you to visit one of the smaller distilleries, as they tend to be lest tourist infested.
16) Glasgow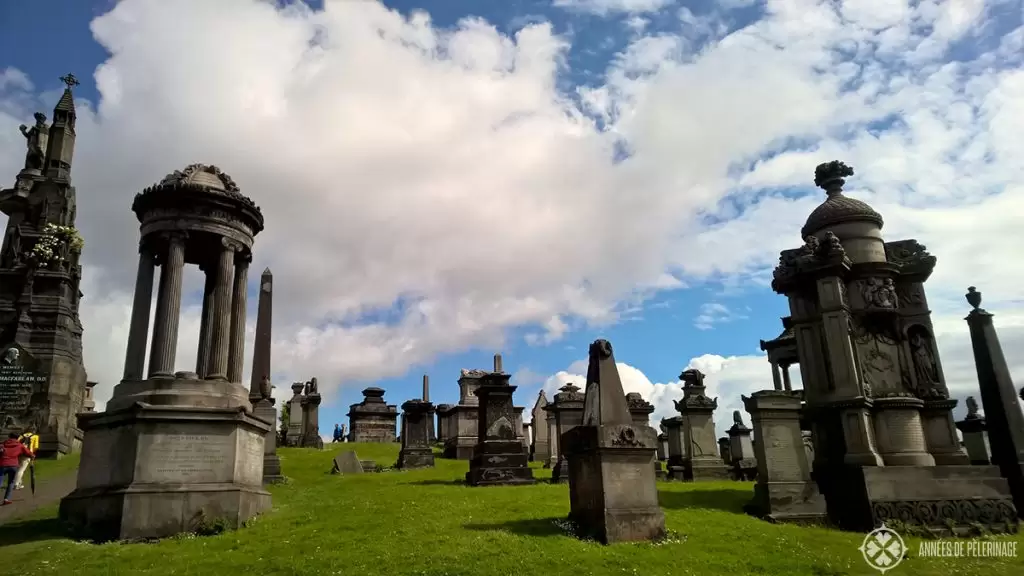 There are many beautiful cities and towns in Scotland. Glasgow, to be quite frank with you, doesn't exactly belong to them. But Glasgow is an incredibly young city (with tons of students). There is lots of amazing street art to be seen and even a couple of excellent museums. So if you want to see the young & modern side of Scotland, this is probably the best place to visit (though Aberdeen is quite lovely as well!).
Pro tip: Visit the necropolis. In my opinion, one of the most beautiful graveyards on this planet!
17) Feed a highland cow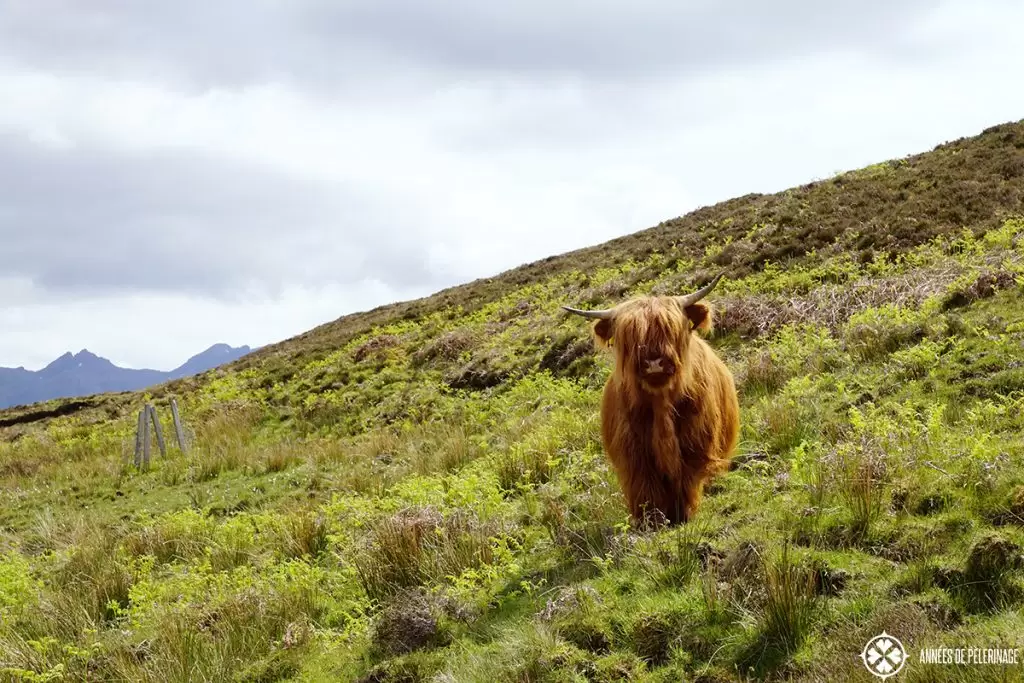 Okay, please don't actually feed the cows. They are quite happy with the juicy grass they find on the Scottish meadows. Still, seeing one of the fuzzy highland cows should really be on your list of things to see in Scottland. Just be prepared that you will not be the first (and certainly not the last) to take a picture of them.
18) Hike Ben Nevis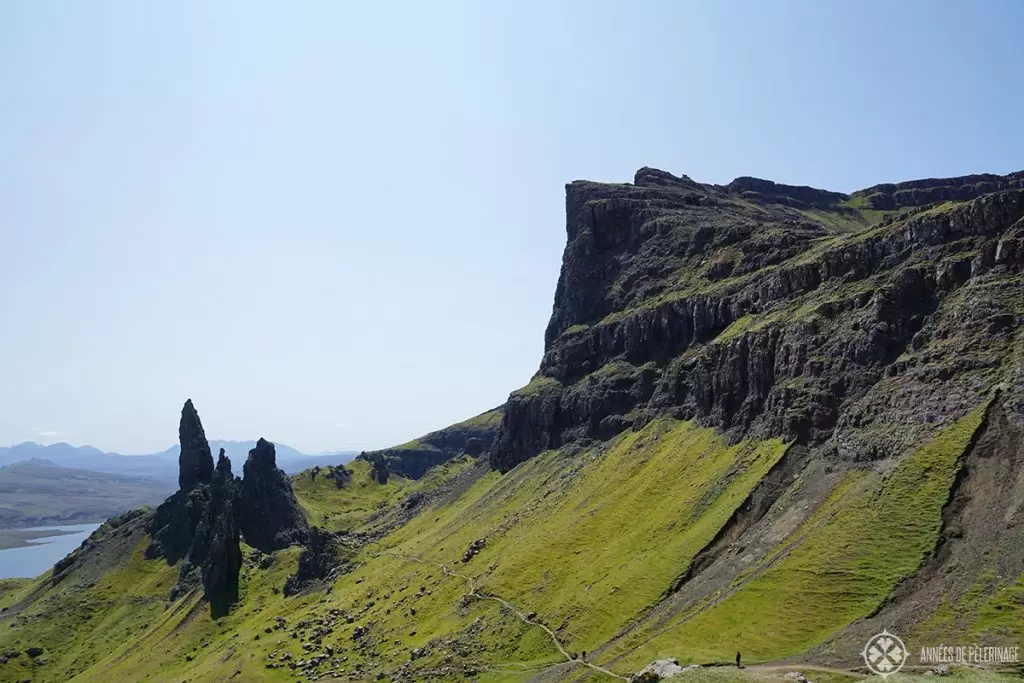 Ben Nevis is the highest mountain in the British Isles. If you grew up in the mountains, as I did, it's height. of 1,345 meters will not really impress you. Still, it is quite a beautiful hike. Truth be told, you can choose any other hike as well. But really put hiking one of the Munros (as mountains over 3,000 feet are called) on your list of free things to do in Scottland.
Pro tip: The most beautiful hikes can be found on the Isle of Skye. Like the Old Man of Storr (picture above) or the Quiraing.
19) The Outer Hebrides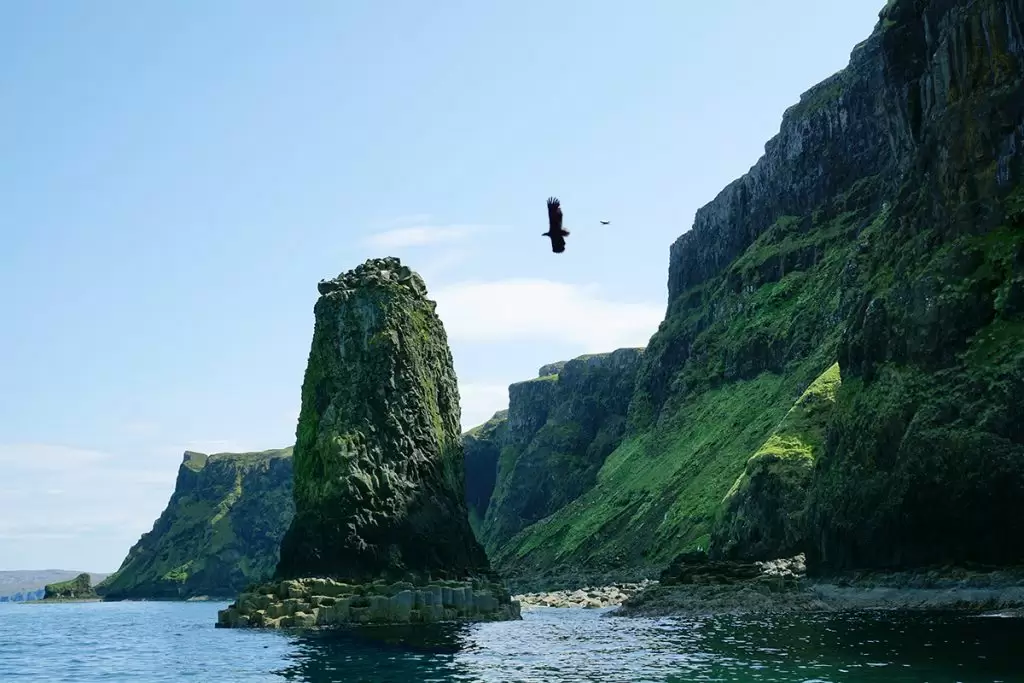 If you want to experience the real Scotland, a Scotland where Scottish Gaelic is still spoken, then you have to visit the Outer Hebrides. They are a wonderful place for bird watchers and everyone else who likes to enjoy the quiet side of life! The weather can be a bit rough at times, but if you allow it, the beautiful nature will speak to your soul.
20) Loch Ness
Last but not least, you have to visit Loch Ness. I was quite reluctant to put it on this list of things to do in Scotland. I hated every bit of Loch Ness. Urquhart Castle is one big touristic mess (and one of the least beautiful castles in Scotland to begin with), there are souvenir booths all over the place and just so many tourist buses.
If you want to catch a glimpse of the Nessie legend, I am sure you might consider stopping for a couple of minutes, but there are more beautiful places to see in Scotland and I hope this list was able to convince you!
Other things to do in Scotland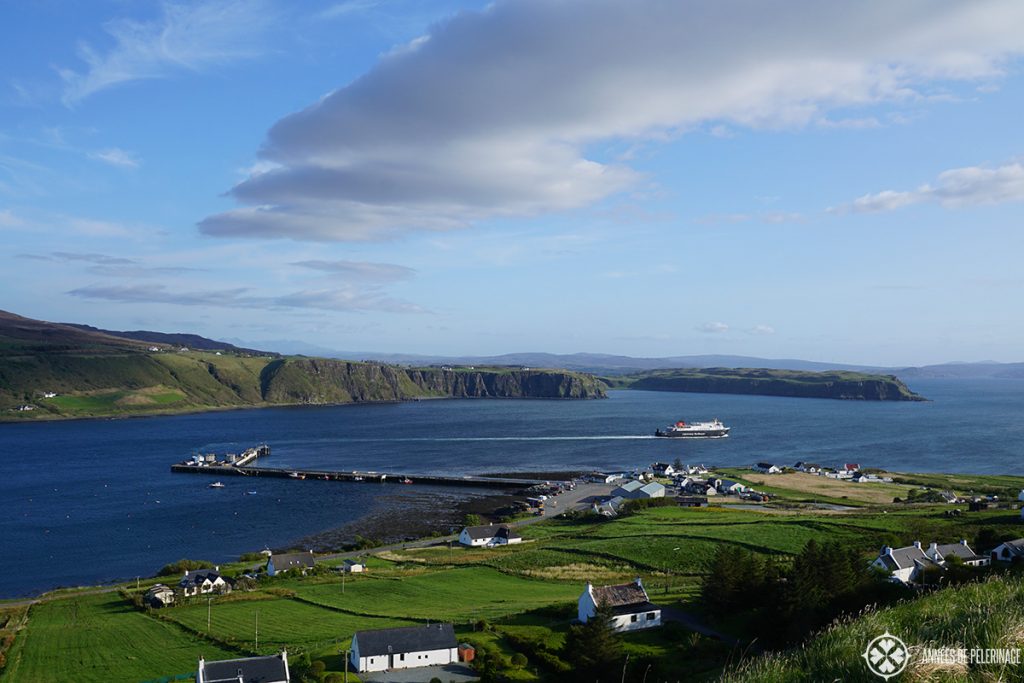 I kept this list to 20 top things to do in Scotland, as most people only have a limited amount of time available for their travels. Still, do not forget the Scottish highlands and the lowlands of Scotland. There are an even couple of amazing UNESCO World Heritage sites around the border to England: The New Lanark mills and the Antoine Wall built by the Romans to keep the Highlanders at bay!
Scotland is also the ideal place for any sort of outdoor sports. Hiking, rafting, even dog sledding is possible and you should absolutely plan to experience that side of this beautiful country. There are also quite a lot of national parks in Scotland. Loch Lomond probably being the most popular one as it's so close to Edinburgh, but do not discount the others.
As I was not able to cover it all, it helps to get a paperback travel guide. If you have read other guides I wrote, then I am sure you are familiar with my argument. Your mobile is dependent on both energy and reception, and both could be a problem when you are touring the countryside. On my first visit to Scotland, I took Rick Steves Scotland along with me Rick Steves Scotland, but I'll list you a couple of others with good reviews:


Oh, and one last word about the weather. Scotland is notorious for lots of rain, fog, and a generally damp climate. If you visit during the summertime, things should be totally okay. From my experience, a little rain helps to increase the saturation of the grass. As for the fog. Truth be told, those castles are not even half as eerie in the sunshine as they are hiding behind an avalonic veil! So no matter the weather, I am sure you will be able to enjoy Scotland.
Note: I get commissions for purchases made through links in this post.
Picture credit: John Lord, Donna C Green