Where to stay in Munich's city center – budget and luxury options for accommodation in the old town
Munich is arguably one of the best city in the world and a tourist's favorite. I should know because I live here. As the many sights in Munich are best explored on foot (check out my list of 20 amazing things to do in Munich to be prepared), it really pays off the get a hotel near Marienplatz. Here is what you should know: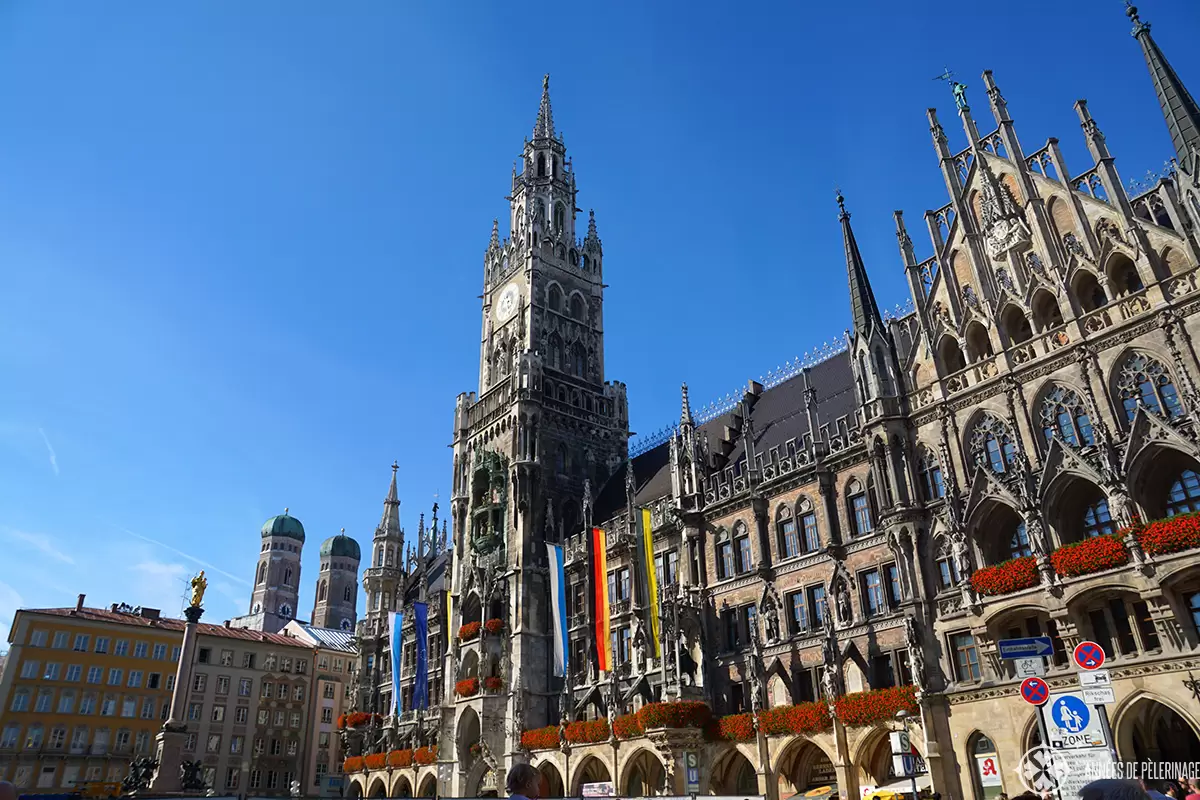 Marienplatz is the imposing square in Munich's city center and itself a big tourist attraction. Lucky for you, there are a couple of excellent hotels nearby. As a local (and because I received a lot of e-mails) I thought it would be a good idea to show you the best Munich hotels near Marienplatz. Be aware that I have not actually slept at one of these hotels. But I did go to the restaurants, to the bars, and a lot of relatives stayed there and gave me tons of feedback on my recommendations over the years.
Note: I get commissions for purchases made through links in this post. I had no association with the hotels features in this article whatsoever when writing this review. My opinions are my own, as are all pictures.
Hotel Bayerischer Hof
This is, without a doubt, the most famous hotel in Munich. It's only a short walk away from Marienplatz and offers you so much more than just a place to sleep and have breakfast.
There is a marvelous rooftop terrace, an equally marvelous rooftop spa, a theater, a cinema. The Bayerische Hof is the place where the heads of state and royalty usually stay. It's also a hotel ripe with tradition and will offer you world class luxury.
(sidenote: there is a famous Michael Jackson memorial right in front of the hotel, as he stayed here a couple of times as well)
Hotel Vier Jahreszeiten
Another very famous hotel quite close to Marienplatz is the Kempinski Vier Jahreszeiten. It translates as Four Seasons and has the most expensive (but also most beautiful) suites in Munich. If you don't want to have half a palace for yourself, there are way cheaper standard rooms as well. Of all the hotels near me, I like it the most.
The hotel Vier Jahreszeiten is located on the royal avenue "Maximilianstrasse" and right next to the National Opera. It's the perfect place to go shopping. The Hofbräuhaus is also just across the street. I love the beautiful lobby with its ceiling of panned glass.
Mandarin Oriental
If you are looking for 6-star luxury, then the Mandarin Oriental is the place to go. I love the hotel because it has a wonderful rooftop terrace that offers you a beautiful view of the inner city. But of course, there is so much more.
The best part is probably the heated rooftop pool. Relax from the sores of a day walking through Munich and enjoying a perfect view of all the sights you've seen from a new perspective. So spectacular! The breakfast is world class as well.
Hotel Louis
Hotel Louis is a smaller hotel overlooking the Viktualienmarkt (read about Munich's gourmet food market here). Of all the hotels mentioned in this list, this one is the closest to Marienplatz, which is only 50 meters away. It's a bit cheaper and still exceedingly lovely.
Hotel Louis has an outstanding Japanese restaurant inside (called Emiko), you might want to check out anyway, even if you don't plan to stay here. The building itself is rather minimalistic, though.
Hotel Lux [Budget option]
Calling the Hotel Lux a budget option is a bit unfair. First of all, it's not really budget, as Munich is a very expensive city. If you are looking for a room below 100€ a night, you probably have to look for hostels.
If you are, like me, not into dorm rooms, then the Hotel Lux is a very viable option in the city center of Munich. I absolutely adore the bar in the basement (it's one of my favorites, in fact). My uncle slept here on his last stay in Munich and said that rooms and service were excellent, which matches my experiences in the bar.
The CORTIINA hotel next door might also be a good option. It's more of a design hotel and less uniform. I got no personal experience with this hotel other than walking by and thinking: hey this looks nice! Both hotels are very near to Marienplatz.
Where else to stay in Munich's city center
Regardless of what you might think, Munich isn't really a big city. Personally speaking, I'd say that picking a hotel in the direct vicinity of the Marienplatz is a smart move. These are, however, also the most expensive hotels and the ones that sell out the fastest.
Near the central station, you will find almost a hundred hotels. Most of them are quite cheap and I really can't vouch for their quality. The only hotel I am familiar with is the Hotel Königshof, as it has a very good Michelin starred restaurants. It's also probably the most central hotel in Munich. It's utterly ugly from outside, but very posh inside!
A lovely little design hotel you might want to check out is the Flushing Meadows Hotel. It's located right in the heart of the district called "Glockenbachviertel". This is the place where all the bars are, where you will find tons of shops filled with fashion from young designers. Marienplatz and the city center will be in walking distance (about 10 minutes).
Last tips for finding a hotel near Marienplatz / in the old town of Munich
First of all, you really should book as early as possible. If you are staying in Munich during Oktoberfest (read my guide), be aware that prices will increase about five times or more (meaning a room that is normally 100€ will be around 500€). If you are thinking Airbnb is an alternative, don't – prices will still be astronomical. Also, know that you will probably have to book one year in advance to find anything affordable. The whole area around the central station will be preferable then, as the Oktoberfest AND Marienplatz will be in walking distance.
Generally speaking, Munich has an above excellent public transport system. So, if you are currently standing on Marienplatz and you are searching for "hotels near me", then do consider there are trains ("S-Bahn"), an underground, a tram, and buses. As Munich is not that big, taxis are a viable option as well. While finding a good hotel near Marienplatz is recommended, because you can explore everything on foot, it is not mandatory.
If you find a charming hotel on the outskirts, you will still be able to get around fairly easily. Just remember that during Octoberfest, finding an empty taxi can be very hard – especially at night.
Also, remember that Munich is the ideal starting point to explore the surrounding area (check out my list of 20 beautiful day trip options from Munich). So, staying a or two longer might actually be a smart idea.
Hope you liked my little guide to the best hotels near Marienplatz. If you got any questions, feel free to ask them. As a local, I am sure I'll be able to help you. 
Disclaimer: I had no association with the hotels features in this article whatsoever when writing this review. My opinions are my own.