A massive list of the best things to do in Reykjavik. Iceland's capital might be small but there are more than plenty of points of interest – even in winter or when it rains.
With a population of around 125.000, Reykjavik certainly doesn't rank among the biggest capitals in the world. Yet, to put things into perspective, roughly a third of Iceland's population is actually living in the picturesque city in the north west of the Arctic country. By common consent, it is the cultural and economic center of the island and there really is no way around visiting Reykjavik during your trip to Iceland. As you might be wondering what to expect and how much time to spend there, I put together a list of the 10 best things to do in Reykjavik.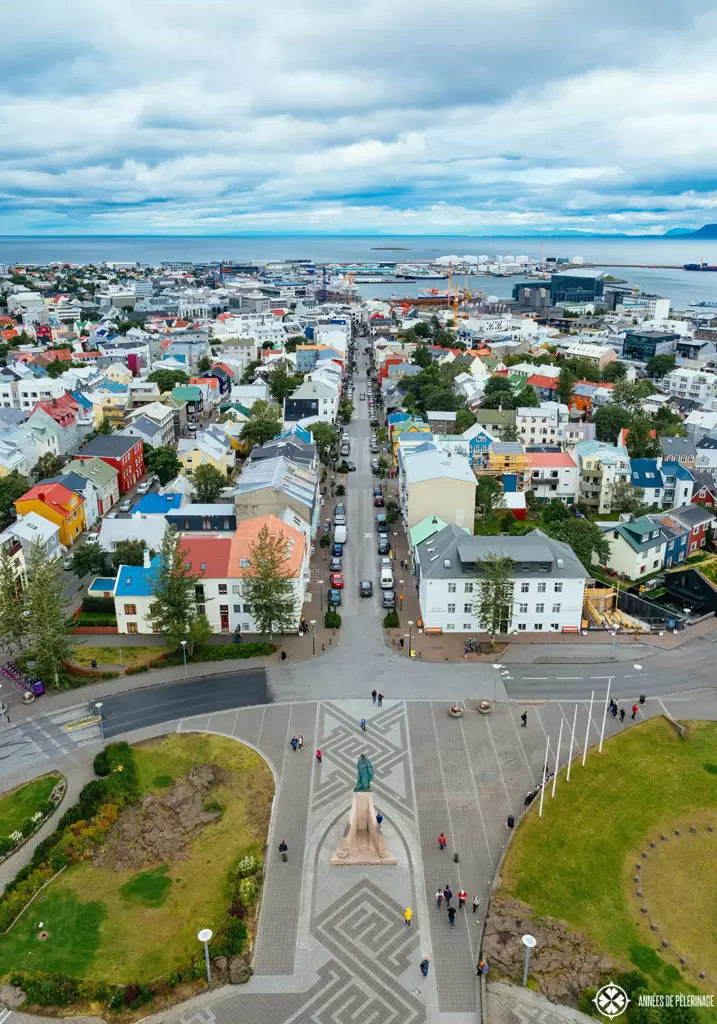 Personally speaking, I'd say one day in Reykjavik is plenty as there are a lot of cool, but all in all not that many, sights. I'd recommend to stay a night and then move onwards to the Golden Circle or the Ring Road – whatever you prefer (absolutely check out my free sample itinerary for Iceland).
Things to do in Reykjavik city center
First of all, I'd like to stress that you really should consider looking beyond the city limits of Reykjavík. There are is a sheer endless number of amazing spots a mere 20 miles out of the city. Which entirely doesn't mean you should ignore the town itself. Here's what to do in Reykjavik's city center:
1. Hallgrimskirkja
The Hallgrimskirkja is probably Reykjavik's most prominent landmark – both in terms of size and fame. Construction of the church started in 1945, but it was not fully completed up until 1986.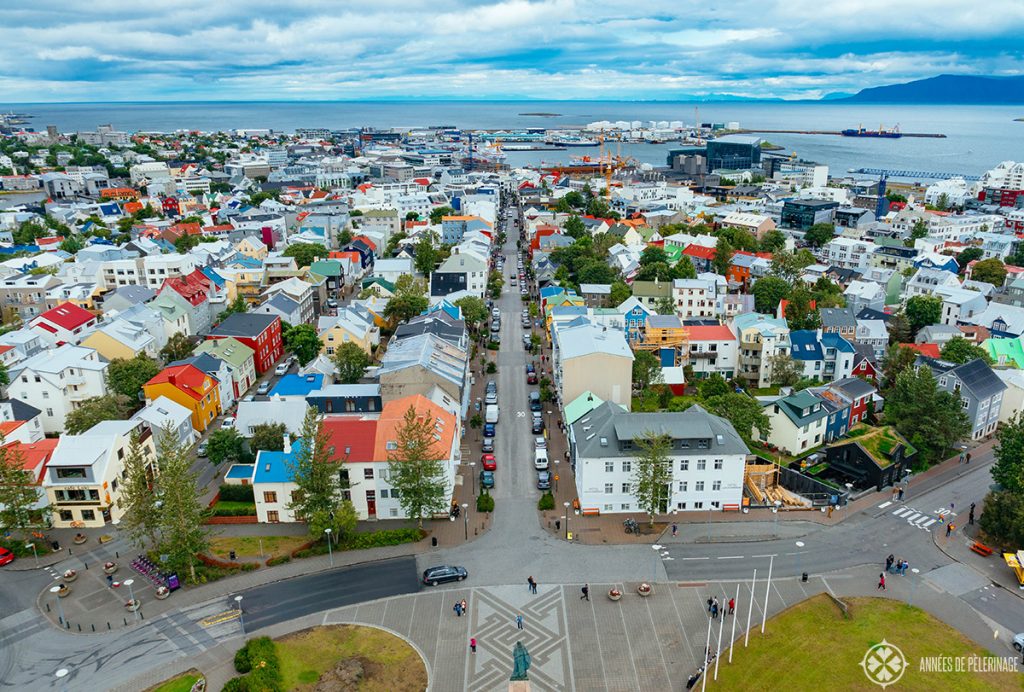 Now while the interiors are rather minimal, you really should take note of the fantastic organ (there are frequent concerts!) in the back. Most of all, you really should pay the (admittedly steep price) 1500 Krona to get all the way to the top. The view from the tower of the Hallgrimskirkja is the best in town.
Budget tip: Don't want to spend the equivalent of 15 US-Dollar for the view? If you go outside the city, to Perlan, you will have the opportunity to see the city from above for free (see below).
2. Harpa concert hall
Another iconic landmark you shouldn't miss on your Reykjavik tour is the Harpa concert hall near the harbor. The building is quite fantastic from outside, but don't be afraid to go within. The multi-shaded glass tiles of the facade create a beautiful light show.
Pro tip: There are frequent concerts, but also traditional shows at Harpa. So, if you are looking for things to do in Reykjavik at night, the Harpa should be your first stop.
3. The Sun Voyager
If you walk down the shoreline further outside the city, maybe 500 meters from the Harpa, you will find the most famous sculpture in Iceland. It's called Sun Voyager (Sólfar in Icelandic). Meant to be a dream boat, the sculpture now is one of the top attractions in Reykjavik and a selfie in front of it is kind of a must *lol*
4. Settlement Museum (Reykjavík 871±2)
For me, the best museum in Reykjavik is the Settlement Museum Reykjavík 871±2. Why? Well, inside you can find the earliest archeological records of settlements in Iceland. But what's even more amazing: the ancient Viking longhouse remains almost intact.
The entry fee is 1,500 Krona, but that is money well spent. There is a lot of interactive stuff in the museum (so very suitable for kids) and they do an amazing job in visualizing early Viking life in the area of Reykjavík. I loved it! Here is the official website.
5. The Parliament (Alþingishúsið)
The Alþingi or Allthing is the national parliament of Iceland and, believe it or not, the very oldest parliament in the world. It was founded in 930 AD in what is now called Þingvellir national park. These days, only the summer house of the president is located there. The actual parliament building is in Reykjavik and goes by the name Alþingishúsið.
6. Phallological Museum
Iceland's capital is home to the only Phallological museum in the world. It might be among the more unusual things to do in Reykjavik, but if you are not shy of seeing the shrunken remains of otherwise prominent male body parts, this is really a quite interesting place to visit. And fear not, the focus is on animal dicks (like 1.5-meter blue whale phallus). There is little pornographic to the whole affair.
7. Laugarvegur
Reykjavik is quite small, so expecting a 5th Avenue or Oxford street, might leave you disappointed. But if you are looking for authentic Icelandic brands, beautiful souvenirs, and cool restaurants, the street called Laugavegur will be where you need to go.
Insider tip: Laugavegur is also the name of a very famous multi-day hiking trip
8. Whales of Iceland
Ever dreamed of coming up close with a blue whale? Then the Whales of Iceland museum will be a dream come true. This interactive museum has life sized models of about any Arctic whale and will teach you (and your kids) everything there is to know about them. Here is the official website.
9. Puffin/whale watching tour
Did you know there are puffins and whales to be seen just a couple of boat miles away from Reykjavik? No? Well then, harken up. While places like Akureyri far up in the north might be the better place to see puffins and whales (read my guide on how to get there from Reykjavik), it is entirely feasible to see both on a short boat trip from the central harbor. It might not be one of the cheap things to do in Reykjavik, but hey, you are here to have the adventure of a lifetime, no?
Note: Puffins can only be seen between May and August.
10. National Gallery of Iceland
I believe, it is impossible to understand a country, without seeing its art. Each culture, each nation finds unique ways to express thoughts, emotions, and ideas, and art condenses the whole cornucopia in one item. Essentially I am saying: There is no way around putting the National Gallery of Iceland on your list of things to do in Reykjavik. Here is the official website.
Other places to see in Reykjavik
Perlan
Now that we explored everything there is to see in Reykjavik's city center, it really pays off to look a bit to the outskirts as well. One very famous places to visit is the Perlan. Perlan was once a couple of hot water storage tanks that have now been turned into a museum. While some of the exhibitions are actually quite spectacular, most people just come to go all the way to the top and enjoy the view from the platform. There's even a restaurant there.
Note: You only need a ticket for the museum, you don't need one to enjoy the view of Reykjavik!
Reykjavik swimming pools
Most people visiting Iceland probably heard of the Blue Lagoon. It's only a short drive away from the city, but you really shouldn't shun Reykjavik's other swimming pools (sundlaugar). If you are looking for some adventure, you might want to check out the Nautholsvik Geothermal Beach, not exactly one of the must dos in Reykjavik but a fun place to visit in summer with half a million visitors a year.
Árbæjarsafn
Árbæjarsafn is a beyond than charming museum village on the outskirts of Reykjavik you really shouldn't miss if you want to see how the locals used to live. Here's the official website.
What to do in Reykjavik at night
Contrary to what you might think, Reykjavik actually has an active nightlife with many little bars and clubs. Even in the pedestrian area, you might chance to see hipster bars or even a gay bar, though there are many wonderful venues beyond Laugarvegur as well. There are no real clubs worth their name, but as the locals hang out in the bars and cafés, so should you, eh?
Also, be aware that Reykjavik is actually quite the cultural city. I already mentioned Harpa, where frequent concert and performances are staged (Here is the official website). But you might also opt to go to a book reading or the National Theatre!
More the quiet kind of guy or girl? In winter, you could choose to see the Northern Lights, though that would mean leaving the city a bit, as it's a bit too light in the city center. In summer, the sun will hardly set, so you can basically stroll around the city, enjoy an ice-cream, and the midnight sun! :)
What to do in Reykjavik when it rains
I've seen a lot of people asking "what to do in Reykjavik when it rains?". Now, to be quite truthful with you, everything mentioned so far can be done when it rains. If you decide to visit Iceland, you really have to plan for rain on every second day, and Reykjavik really is no exception to this rule – even in summer. Do bring an umbrella and a rain coat and you will be more than fine!
That being said, buying the tickets to see the view of the city center from atop Hallgrimskirkja might not be the smartest idea, as the view will probably be too bad to really enjoy it. A wildlife tour (or even a helicopter ride) should be done on a day with good weather as well. The museums, however, will be a great place to hang out no matter the weather, and so will be all the beautiful swimming pools in Reykjavik (usually heated with geothermal water).
You could also go on an epic Reykjavik food walk tour. How does that sound like?
A lovely place you might want to check out on a rainy day is the tourist information center. They got a vast wealth of information on Iceland inside, and even a huge 3D map of Iceland. Really enjoyed it, especially as it was so unexpected. Also note, that you can get a free Reykjavik tourist map inside, so you might want to start there anyhow.
Also, don't shy way to just idle away some time in one of the many lovely cafés in Reykjavik. I'm sure you won't regret it. The same basically applies if you are visiting between November and March and you were wondering about things to do in Reykjavik in winter. Just prepare for the temperatures, maybe wear one layer more than usual and enjoy Iceland's capital!
Best places to stay in Reykjavik
Note: I get commissions for purchases made through links in this post.
Reykjavik is an incredibly expensive city, so the question "where to stay in Reykjavik?" usually becomes more a matter of where you can afford it than anything else. The good news: the city is quite small, so you really don't have to bother about the location of your accommodation all that much. In fact, if you plan to rent a car, you could even pick something a little bit more on the outskirts (on my last stay I toured Reykjavik from the ION hotel, which is 30km away.).
Either way, here are my top hotel recommendations for Reykjavik:
Budget hotels in Reykjavik
Finding cheap hotels in Reykjavik is far from easy. In fact, there are no accommodations below 50 US-Dollar a night within the city limits at all. But despair not: In my opinion, the Reykjavík Hostel Village is a good choice for anyone who doesn't want to spend a fortune in Iceland. To be fair, 80 US-Dollar a night would get you a 5-star luxury hotel in Thailand, but that's just the way it is. Unlike most guest houses and other hostels, the Hostel Village is almost directly in the center and offers you clean and fairly modern rooms with shared bathrooms. There's even breakfast, which you should definitely book because a single coffee at café will be probably cost more than the whole breakfast at the hostel.
Mid-Price Range
One of the best options close to the center of Reykjavik is certainly the Icelandair Hotel Natura. Personally, I found all the Icelandair hotels to offer excellent service for the money they cost. The Natura even has a spa, while the price is fairly average (for Icelandic standards, mind you!)
They also got a sister hotel very close to the Harbor, but as Reykjavik is so small, I really don't feel there is any need to be closer to the center. Still, if that's what you like, the Icelandair Hotel Marina, will be a very good deal.
Luxury hotels in Reykjavik
If money is no consideration, then there are two luxury hotels in Reykjavik I can recommend. The first is the ION City hotel, sister of the hotel of the multi-award-winning ION Adventure hotel. It only recently opened and promises boutique style charm combined with contemporary design.
My second luxury recommendation for Reykjavik would be the 101 Hotel. It's fairly similar to the ION with the one exception, that the 101 has a small spa. Don't expect anything grand, but I'm sure it will be a welcome retreat after a long day walking through the city.
Last thoughts
Phew….quite a list, eh? I hope I was able to answer most of your questions regarding the best places to visit in Reykjavik. Know then, that I obviously wasn't able to mention it all. There are a couple of museums and shows I felt didn't deserve a spot on this list, and I also skipped a couple of the obvious things, like the marvelous street art you will see everywhere.
All in all, Reykjavik is very expensive, and I don't think it makes any sense to stay more than a day. Iceland is all about fantastic nature and wildlife, and I feel it pays off the most to put your focus there. Now, you might still be wondering about when to visit, and that's a tough question. Tougher, than you might initially think, as all seasons have their advantages, but also big disadvantages. Here's my guide to the best time to visit Iceland.
Anyway, if you got any further questions, feel free to ask them in the comments below. Liked my Reykjavik guide? Pin it on Pinterest!
Picture credits: Jessica Simpson, Tim Regan, Helgi Halldórsson,  Lydur Skulason, Giuseppe Milo, Justin LaBerge