Bavaria is a wonderful place if you are looking for some real-life fairy tale magic. There are just so many castles near Munich you can visit – each more beautiful than the other. As a local, I felt it was about time I write about them and present you with my favorite ones.
Bavaria's capital is a great place to stay 3 days or longer because there are more than 50 spectacular things to do and see in Munich. The palaces and castles of the Wittelsbacher family certainly belong to the top highlights in my hometown.
Now, I want to be quite honest with you. There are only 3 castles in the immediate city center. The rest is technically speaking only near Munich. But hey, 30 minutes on the subway or 1 hour on a train to get to an amazing medieval castle or baroque palace is nothing, eh?
I'll recommend tours and how to get there further down below. I also tried to make sure to list a couple of the hidden gems and my knowledge as a local because I feel most other lists just mention the well-known palaces everyone else sees. Definitely also check out my itinerary suggestions for Munich here, so you can make things work out.
Note: I earn a small commission for purchases made through links in this article.
The most famous palaces and castles in Munich
Before we start I would like to give you a little important tip. If you plan to visit a lot of the palaces and Museums, then you absolutely should get the Munich City Pass. It's free admission to most of the top museums, palaces and free public transport. It's quite expensive, so it only makes sense if you visit more than 4 museums/palaces and you will stay for more than 3 days. Otherwise, you might want to get the CityTourCard instead which gives you a discount and free public transport for a day.
1. Munich Residence Palace
If there is one place you absolutely must-see in Munich, then it is the Münchner Residenz. The absolutely massive city-palace was once the seat of power in the kingdom of Bavaria and has now be turned into a museum.
I warn you: It takes probably 4 hours to see everything. Yes, it's that huge. But it's worth to invest that much time as there is so much to see inside. There are endless halls and corridors and staterooms. Even a marvelous rococo theater (so, definitely check out the Cuvilliés Theater).
In the basement, you will also find a treasury museum with outstanding art made from gold, precious stones and ebony. You can even see the crown of the Bavarian kings.
2. Nymphenburg Palace
Schloss Nymphenburg is probably the most spectacular palace in Munich. It was the summer palace of the Bavarian kings and is absolutely stunning inside. You can tour the beautiful staterooms and marvel at the huge central hall with its frescos by Johann Baptist Zimmermann.
The landscape park of Nymphenburg Palace is my favorite place in Munich to go for a walk – especially in autumn. It's just such a magical spot and there are a couple of small pleasure palaces to be explored: Amalienburg, Pagodenburg, Brandenburg, and the Magdalenenklause. Check out my detailed Nymphenburg post to learn more about it.
Tip: There is no entrance fee for the park. Only if you want to go inside.
3. Schleissheim Palace
Schleissheim Palace is one of these hidden gems I've been talking about in the introduction. The park is huge, the palace is extremely beautiful from the inside, but it's not mentioned in most Munich travel guides. Which is utterly weird, as it only takes 30 minutes to get there from the city center.
And actually there are three palaces there. The old palace, a pleasure and hunting palace, and the new palace. Each and every one of them is home to an outstanding museum and it's probably one of the best ways to spend an afternoon after you've seen everything in Munich's old town. Read more about it here and how to get there.
4. Alter Hof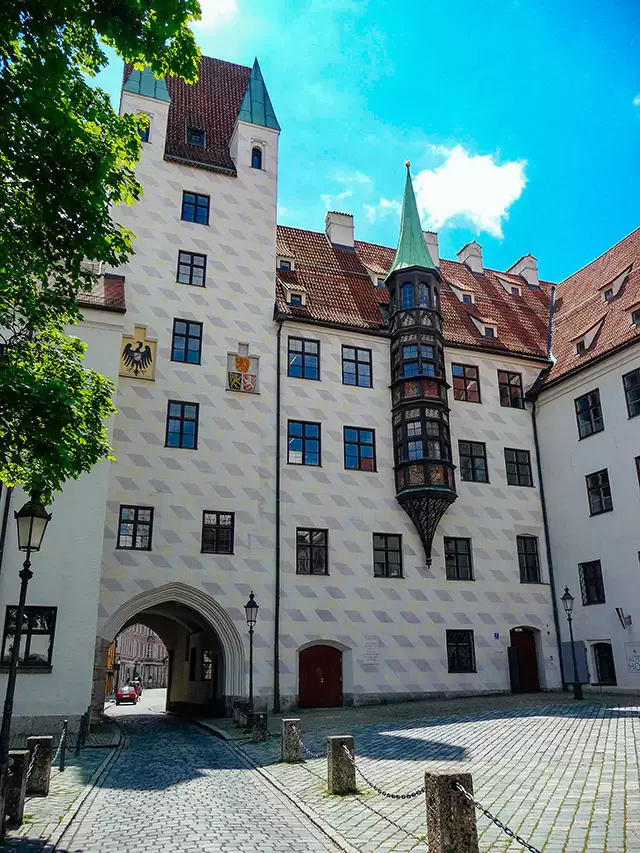 The Old Court is the only true castle in Munich's city center. Construction started in the 12th century and it has been modified repeatedly throughout the centuries. It fell into disuse starting from the second half of the 16th century when the bavarian prince-electors moved into the New Residence. Still, it does have to be noted that for a short time, the German Emperors lived here.
Not much of the original buildings remain, as the complex has been completely remodeled more than once – the last time in 2004. Only the gothic oriel and the gate tower remain, as well as a couple of catacombs. These days you will find a tourism info point and a free exhibition inside. It's not the most spectacular place, but interesting enough for a short detour through the old town of Munich.
5. Neuschwanstein Castle
If you are thinking of a romantic fairy tale castle near Munich, chances are pretty high you envision Schloss Neuschwanstein. King Ludwig II. built the ambitious castle on a hill above Füssen and it inspired countless generations of architects and filmmakers. Even Walt Disney used it as a model for his Sleeping Beauty Castle.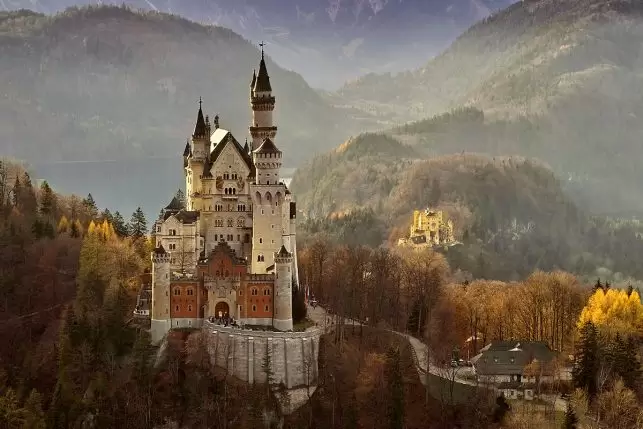 It takes about 2 hours to get there and you absolutely need to book your tickets in advance. They frequently sell out early in the morning (especially in summer). I do recommend you to book a guided tour from Munich where they are already reserved for you! Here's one that visits both important castles in Füssen.
Note: Absolutely make sure you also visit the UNESCO World Heritage Site Wieskirche, which is only 10 kilometers away! And of course also Hohenschwangau castle. The whole region is incredibly beautiful. I should know, I was born there ;-) Here is my guide on how to Neuschwanstein Castle from Munich.
6. Herrenchiemsee Palace
King Ludwig II. used most of his time, or so it seems, to build palaces and castles all over Bavaria. One of his most lavish projects was Herrenchiemsee. The palace was modeled after Versaille near Paris and is located on a beautiful island in Lake Chiemsee.
It takes about 1 hour to get there and then you have to take the ferry. The whole area is incredibly beautiful and there is actually one more island you should visit besides the Herreninsel. Again, it's probably best if you book a guided tour from Munich to Herrenchiemsee. As an alternative, you can also take the train and organize it yourself.
7. Linderhof Palace
Schloss Linderhof is the last and most intimate palace King Ludwig II. build. The palace is quite unique as it's very small and build in a way so the elusive king could enjoy his fantasy world without seeing any servants.
The park, with its gigantic artificial grotto, meant to serve as a stage for Wagner operas, and the Moroccan Pavillion (where you can marvel at the peacock throne) are true highlights as well.
Note: It's easy to combine the visit to Neuschwanstein Castle and Linderhof, which is why I recommended the combined tour above.
8. Blutenburg Castle
Of all the castles near Munich, Blutenburg castle probably gets the least mentions online. Even most locals are hardly aware it exists. Yet, the small castle on the outskirts of my hometown is quite enchanting. Especially the beer garden in the water castle is worth a visit. In winter, you will be treated to a very lovely Christmas market inside the court.
9. Possenhofen Palace
Have you heard of the Austrian empress Sissi? Well, Elisabeth Amalie Eugenie of Bavaria is one of the most famous royals in Germany – mostly because of the movies and her legendary beauty. Sissi grew up in Schloss Possenhofen and you can visit her castle even today. You cannot go inside, but the whole area of Lake Tegernsee is extremely beautiful and easy to reach with the S-Bahn from Munich.
10. Tegernsee Palace
The last entry on my list of the best castles near Munich is Schloss Tegernsee. It still remains in possessions of the descendants of the Bavarian kings and you cannot go inside. So, why do I mention it? Well, Lake Tegernsee is a lovely spot to visit in summer and there is a wonderful beer garden restaurant inside the palace. Which makes it an ideal stop.
[Bonus] Burghausen castle
If you want to see a beautiful medieval castle near Munich, then you have to visit Burghausen. It takes about 90 minutes to get there by car and you will be able to see the longest fortress in the world. It's quite amazing and you could combine it with visiting the pilgrimage town of Altötting.
Other famous castles near Munich
You might be surprised that I did not list all castles and palaces near Munich yet. There are a couple of minor ones which should be mentioned as well. Dachau Castle and the Fürstenried Palace are both quite enchanting and so is Castle Seefeld. All three of them are very close to Munich. The small Schloss Hohenkammer is one of the few castles near Munich you can stay in.
Truth be told, they are just average castles like a thousand others in Germany, so probably not of much interest to tourists on their first or second visit. Instead, I'd like you to know that there are quite a couple of amazing day trips you can take from Munich.
For example, in Salzburg, which is just 2 hours away by train, you are able to visit one of the largest medieval fortresses in Europe. Nürnberg, which is famous for its Christmas market, has a magnificent medieval fortress. And of course, I have to mention the huge Marienburg castle in Würzburg, where you will also find the UNESCO World Heritage palace of the prince-bishops.
If you plan to visit the UNESCO World Heritage site of Bamberg, you can also visit a fabulous Residence Palace, an old medieval castle and the amazing Seehof Palace. So, in essence, I am saying, Munich and its nearby cities will keep you busy for however long you want. I have been living here for almost 20 years and I am still discovering new amazing spots.
This was my guide to the best castles in Munich. Let me know if you got any questions.