When you think of the most beautiful palaces in Munich, most tourists will come up with world-famous names like Neuschwanstein, Nymphenburg or the Residence Palace in the city center. But there is one, I almost never hear: Schleissheim palace.
Truth be told, there are so many things to do in Munich that even I, as a local, sometimes have trouble keeping up. But I am telling you, skipping Schleissheim palace is a mistake. It's one of the very few places in Europe where you can still visit an authentic baroque garden complex that remained virtually unchanged in the past 300 years.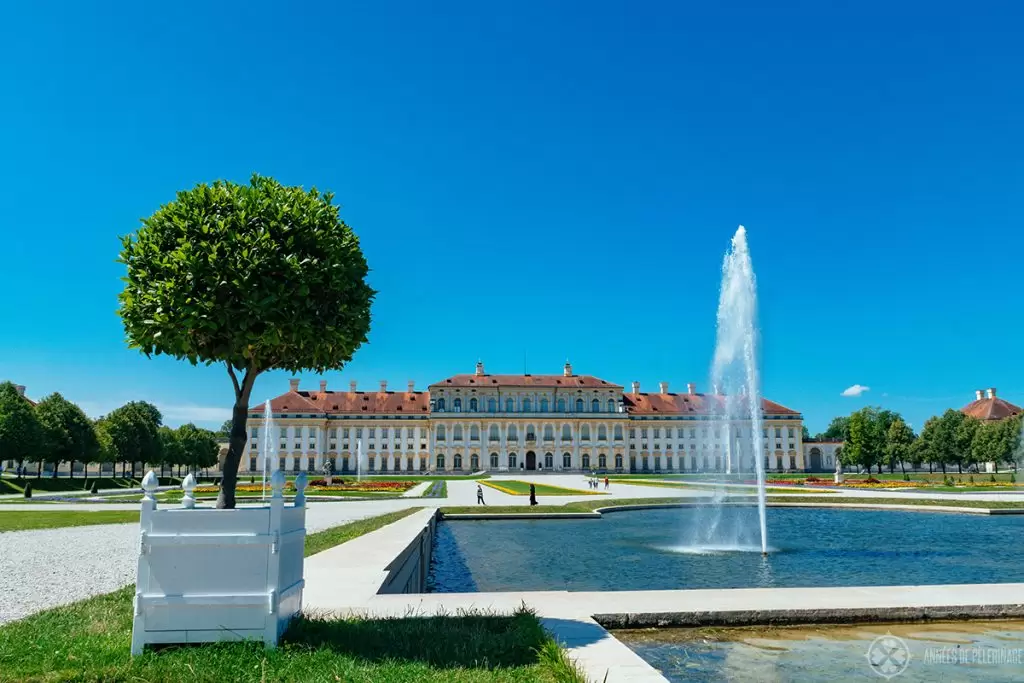 PS: In case you interested. I compiled a list of the most beautiful palaces and castles near Munich.
Here is what you need to know about Schloss Schleißheim.
Germany, as the country you may know now, didn't really exist until the 19th century. Before, it was a crazy quilt of hundreds of bigger and smaller duchies, free cities, dioceses, and shires. Together they formed what was known as the Holy Roman Empire with a non-hereditary kingship. Instead, 7 powerful prince-electors elected each new emperor.
Now, why do I mention this? Elector Max Emanuel II. (1679 – 1726) was secretly hoping to become emperor. Unlike many other rulers of that time, he didn't have a palace to match that status. So, in 1701 the construction of the Neue Schloss Schleißheim started.
There already was a smaller palace in Schleissheim (which was thereafter called "Old Palace Schleissheim") and the new design planned to incorporate the old part into a gigantic french complex with four wings. All in all, it would have probably been bigger than Versaille itself, can you believe it?
Well, history wasn't very kind to Max Emanuel and he never was crowned emperor. Actually, he went into exile and construction of Schleissheim palace only continued after his return in 1715. The new budget didn't allow for all the baroque splendor, so architect Joseph Effner had to downsize things a bit.
The Summer palace was barely finished in 1726 when Emanuel died and it more or less fell into disuse after that. You see, Nymphenburg palace is quite a bit closer to the city center, so most of his successors favored it.
But as early as 1819, the palace was opened to the public and served as an art gallery. In that process, Leo von Klenze altered the facade a bit, but no trace of it remains today. Schleißheim palace was hit by two bombs in April 1945 and the reconstructions restored the original.
Inside Schleissheim palace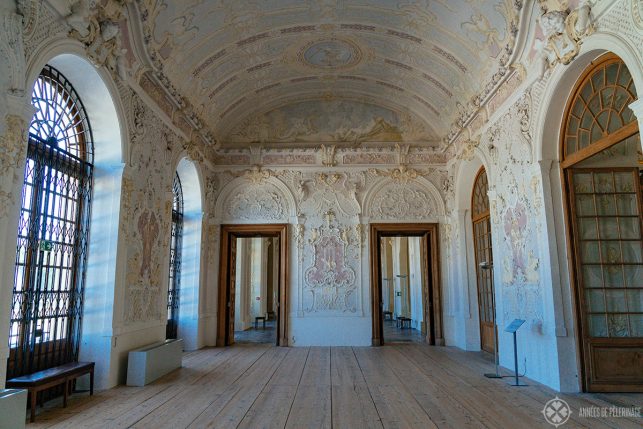 Walking through the grand portals of the palace, you'd never guess it was never really finished and never really used. Even the garden rooms on the ground floor are quite impressive and richly decorated. There's stucco on every surface.
These days, an art gallery found its home here. It's a branch of the Bavarian State Painting Collection, which also runs the world-famous Pinakotheken in the city center. Baroque paintings, most of them with a direct or indirect connection to Max Emanuel are on display. Quite fascinating in fact!
Take your time exploring the gallery and then take the monumental staircase to the first floor where you will find the state apartments and the grand gallery.
Staircases served an extremely important function at court and this one is quite unique as it's crowned by a magnificent cupola. The novel idea would later be copied by Balthasar Neumann when he designed the Residence in Würzburg.
From here, you can already see the gigantic White Hall with its overly large paintings and magnificent ceiling frescos. The paintings are actually the largest of its kind in Germany are depict famous war scenes from the life of Max Emanuel.
The Victory Hall right next is similar in size and design. Again, it's all about glorifying the war efforts of the prince-elector – an effort to bolster his prestige to all visitors. Even today, you cannot help to be impressed by the sheer size of everything.
The crown jewel of the palace complex is probably the Grand Gallery. With a length of 57 meters and a beautiful view of the garden, it was always meant to display outstanding paintings. Both the gigantic chandeliers and the marble consoles are outstanding masterpieces of baroque court design.
Sidenote: Most people might not be aware that back then the actual building and the ground weren't the cost driver. Crystal chandeliers were extraordinarily expensive and only reserved for the most prestigious of rooms.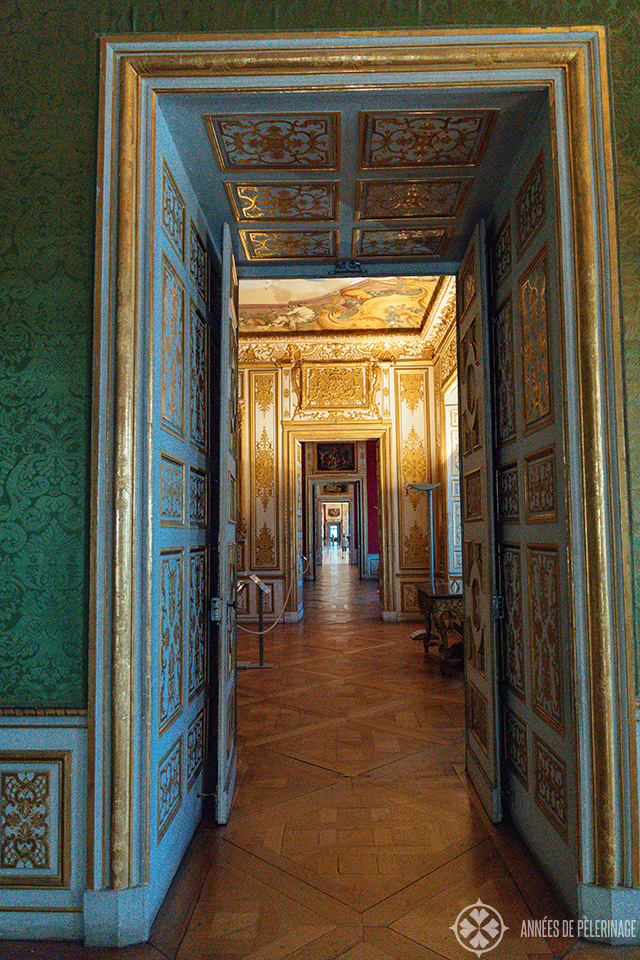 You'll find the apartment of the king and the queen to either side of the Grand Gallery. Not much of the original interior remains, which is no big surprise. Most of the rooms are more or less empty. Such staterooms were never filled with much furniture to begin with (mostly just chairs) and it was a rarely used summer palace on top of that.
The state bedroom is one of two true highlights you need to see. Every inch is covered with gold, frescoes, and silk. Quite the show!
At the far end of the staterooms, you cannot help but notice the private chappel of Max Emanuel. It's completely covered with the most intricate marble and stucco inlays (so-called scagliola) and probably underlines the true power and wealth of the bavarian prince-electors like nothing else.
The magnificent park of Schleissheim palace
What can I say? The actual reason you should be visiting Schleissheim Palace is the park. You see, the interiors might be stunning and spectacular, but to tell you the truth they are not truly unique. There are 20 other palaces in Bavaria alone where you can see similar staterooms. Bamberg, Würzburg, Herrenchiemsee, or even the Residence in the city center are probably more spectacular.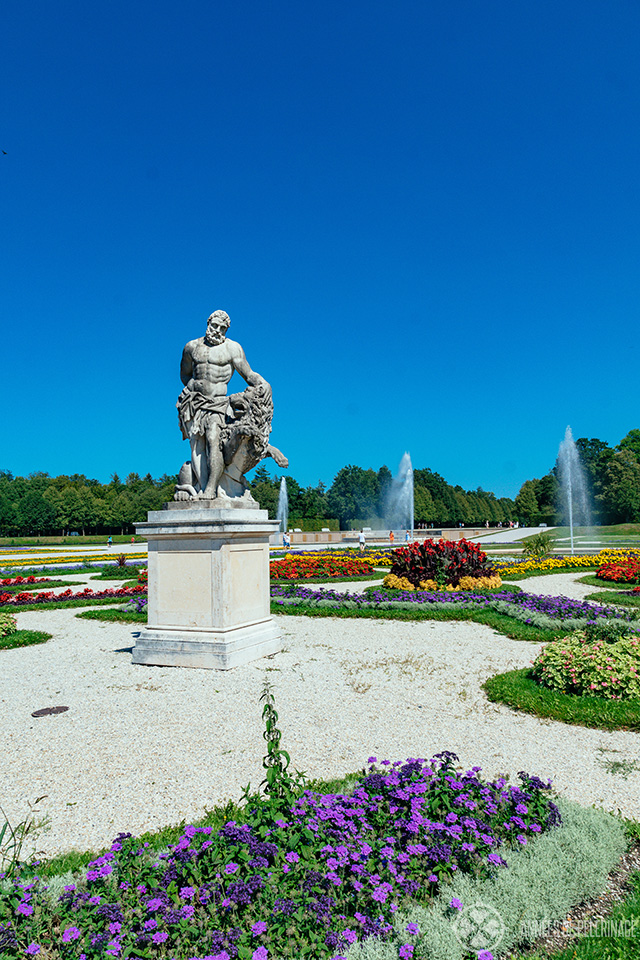 Schleissheim's garden, on the other hand, is quite unique and massive. You see, most formal court gardens were transformed into landscape gardens in the 19th century. The pleasure games and strict etiquettes of baroque life at court had changed drastically and so did the gardens.
Probably because Schleissheim was never really in the center of attention, things more or less stayed the same. There is a huge cascade, a grand channel, statues wherever you look, and of course hedges and flowers.
Once, the park allowed for lines of sight towards the nearby towns of Freisingen, Garching, Unterföhring, and Munich. Most of them are now overgrown or blocked by buildings, though.
The park is quite huge and you should definitely reserve some time to walk through it. At the far end, you will be able to find two of the remaining pavilions that once marked the end of the unfinished architectural vision Max Emanuel had. The whole park was meant to be surrounded by buildings. Ever since 2005, at least the tiny Renatus chappel is once again open to visitors.
Lustheim Palace
When Max Emanuel married Maria Antonia of Austria in 1685, he built here a palace in Schleissheim. A beautiful gem at the very end of the baroque park sitting on an artificial island.
The pleasure and hunting palace is more like a big mansion and is now home to an outstanding collection of early Meissen porcelain. It's the second most important collection of its kind in the world (right after the one in Dresden) and one of my personal highlights.
Even if you are not a big fan of porcelain, I'm sure you will enjoy the wonderful rooms and halls inside the petite palace.
The Old Palace Schleissheim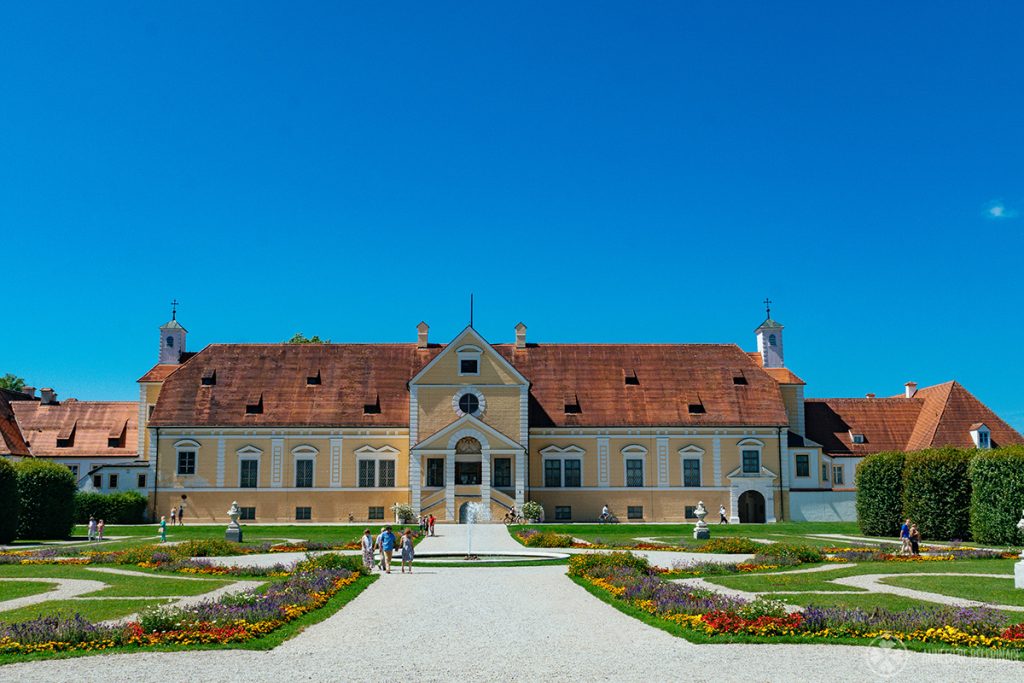 On the other side of the street, you get to see the Old Palace Schleissheim. It's actually quite an interesting place as Prince-Elector Wilhelm V. built it as a retirement seat. It was meant to be a quiet place for contemplation and prayer.
The little palace was heavily damaged during World War II and the reconstruction started as late as 1970 and the old interiors were only partially restored. Today, you find a very peculiar museum inside: Traditional religious festival decors from around the world called "Das Gottesjahr und seine Feste". Not everyone's cup of tea, but quite fascinating nonetheless.
How to get to Schleissheim Palace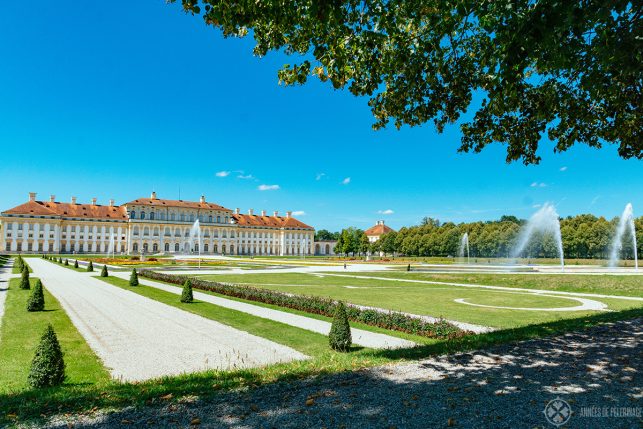 It's roughly 12 kilometers from Munich's city center to Schleissheim Palace and it only takes about 30 minutes to get there with public transport. You got two options:
Take suburban train S1 from the central station to Oberschleiheim and then either walk (1,000 meters) or take Bus 292
Take subways U6 to Garching-Hochbrück and then Bus 292 to Oberschleissheim Palace
In summer, you could possibly also rent bicycles to get there. It only takes about 40 minutes. There are bicycle lanes everywhere in Munich, so it's actually a nice idea if you want to see my hometown from a different perspective. I, at least, always take the bike.
Schleissheim Palace opening hours and ticket prices
April – September: 9 am – 6 pm
October – March: 10 am – 4 pm
Please note that the fountains only operate between April and September.
Ticket price: 8 Euro (6 Euro reduced price for students, etc)
If you only want to see the New Castle, then it's 4,50 Euros (3,50 reduced). Audio guides are available, but no regular tours.
So, this was my little Schleissheim Palace guide. Hope you enjoyed it and I was able to persuade you to visit! Feel free to ask your questions in the comments below.