Everything you need to know to plan your perfect Nymphenburg Palace tour and what you need to see in the park.
One of the most beautiful places to visit in Munich is definitely the Nymphenburg Palace. If you are looking for a nice getaway from the crowded old town then you should definitely consider visiting the baroque palace built by Agostino Barelli starting from 1664 (read my list of the top 50 things to do in Munich for more inspiration, though!).
Nymphenburg Palace ("Schloss Nymphenburg") and its famous Park have been the summer residence of the Bavarian Kings for almost 300 years. Even today, the head of the Wittelsbach family, Franz von Bayern, still lives in one of the wings of the imposing castle. It's one of two summer palaces they built – the other one is Schleissheim Palace in the North of Munich.
It is equally famous for the Nymphenburg porcelain that is still being produced here (there is actually a big showroom you should visit!). For me, it's actually the best castle you could visit in Munich. Anyways, here is what you need to know to visit Nymphenburg palace:
Note: I earn a small commission for purchases made through links in this article
Nymphenburg Palace Tour
To me, Nymphenburg is more about the surrounding parks than interior splendor, but it still pays off to do a Nymphenburg Palace tour. The "Steinerner Saal" (Stone hall) would be the main reason to do so.
The amazing frescos by Johann Baptist Zimmerman top the gigantic hall occupying more than three floors of the central ensemble. (Inside the UNESCO World Heritage site Church of Wies you will find another fresco by Zimmermann, read my guide here)
Then there is, of course, the birth room of King Ludwig II of Bavaria (the one who built Castle Neuschwanstein) and a whole host of other beautiful rooms. Most of them were remodeled by Maximillian II Emanuel in the style of the Régence, but you will probably not notice it at all.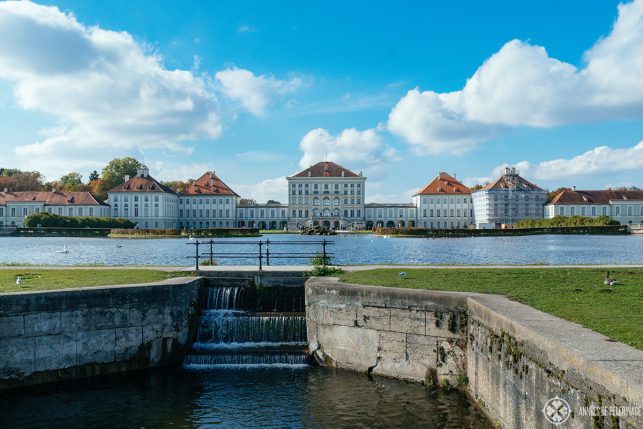 Despite the fact that Nymphenburg span length is longer than Versaille itself, you cannot visit it all. The tour is somewhat short is limited to the main building. But that doesn't mean you can't visit these parts of the palace at all, as there are a couple of museums located in the wings.
1. Martstallmuseum
You will find this museum in the historical riding stables in the southern wing and you will be able to see outstanding coaches, carriages, and sleighs. Seriously, it sounds boring, but some of these carriages are amazing they almost seem unreal. (here is the website)
2. Nymphenburg Porcelain Museum
If you love Nymphenburg china, then this one is a no-brainer. Probably the best collection in the world and a true must see focusing on the private collection of Albert Bäuml who had taken over the world famous manufactory in 1888. (website)
3. Museum Mensch und Natur
Kids will love this museum. It's full of extremely interactive exhibits around nature, technology, and life sciences. (website)
4. Erwin von Kreibig Museum
This museum is dedicated to a Munich painter, who illustrated world-famous art journals like the Simplicissimus, the Jugend, and the Eulenspiegel. It's a lovely museum but probably needs a local to appreciate it to the fullest.
You might also want to know that in Summer there is a classical concert inside Nymphenburg Palace almost every evening. Quite the stunning way to get more intimate with this special place. You can book tickets here.
Nymphenburg Palace Park
The 180 hectares landscape garden surrounding Nymphenburg Palace is the true highlight of the whole ensemble. You will need at least two hours to explore it all, but it is a time well spent!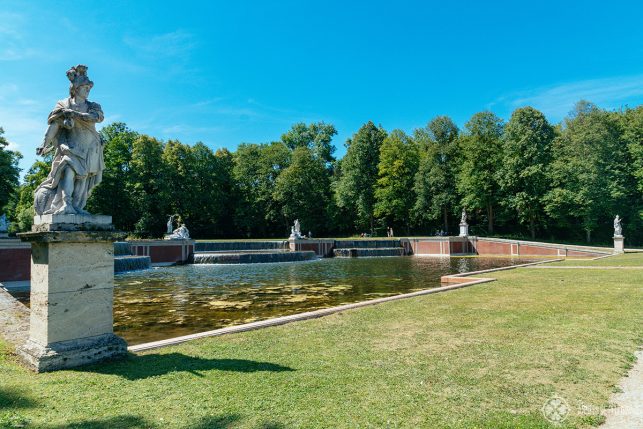 You should definitely walk all the way back to the grand cascade. In ancient times, the aristocracy used the waterways around Nymphenburg castle to stage impressive nautic battles or just to ride in a gondola to enjoy the fantastic scenery.
I don't know why they started to revive the custom, but you may hire an authentic Venetian gondola in summer. More information here (sorry, website in German)
But definitely make sure to explore the rest of the sprawling park as well. There are quite a couple of lovely little "castles" sprinkled in here an there. In summer, you can even go inside (you'll need a ticket), but most of them are also quite lovely to look at!
There is the Badenburg, which happens to be the first royal bathhouse ever to be built (for reference: also read my guide to the bathhouse of the tsars in St. Petersburg). Inside you will find a big plunge pool, which is quite luxurious and decorated with Dutch tiles.
Then you should definitely visit the enchanting little Pagodenburg, which is a "Maison de Plaisance". Every single little room is decorated with Chinese tapestries, tiles, and lacquerware – hence the name "pagoda castle". It's quite tiny but equally as lovely
You will also come across the little Amalienburg (Amalia's castle). The little hunting lodge was a present of the elector of Bavaria to his wife Amalia. The inside is pure silver – mirrors, stucco, carvings are all kept in the single precious metal!
Take special note of the one of its kind kitchen inside. You will see a little platform on the top o the castle. From here they hunted pheasants which were then prepared in the extremely representative kitchen below. Quite a unique glimpse into the life of the aristocracy.
My favorite part of the Nymphenburg Palace park is by far the temple of Apollo by the famous architect Leo von Klenze. On a sunny day, it's the perfect place to rest on its mighty steps and gaze at the tranquil landscape surrounding it.
The most hidden addition to Nymphenburg Park is the so-called Magdalenenklause (Maria Magdalena's inn). It's an artificial ruin hidden deep in the forests and was meant as a place for silent contemplation and to flee the pompous life at court. King Max Emanuel died before the little chapel was consecrated.
Nymphenburg Palace in Winter
Nymphenburg Palace is one of my favorite places to visit when it snows (just in case: check out my list of the 10 best things to do in Munich in winter). The whole park will transform into a true winter wonderland and it will be half as busy as in summer. You might bring some bread crumbs to feed the swans if you are traveling with kids.
If you are truly lucky, the lake and channel in front of the palace will freeze over and you got the chance to go ice skating or compete at bavarian curling here. Oh, and don't forget to read my guide to the best things to do in Munich in winter!
Nymphenburg Palace: How to get there
Nymphenburg Palace is located in the west of Munich and quite easy to reach with public transport, but maybe not as accessible as other highlights throughout Munich.
By far the easiest way to get to Nymphenburg palace is taking tram #17 from the central station towards Amalienburgstraße, which takes about 20 minutes.
As an alternative, you can also take the S-Bahn to Laim and then Bus 51 towards Moosach.
The closest subway station would be Rotkreuztplatz or Gern, but you will have to walk about 2 kilometers to get to the palace, so I wouldn't recommend it.
There is also a hop-on-hop-off Munich sightseeing bus tour which has a bus stop in front of Nymphenburg Palace. Buses leave about every 30 minutes on weekends and every 60 minutes between Monday and Friday. Full day tickets will be around 16 Euro. You can book it here.

Tip: If you plan to do some serious sightseeing in Munich getting a ticket for one of the hop-on-hop-off buses is probably the cheapest and fastest way to get anywhere.
A day ticket for public transport is (currently) a bit below 7 Euros. So, if you don't mind checking schedules and finding subway stations, this would be the budget alternative. You can check the fastest connection on more information here.
Nymphenburg Palace parking
There is a larger parking lot right in front of the palace, so you can also take the car to get to Nymphenburg. On weekends, the parking lot will be quite crowded, but there is another one close to the adjacent Botanical Garden (which usually is also quite busy), which is why I wouldn't recommend it.
Nymphenburg Palace: Opening hours & Admission fee
The Nymphenburg Palace park is free to enter for everyone throughout the year. Opening hours vary a bit depending on the seasons:
November until March: 6am – 6pm
Mai until September: 6 am – 9:30 pm
April and October: 6 am – 8 pm
You will only need a ticket if you want to go inside the palace itself or one of the adjacent museums.
Tickets for the palace are 6 Euro per adult
children under 18 get in for free.
You may also get a combined ticket für 11,50 Euros which will also cover the museums and the little castles around the park.
The Botanical Garden Munich
The park of Nymphenburg Palace is a great place to enjoy a lovely Sunday afternoon walk. I recommend you to reserve a little bit of extra time so you can also explore the adjacent Botanical Garden Munich. You will find the entrance to the garden on the East side of the Park (so to the left). Just follow the signs or ask a local.
During Spring and Summer, the garden will be overflowing with beautiful flower arrangements, while huge greenhouses whisk you away into whole new worlds in the colder days. Please be aware that portion of the Nymphenburg Park requires an entry fee. More information here.
Further reads:
So, this was my little guide to Nymphenburg Palace in Munich. Hope I was able to convince you to visit. Still got any questions? Comment below!