Everything you need to know to plan your perfect trip and see all the main tourist attractions in Bayreuth.
There are many wonderful places in Bavaria and quite a couple of UNESCO World Heritage sites. You might be tempted to stick to the capital (make sure to read my detailed Munich guide), but I urge you to check out Bayreuth as well. Why? Well, because it's a lovely way to escape the crowds and there are quite some amazing things to do in Bayreuth you might not be aware of!
For most of its long history, Bayreuth was an insignificant backwater town in Franconia (now Bavaria) not really worth mentioning. And it probably would have stayed that way for all time if not for one marriage. Wilhelmine of Prussia was married to the Margrave and solely started what is now known as Bayreuth Rococo in the middle of the 18th century.
As a princess of Prussia, this marriage was way below her station and so she did everything in her power to bring royal splendor to the hinterland. A new opera house, a new summer residence and a couple of pleasure palaces were all commissioned during her auspices. She and her husband also reformed the country.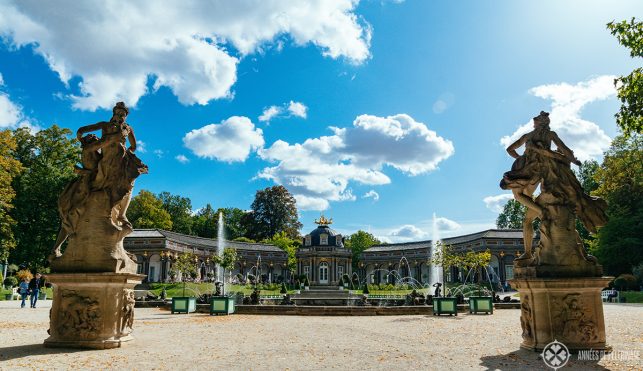 Today, 250 years after her death, you can still visit most of her legacy and it's probably the main reason you should visit Bayreuth. In essence, all of Bayreuth's tourist attractions can be attributed to her. Much later, famous composer Richard Wagner added to the fame of the city with the erection of the Festspielhaus where the annual Richard-Wagner-Festival is held.
In 2012, Bayreuth, made it on the international travel map when the UNESCO inscribed the Margravial Opera House as a World Heritage Site. As I am sure you don't want to miss this architectural gem, here is my little Bayreuth travel guide.
Note: If you are looking for other UNESCO World Heritage sites in Bavaria, read the following guides to Blaubeuren, Wieskirche, and Augsburg.
The best things to do in Bayreuth
All things considered, Bayreuth is quite the small city you can easily visit in a day. But that doesn't mean there aren't a lot of things to do in Bayreuth. It might be best described as an average Germany city with a couple of outstanding highlights sprinkled in between. Here's my list:
1. Margravial Opera House
Margravine Wilhelmine only had one daughter. Bayreuth's outstanding opera house was commissioned to celebrate her wedding in 1748. It took only two years to complete the Baroque ensemble which ended up being the biggest stage north of the alps. Giuseppe and Carlo Galli da Bibiena designed the marvelous wooden interior and they survived the ages virtually unscathed.
It's one of the sole remaining opera houses from that time in the world, and most certainly the most lavish one. Probably because it fell into disuse shortly after the margravine's death. The small town just couldn't support such a gigantic house, the musicians, nor the outrageously expensive productions.
It was only used for rare opera festivals and never had a resident troupe again. Which is really lucky, because almost all other opera houses from that time fell victim to fires – from the candles or (later) gaslamps needed to illuminate the stage.
Note: You can only visit as part of a guided tour (starts more or less every half hour) or buy tickets for one of the rare performances in summer.
2. The Eremitage
Margrave Friedrich III. was quite in love with his Wilhelmine, probably also because the very well educated princess did indeed help him with the day to day business of reforming a country. In 1735, the margrave made her a lavish gift: The Eremitage palace on the outskirts of Bayreuth.
Wilhelmine expanded the original pleasure palace and added even more fountains, a wonderful Temple of the Sun, and an orangery. Sadly, this part of the Eremitage was almost completely destroyed during World War II, so what you see today is a reconstruction for the most part.
The old palace, where once the court held fancy hermit games, survived the ages, though Wilhelmine also added a couple of rooms and changed the interiors drastically. As pictures are not allowed inside, I can only tell you that the Japanese cabinet is nothing short of unbelievably stunning.
The highlight of that old palace is certainly the interior grotto with its extremely fancy fountain. This was once the main entrance and the display was meant to purify the guests at the start of the games (besides being a testament to the riches and power of the margrave)
Note: Again, you can only visit the old palace on a guided tour (roughly once an hour).
3. The New Palace
The New Palace ("Neues Schloss") is another heritage Wilhelmine left in Bayreuth. When the old palace burned down in 1753 the couple went on a trip to Italia, while a new, much more representative palace was being built.
But at that time, Bayreuth was already deep into debt and really couldn't afford a more lavish palace. So a couple of old buildings were incorporated into the new design to save costs. The interiors, however, are as outstanding as you'd expect from a building (partially) designed by Wilhelmine. They are a prime example of the Bayreuther Rococo.
Probably the most amazing part of the castle was added after her death, however. Having no male heir, the margrave married again in 1759. His new wife, Margravine Sophie, didn't want to be surrounded by everything her predecessor left behind, so the Italian Building was constructed.
It's a set of very small and intimate rooms in pale pastel tones. Each and everyone is decorated with flowers, putti, and fantastic birds from floor to ceiling. It's truly the highlight of the whole palace and feels more like walking through a garden (which was probably precisely the intention).
Note: You can only visit the Italian building on a guided tour, but it's included in the entrance fee.
3. Richard Wagner Museum
After Margravine Wilhelmine's and Friedrich III.'s time, things got pretty quiet in Bayreuth. The insane debt the two of them piled up for their building projects prevented future generations from leaving their mark – until King Ludwig II of Bavaria decided to support the famous composer Richard Wagner, and a new opera house was built in the city.
Wagner spent the last years of his life in Bayreuth and was even buried here. These days, you will find a wonderful museum inside his former home: The Villa Wahnfried. It's quite a unique place – especially if you are a big opera fan. Find out more here.
5. Stadtkirche
A trip to Bayreuth wouldn't be complete without visiting the largest church in the city. The Stadtkirche ("city church") dates back to 1194 AD, though it was renovated starting from 1611 after a fire devasted the church and much of the old town 6 years before.
The church is, like most protestant churches, rather austere inside, though the main altar from 1615 is quite lovely. Here you will also find the burial vault of the Margraves of Bayreuth.
6. Old Castle
Bayreuth's old castle ("Alte Schloss") burned down almost completely in 1753. While it has been partially reconstructed, it never served as a seat of power again. Instead, various governmental departments used the imposing building in the center of the city in the last 200 years.
There's not much to see inside, but you might want to visit the adjacent Schlosskirche ("castle church"). Here, right underneath the organ, you'll find the tomb of Margravine Wilhelmine and her husband Friedrich III.
7. Sanspareil
Sanspareil (french for 'unique') is quite indeed a unique landscape park only a couple of kilometers outside of Bayreuth. Again it was Margravine Wilhelmine who oversaw the construction of the rock garden. Throughout its expanse, you'll find the most peculiar rock formations and caves.
Once, tiny little follies decorated the landscape, where the aristocracy escaped the rigors of the court for a short time. You'll also find a couple of tiny pleasure palaces here and there, like the famous "Morgenländischer Bau" ("oriental building").
8. Schloss Fantaisie
Schloss Fantaisie ("fantaisy castle") is the last of the palaces Wilhelmine and her husband started. After their journey to Italy, they wanted to savor their impressions in a more permanent way. The result was this palace.
What you see today has little in common with the original building as it was altered quite a bit by the later owners. Today, it is home to the garden design museum. Which is surprisingly lovely (here's the link to the official website). It's probably not one of the first things to do in Bayreuth, but if you got a little spare time, I'm sure you will enjoy it!
9. Festspielhaus
I'm quite hesitant to put the second opera house on this list of things to do in Bayreuth. The Festspielhaus might be world-renowned for its yearly Wagner festival. But it's rather hard to get tickets and it's only from the end of July to the end of August. Still, if you are interested, you'll find more information here.
Note: There are no regular performances apart from the yearly festival
10. The new town hall
Bayreuth's new town hall is quite ugly and you might wonder why I even mention it. Well, in summer, you can visit the rooftop terrace and enjoy a lovely view of Bayreuth's old town. It's quite nice, and as it is free and probably on your way back to the central station, quite worth the detour (check out the opening hours here).
If you like to see an authentic medieval town hall, then you'd have to make the trip to nearby Regensburg, which has one of the most spectacular ones. Read my Regensburg guide here.
Other things to do in Bayreuth
I want to be quite honest with you. My list of the best places to visit in Bayreuth is quite complete. There are a couple of smaller museums you might want to visit. Like the Franz Listz museum, the Jean-Paul-Museum, or the Bayreuth Art Museum. While they are certainly nice, I'm not sure how much international tourists will appreciate those small museums.
If you are really looking for another spectacular tourist attraction, then you might want to check out the Devil's Cave in Pottenstein. It's roughly 30 minutes by car and quite famous.
Where to stay in Bayreuth
Note: I earn a small commission for purchases made through links in this article.
You can easily visit Bayreuth on a day trip from Nuremberg, Munich or Bamberg. But you might as well stay one night, as you will probably want to stay a night in the middle of Germany coming down from Berlin or driving up from Munich.
Bayreuth is a small city and sees, despite its outstanding UNESCO World Heritage site, not that many tourists. You can probably guess what I'll write next: No, there aren't all that many hotels to choose from. Here is my pick.
The most charming hotel in town is certainly the Hotel Goldener Anker. Expect a historic hotel in the middle of the city center with enchanting period furniture and quite a history (it opened up in 1753). Book it here.
A cheaper and more modern alternative would be the Hotel Goldener Hirsch (book it here). It is, all things considered, a solid family-run German hotel. Nothing outstanding, mind you, but certainly a good choice for frugal travelers.
Right next to the central station is the last hotel I can recommend: The Hotel Bayerischer Hof (book it here). It is sort of in between the other two hotels: Modern, but a bit chicer.
How to visit Bayreuth on a day trip
Germany has an excellent railway system. You can basically reach every major town by train, and Bayreuth is no exception. If you take the highspeed train, then it will take you 2 hours from Munich to Bayreuth. If you start out early, then a day trip is easily doable. I live in Munich, and that's actually what I do all the time (here's a list of my 20 favorite day trips from Munich, by the way)
As an alternative, you could also visit Bayreuth on a day trip from Nuremberg (make sure to read my Nuremberg guide!). Personally, I love Franconia's capital, so it should be part of your Germany itinerary anyway. Only takes a bit less than 1 hour to get from Nuremberg to Bayreuth by train.
Last, but certainly not least, Bamberg is also quite famous among tourists (read my guide here). Again, there are regular trains from Bamberg to Bayreuth (like once per hour) and you could easily decide to stay a night longer in either town and explore the other on a comfortable day trip. It takes roughly 75 minutes from Bamberg to Bayreuth.
You can check all the connections on the official website of the Germany Railway.
So, this was my list of the best things to do in Bayreuth. Hope you enjoyed my little travel guide and I was able to convince you to visit. You still got questions? Make sure to ask them in the comments below!