A detailed review of the Titilaka lodge. A picture-perfect luxury hotel in Puno, Lake Titicaca.
I'm very excited to finally write this review. I stayed at Titilaka Lodge near Puno in May and ever since it's been itching in my fingers to review this truly outstanding luxury hotel. Everything about this hotel is just so picture-perfect: the setting, the luxury experience, the food (Relais & Chateaux, hello!!!) and of course the rooms themselves.
And of course, it's the perfect base to explore the area around Puno and Lake Titikaka, which is very high on my list of the 20 best things to do in Peru for a reason!
Note: I get commissions for purchases made through links in this post. I had no association with Titilaka Lodge whatsoever when writing this review. My opinions are my own, as was the money that paid for my stays.
It almost feels like the Titilaka lodge was built to be put on Instagram. The pristine blue sky above Lake Titicaca certainly helps, but of course, the hotel also prides itself on a very modern and clean design. Exactly the reason I ranked it among the top 5 luxury hotels in Peru.
______________
Wondering what to pack for Peru? Check out my detailed Peru packing list
The location
The Titilaka Lodge is located about 1 hours' drive away from Puno, right at the very tip of a tiny peninsula – far enough to escape the stink and the smell of the city, close enough to enjoy the highlights of the area.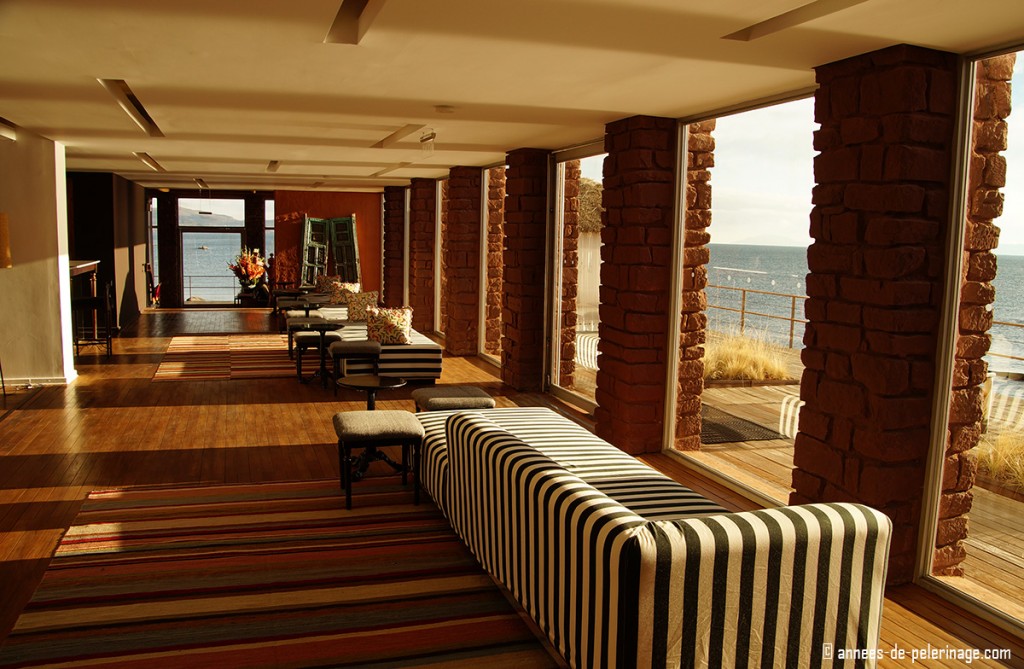 Everything about the Titilaka lodge seems to urge you to relax, to forget the stress of your everyday life back home. Of course, Lake Titicaca is located some 3.810 meters above sea level. So altitude sickness is a problem the luxury hotel naturally counters with extra oxygen available in your room on-demand (I didn't need it).
On the other hand, being that close to space casts the whole hotel in this supernatural light that makes you think all these pictures went through Photoshop a few times too often. I swear by everything that is holy to me that they are basically unedited.
The high altitude and the secluded spot has another amazing advantage. At night there is literally no ambient light in this area. So for star gazing, you actually don't even need a telescope. No joking! You can just look into the sky, close your eyes a couple of seconds to gain your night vision, and when you open them again it feels like you were looking out of the windows of the ISS space station.
Note: If you are wondering what to do after Puno, then check out this post about the best things to do in Arequipa. It's only a 5 hour's ride to get there.
The luxury lodge experience
I guess you might be wondering why I am constantly talking about a lodge when I refer to Titilaka hotel. To be quite precise Titilaka is not a normal luxury hotel. You can only book full board and excursions will be included in your room fare. There is actually no pool and no spa (though you can order massage service in your room!).
But the hotel owns a couple of private boats and works together with very knowledgeable local guides, that really help you experience the whole area around Lake Titicaca in the most luxurious way.
They focus on sustainability (always a good thing) and try to really provide you with authentic experiences. But other than that Titilaka really boils down to experience. It is a hotel for people who don't want to miss out on the culture and landscape and still want to do it in style.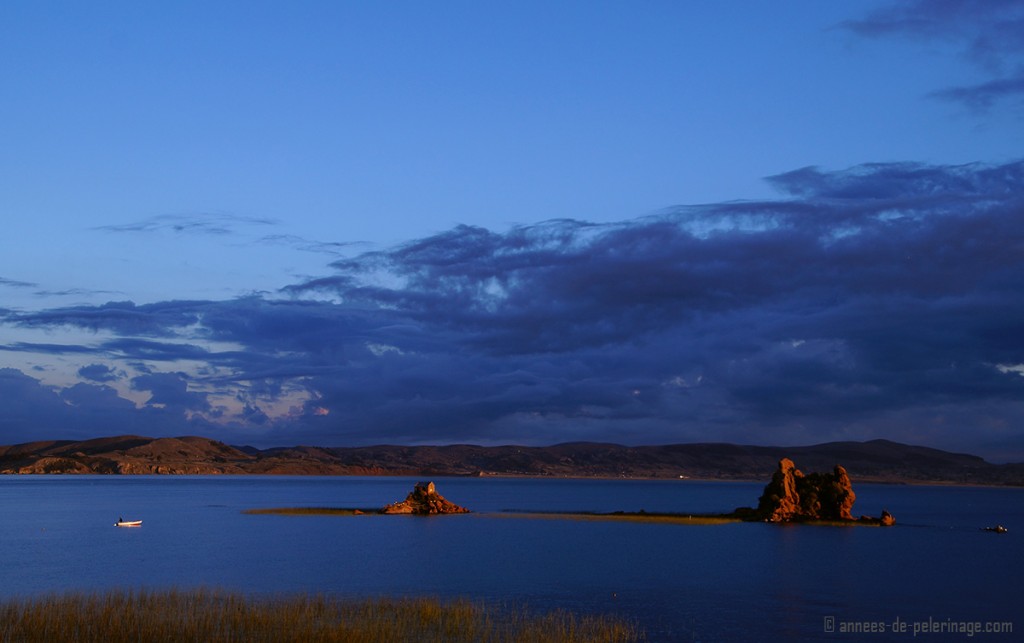 So let me tell you what that means exactly. While most tourists are shipped to the big reed islands of the Uros (a must-see if you are in the area), Titilaka lodge contracted a very small floating Islands exclusively where you can still experience the real deal – in solitude and without 50 other tourists around.
Here are some the things I experienced together with the guides of Titilaka lodge (links when I blogged about it):
The absolutely amazing floating reed islands of the Uros
Star-gazing at night (sounds boring but was actually the most spectacular thing)
Visiting the weaving communities of the Aymara people
And a couple of other smaller excursions
Other excursions can be arranged. Though it's not my cup of tea, they do offer a lot of outdoor activities (biking, hiking, kayaking, etc.).
Now a review wouldn't be a review, even if it's a luxury hotel, without mentioning a little bit of criticism. Tiahuanaco is a beautiful World Heritage Site just across the border to Bolivia. When asked, the staff of the Titilaka lodge quoted a price of 500 USD per person to visit it.
This hefty (additional!!) price was quoted because they would have to contract another tour operator since crossing the border to Bolivia (even tho it's just a couple of kilometers) is not that easy. That may be as it is, but from a world-class luxury hotel, I do expect the little extra nobody else can accomplish. So generally speaking, the lodge really offers a lot of tours, but the area has so much more to offer and they really should develop those possibilities further.
Review of the rooms at Titilaka lodge
Now let's go back to the positive stuff. The rooms at Titilaka lodge are quite a pleasant surprise. The hotel only has 18 rooms all in all – all offering a wonderful view over Lake Titicaca. In some, it is even possible to see sunset and dawn.
For reference, I had the so-called Corner Room – which is both the biggest room and the one with the most spectacular view (the picture above was taken right out of the window)
Every room features very lush beds and a very pleasing interior design that quotes some local vibes through selected accessories. Daily fresh flowers add that little extra luxury you sure won't mind. (There are some more pictures here)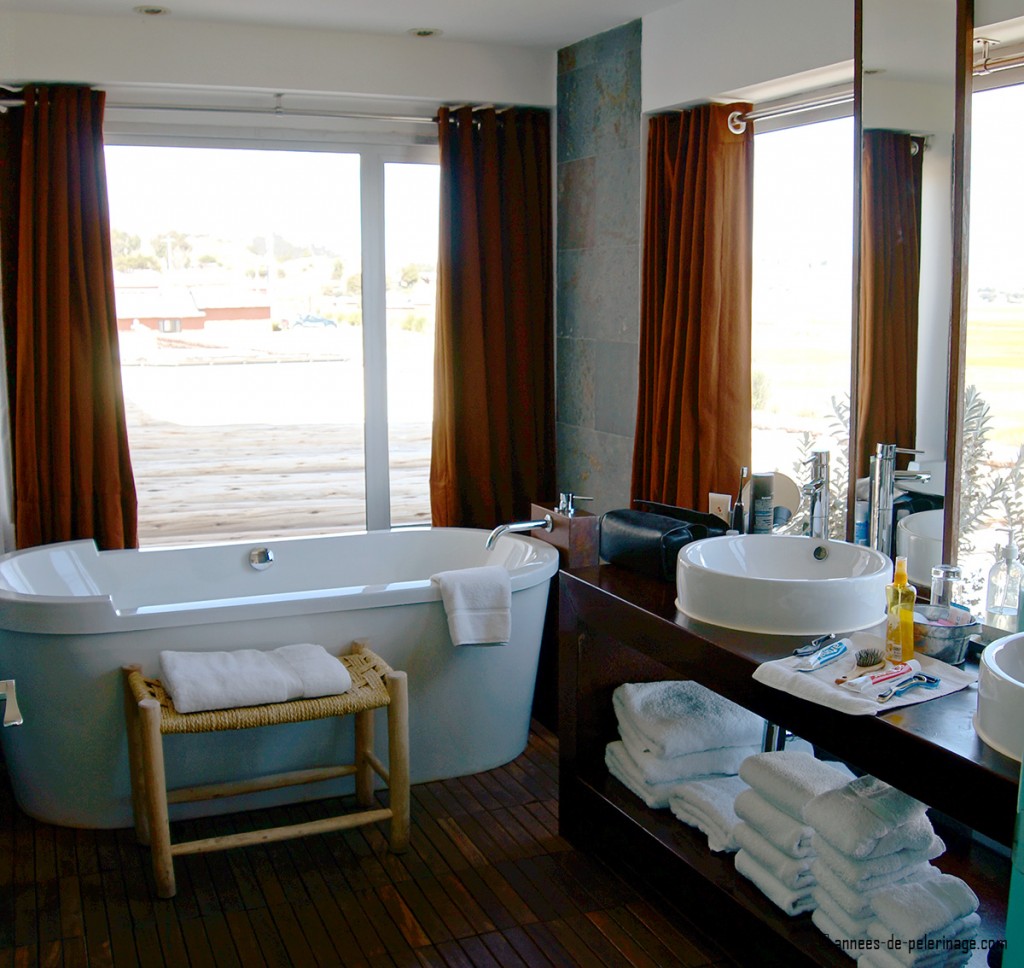 As for bathrooms, they were actually the best I had in Peru. Perfect international luxury standard with a wonderful view over Lake Titicaca. There was a lavish hot tub, two sinks, a separate shower, and a separate toilet. God did I love soaking away the sores of the day in that tub!
Let's talk food
I already mentioned that the Titilaka lodge is part of Relais & Chateaux. That means not only luxury but above all excellent food. On a full board basis, you will get a three-course menu for lunch and a 5-course dinner. But things go further than that: on your excursions, they will also provide you with snacks and the bar menu is included as well – so it really is no place to lose weight.
The food is very good for Peruvian standards, which in all honesty isn't saying too much. Considering they must have horrible problems with securing non-locally produced food (secluded as Lake Titicaca in general is), they are doing a good job, thus my favorable review. Please don't expect Michelin-star quality.
The only thing I could really criticize about Titilaka lodge is breakfast. Again they are doing a marvelous job at presenting homemade bread, locally grown basics and a decent egg menu. In a true luxury hotel, I'd expect a bit more variety. That being said, breakfast is okay and to be quite fair I really felt close to bursting after the second day so I had little more than some fruit for breakfast.
My summary of the Titilaka luxury lodge
The Titilaka Lodge really is an Instagram dream come true. But it also offers solid luxury in a place of the world, where luxury normally doesn't exist. Getting there, however, is not too easy, but the hotel offers complimentary shuttle buses. Above all Titilaka is located in the most beautiful corner of the world with a stunning list of outstanding activities.
Personally, I believe that they do need to develop the project a bit further in terms of tour variety. Spa facilities (how about a jacuzzi with lake Titicaca view!) would greatly add to the luxury experience as would a professional telescope. If you visit Lake Titicaca then the Titilaka Lodge certainly is the best hotel you can possibly choose in the area.
I would even go as far as saying that it certainly ranks among the top three hotels in Peru as a whole. That says a lot about the generally low standard in Peru but also a lot about the outstanding efforts the Titilaka lodge puts into providing you with the international luxury standard. Final verdict: Do visit!
The true beauty of the hotel: Titilaka is actually available through booking.com (very rare for top luxury hotels). So with a bit of luck, you can actually score a nice discount!
Hope you liked my review about Titilaka Lodge. Would you visit this beautiful Lake Titicaca luxury hotel? Or is it not your cup of tea. Tell me in the comments below!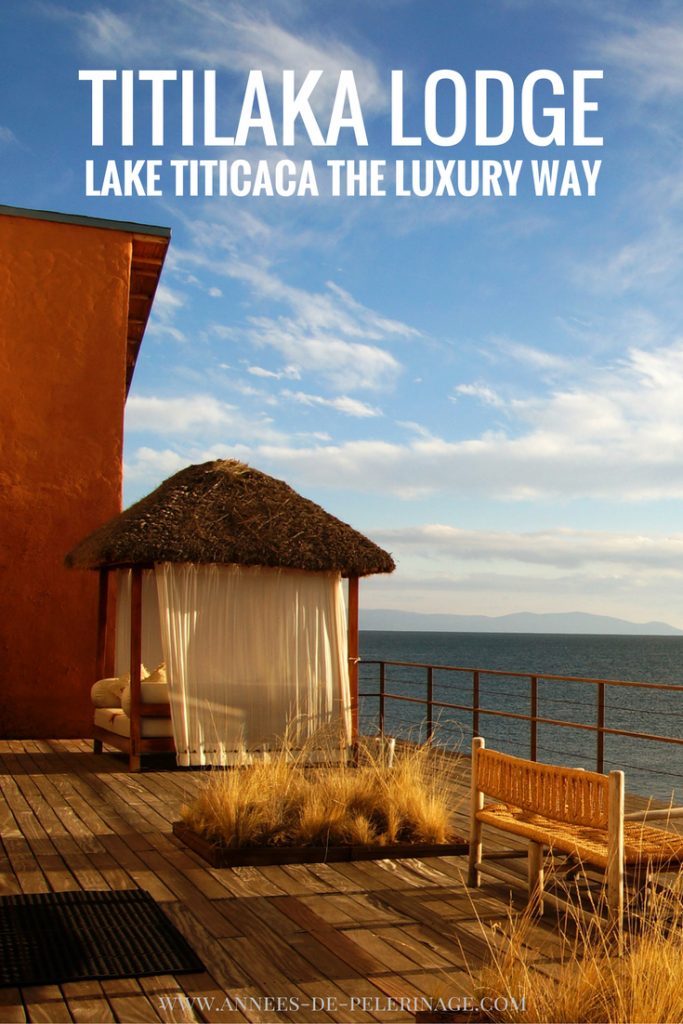 Disclaimer: I had no association with Titilaka Lodge whatsoever when writing this review. My opinions are my own, and so was the money that paid for the stay. All in all, I stayed 4 nights at this luxury hotel in their biggest suite.