The best way to spend two weeks in Sri Lanka, all the tourist highlights you should see, and a guideline to prepare your vacations.
Are you wondering what to see in two weeks in Sri Lanka? Are you having trouble with putting together a Sri Lanka itinerary that doesn't feel too rushed? Are you unsure about the must-see places, where to travel and what to skip?
Then you came to the right place!
I'm going to share my personal Sri Lanka itinerary with you. Hours upon hours of thoughtful planning and research went into organizing my trip. As a result, my two weeks in Sri Lanka have been absolutely perfect and I covered absolutely everything on my list of the 20 best places in Sri Lanka.
Sri Lanka (officially the Democratic Socialist Republic of Sri Lanka, formerly known as Ceylon) is a magical place loaded with history, blond beaches, teeming wildlife and majestic landscapes. There is so much to see in the small country that at times 14 days seems barely enough to scrape at the top. It is also very safe (read my guide).
That's why I published this itinerary full of inspiration so you can put together your own travel plan.
So, let's dive right into it, shall we?
Note: I get commissions for purchases made through hotel links in this post.
Day 1: Colombo
Sri Lanka's capital is often overlooked. Unrightfully so. The biggest city on the island has quite a lot of lovely attractions (check out the Jami Ul-Alfar Mosque, the Ganaramaya Temple, Galle Face Green or the National Museum of Colombo).
If you have never visited an Asian city before, you can easily spend a day or two here. Personally speaking (and I know it sounds a bit trite), it really didn't feel like the true highlight tp me, so I didn't leave much room for seeing the city.
Decide for yourself and please look twice. Just because Mr. Seen-it-all (<- that would be me) isn't inspired by Colombo, doesn't mean it won't strike a tune for you! The whole west coast does have its charm as well, and you shouldn't think of it just as a place where you'll find the international airport.
Day 2: Dambulla & Minneriya National Park
No matter how much time you reserve for Colombo, your second stop should be the city of Dambulla. Dambulla is the city at the heart of the so-called cultural triangle where you'll find UNESCO World Heritage sites galore!
You could also drive down to Galle and do the South coast first, but I rather like to have the relaxing beach at the end. Another option would be stopping a day at the Pinnawala Elephant Orphanage, but obviously, not all tourists are comfortable with visiting such a zoo.
That's why I recommend you to head straight to Dambulla and hit the Minneriya National Park in the afternoon. Here you can see elephants still roaming freely, which I feel is the best way to observe wildlife. Please check out my ultimate Sri Lanka Safari guide for further information.
My hotel recommendation: Sigiriya Water Gardens (I stayed 2 nights)
Day 3: Sigiriya + Pidurangala Rock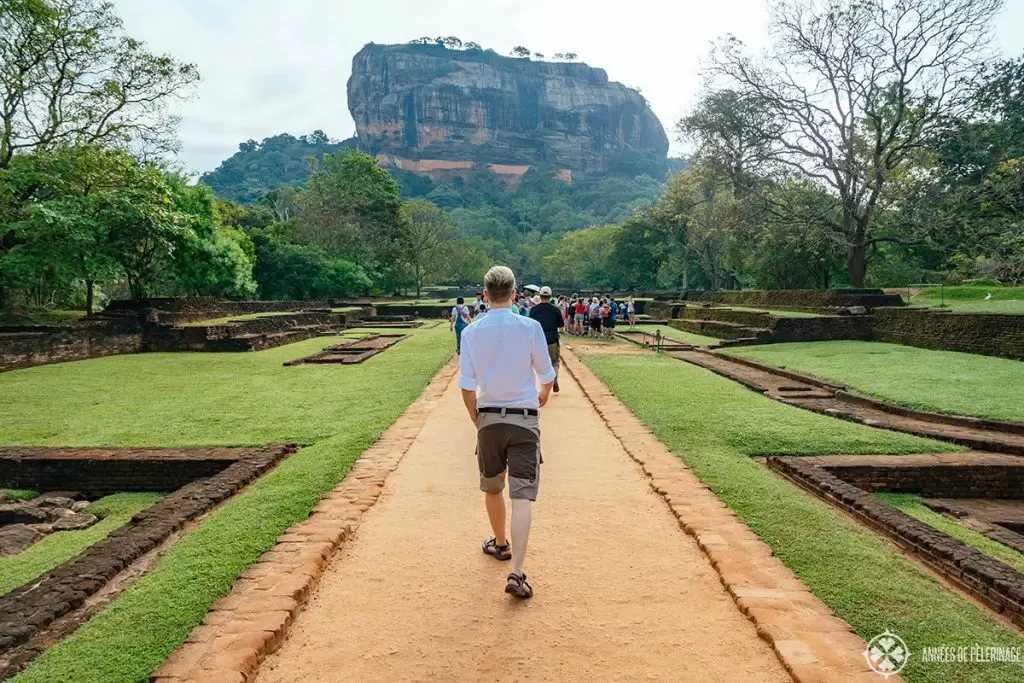 On the second day in Dambulla, it's time for the most striking UNESCO World Heritage site in Sri Lanka: Sigiriya or the Lion's Rock. The site was once the palace of king Kasyapa (477-495 CE) and was later turned into a Buddhist monastery. Read my Sigiriya travel guide here.
While it pays off the pay the rather hefty entry price to Sigiriya (30$), you will have the best view from the adjacent Pidurangala rock for free. I wouldn't skip the Lion's Rock itself, as there is more to the UNESCO World Heritage site than just a pretty picture. There is a temple in one of the caves (with awe-inspiring murals) and a lot of ancient remains to be seen.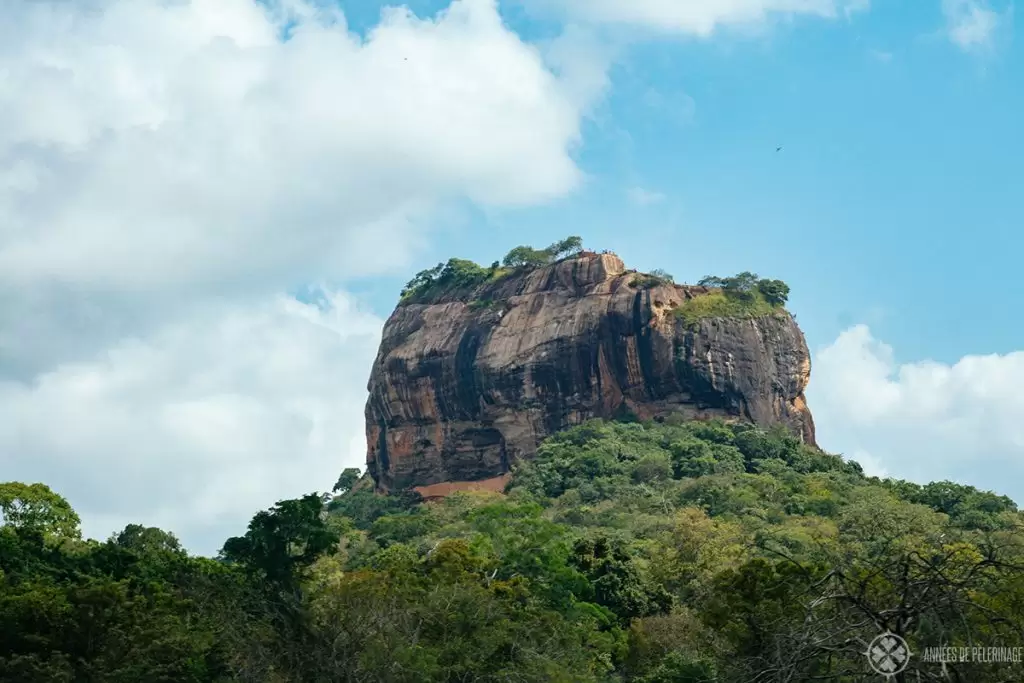 Still, do consider to view the site from a different angle. Pidurangala Rock is a good choice that involves another 3 hour's hike. If you follow my advice and stay at the Sigiriya Water Gardens hotels, you will have a perfect view of the Lion Rock right from your breakfast table (or private pool), so you can skip the second hike.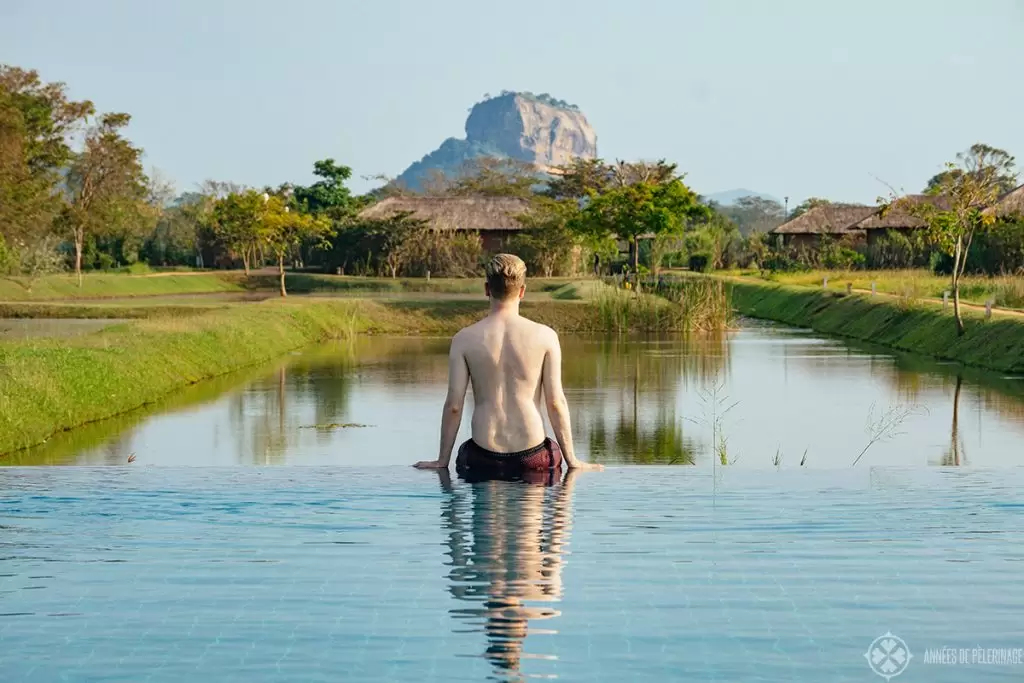 Note: To escape the crowds and the heat you should either go there first thing in the morning (meaning 6 am) or late in the afternoon to enjoy the sunset. For taking pictures, the light will be better in the afternoon. After 8 am you can expect massives queues.
Day 3: Polonnaruwa
Polonnaruwa is another UNESCO World Heritage site in Sri Lanka you cannot skip. The ancient city has once been the capital of Sri Lanka in the 10th century and is a sprawling complex of fascinating ruins and temples.
You will probably need almost a day to explore it all, though you could probably also do Sigiriya early in the morning and then move onwards to Polannaruwa if you are fine with not seeing it all. I advise you to get a guide or a knowledgable driver because the city is massive.
Note: You will need a car or rent a bike at the entrance to explore the city.
Day 4:
Anuradhapura (optional)

& Dambulla Cave temple
If you are a true history buff, then you could also explore Anuradhapura on a day trip from Dambulla. This UNESCO World Heritage site was once the center of Theravada Buddhism and counts amongst the oldest continuously inhabited cities in the world.
Now, I want to be honest with you: Most people I know (except for myself) probably won't feel comfortable with visiting three historic highlights in a row, so you could also add one extra day at the beach (see below) to your Sri Lanka itinerary. Still, it felt wrong to not mention Anuradhapura!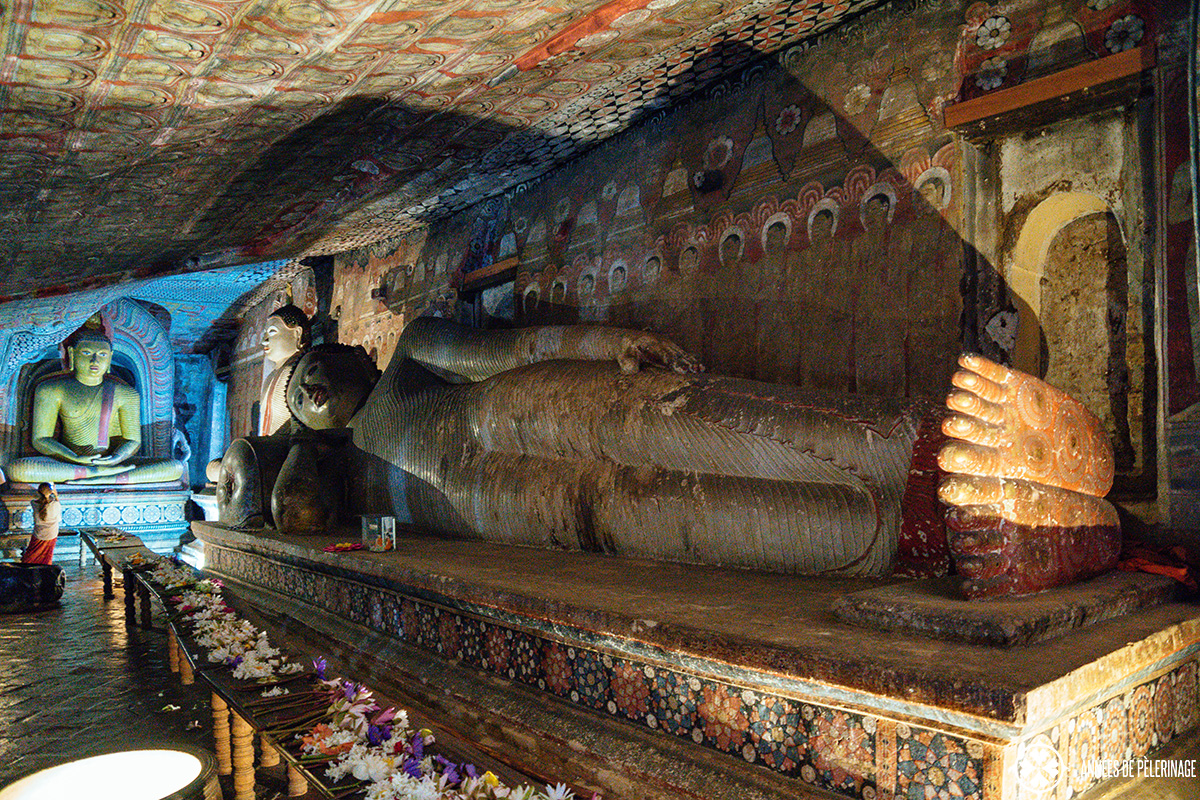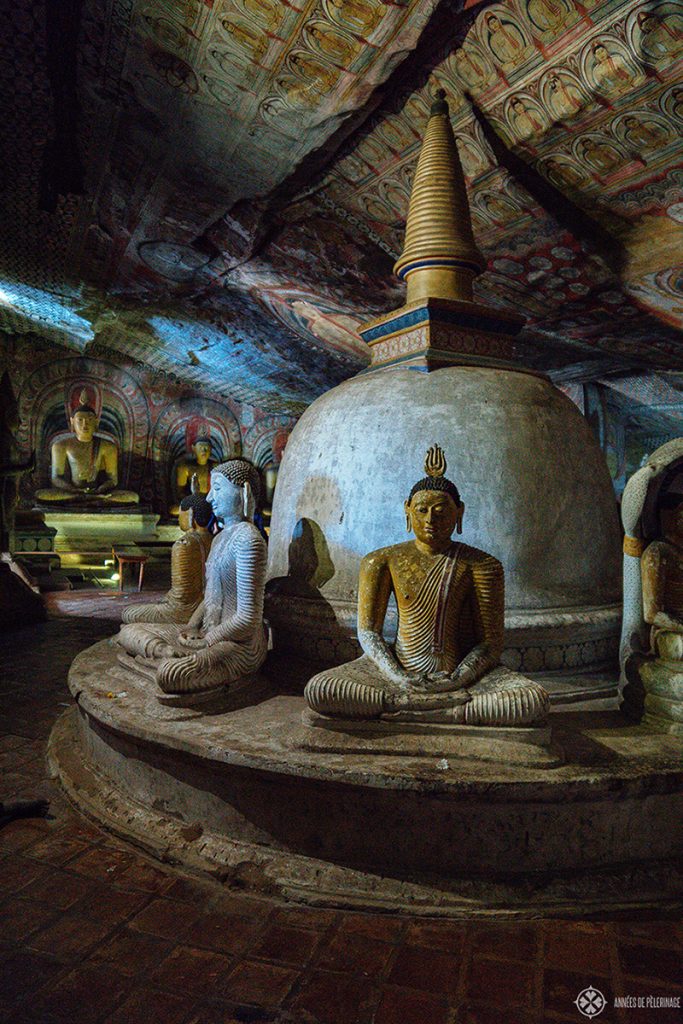 On your way out of Kandy, you should absolutely make sure to visit the Dambulla Cave temple. It's probably the most visited temple (by tourists) in Sri Lanka and I found it to be quite inspiring. The UNESCO was of the same opinion and declared it a World Heritage site in 1991.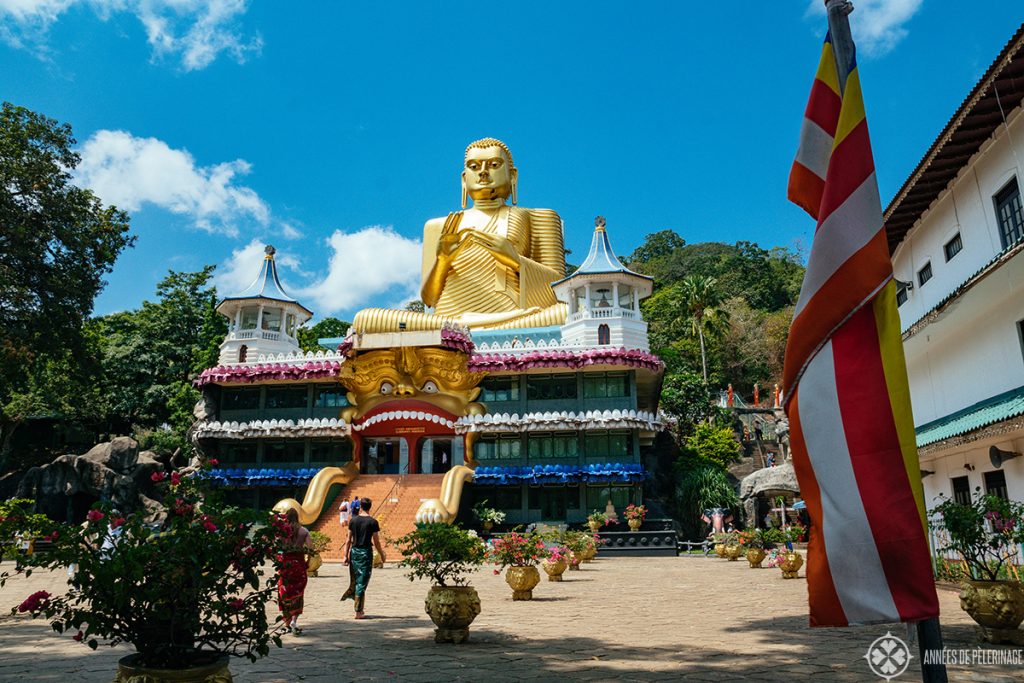 Note: Save some time to visit the gigantic Golden Buddha statue at the foot of the mountain as well.
Day 5: Kandy
Kandy is famous for the Temple of the Tooth where a relic of the tooth of Buddha is said to be enshrined. It is the most important pilgrimage site in Sri Lanka. There are two services each day, with locals (and tourists) thronging the halls to get a glimpse of the gold-covered sacred tooth relic.
The tooth of Buddha (or rather the golden casket that contains it) is only on display during these times (5.30 am – 7.00 am or 6.30pm – 8.00 pm). If you just want to tour the fascinating temple you better avoid these hours.
You really should also make time to tour the striking Royal Botanical Gardens in Kandy. Actually, I loved this part even more than the Temple of the Tooth. The gardens are considerably large and you will probably need 2 hours if you don't want to rush it.
In the evening, you can also attend a traditional dance show in Kandy, where most tourist groups eventually end up (conveniently timed half an hour before the evening service at the Temple of the Tooth). The show is made for tourists and provides you with a rough sketch of various dancing traditions in Sri Lanka.
Personally speaking, I hate such tourists shows, but I'm aware it's a very convenient way to get in touch with otherwise hard to experience aspects of a culture. Instead, visit in August, when the Kandy Esala Perahera festival takes place!
My hotel recommendation: Sanatani Resort & Spa
Day 6: Knuckles Forest Reserve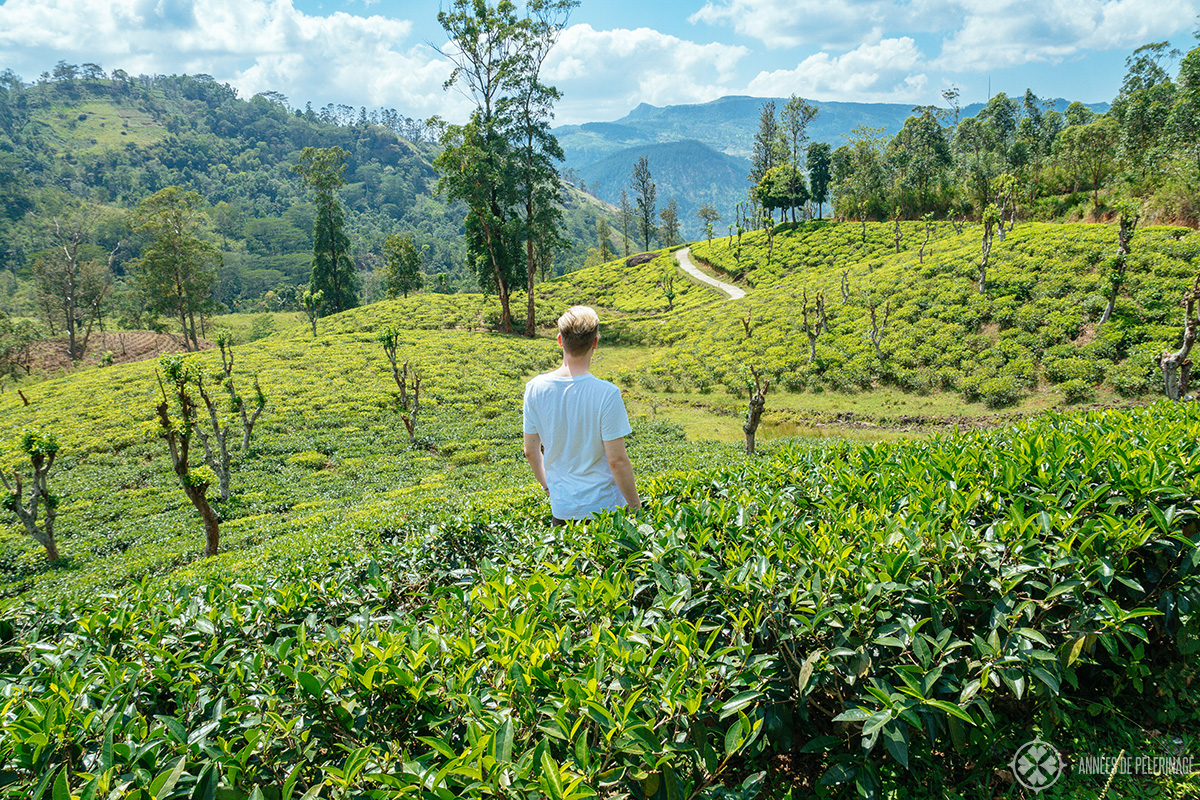 After all that culture, I'm sure you will be longing for some nature. And here I'd like to point you towards another UNESCO World Heritage site: The Knuckles Conservation Forest (Part of the Central Highlands of Sri Lanka). Here you will find an exceptional number of endemic species – both flora and fauna.
Take a knowledgeable guide and go on a hike – both the views and what you'll see amongst the dense vegetation will make it worth your time. The best part: Unlike many other national parks around Sri Lanka, Knuckles is still a bit off the radar, so you'll have some quiet time to contemplate the beauty of nature!
Knuckles is also full of secret little tea plantations and temples so much prettier than anything you will see further south. For some reason, most tourists believe Ella is the place to experience that side of Sri Lanka.
As an alternative, you can also do Horton Plains National Park and Little Adam's Peak, which is a bit more popular. In this case, you can't stay in Kandy, though.
Day 7: Ella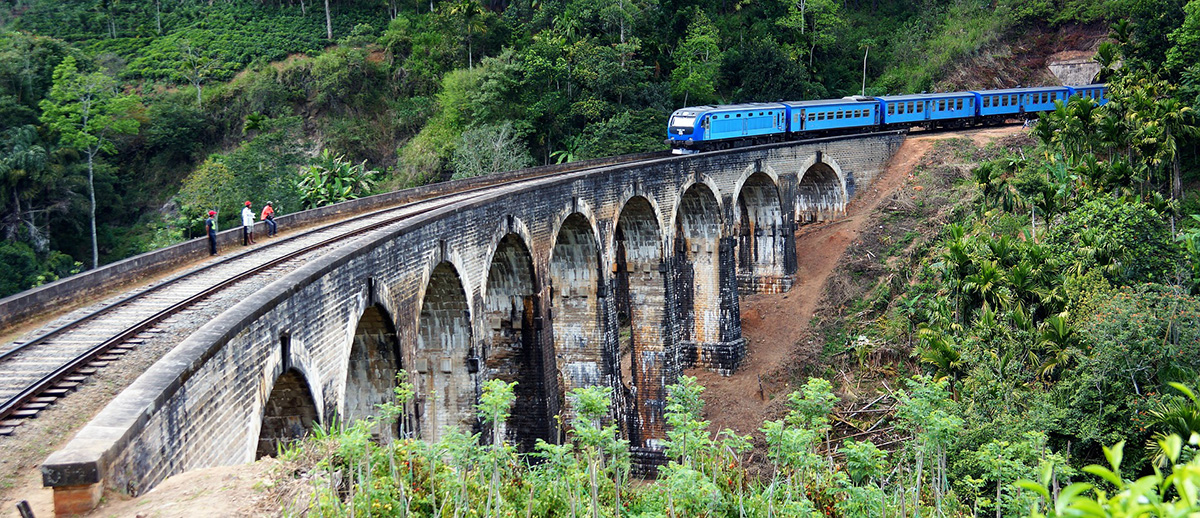 From Kandy, you will travel onwards to Ella. This part of Sri Lanka is famous for its tea plantation (which you should definitely visit) and for its winding train tracks. In fact, you'll see plenty of pictures of young girls hanging out of a train on Instagram and beyond.
The train from Kandy to Ella is said to be one of the most beautiful train rides in the world (a name coined by uninformed social media influencer, rather than train fans ;-)). It is also hm..quite the touristy affair, especially when it comes to the infamous Nine Arch bridge. Nuwara Eliya is another small town quite popular among tourists.
Personally speaking, I decided to SKIP this part of Sri Lanka, but I know that many tourists are specifically coming to the country for the train ride. Instead, spend some time in Knuckles. The train ride really isn't that special (compared to some of the scenic roads around Knuckles), but if you never took a train in South East Asia, it will still be worth your time.
Day 8: Yala or Udawalawe National Park
Sri Lanka may be (considerably) small, but it is home to quite a lot of National Parks. Most famous is probably Yala National Park, where you'll have a high (in fact the highest chance on earth) to see a leopard.
Many feel the park is a bit too popular and recommend the adjacent Udawalawe National Park, as you won't be traveling in huge jeep convoys through the park (which often happens in Yala in the high season). Both are lovely places and you can decide for yourself which to pick (or pick both).
I'd like to stress, that you will not be able to see Leopards in Udawalawe and the experience in Yala depends a lot on the hotel/tour you pick. If you just do one morning tour through the National park, you will have zero chance of seeing a Leopard (best observed in the evening, they are nocturnal after all). Instead, you will only stick to the main roads of the park, where all the other inexperienced (or non-caring) guides go every day. Yala offers also a more beautiful landscape compared to Udawalawe.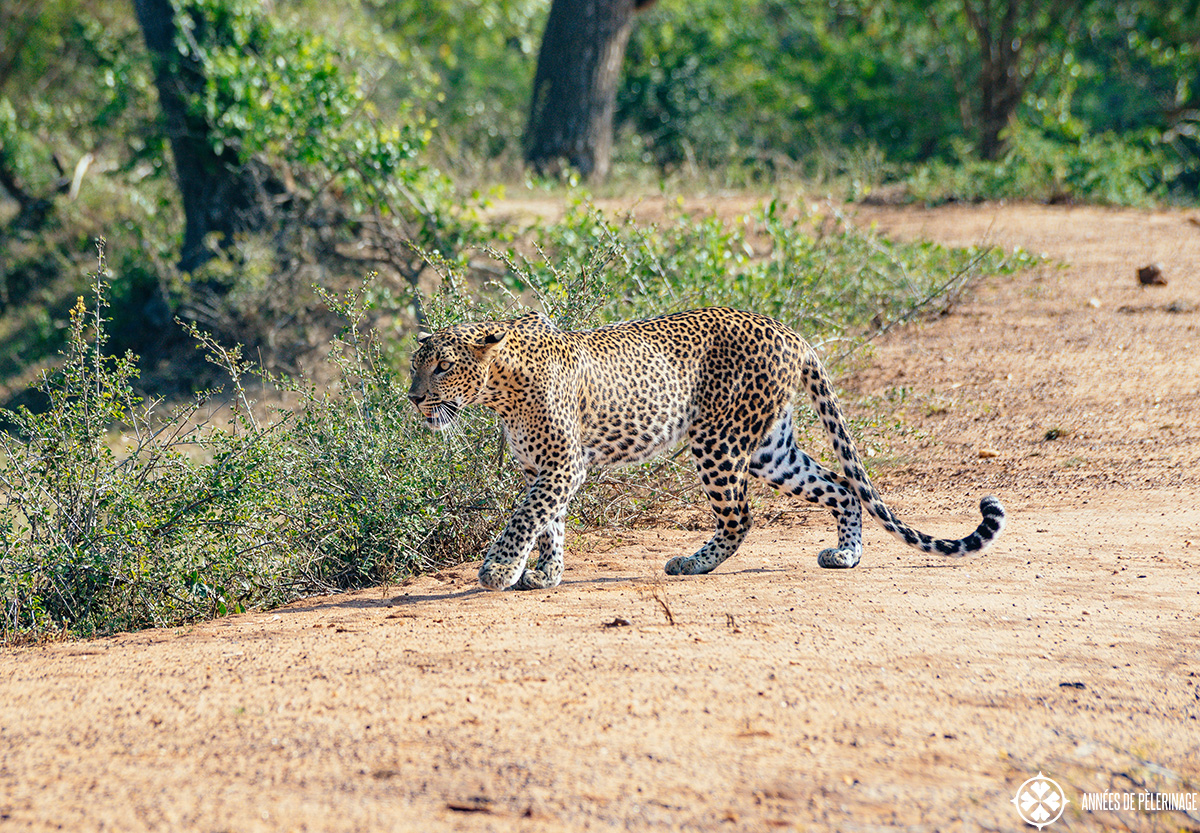 I saw a leopard twice, but I also went on 5 safaris in Yala alone. Please be aware you are not visiting a zoo and observing wildlife in its natural habitat is mostly about patience. I found Yala to be everything it promised and more, but if I only did one tour I probably would have come home very disappointed. If you can, go for an evening tour, the last hours of the sunset are where most of the wildlife comes out.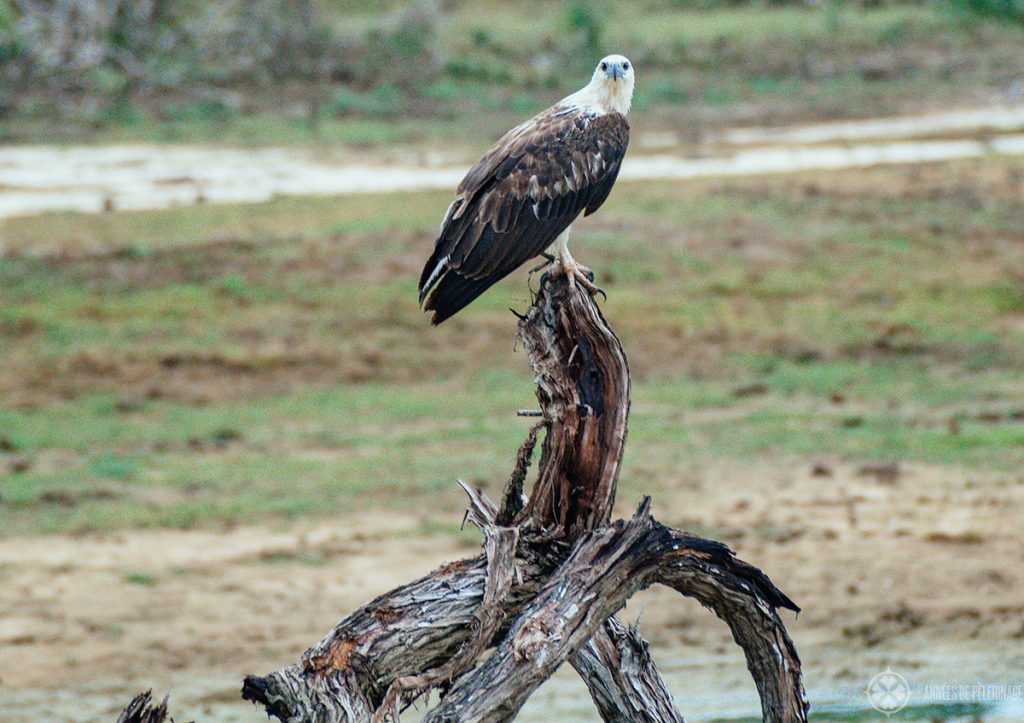 Tip: If you don't care so much about the big mammals and would rather observe birds, the adjacent Bundala National park will be a better option for you. It is a very important wintering ground for tons of migratory waterbirds and harbors over 197 species of birds. I loved it and chances are high you are the only jeep in the whole national park.
My hotel recommendation: Chena Huts by Uga Escapes (stayed 2 nights)
The price is insane, but safaris and everything is included. Unlike the other hotels, they got their own guides, drivers and jeeps, which is important beyond belief if you want to spot a leopard.
Day 9-12: Tangalle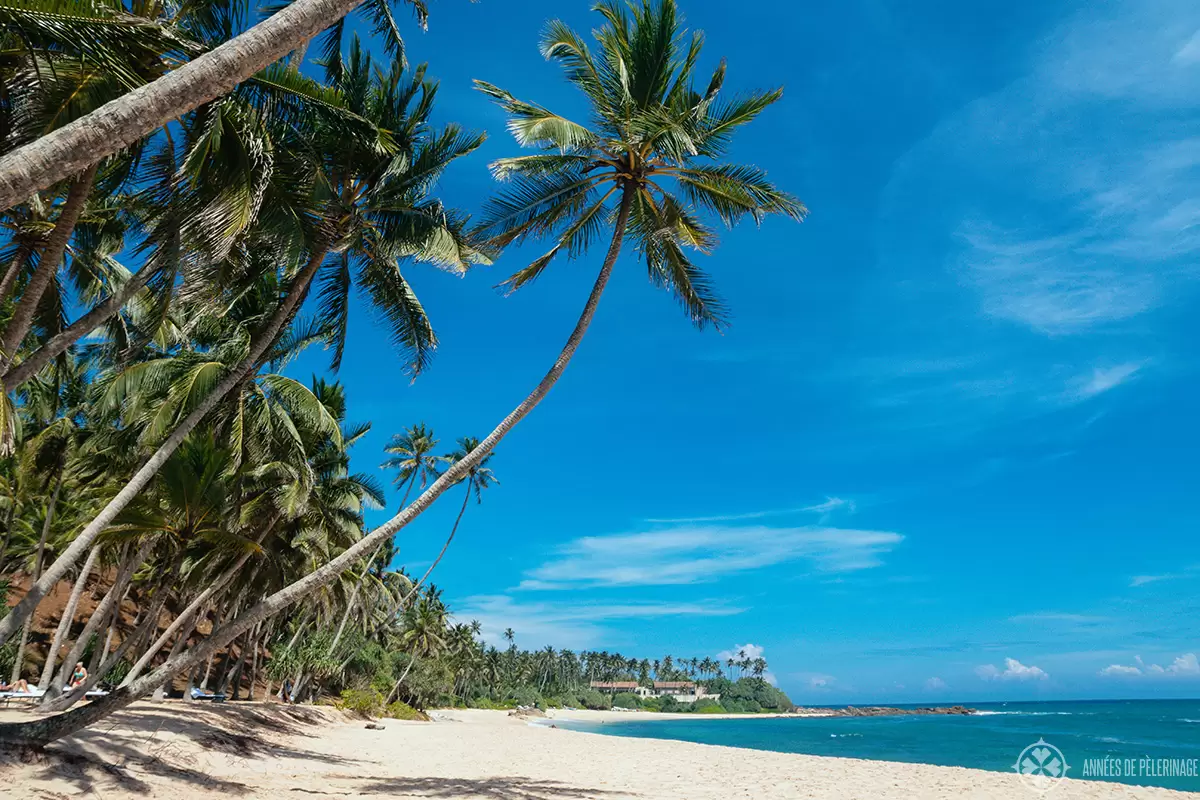 The South of Sri Lanka is famous its beautiful beaches, coconut groves, stilt fishers, and lovely weather. After so many cultural and natural highlights you deserve some time at the beach. Decide for yourself how long you want to stay, and note that you may have an additional day if you skipped Anuradhapura.
My hotel recommendation: Anantara Peace Haven or Amanwella (I stayed here 6 nights; read my review Amanwella review here))
Day 13: Mirissa (optional)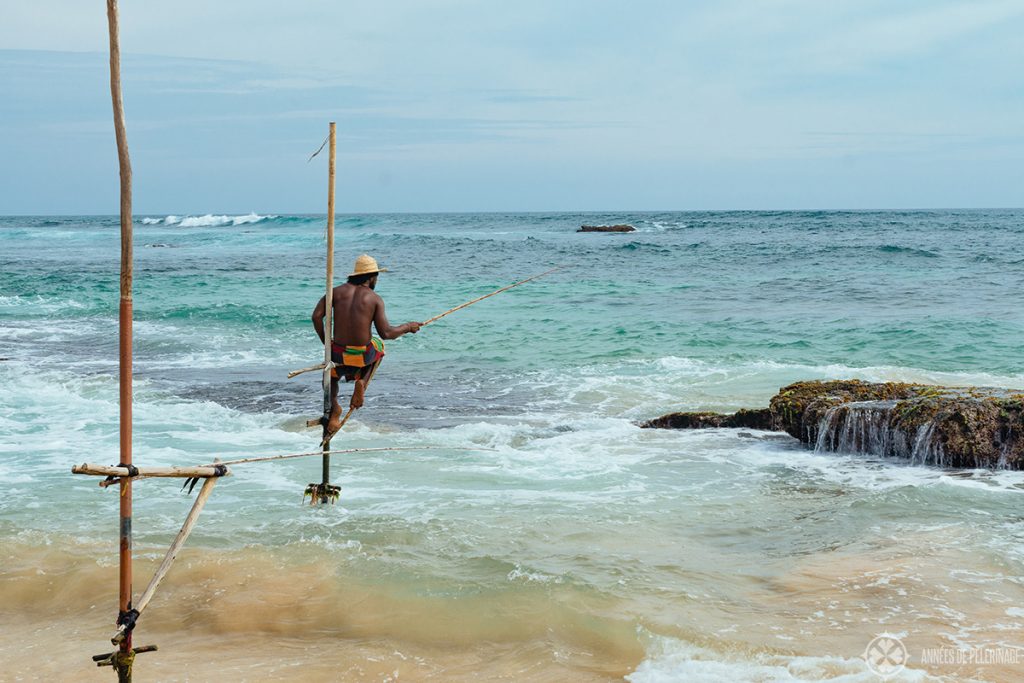 Mirissa is quite a special place. From here you got the unique opportunity to go whale watching. But not just any whales. Sri Lanka is famous for being one of the easiest places on this planet to watch the mighty blue whales. Sperm whales, dolphins and quite a host of other maritime highlights can also be observed considerably consistently from November to April.
The area around Mirissa is also a good place to observe the famous stilt fishers of Sri Lanka. You should know, however, that very few of them actually do this for the fish and most of them for the tourists. Which means you will have to pay to take a picture.
Depending on the location of your hotel, you might also do a day trip instead of changing accommodations (which I did).
Day 14: Galle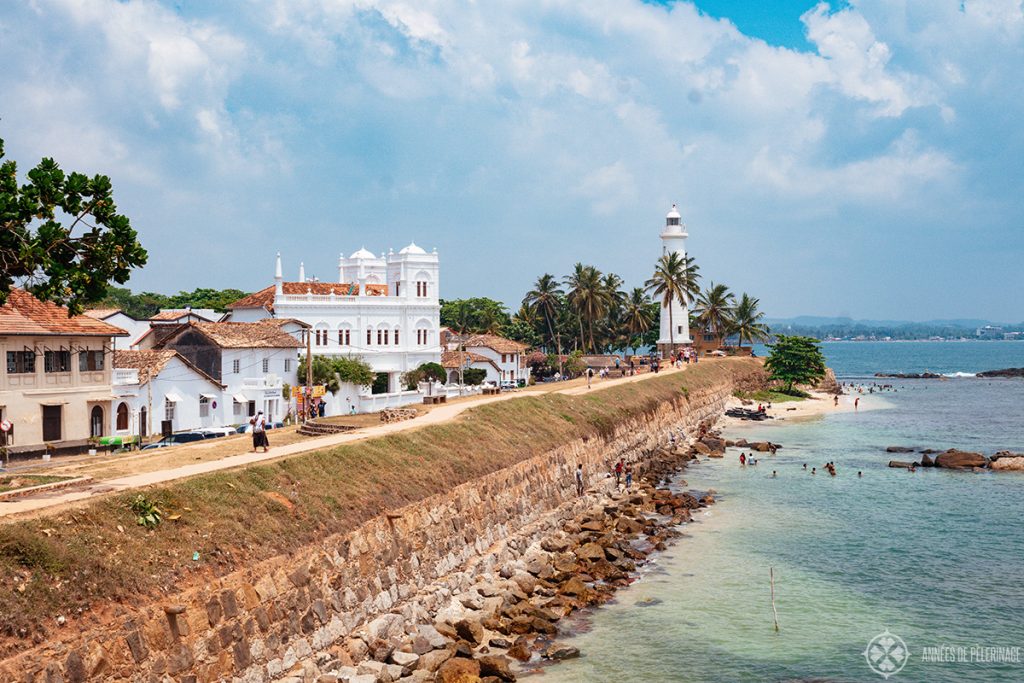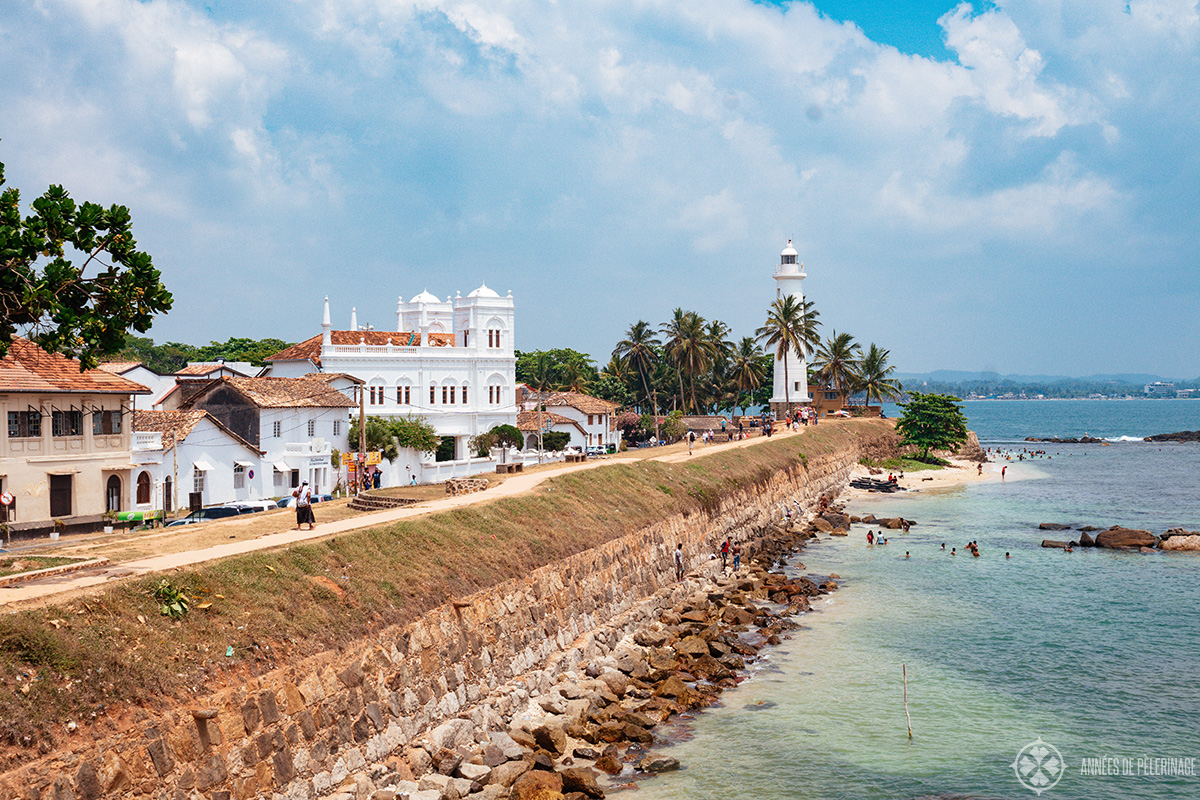 End your trip to Sri Lanka at one last UNESCO World Heritage Site: Galle. The ancient Fort has played an important role in the colonial time and now shows an almost European side of Sri Lanka heavily influenced by the Dutch.
Read my guide to the best 10 things to do in Galle here.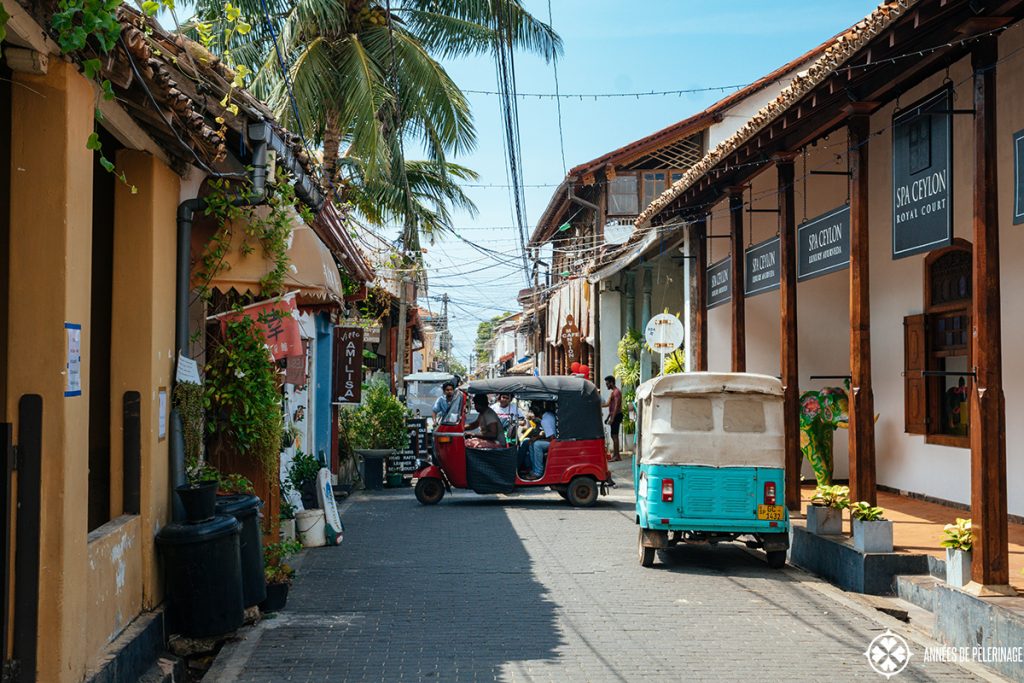 The town is not particularly large, so you won't need more than one day. Still, take your time to breath in the spirit of a bygone area and maybe go for an afternoon tea at one of the luxury hotels in town. Or shop for some jewelry (I can recommend Laksana on hospital street, the oldest jeweler in town and approved by the GJA).
My hotel recommendation: Galle Fort Hotel, Le Grand Galle or Amangalla (I stayed 2 nights)
Further Sri Lanka itinerary options
While I already sprinkled in some options here and there, I'd like to point out that this itinerary reflects my personal preferences, which might and might not coincide with yours. If you got the time, money, time and interest, here are some other places to check out:
Adam's Peak
Mihintale
Ravana Falls, Diyaluma Falls or Ramboda Falls
Avukana Buddha statue
Pigeon Island National Park
Pidurutalagala
Ride with a tuk-tuk at least once
And so much more
Best time to visit Sri Lanka
It's hard to answer this question quickly and I guess I'd need to write a full article. There are more or less two distinct climate zones you should consider before your trip. The Southwest and the Northeast.
As this Sri Lanka itinerary pretty much focuses on the Southwest, the best time to visit is November to March, with warm temperatures and little rain. It is also the best time to visit the various National Parks. The Highlands will always be wet, but the monsoon will hit the south between May and September.
But that doesn't mean you can't visit Sri Lanka during the summer months either. March until November is the best time to visit the East. So, if you plan to explore the area around Trincomalee, then this will be your best bet. As a bonus, you'll find out that hotel and flight prices are considerably cheaper during these months as well.
Note: It's not recommended to visit the Northeast in our winter months as this will be the rainy season for this area of Sri Lanka.
Final thoughts on my two weeks in Sri Lanka
Sri Lanka is fairly small, at least when you look at it on a map. But looks can be deceiving and you will soon notice that you will need a full month to see it all. Some might prefer to only stay 7 days in Sri Lanka, while you can easily do my itinerary in 10 days if you skip the beach. Most tourists will focus on the South, while the North is still somewhat a blank spot (but extremely beautiful) as are the central mountain ranges.
This is why I want to impart a very central insight to you. Seeing all the highlights should not be your goal. Rather you should reserve ample time to truly appreciate those highlights you can. Of course, you can rush through Sri Lanka in two weeks. But every itinerary needs time to breathe. YOU need time to breathe and relax (interested in this approach? Find my list of 10 important travel lessons here).
This was the very reason why I decided to skip Ella and the equally infamous Nuwara Eliya more or less. This is why I didn't hike Adam's Peak and didn't take in the (probably) magnificent view at World's End. I could have squeezed them in, but the overall experience, my overall impression of Sri Lanka would have suffered. Sometimes seeing less is more.
Either way. This is was my 14 days Sri Lanka itinerary. Hope I was able to help you plan your perfect trip to this amazing country. Got any questions? Feel free to ask them in the comments below.