Everything you need to know about a Safari in Sri Lanka. Which lodges and which national parks are the best, what you need to wear, and which price you can expect.
Do you want to have the best Sri Lanka safari experience? Are you currently planning a trip, but you don't know which of the many national parks in Sri Lanka to pick? And have you heard bad things about Yala National park, but still feel it's the best choice?
Then look no further. All your questions are very valid and I compiled this Sri Lanka safari guide to help you make the best choice. I am a big wildlife fan and went on 8 wildlife tours in Sri Lanka alone (definitely check out my itinerary), and countless others throughout my 30 years of travel.
I'll share my first-hand observations with you as well as a lot of insights from all those past safari-experiences. My lofty goal: Providing you with the ideal foundation for choosing the perfect Sri Lanka safari.
So, let's get started, shall we?
The best Sri Lanka Safaris by national park
Sri Lanka (formerly known as Ceylon) is an incredibly diverse country, despite its rather small size. So, you absolutely need to be aware of the fact that none of the 26 national parks in Sri Lanka are truly alike. Each sanctuary or protected area offers you a unique glimpse of different species (a lot of them endemic), though some of them share certain aspects.
Still, there is not THE safari in Sri Lanka, and you will soon notice that traveling a little bit off the beaten path is actually a smart idea – not only to escape the crowds but because you will be rewarded with spectacular sights few others get to see.
1. Yala National Park
Most people traveling to Sri Lanka will end up at Yala national park at one point or another in their itinerary. For a good reason. It is the spot with the single highest leopard density in the world, and there simply is no better place to spot the elusive cat than in Yala.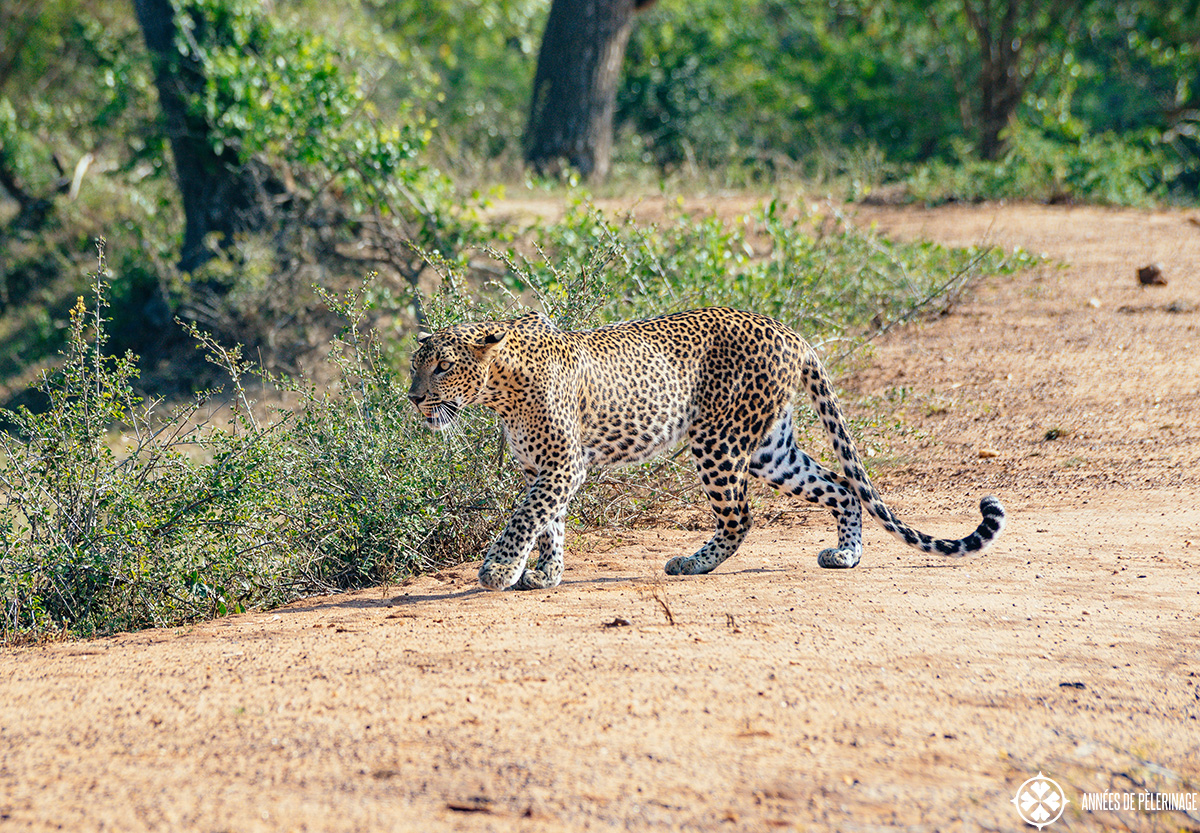 A word of caution: Probably everyone wants to see a Sri Lankan leopard, but I'd guess only 1 out of 10 get to see the beautiful spotted cat. Leopards tend to come out close before dusks and sleep the rest of the day. Sometimes you get lucky when they are thirsty and go to a water hole. It all depends on the experience of your driver and the willingness to "hunt" for them.
Out of five 4 hour safaris, I saw a leopard twice and I thank the lord every day for it. Such majestic creatures that deserve every form of protection we can afford. So, please, try to organize your trip in a sustainable way!
The area closest to the entrance is usually very crowded with jeeps. And it's the main reason why so many travelers had bad experiences: They book a short (and cheap) game drive through Yala, so the driver has to stick to the main roads where everybody else goes. The sheer amount of jeeps scares away (most of) the animals and you end up coughing up the dust of other jeeps for three hours. No fun.
In my opinion, Yala really is the best national park in Sri Lanka, but you have to go on a full day tour / multiple tours with an experienced driver willing to go the extra mile. I recommend you to book a safari lodge with complimentary game drives.
Why? These drivers and guides are out there every single day and are committed to giving you an excellent experience. They are usually extremely well connected to other drivers, so when there is a potential spotting, they can drive you there in minutes.
If you got limited funds or can only visit in the morning, then I explicitly disadvise going to Yala National Park. In this case, I would stick to a park with a better chance to see elephants (see below) and other, more ubiquitous mammals.
Pro Yala National Park:
highest chance to see a Leopard
good chance to see bigger herds of elephants and tuskers
high biodiversity (you can basically see everything from sloth bear to peacock)
one of the biggest parks (enough to fill a day)
beautiful rock formations and many (artificial) water holes
Contra Yala National Park:
Can be incredibly crowded on the main roads close to the entrance
Very far away from Colombo, etc.
dense vegetation and not much open ground
expensive lodges
Best time to visit Yala National Park: March – June (dry season) when the animals are forced to frequent the few water holes.
2. Minneriya National Park
Minneriya was my second favorite safari park in Sri Lanka. It is most famous for its big elephant herds and wide-open lands. If you want to explicitly see the gentle giants, then the Minneriya reservoir is your best bet. Roughly 250 to 300 elephants stroll around the flatlands and what a sight that is.
It actually felt a bit like driving around the savannah in Africa, as there is not so much shrubbery where the elephants can hide. Please be aware that the elephants migrate around the area, so depending on the season and time, you will have to go to one of the adjacent parks, like Kaudulla and even beyond.
In Spring, you'll probably find the elephants in Hurulu and other such forest reserves. The guides and tour agencies usually know where the main congregation currently is. If you want to see the huge herds, then you have to visit during the height of the dry season, which forces the elephants to congregate around the big lakes in Minneriya / Kaudulla.
Pro Minneriya National Park
The best place to see Asian elephants in the world
wide open land and lots of water
very close to Sigiriya rock
Contra Minneriya National Park
Very small chance to see a leopard
the smallest chance to see the other big mammals of all parks
Can be extremely crowded (it's a bit like driving on a motorway)
Best time to visit Minneriya: July to October (dry season)
3. Udawalawe National Park
I've read a lot of guides recommending Udawalawe as a less crowded alternative to Yala. While it is indeed less crowded, I don't think you can compare the two national parks. Udawalawe is best compared with Minneriya, as it is a wet grassland around a big (manmade) lake as well.
So in essence, it is an excellent spot to observe elephants and the beautiful Sri Lankan landscape. While not totally impossible, you probably won't see a leopard at Udawalawe and the other big mammals are sort of scarce as well.
Pro Udawalawe National Park:
A very good place to see elephants
wide open land and lots of water
less crowded than Minneriya
Contra Udawalawe National Park:
Very small chance to see a leopard and other big mammals
A bit far away from the main tourist spots
It's one of the smallest parks
Best time to visit Udawalawe National Park: All year round, though migratory birds can only be seen between October and April.
4. Bundala National Park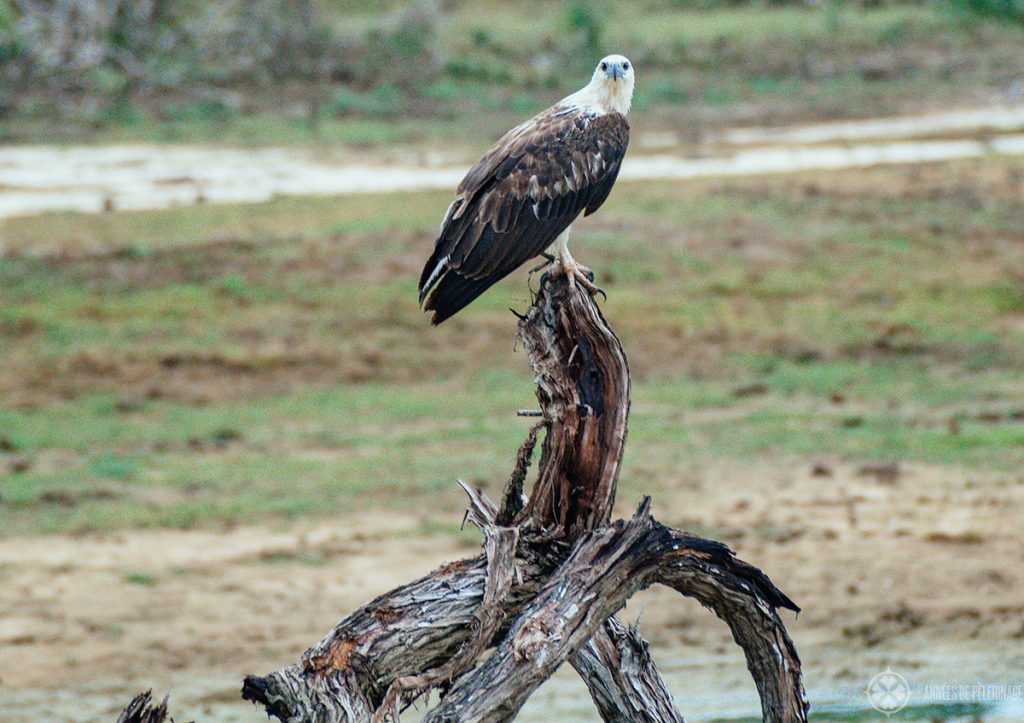 Do you love birds? Then Bundala National Park should be on your list for your Sri Lanka safari. Of all the nature reserves on this list, Bundula is by far the least visited. During my stay, we were the only jeep in the park. Can you imagine? (compare that to 300 in Yala.)
In 2005, the UNESCO declared the important Ramsar wetland a man and Biosphere Reserve, because loads of migratory birds use it as a wintering ground – especially the greater flamingo. I was a bit skeptical at first, but the park totally convinced me. Sure, birds might not be as impressive as a leopard, but as there are many different species of eagles to observe, it is indeed fascinating.
I visited Bundala during my stay at the Amanwella luxury resort, and I feel a visit is best combined with a stay at the beach.
Pro Bundala National Park:
The best place for bird watching in Sri Lanka (and crocodiles)
lots of water, a beautiful coastline and quite some different bird species than in the other parks
Virtually no tourists to scare away the more elusive species.
Contra Bundala National Park:
Same mammals as in Yala, but by far not the same density
animals are not as used to jeeps and thus easily scared
A small park
Best time to visit Bundala National Park: Winter months, so November until February
5. Wilpattu National park
Looking for a true insider tip? Then head towards Wilpattu in the Northwest of Sri Lanka. The park is often described as the best safari experience in the country. For three reasons: There are hardly any tourists, it is, in fact, the oldest park, and it has an excellent road network.
Much like in Yala, it is an excellent spot to observe leopards (the density is just a bit lower), and it's a mixture between wet- and shrubland. The park was closed between 1988 and 2003, mostly out of security concerns, which is probably the most important reason why it is not so popular among tourists (they tend to flock where everybody else goes). Sri Lanka is perfectly safe now (read my guide).
Pro Wilpattu National Park:
High biodiversity and a chance to see all the big mammals
few tourists and pristine landscape
the oldest and best-developed park in Sri Lanka
Contra Wilpattu National Park:
Far up in the north, where most tourists don't go
not a big elephant population
Best time to visit Wilpattu National park: Dry season between May and early September
Note: There are other national parks and nature reserves you could visit. Oya National Park is also quite popular, but I felt like limiting it to my personal top 5.
What not to expect on a safari in Sri Lanka
Before you go on your first Safari in Sri Lanka, I believe a bit of expectation management is in order! Otherwise, you will come home disappointed or choose to go on a game drive expecting something totally different. So, here are a couple of things you should know.
1. A safari is not visiting a zoo
Don't expect driving through the gate and seeing the animals walking out of Noah's ark all lined up for you to take a picture. A safari is about observing animals in their natural habitat and that means mostly driving hours through dense shrubbery seeing nothing at all. With luck, and a good guide, you'll eventually see it all, but there is a lot of green nothingness in between.
2. You are not driving through the undisturbed wild
It is also important to note that all the safari jeeps in Sri Lanka have to stick to the gravel roads crossing through a few sections of the actual national park. You are not driving where no man has ever gone before.
At the same time, it is equally as important to note, that the roads are no super developed concrete affairs but quite bumpy and driving for hours along them can be quite exhausting.
3. You are not the only one visiting
National parks can be incredibly crowded in Sri Lanka. Especially around Christmas, but also during the high season in February & March. Sometimes there are real traffic jams along the main roads. Most of the animals are used to the jeeps and won't care, but still, it's important to know.
4. You need to time your visit right
I'll write a little bit more about it below, but you really should know that most wildlife is strongly attuned to seasons. Depending on what you want to see, you really need to do some research before you visit. Otherwise, you have zero chance of seeing a certain migratory bird or elephant – simply because they are not there at the time of your visit.
5. A cheap safari will yield cheap results
I am very aware that not all travelers are as affluent as I am. Still, I'd like to stress that wildlife is unpredictable and you can't rely on canned mass tourism products to yield the perfect results. A three hour morning game drive through Yala National Park is just not the same as going there 3 evenings in a row with an experienced guide. While you can still be lucky (or unlucky) you'll get what you paid for.
If you can, spend at least one full day at one of the big parks!
The best Sri Lanka Safari Lodge
Finding a good lodge is far from easy, especially as the very best lodges are often sold out or prohibitively expensive. It also depends a lot on the safari park you want to visit. For Yala, I'd say it's incredibly important to pick a lodge that is within the buffer zone (and not 30 kilometers far away), while for Minneriya you are quite fine doing a half day trip from your hotel in Sigiriya.
Other than Wilpattu and Yala, I'd strongly advise against staying at a lodge. Bundala can easily be visited from Tangalle, Udawalawe while you are driving down to the coast from Ella, etc. A dedicated safari lodge within the actual national park (or rather on its border) only makes sense under two conditions:
You need very experienced guides and plan to go their multiple times
You want to track very elusive species (like the leopard)
See, a night at a lodge will start around 300 USD per night and might cost as much as 1,000 USD, while you'll get a nice guest house for 35 USD. The idea behind it is, of course, a deeper immersion (with chances of seeing wildlife from your hotel room or breakfast table) and custom tailored safari experiences. You simply don't need those if you want to spot elephants at Minneriya.
The best safari lodge in Yala National Park: Chena Huts
By far the best lodge for seeing Yala National Park is Chena huts by Uga Escapes (click for prices and booking options). The lodge is not only all-inclusive but also the closest to the national park. It's located directly on the beach and there have been both, sightings of elephants and leopards right in front of the camp itself. Wild boar are also frequent guests at the dinner table.
I stayed there two nights an the experience has been simply amazing. I'd like to point out that only due to their guides was I able to see a leopard at Yala National park twice. Observing the sunset at the fabulous beach of the lodge was also a true highlight.
If you can't spend a fortune, the adjacent Cinnamon Wild Yala (prices & booking here) is also a good choice. The Flameback Eco Lodge also looked pretty nice (prices & booking here). Please note the last two lodges are not all-inclusive, which means you will have to book your tours separately. As a half-day safari will cost about 60 USD per person, and you will have to eat at the lodge, expenses will mount up pretty soon.
Another very excellent all-inclusive safari Lodge at Yala National Park is the Yala Tented Camp (click for prices & booking). It's still excellent, but not as expensive as Chena huts.
The best Safari lodge in Wilpattu: Leopard Trails Wilpattu
For Wilpattu you don't have as many options as for Yala. Actually, there is just one safari lodge worth noting: The Leopard Trails Wilpattu (click for prices & booking). It's a beautiful tent camp right next to the border of the national park which will give you a very special safari feeling. I'm sure you'll love it!
What to wear on a safari in Sri Lanka
I'll keep this short: It really does not matter one bit. You are essentially staying in the jeep the whole time and your jeep will have a sun cover. So, basically, pick something comfortable. You are not allowed to leave the jeep either. Shorts, a loose t-shirt and sandals is probably the best idea, as it still is somewhat hot. Avoid overly bright colors – it scares the animals and may attract insects.
Remember to bring sunglasses, especially as it also helps against the wind and any dust the jeep in front of you raises. People with long hair might want to bring something to keep it in place (hat, hairband, etc) and in some parks, you will have jeeps with open roofs (and no sun cover).
Camera tips for a safari in Sri Lanka
I love taking pictures – not only because I run a travel blog, but mainly because they are lasting memories of special moments. Unfortunately, wildlife photography is probably the hardest of all genres and it really pays off to come prepared.
Please be aware that your mobile phone will not be enough to take pictures of anything but an elephant very close to your jeep. It's fine for capturing the rest of Sri Lanka but not suitable for a safari. Here is what you should be aware of.
a) You'll need a decent telephoto lens
Without a telephoto lens, you will not be able to take proper pictures of anything -, especially birds. That being said, wildlife in Yala comes exceptionally close to the roads/jeeps, so you don't actually need to bring your Canon EF 800mm /5,6L like on an African safari or other ridiculously priced lenses.
A decent 300 to 400 mm lens will be sufficient. All the pictures in this article were shot with one. In fact, I'd like to point out that I was glad I brought another lens as well, as sometimes elephants came so close it would have been impossible to frame them completely.
A fixed lens camera with a versatile zoom lens should be enough to take okay pictures, but it won't produce outstanding pictures. Wildlife photography really is about the only area where you need to invest a bit for good results.
b) Keep your camera in auto mode
I know you learned a lot about ISO and aperture and what, no, but I learned the hard way to keep my camera in (semi-)automatic mode on safaris. There is absolutely no way to predict where that leopard will appear and you most certainly can't shoo him away from that backlight position. 
Don't panic when it appears, but still, your camera needs to be ready to click right away because sometimes you only got 2 seconds for taking that picture.
If for whatever reason, the animal decides to stay put, you can always revert to manual and try to frame the perfect shot. Depending on how well you know your camera (or rather not so well), you might even revert to full automatic mode, BUT the autofocus usually works against you, so rather stick to aperture priority and set the focus on the center.
c) Bring a lens hood
For the very same reason, bringing a lens cap is very essential. Not only to avoid lens flare, but mainly because a ride in a jeep can be rough, but you definitely can't keep the lens cap on (by the time you fumbled it off the leopard disappeared into the shrubs). With a lens hood you don't need to worry about damaging your precious equipment (also helps to keep it clean)
Sri Lanka safari price
So how much does a safari in Sri Lanka cost? The short answer: they are quite expensive! Park fees for all major national Parks in Sri Lanka are 15 USD per day for a foreign adult per day. This does not include a guide (which you have to bring in some parks) nor the driver nor the vehicle.
For a private tour (meaning no other passengers) you can expect prices around 80 to 140 USD per person per day if you are okay with traveling in larger groups prices around 60 USD will be reasonable. In the more popular parks, "private" is relative, though, as you certainly won't be the only jeep in the vicinity.
Sri Lanka Safari day trips
Can you do a day trip to Yala National Park or to any other of the famous safari grounds? Sure you can, but it really depends on where you start and what you plan to do.
As detailed above, I would cover Minneriya as a half-day trip from Sigiriya (preferably in the evening)
Bundala can easily be visited from the Tangalle area (South coast)
Yala, too, can be done on a day trip from Tangalle, if you opt for the afternoon tour (which is better anyway)
A day trip from Galle to Yala is not really feasible (you'll spend 8 hours in the car to spend 4 hours driving through the park); the same applies to Mirissa/Matara
Udawalawa is also possible from Tangalle area or possibly even Ella
I don't think there are good day trip options from Colombo, even though Minneriya is feasible (but you'll probably want to see Sigiriya anyway)
You can combine your trip to Anuradhapura with a detour to Wilpattu
All in all, I'd not advise doing a day trip to the more intense national parks, meaning Wilpattu or Yala, simply because you will need more time to experience them. If you know what you are in for and just want to see some elephants, deer, and a crocodile in between, then, by all means, it is entirely feasible.
And truth be told, these are beautiful animals as well, and it's a bit unfair (and simple) to reducing the whole safari experience to spotting a leopard. In this case, I'd tell your driver to take things slower to appreciate the rest (and not hunt a possible leopard for hours)
A word of warning: Some agencies offer day tours to Yalla from both Colombo and Galle. Be aware that you will spend 14 to 16 hours in the car and it will leave you utterly exhausted. The traffic can sometimes be a true nightmare as well.
The best time for a Safari in Sri Lanka
There is no single best time to do a safari in Sri Lanka. It all depends on what you want to see. Unlike in Africa, most of the Sri Lanka wildlife is pretty stationary and doesn't migrate hundreds of hundreds of kilometers. You can see leopards in Yala all year round. Only certain migratory birds (such as flamingos, and a lot of water birds) can only be seen in the winter months.
That being said, the dry season is, generally speaking, the better time of the year to spot the animals. During this time, they are forced to leave the dense shrubs covering most of the area to drink at the few remaining water holes. This means, you basically just have to wait at one of them and everything will eventually come to you.
Generally speaking, animals are a lot like us humans: When it rains or when it is too hot, they are looking for cover. So, the wet season should be avoided, and the midday heat is also not the best time to start your game drive. The late afternoon is the most active time of the day, and it basically makes not too much sense to start your safari before 3 pm.
But, like I already said, you can observe most of the animals all year round – even a rainy day can have its advantages, as most animals will leave their cover as soon as it stops to dry themselves or make use of the now soft ground to dig up termites (especially sloth bears or mongoose).
So, I guess this is it. I hope I was able to answer all your questions concerning a Sri Lanka safari and how to maximize your experience. Feel free to ask me any questions in the comments below.