Dehli is the second-largest metropolitan area in the world. Almost 19 million people live and work in the capital of India. It's also an incredibly old city with a visible history of more than 1.000 years. So, it's probably no big surprise that there are a lot of things to do in Dehli, India.
But sometimes time is short. I recently spent two weeks in Bhutan and only had a short layover of 24 hours in Dehli. It's not enough to see everything, especially as the traffic situation can be a big problem, but plenty of time to see the best tourist attractions in Dehli and get a good first feel of the enchanting city.
Here are the best things to do in Dehli in one day
My time in Delhi was really short, which is why I hired an experienced guide and a driver to show me around. The following is a list of all the places I visited after I talked things over with my guide. Independent travel is possible, I'd actually recommend booking a tour. Here's a link to the currently best full-day tour in Delhi with a private driver.
For me, this short layover was the perfect stop after my visit to Bhutan and before traveling onwards to Abu Dhabi on Etihad Business Class (<- read my review and why it's worth it). Most people, however, will probably travel on to Agra or Jaipur to see the Golden Triangle, which is also an excellent reason to stop a day in New Delhi.
1. Humayun's tomb
Often coined the little Taj Mahal, the Tomb of the Mughal Emperor Humayun is probably the most spectacular tourist attraction in Delhi. The Tomb was commissioned by his wife, Empress Bega Begum after his death and is now a UNESCO World Heritage site.
It was the first building to use red sandstone on such a scale and is surrounded by the beautiful Char Bagh gardens. So, take some time and walk around! There are smaller tombs in the back to be explored.
The site is also home to the Isa Khan Nyazi Tomb, which you should definitely also visit. Just to right directly after the entrance! Both tombs are somewhat austere inside, but as there are no queues or anything it's worth to get a glimpse!
Pro Tip: Don't try to take a picture from the main entrance. It's usually utterly crowded. You can have the exact same view from the East side of the mausoleum!
2. Jama Masjid
Even if you are just one day in Delhi, you definitely have to visit the Jama Masjid (Masjid e Jahan Numa) – the world-reflecting Mosque. It dates back to 1656 AD and is one of the largest mosques in India with a capacity of 25.000 worshippers.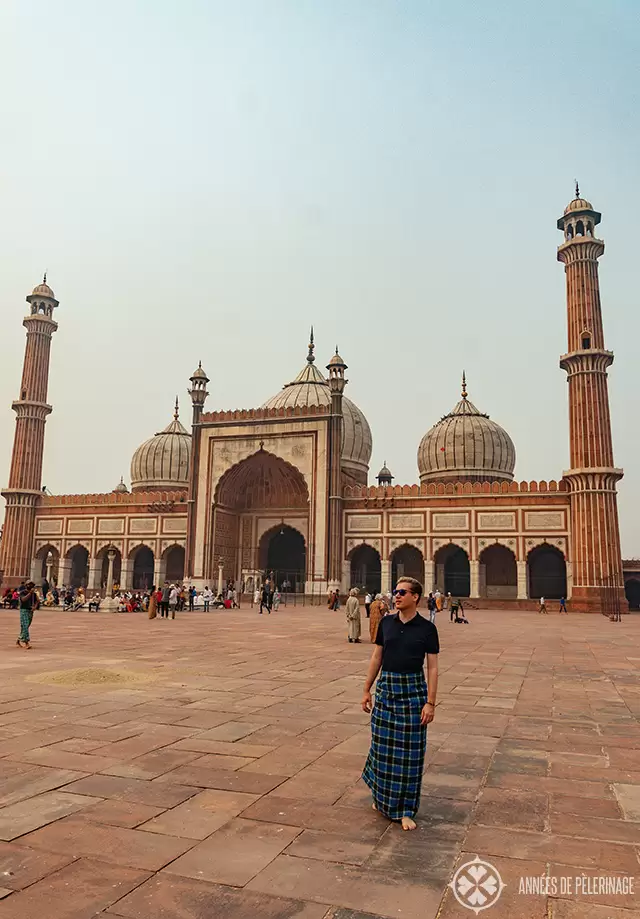 It is a prime example of Mughal Empire architecture and you will quickly see why. Two minarets, 130 feet (40m) high reach for the sky, flanked by onion-shaped domes. In a cabinet in the North gate, you will find a collection of relics of Muhammad himself.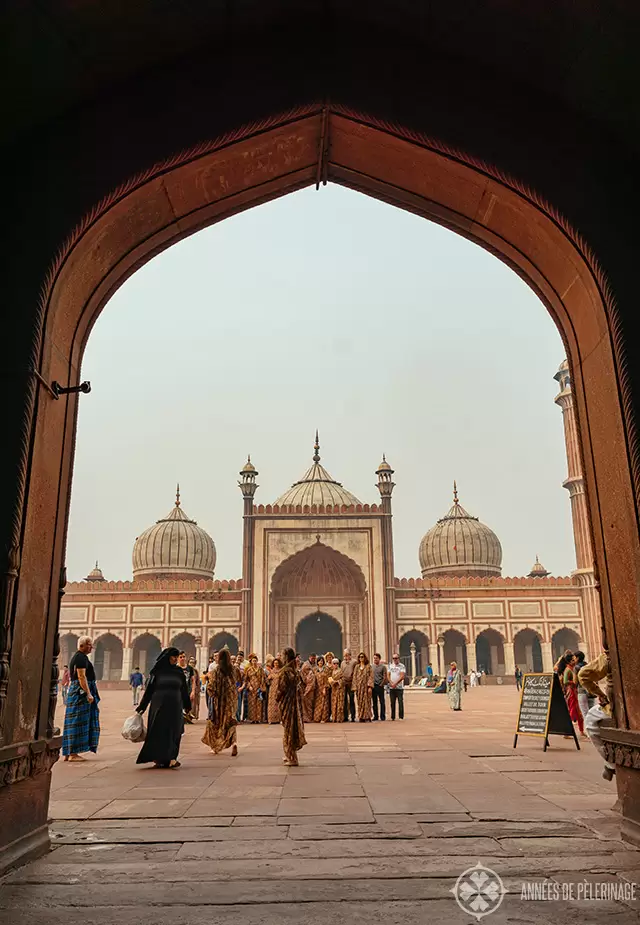 Note: There is no entrance fee, but you have to pay 300 rupees for each camera/phone you want to bring. Also, as in all mosques, you have to leave your shoes at the gate and wear long clothes.
3. Red Fort
The magnificent Red Fort was the main residence of the Indian Mughal Emperor. Inside the UNESCO World Heritage, you will sadly find a British garrison, as they destroyed most of the original marble buildings after the Revolt of 1857.
Apart from the iconic red walls and gates, only the innermost imperial enclosure and the audience hall survived the conquest. Sadly, they too have been stripped of their former splendor, so they are are more or less bare husks.
Note: Some say, it's not worth to go inside, everything there is to see, you can see from the outside. But I urge you to do so anyway. The Hamman and the Audience Hall are quite spectacular.
4. Qutb Minar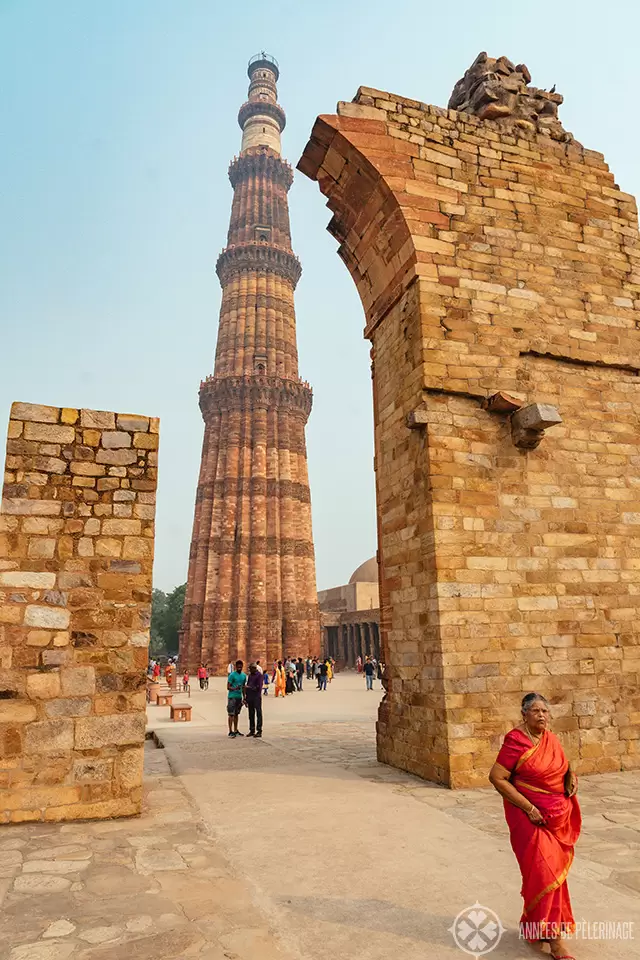 For me, the most impressive and most beautiful building in Delhi is the fantastic Qutb Minar (sometimes Qutub Minar). The towering minaret of 240 feet (73 meters) is another UNESCO World Heritage site. Construction started in 1199, can you believe it?
But Qutb Minar is not just a tower – the whole complex contains quite a couple of significant monuments as well. So, do take your time and walk under the beautifully carved arches and cupolas!
Note: After a terrible accident led to the death of 47 people, most of them school children, in 1981 access to the tower is prohibited.
5. Raj Ghat – Gandhi Memorial
One of the most significant places to visit in Delhi is certainly Raj Ghat. Here, the most notable recent political figures were cremated. Mahatma Gandhi himself and all the ensuing Prime Ministers.
It is more or less a wide-open park with individual memorials spread across its expanse. If there's a head of state in town, this is the place they will most certainly come to visit.
6. Chandni Chowk
What would a visit to Delhi be without seeing one of its famous markets? Chandni Chowk (the Moonlight Square) is one of the oldest and busiest markets in Old Delhi and has been a tourist's favorite forever.
Grab a rickshaw and drive through the intoxicating madness of the market. It was once quite the grand affair, but today it is a mighty warren of shops that beggars comprehension.
Note: It is located right across from the Red Fort, so you can easily combine the visit of the two landmarks.
7. Jantar Mantar
Jantar Mantar is the name of a huge equinoctial sundial and there are altogether 5 such buildings in India. They were built in the early 18th century by MaharajaJai Singh II and are now also a UNESCO World Heritage site.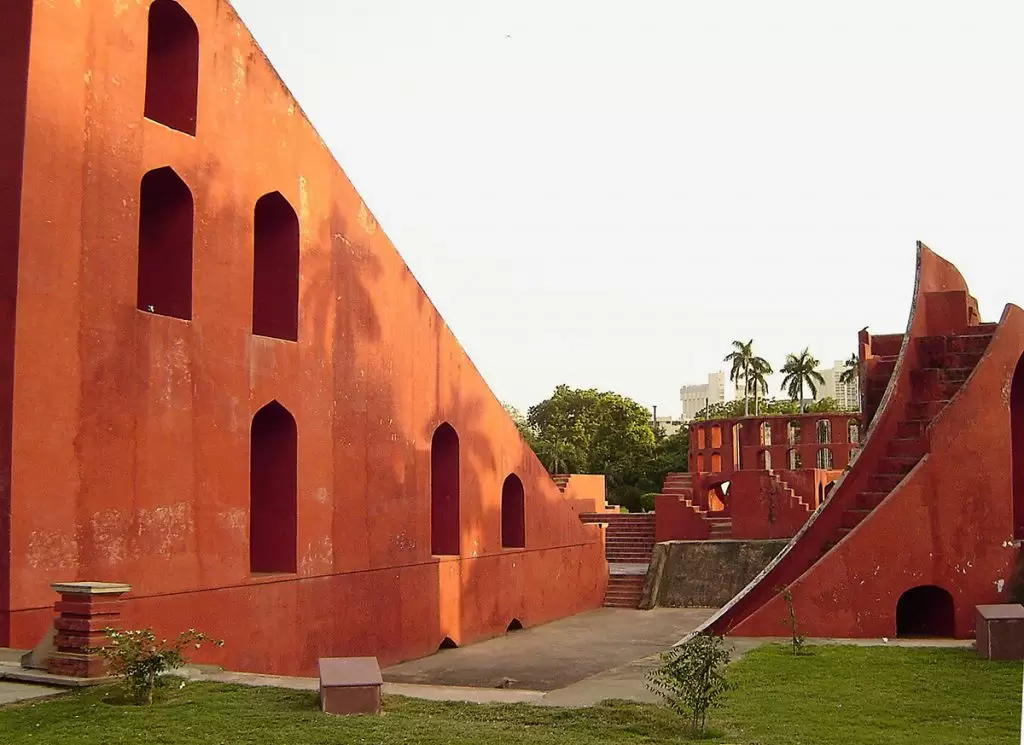 They were once used to predict the time and movements of the sun and moon in a quite early attempt of scientific astronomy. The sweeping curves of the buildings are quite beautiful, and definitely a must-see in Delhi.
Note: The Delhi Jantar Mantar is currently being renovated.
8. India Gate
Over 70.000 soldiers of the British Indian Army died in First World War. The Duke of Connaught, then viceroy of India, commissioned the gigantic monument to commemorate all the "known and unknown" heroes who fought and fell so valiantly.
The India gate itself is rather plain in architecture, but it stands in the middle of a gigantic causeway that leads to the parliament. The wide-open expanse is quite the sight to behold! On most days, you can barely see the gate from the end of the road.
9. The Lotus Temple
The Lotus Temple counts as one of the most visited buildings in the world. My guide said, tongue in cheek because the entrance is free, but there is no denying the temple is beautiful.
The Temple is a Bahá'í House of Worship, which means everyone regardless of their faith, heritage, sex or other distinction is welcome to worship in the temple. You only have to leave your shoes outside.
Inside, you will find no altar, no statues or any other ornament. It's more or less a bare domes chamber meant to be filled by the devotees alone.
10. Stop at the Parliament complex & Presidential Palace
India is a huge nation with more than 1.35 billion people, so it is probably not very surprising that the government buildings in the capital are of equally epic proportions. While you cannot go inside, it is definitely worth asking your taxi to drive around the Rashtrapati Bhavan – the Presidential Palace.
It is the largest residence of any head of state in the world and has 340 rooms and a floor area of 200,000 square feet. By comparison: The white house is 55,100 ft².
The Adjacent parliament complex, said to be the biggest round building in the world, is equally as impressive.
Other things to do in Dehli
Delhi is, above everything else, a frantic city that will confront you with new smells and impressions around every corner. 24 hours are just not enough to see it all – especially when it comes down to visiting the markets, watching a street theater performance or sampling all the food.
But there is also so much more amazing culture: I did not mention the famous Akshardham Hindu temple complex. It's truly gigantic and you will probably need 3 hours to see it all. It's also on the other side of the Yamuna River, so it will take quite a while to get there. But of course, you could skip a couple of other sites and see this amazing site instead.
Places like the Lodi gardens, The ISKCON Hare Krishna Temple, the Hauz Khas Complex or the National Museum didn't make it on this list of things to do in Dehli in one day either. Not because they aren't wonderful, but simply because there is not enough time to appreciate them the way you deserve.
I tried to condense the landmarks and tourist attractions above so you get a good feel of Dehli and manage to finish it all in one day. Granted, you'd still have to start early (around 8 am), so you avoid the big traffic jams later on.
Dehli is separated into Old Dehli and New Dehli (though there is no wall or district border), but perhaps it helps you visualize that you are actually not visiting one city, but a huge cultural landscape sprawling across miles, and miles.
Where to stay in Dehli, India
Note: I earn a small commission for purchases made through links in this article.
As a tourist, you will probably explore Dehli via a private taxi. While there is a public transport network, it doesn't connect the large tourist attractions all that directly and of course there is your safety to consider. This basically means the location of your hotel doesn't matter all that much.
Generally, I'd pick something where you can reach both the airport and the first attraction of the day quite easy. Since it really doesn't matter where you start all that much, I'd pick whatever catches your eye.
I personally stayed at the wonderful Leela Palace Hotel in the Diplomatic Enclave and cannot recommend the hotel enough (here is where I booked it). It is a luxury hotel, make no doubt, but the fantastic roof-top pool is worth the stay on its own and it is often ranked as the best hotel in Delhi.
I booked it via booking.com and found a wonderful bargain, and I am sure you'll find one for your budget as well. Here's a link to the best properties in Dehli.
As I did not have the time to check out any other hotels, I'll refrain from recommending any others. I feel I owe my readers that much honesty!
So, this was my little guide to the best things to do in Dehli, India. Hope you enjoyed it. In case you got any questions, feel free to ask them below!