Etihad Airways is the national carrier of the United Arabian Emirates (UAE). Their homeport in Abu Dhabi and from here they operate a dense network of flights around the world. The current business class was inaugurated years and years ago, and I recently flew with Etihad from Munich to Dehli (where I had a short layover; read about it here) to see if they stood the test of time. Here is my review of the Etihad business class:
Note: If you are still wondering if business class is worth it, read this guide.
The Etihad business class at a glance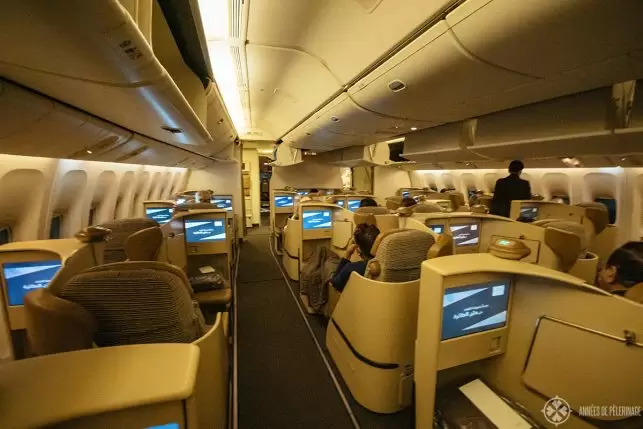 Etihad employs its standard business class seats throughout the entire fleet. With the exception of short-distance aircraft (see below), it follows a 1-2-1 seat configuration. Most of the current fleet still employs the older seat types, while the newer aircraft in the fleet boasts an updated seat that closely resembles that Qatar Airways Qsuites and is called "Ethiad studio" (but without the privacy door).
I'd assume they will replace them in the coming years, but for now, you'll probably end up with the old business class on most of your flights. I certainly did on my way to Bhutan and back.
The Cabin
Depending on which aircraft you fly with, the cabin looks a bit different. On the a330-300 it will be split into two parts, with a smaller compartment at the front right before first-class. As this compartment only has 12 seats, I found it to be so much quieter and pleasant than the large "dorms" you will find on the Dreamliners where there is no first-class.
The A380-800 also has a smaller compartment in the rear of the upper deck, while almost all the Boeing-family aircraft have it as well. So, definitely pick those seats if you are looking for some privacy.
Both even and uneven-numbered seats are front-facing. For the middle seats, there is an alteration between seats that are quite far apart and couple seats. Please have a look at the seating plan before you book, as depending on the aircraft you fly on they can be even or uneven-numbered. Personally I have to say that the couple's seats are a bit too close together for such a small seat.
The same applies to the window seats: The ones closer to the window offer way more privacy, but feel somewhat smaller, while the window seats closer to the aisle really don't offer good access to the window. Except you are a contortion artist, you won't be able to enjoy a nice view.
What I really don't like about the general Etihad business class cabin is the lighting. Everything looks sort of brownish-yellowish. I mean, turning on a sparkling night-sky along the overhead compartments at night is a lovely touch. But as soon as the lights are lit again, everything looks drab.
The Ethiad business class seats
Now let's talk about the seats. Maybe I am a sensitive person, but I personally find the brown-yellow color combination almost repulsive. It looks a bit like a nightmare from the 90ies. That being said, the seats are quite comfortable and perfectly suitable for an average man or woman.
They offer three basic sitting positions: Landing & take-off, relaxation, and lay-flat. For the first two options, you also get to move it farther back or closer to your tray table.
There is even a massage function in some seats, which I found mildly irritating and I am not quite sure if it's all that helpful. Standing up is probably a better idea.
The entertainment system is well stocked. Both the remote control and the touch screen work like a charm, but the screen is incredibly small. Feels like 14″ but I could be wrong. My favorite "program", the flight map, is a bit out of date and doesn't allow for much adjustment or detail, sadly.
There is an updated cabin, however, with a slightly bigger entertainment system (roughly 18″) that runs on the same software though. The new Etihad studios feature a very big screen, though.
You also have access to a little side-table, but things are prone to sliding off from there, so it's little else but a place to put your welcome drink. All things considered, the seat really is missing a place to store your personal onboard belongings. There is a cavity under your footrest, but it says you shouldn't store your luggage there – well, I did anyway.
The small compartments below your armrest are two small, and barely enough to store the headphones and the amenity kit.
I know Ethiad is slowly releasing a new business class seat throughout its fleet, but the old version feels incredibly chunky and so much space is wasted. There is an odd space of probably 30 centimeters between the seat and the window, while on the Dreamliner the aisle is almost a meter wide in the back, which feels like an awful lot of wasted space.
When configured in the lay-flat position, the seat is wide enough to sleep stretched out for an average man, though I feel it is somewhat narrow and doesn't allow for "tossing" around all that well compared to Emirates or Qatar Airways. I found the blankets to be quite warm and comfortable – way above average.
Etihad short distance business class
On the A320-200 and A321-200 Etihad offers a slightly different business class. I experienced it only once on a flight from Dehli to Abu Dhabi. The cabins follow a 2-2 configuration and there were, in my case, only 8 business class seats on the aircraft.
These seats don't allow for a bed configuration, though they recline enough to stretch almost fully.
Due to the 2-2 configuration, things get somewhat narrow when the passenger in front of you decides to recline, so I definitely recommend picking the front row if you need the extra legroom.
If you are traveling alone – aisle will be better as for the very same reasons it's quite hard/impossible to get out of your seat if your neighbor has its tray down.
Both tray and entertainment system are stored in your armrests – the latter is somewhat tiny but more or less sufficient.
Contrary to what you might think, I didn't actually feel this seat is all that uncomfortable and quite sufficient for a short day-flight. (Foodservice, see below, is en par with the other cabins, though.)
The food and drinks in Ethiad business class
The food onboard all Ethiad business class flights I have been was quite wonderful. I couldn't really say I had even one single bad meal – even on a short flight.
The trays are usually arragement with great attention to detail and the presentation is quite lovely as well. If you can, grab the Arabic mezze (they often sell out quickly, though).
I fondly remember wonderful Artichoke Tortellini with truffle sauce and a very yummy crispy salmon bagel. As my last flight was to India, I found some of the main courses to be a bit too spicy for my taste, though.
There is a wide range of alcoholic drinks available and the orange juice always tasted incredibly fresh. I do have to say that I am not a big fan of Piper Heidsieck, which is their Champagne brand. It's more bubbles than taste and loses all character if even mildly warm. But maybe that is just me.
General Service
The Service in Etihad Business class really shines. I experienced it as spot-on and flawless. In the larger cabins, flight attendants do have to serve quite a lot of seats at once, so the overall service is a bit slower depending on where you sit (I'd say 8-10 seats per FA).
As most people choose to eat at a different time, you will probably only notice a slight delay before and after take-off. And speaking of priorities: On the one short flight, we had 2 FAs for 8 seats and 6 guests – the same amount the rest of the 100 odd economy seat had.
Again, if I have to compare it with Qatar Airways, the service and attention to detail are probably a bit less, but that is criticizing a very high level. Also, I noticed that English or Arabic was spoken but very seldom the language of the destination port. Nothing that matters to me, but I'm sure some travelers might appreciate talking in their native tongue.
While with Qatar Airways, the flight attendants will happily prepare your bed for your (with an actual matress), no turndown service is offered in the Etihad business class.
Pajamas were not provided and the general quality of the amenity kit (provided by Aqua di Parma) is a bit basic (earplugs, socks, sleeping mask, toothbrush). It's basically what you get on one of the better economy long haul flights (Qatar, KLM, etc) in a nicer bag and with, and extra hand lotion and a perfume sample – both more or less single-use size.
In a way that is okay. After all, I usually take the amenity kit along only to throw it in the trash once I am home. So, maybe not providing large samples is a better approach.
On a little side-note: I lost consciousness on one of my flights with Etihad airways business class (Dehli to Abu Dhabi). You can read about my medical emergency onboard an airplane here. Even in this stress-situation, the flight attendants really behaved perfectly and made the whole situation as smooth as possible! So, thank you from the bottom of my heart!
The Etihad lounges
Etihad operates two business class lounges in Abu Dhabi. One in Terminal 1 and the other in Terminal 3. I strongly recommend you to pick the one in Terminal 3, as it is much larger and offers a wider array of amenities – even though it will be a 15 minutes walk to get there (there is also an arrival lounge).
For one, it is probably 3 times the size. Despite being so large, it doesn't feel crowded. Often, lounges feel a bit like an open-floor office, but as there are many smart separations between the different areas, it almost feels calm.
There is a bar, a restaurant, some sitting areas and even a work-space cubicle with tv lounges. The food is quite okay for a business class lounge – nothing spectacular, but quite a decent effort on their side – considering it is basically all-you-can-eat.
The best part is probably the Six Senses Spa where you can enjoy wonderful massages and other treatments. While one such treatment is for free for travelers in first class, prices are rather moderate for such a high-quality spa. A jetlag leg massage costs 29 USD for 15 minutes and 42 USD for 25 minutes, for example.
The best part – there are complementary showers inside the spa, which are really lovely and something you might definitely be looking forward to while on a long layover in Abu Dhabi.
In most other airports around the world, Etihad refers you to their partner lounges, which are usually quite decent, but the one in Terminal 3 is absolutely stellar.
Summary of my Etihad business class review
So, let's end my Ethihad business class review with a little summary. Overall, I always enjoyed my time onboard all Etihad aircraft so far. I do feel the seats look a bit outdated, so let's hope they are able to switch to the new design quickly. Especially the aisle seats do lack quite some privacy most passengers came to expect when they are traveling in business class these days.
Both the service and the food are quite wonderful and totally en par with the other middle eastern carriers (maybe even a bit better), while the overall cabin layout seems a bit wasteful.
Price and flight times being the same, I'd currently probably pick Qatar or Emirates over the Etihad business class – especially since Abu Dhabi Airport is not exactly all that lovely (except for the lounge). But the new one is scheduled to open at the end of 2019, so let's see how quickly they finish the new airport and roll out the new business class seats.
Other than that, I don't think you will do much wrong with booking Etihad Business Class. Setting visuals aside, the core functions of the seat and the overall product is still solid (and still better than quite a lot of the competitors).
So, this was my review of the Etihad Airways business class. Got any questions? Feel free to ask them in the comments below!