Everything you need to plan your perfect trip. Where to stay, when to visit and the best things to do in Tuscany.
Amazing food, outstanding culture, and the most romantic landscape ever – what better way to describe Tuscany? The lovely region in Italy attracts millions of tourists each year (it's one of the 20 best places to visit in Italy) and most of them are wondering about the best things to do in Tuscany. There are just so many tourist attractions to choose from!
I have been to Tuscany quite a couple of times in my life. And had to face the very same question more than just once. Florence is one of my favorite city ever (make sure to read my Florence guide), and of course there is all that pizza, pasta and wine to sample. But other than that, I always feel my stays are too short to cover it all.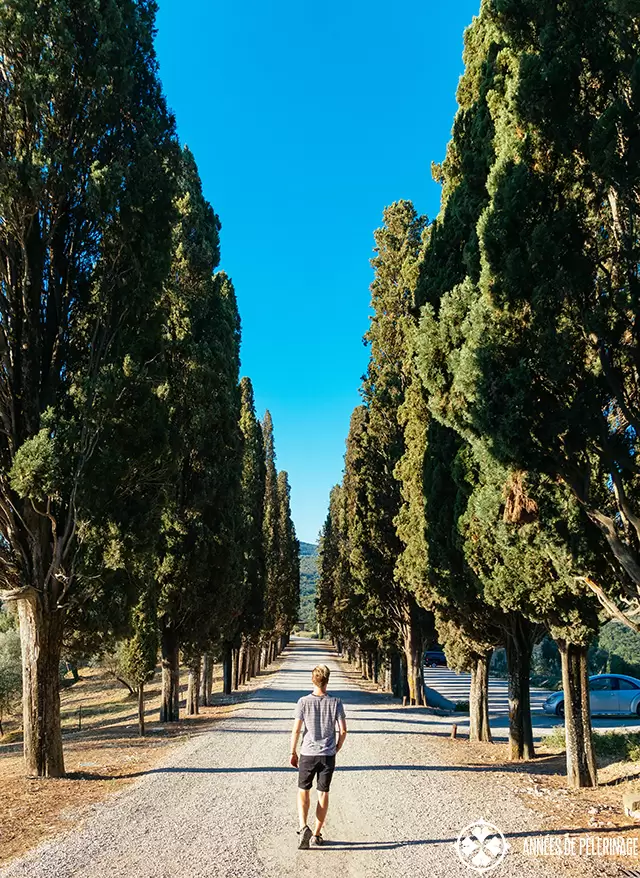 To give you a good overview and help you plan your perfect Italy itinerary, I compiled this list of the best places to visit in Tuscany (I also got a detailed Italy packing list you might want to check out). Instead of listing each and every point of interest (there's probably over a hundred), I condensed it to the top 10. Why? Well, you probably don't plan to stay more than a week and maybe want to travel onwards to Rome (read my guide) so it wouldn't be quite feasible, right?
Anyways, let's dig into the best things to do in Tuscany together, shall we?
Note: I earn a small commission for purchases made through links in this article.
1. Florence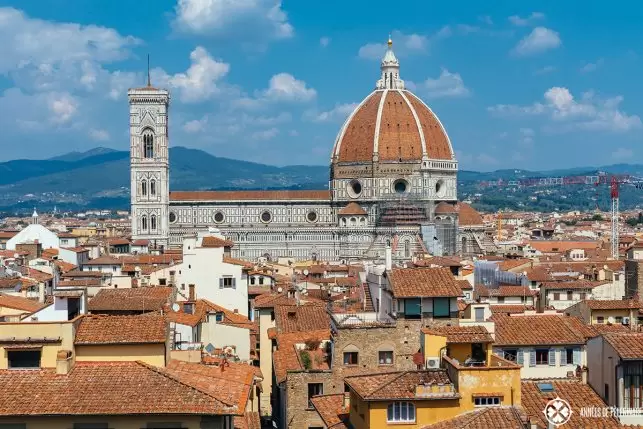 Visiting Florence when you travel to Tuscany really is a no-brainer. The capital of the region is a cultural hotspot that truly beggars comparison. Leonardo da Vinci, Michelangelo and of course the Medici family all left their eternal mark on the Renaissance city.
Plan at least two full days to tour the city. There are imposing cathedrals, ancient palaces, and the most marvelous museums to be explored. The old town is huuuge and you wouldn't want to miss the chance to get lost, only to find the most amazing Italian gelato shop, eh?
Important note: Remember to buy your tickets for the Uffizi Gallery, the Cupola of the Cathedral and the Galleria dell'Academia way in advance (click the links to book them).
2. Siena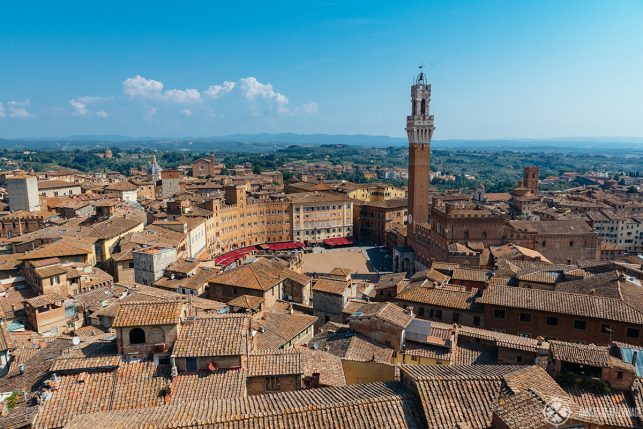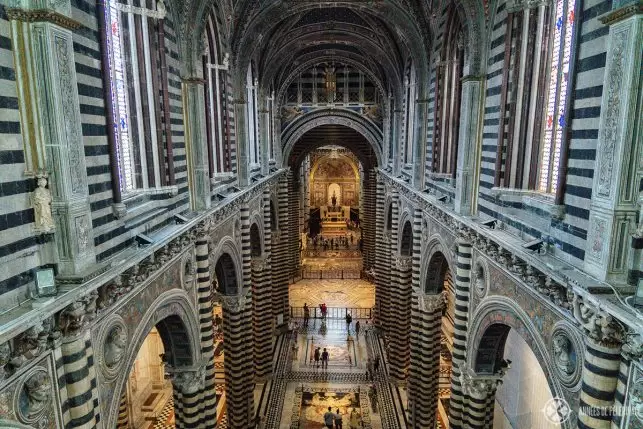 Sometimes it feels like the whole Tuscany is one big UNESCO World Heritage site. But obviously that is for a reason and the city of Siena offers more than just one. The town is famous for its cathedral (the most beautiful one in Italy, I swear) and of course the beautiful historic old town.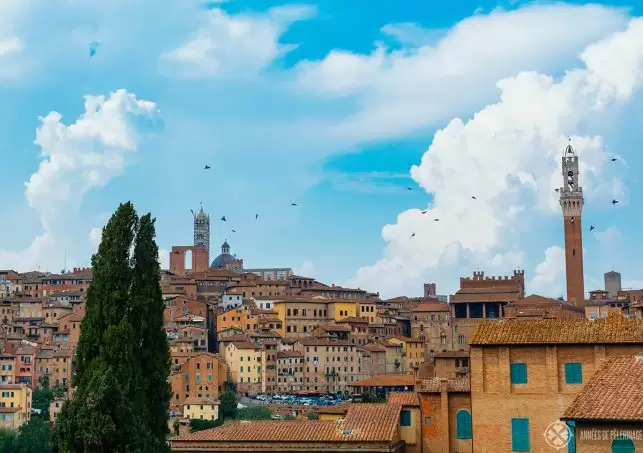 Siena was built on a couple of hills, so exploring the narrow alleys of the old town is extra fun. They are all slanting in one direction or the other – with arches and support beams stabilizing the precarious constructions.
Note: Siena is quite big and you will probably need a full day to explore it all
3. San Gimignano – the ideal medieval hilltop town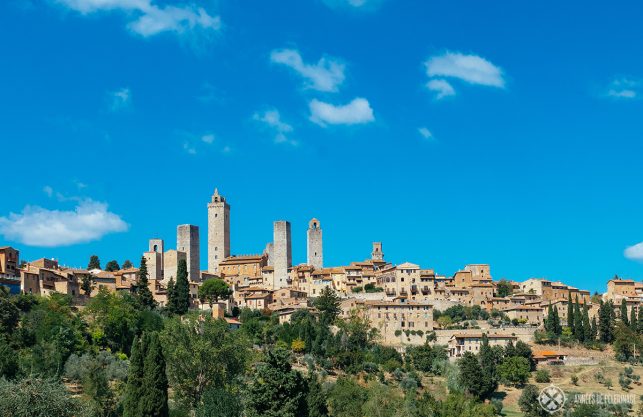 Words can hardly describe the miracle of San Gimignano. The medieval hilltop town in the heart of Tuscany is famous for its gigantic towers. Starting from the 11th century, rich families tried to outdo themselves by building the highest tower possible.
14 of these survived the tests of time, which made the UNESCO inscribe it as a World Heritage site. You can climb a couple of them for the perfect view of the old town. I also like to mention that San Gimignano is probably the best place to find authentic souvenirs. That being said, the town is not particularly large and you won't need more than a half-day to explore it.
4. Pisa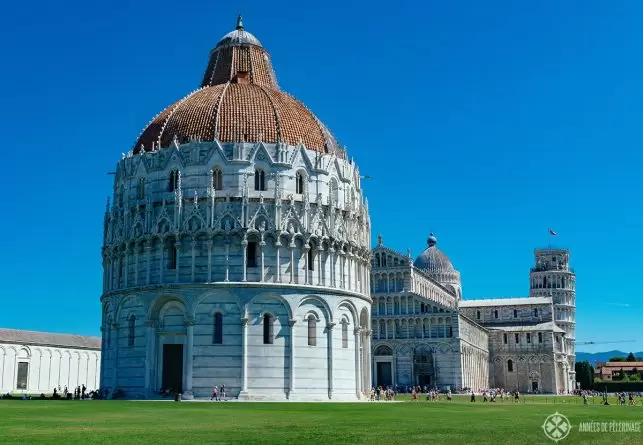 Pisa has always been a tourist's favorite. Who hasn't heard of the famous leaning tower? What most people probably don't know, that the torre pendente is part of a huge medieval complex (read more about it on the website).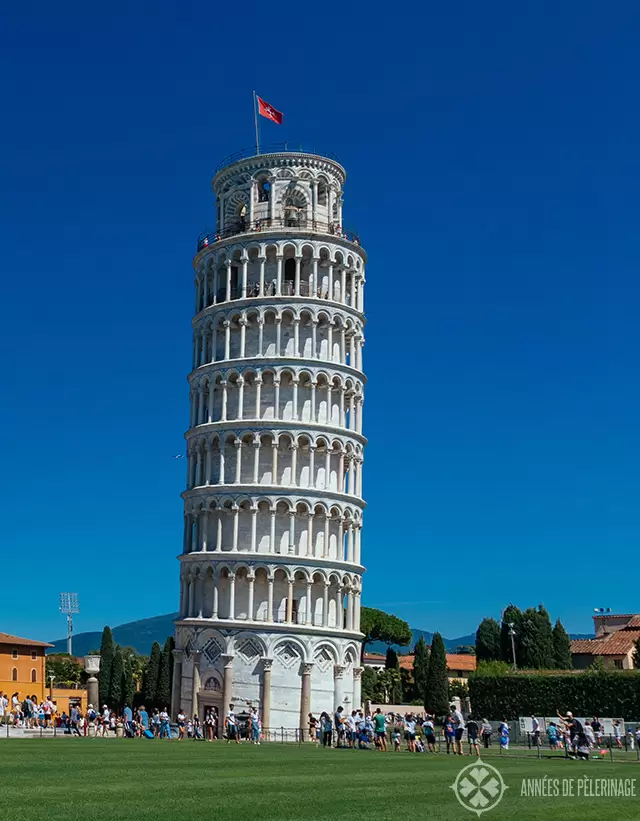 It's also quite old. The foundations were laid in 1173 AD. Despite its pristine look, this amazing place in Tuscany is almost 1,000 years old. Can you believe it?
Note: If you want to climb the tower, you really have to buy your tickets in advance!
5. Volterra – the Etruscan beauty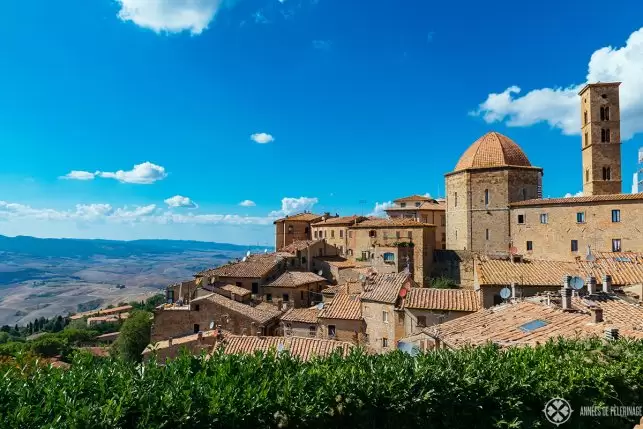 Tuscany is a landscape of rolling hills and cypress trees. You'll find a picturesque town or castelo on almost every hill. Volterra is special, though. Yes, there is a fortress and an ancient city wall enclosing the medieval city.
But there is also an amazing Roman theater and some extremely interesting Etruscan archeological remains (the people that came before the Romans).
There is even an ancient Etruscan city gate (the Porta all'Arco still functioning and being used) from the 4th century BC!! I particularly loved the fabulous Etruscan museum, and I'm sure you will enjoy exploring the very lovely old town with its churches, palaces, and museums.
6. Take a ferry to Elba
Tuscany has quite a lovely coastline and you should not discount it. The island of Elba is probably the most famous place you could head to – and not only because Napoleon was exiled to the beautiful island in the Tyrrhenian Sea.
There are quite a lot of beautiful beaches on Elba, and of course, quite some history to explore. For example, you could visit one of two residences Napoleon had on the island during his 10-month exile. But above all, try to relax and eat yourself to heaven ;-)
7. Bath in one of Tuscany's natural hot springs
Ever since the Roman times (and even before), the people in Tuscany made use of the many natural hot springs in the region. Places like Saturnia gained popularity on Instagram, but there are more than 10 other such thermae scattered across the landscape.
Bagni di San Filippo is extremely beautiful, and Petriolo is also quite popular. Bagno Vignoni might be the most historic place, but personally I'd just pick one that is somewhat close to your hotel. You don't want to sit three hours in the car for a nice warm bath, eh? :)
8. Lucca
Lucca is another ancient medieval city originally founded by the Etruscans. For almost 500 years, Lucca was an independent republic until it was conquered by Napoleon in 1805.
Lucca is quite close to Pisa, so you could possibly combine the two. Now, I want to be honest with you: Lucca appears in a lot of Tuscany travel guides and it sure is a beautiful city. But it's also rather similar to places like Siena or Volterra – and between the three it's probably the least interesting.
As a good alternative, you could also check out Colle di Val 'Elsa which is an ancient center of crystal glass production and probably the most authentic town in Tuscany (and not touristy at all!)
9. Val d'Orcia – picture-perfect Tuscany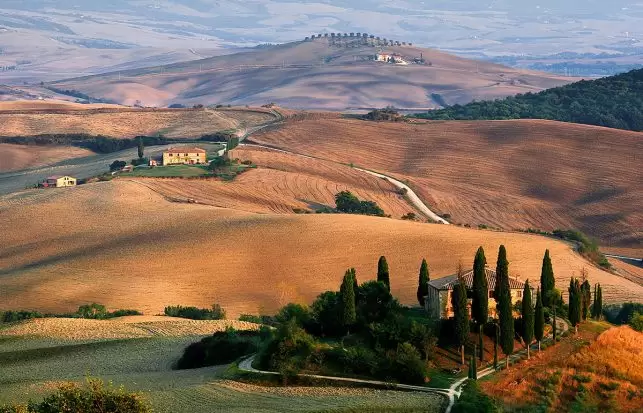 When most people think of Tuscany, they picture a lonely Estate surrounded by vineyards and a winding road lined with cypress trees. We've all seen the postcards, but it might come as a surprise to you that this actually reflects pretty much the reality and is no photoshop myth.
The Val d'Orcia is probably the most popular place – particularly as a lot of famous vineyards can be found here. The UNESCO World Heritage Region produces one of the most famous red wines in the world (Brunello di Montalcino) and it's so easy to fall in love with its sweeping hills.
Note: Make sure to stop at the insanely ancient Abbey of Sant'Antimo
10. Arezzo
When you are on your way to the Val d'Orcia from Florence, you should definitely stop in Arezzo. It was once one of the 12 capitals of the Etruscan league so there is quite some history to be explored.
Definitely make sure to see the Piazza Grande and the fantastic Arezzo Cathedral. Marvel at the frescoes in San Francesco church and be amazed by the striking exteriors of the 10th-century church Santa Maria della Pieve (such a unique building!!)
Other things to do in Tuscany, Italy
Anyone who's ever been to Tuscany will be able to attest: Tuscany is just beyond pretty. Seriously, you'll soon notice that you couldn't possibly go wrong, even when you are randomly driving across the landscape. No matter which direction you take, you're bound to find a lovely medieval hilltop town or a fabulous wine estate where you can go for a little tasting session.
Tuscany is also famous for its truffles, so you could go join a professional on a hunt for them. Or go shopping for cheese and wurst! Above else, I urge you to take things slowly. Of course, you could drive down all the way to Pitigliano – which spells medieval town with every pore. Or visit the fortresses in Monteriggioni or Montalcino.
You will probably also notice that Tuscany is popular. Especially in the big cities, chances are low, you won't meet busloads of fellow travelers. Actually, all the points of interest on this list will be like that.
Which is exactly the reason why you might want to consider getting a bit off the beaten paths. Don't expect to find the perfect pizza in the main square in Florence. It will most probably be good, but miles away from what it should be. From my experience, you'll find the best food in a trattoria that looks like it hasn't been renovated in 20 years in a town you've never heard of before.
Where to stay in Tuscany
Tuscany isn't all that large when you view it on the map. It's just about 200 kilometers from Florence in the North to Orbetello in the South. But don't let that deceive you into thinking you could explore it all from the capital city without ever changing accommodations.
The roads in Tuscany are both small and rather winding. You'll probably need 1 hour and 45 minutes from Florence to Volterra, even though it's barely 80 kilometers away. Which is exactly the reason why I'd recommend you to stay a couple of days in Florence and then pick another central hotel in the heart of Tuscany.
Siena is probably the best idea for your second stop, as a day trip from Florence to Pisa is entirely feasible. Depending on how you plan your Tuscany itinerary, Elba or the area around the Terme di Saturnia could be the last step.
There are many lovely ancient castle hotels around Tuscany. So, if money isn't an issue, I'd recommend you to find a nice little budget hotel in Florence and then invest in a good estate overlooking the verdant hills. Often, these can be found in vineyards where you can sample and buy amazing reds. Believe me, it will make your trip so much more memorable and authentic. Here are a couple of ideas
The best luxury hotels in Tuscany
There really is no shortage of luxury hotels in Tuscany but in my opinion three of them stand out among the crowd. I can recommend all of them from the bottom of my heart. The Belmond property is the newest of the lot (you can read my review here) and probably currently the top property in Tuscany. With more than 1,000 USD a night it is also the most expensive one.
Excellent mid-priced hotels in Tuscany
If you want to sleep in a castle, you have to expect prices around 200-250€ a night. You obviously can go cheaper, but then you will have a hard time scoring one of the coveted hilltop properties. Here the ones I'd recommend:
Budget hotels in Tuscany
Best time to visit Tuscany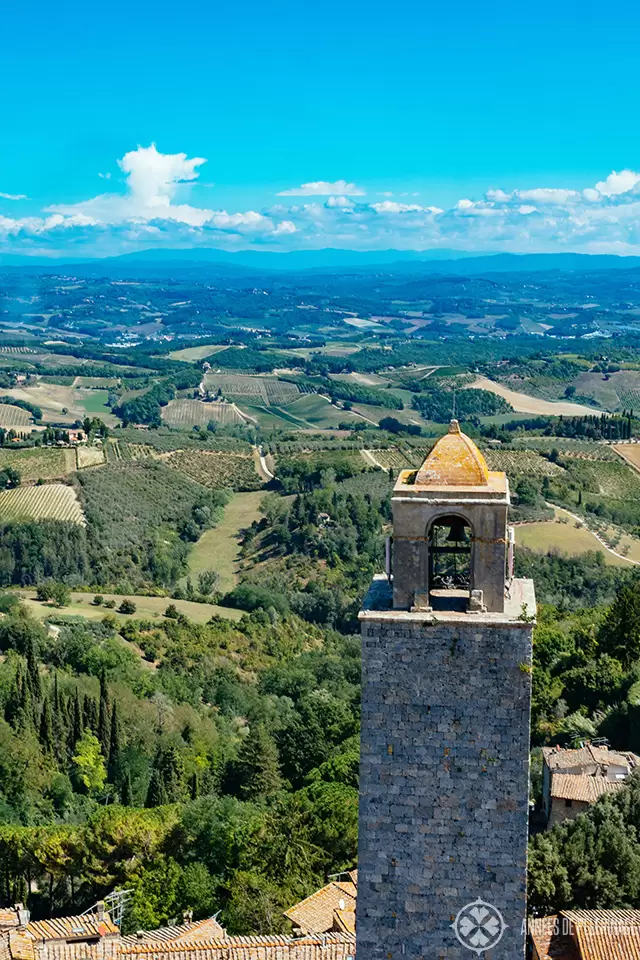 The best time to visit Tuscany is September or June, as both months are pleasantly warm without being oppressively hot and with little rain. Unlike July and August, which will be both very hot and very crowded (Summer holidays in Europe).
September also happens to be the most expensive time to visit Tuscany, so this is definitely something you should know. Crowds in Florence will also be massive.
If you just want to explore the big cities, the winter months could be an option, but generally speaking November to March is not exactly the best time to explore the countryside. Snow will be very rare, but the temperatures will still be somewhat cold and it can rain quite a bit.
April and May could be an option, even though you should try to avoid the Easter holidays. There will be a bit more rain in spring and temperatures will range between 8 and 22° Celsius. On the plus side, this will be ideal for exploring the cities, especially as you'll be able to avoid the big crowds.
So, this was my travel guide to the best things to do in Tuscany, Italy. I hope I was able to inspire you to plan your personal itinerary. Got any questions? Feel free to comment below!