A detailed list of the best things to do in Venice, Italy in one day and how you can see the top tourist attractions.
Are you currently in the process of working out your Italy itinerary? And now you are wondering if one day in Venice is enough, right? Well, you came to the right place!
In this travel guide, I'm going to show you exactly how to spend one day in Venice. I've been to La Serenissima ('the most serene') quite a couple of times and I'll share my experiences exploring the city with you.
I prepared a list of the top 10 places to see in Venice in one day but will also provide you with some interesting alternatives so you can adjust this itinerary according to your needs and preferences.
Before I start I want to mention three things:
1. Consider buying the Venice City Pass (buy it here). If you want to use public transport and visit the Doge's Palace (see below) it will be easier and cheaper.
2. Venice is an ancient city, and you really should be aware that one day will be enough for all the top landmarks in the city but not enough to see it all.
3. At the same time, the best thing to do is simply walking around. The city is so unique and you'll find beauty around every corner. So even if you just had 4 hours, you'd still thoroughly enjoy yourself. Check out my list of the top photo spots in Venice for some inspiration.
Note: I earn a small commission for purchases made through links in this article.
The top 10 things to do in Venice in one day
1. St Mark's Square & Campanile
The most famous square in the world? Probably St Mark's Square! So, even if you only have a couple of hours in Venice, you definitely should go there. You'll find most of the top tourist attractions around St Mark's, so you can't avoid it anyways.
You'll find some very popular cafés on the square. They are notoriously expensive. At the same time, it is a very beautiful spot, the atmosphere is hard to describe, so I kind of still recommend stopping here for a coffee (budget allowing).
You can go all the way to the top of St Mark's Campanile (bell tower) for a very lovely view of Venice. Be aware that it's very popular in summer and you will have to reserve your tickets in advance to avoid the queue.
2. Doge's Palace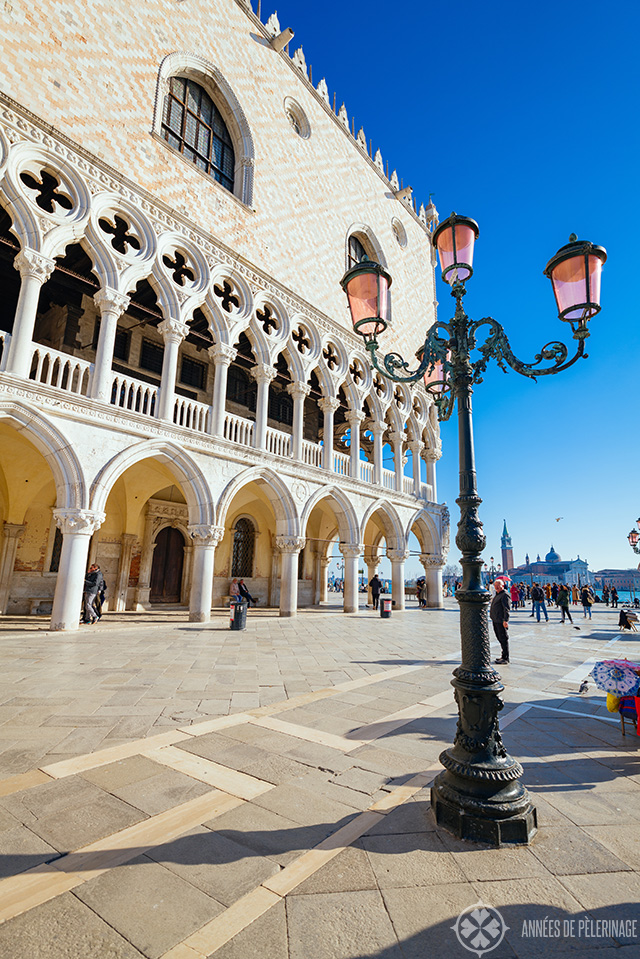 The Doge's Palace is one of a kind and you should definitely go inside! The gothic facade might be extremely beautiful, but the interiors are even more awe-inspiring. Most of what you see dates back to the 15th century, can you believe it?
You'll find the largest room in Europe on the second floor (see picture above) and everything is covered in gold and priceless paintings. There is a so-called "secret itinerary" that gets you to some additional places where the regular tour is not allowed. It's very interesting, but with only a day in Venice, it probably takes too long to consider.
Note: Around the corner, you will find the famous Bridge of Sighs! Which I personally don't find very impressive, but it's a popular tourist spot.
3. Rialto Bridge
Another extremely popular spot in Venice is the Rialto Bridge. It was the first permanent bridge across the Grand Canal and is by far beautiful. There are shops on the bridge and many restaurants on the banks of the Canal Grande. It's a very lovely spot to have lunch if you ask me. There are a couple of smaller gondola piers on the side, where you can take the best pictures.
4. Gondola Ride (or Vaporetto)
You can't separate the gondola from Venice and it's definitely an experience you shouldn't miss. I wrote a detailed Gondola guide here, with all the information you need.
Yes, it is expensive. But yes, it is also very beautiful. If the price tag is to high for you (80€ for 30 minutes) you can also take a Vaporetto (water bus) down the Canal Grande. The experience is NOT the same, but it's still a beautiful way to see Venice from the water.
5. Ponte dell'Accademia & Grand Canal
The best viewpoint on the Grand Canal? Quite possibly the Ponte Dell'Accademia. From here, you can shoot a beautiful picture of Santa Salute and the grand palazzi lining the canal. You should also consider visiting the Galerie dell'Accademia which gave the bridge its name. Inside, you will find some of the finest old masters gallery in the world.
6. St Mark's Basilica
The most important church in Venice is the St Mark's Basilica. The interiors are covered with golden mosaics from top to floor. The best part: There is no entrance fee. Due to the security checks at the entrance, there are often long queues nevertheless. The wait is worth it, though!
7. Scuola Grande di San Rocco
Do you love the arts? Then don't miss the fantastic Scuola Grande di San Rocco. The ancient chapterhouse is decorated with countless masterworks by Tintoretto. It was closed quite a long time, but the renovation works are now finished. In fact, I'd say it's the single best tourist attractions in Venice right after the Doge's Palace!
8. T Fondaco dei Tedeschi by DFS
At the beginning of this travel guide, I told you that simply walking around is probably the best thing to do in Venice. But you will also quite quickly notice that all the alleys are extremely narrow (sometimes only a meter wide!). The views will be beautiful but very limited. Head to the T Fondaco dei Tedeschi by DFS department store next to the Rialto bridge to change that.
The rooftop terrace on the top floor is probably the best spot to see the inner city and the Canal Grande from above. It's quite popular and only a limited amount of persons can be there at the same time, so you have to reserve your tickets in advance.
Note: If you love Italian fashion, this will also be an excellent spot to go shopping for some shoes or handbags.
9. Basilica of Santa Maria Gloriosa dei Frari
There are almost a hundred churches in and around Venice and 24 hours or less are certainly not enough to see them all. But the Basilica di Santa Maria Gloriosa dei Frari is special. The amazing high altar by Titan and the outstanding Canova Monument certainly are reasons enough to check out this church even if you only got limited time!
10. San Giorgio Maggiore
A lot of people think of Venice as one single island. But it was actually a big republic spanning the whole lagoon and even further. In fact, even Venice itself consists of hundreds of smaller islands connected by bridges and built over so many times it only appears as one big entity.
This is why I recommend you to take a water bus to the island of San Giorgio Maggiore (takes 5 minutes from St Mark's Square). From here, you get a unique view of the whole lagoon (make sure to climb the bell tower). It's also one of the more quiet spots and ideal for watching the sunset.
My Venice one day itinerary
Now, let me show you the best way to organize your day. I assume you arrive at the Venice central station Santa Lucia, but it's basically the same if you arrive by boat from the airport.
9:00 am: Basilica dei Frari
9:30 am: Scuola Grande di San Rocco
10:15 am: walk towards Rialto & head to the rooftop terrace of the Fondacao dei Tedeschi department store
11:00 am: do a Gondola ride from Rialto (I recommend from Chiesa di Santa Maria dei Miracoli)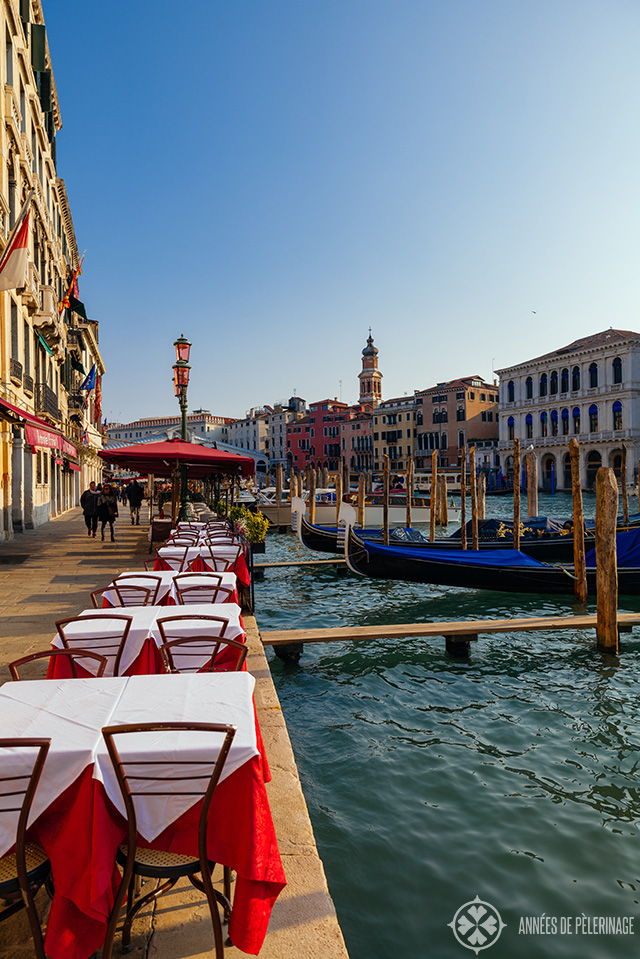 Lunch – It's touristy and more expensive, but the restaurants directly in front of the Rialto bridge offer the best view in town.
1:00 pm: Take a water taxi to St Mark's square and & enjoy the Grand Canal
1:30 pm: Visit the Doge's Palace (short tour)
2:45 pm: Explore the adjacent St Mark's Basilica
3:30 pm: Get up the St Mark's Campanile
Coffee break: Again, it's touristy, but sitting down on St Mark's Square and sipping a good Italian coffee is hard to beat. The atmosphere is just unique
4:30 pm: Take a water taxi to San Giorgio Maggiore
5:15 pm: Take a water taxi to Ponte dell'Accademia and visit the world-famous Gallerie dell'Accademia
Most museums and attractions will close around 6 pm (at least it's the last entry time). As the sun won't set until around 8:30 pm in summer, you can use the remainder of the time to walk around the city, eat dinner or head back to the station.
Naturally, you could also start at St. Mark's Square (Vaporetto line 1 or 2 will get you there in 20 minutes) and then enjoy the various sights on your way back. As a passionate photographer, I had the light in mind, which is why I organized it the way I did.
Alternatives you should consider with only 24 hours in Venice
If you follow my itinerary, you will definitely see the top landmarks in Venice. But obviously that doesn't mean it's the only way to see the city. In fact, my itinerary is quite tight. Which means you have to start out early and walk around quite briskly.
It might sound ignorant, but simply walking towards the Rialto Bridge, do a gondola ride and then hit St Mark's Square will already give you a good feeling of the city. Use the remainder of the time to explore some side alleys and shop some souvenirs and it will be a day well spent! Sometimes it is not about seeing it all, but enjoying yourself.
So, don't hesitate to skip a couple of sights if you feel moving at a slower pace. There might be many things to do in Venice in one day, but that doesn't mean you have to stress yourself out.
Can you visit Burano with one day in Venice?
Burano is a small island in the Venetian lagoon famous for its colorful houses. But can you see Venice and Burano in one day? It is possible if you start out early and only focus one the main highlights in Venice. Please consider it takes about 1 hour to get there, though!
Considering the flow of the tourists and opening hours, it's better to visit Burano in the evening. So, start with the sights around St Mark's square, then walk towards Rialto bridge and skip the rest. Try to be at Fondamente Nuove around 3 pm and take the water bus to Burano. That way you have 1 or 2 hours on the island (if you got a city pass with public transport, this is where it really pays off!)
In summer, you could even leave as late as 4 pm. Since there are no museums you need to visit (there is a lace museum, though) and the water taxis run until past midnight, you won't run into any problems.
Note: Besides Burano, there is also Murano, which is another island famous for its glass-blowing industry. You'll actually pass it on your way to Burano.
Where to stay in Venice
I actually recommend you to stay a night in Venice, even if you have to move on to another city. While it is entirely possible to do a day trip (there are good train connections from Verona to Venice) you will miss Venice at night!
The city is incredibly crowded in summer, but 95% of the tourists only stay for the day. At night, you will have the city almost to yourself. Here are some hotel recommendations for you. A word of warning, though. Hotels near St Mark's square are somewhat expensive, so the day trip option remains viable.
Mid-price hotels in Venice (~200€ per night)
Budget hotels in Venice (less than 100€ per night)
Is one day in Venice enough?
Venice is a very compact city and one day is enough to see the top highlights in the city. You probably won't be able to do a trip to the adjacent islands of Burano and Murano, nor will you be able to see all the great museums in Venice. Also, consider that Venice is quite magical at night. But you can get a good feeling of La Serenissima even if you just got a couple of hours.
This is why I recommend staying two full days, especially as the city can be quite crowded and there are queues and waiting times to factor in as well.
Personally, I have done both, doing a day trip and staying 3 to 5 days. It was always beautiful and I never regretted visiting. Also, Venice might be beautiful, but there are many other beautiful places in Italy.
Further reads:
So that's it. This was my guide one to spend one day in Venice, Italy. I hope I was able to help you plan your itinerary. Feel free to ask your questions below