Are you struggling with planning your Italy/Europe itinerary? There are just so many amazing places in Italy, right? When time is short, it's only natural to ask if you should visit Venice or Rome? Which city is better?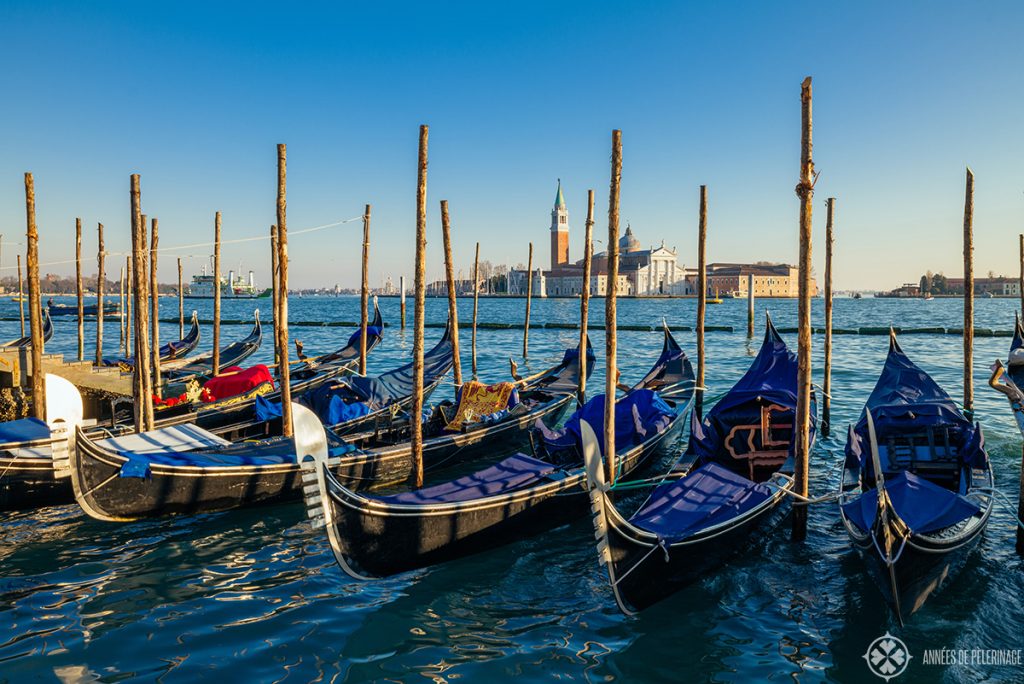 I have visited Italy probably 50 times or more (I really stopped counting). I just love the country, the food, the landscape, the culture. Naturally, I also saw Rome and Venice quite a couple of times. Both cities are amazing, but hey are also quite different.
In this guide, I am going to show you the pros and cons of each city so you can decide for yourself whether you want to visit Rome or Venice.
As a start, I recommend you reading my detailed Venice and Rome guides for a good overview:
Venice, Italy vs Rome – The most important differences
Rome is the capital of Italy and the far larger city (population of 2.87 million vs 261,000). Here, you can explore the wonders of the ancient of the Roman Empire and the mysteries inside Vatican. In Venice, you can take a gondola and explore the ridiculous splendor of the former republic that dominated European trade for almost a thousand years. Romantic water canals lined by ancient marble palaces and bridges everywhere you look!
But of course there are are many similarities as well. In both cities will you be able to eat amazing Italian food. Pizza, pasta, and gelato are available everywhere you look. Both Venice and Rome are incredibly popular tourist destinations and you can easily spend 3 or 4 days in each city.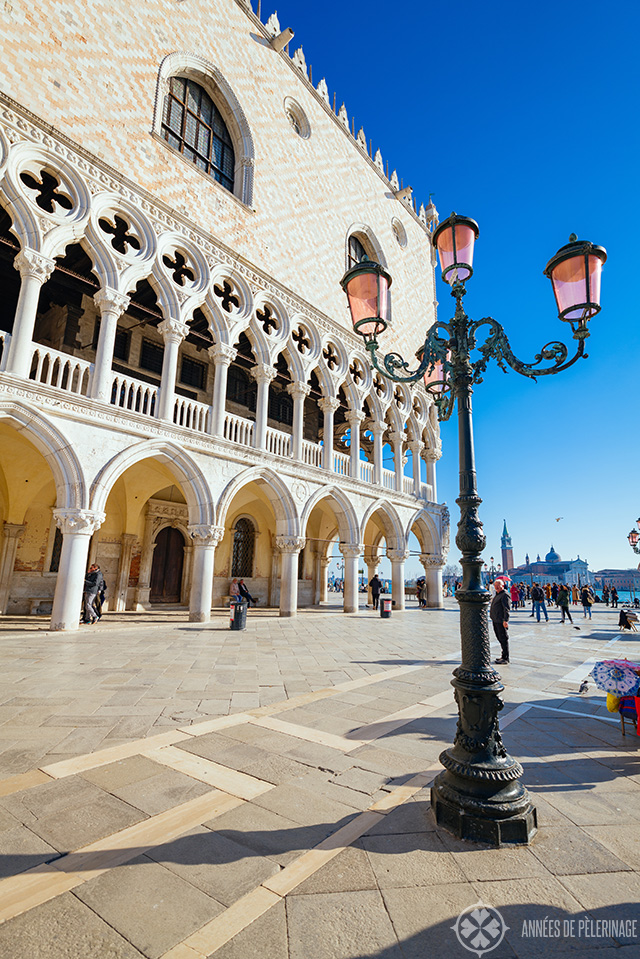 There are quite a lot of day trips you can take from either Venice (Verona, Burano, etc) or Rome (like Villa Adriana, Tivoli, Ostia Antica, etc). Also, both cities are quite old and there are many monuments from Italy's glorious past to be seen. So, you really can't do anything wrong in picking either of the city. Both are amazing, it really boils down to preferences.
Here's a list that should help you in the decision process.
Rome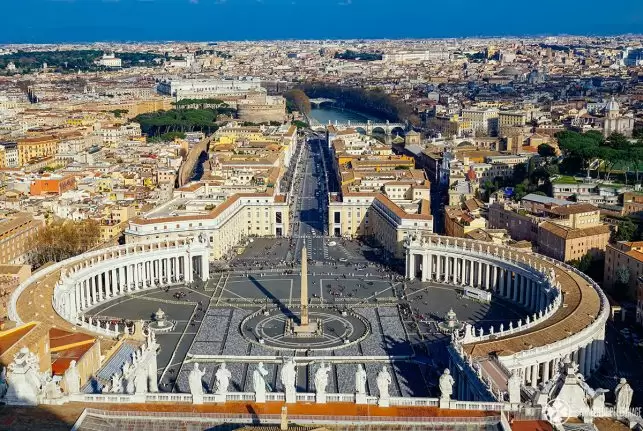 Is the capital of Italy and was the capital of the Roman Empire
Located in the middle of Italy and considerably farther south than Venice (= warmer & less rain)
Is the far older city and you can see ruins 2,000 years (Venice is founded in the 5th century AD)
10 times bigger than Venice, so there is a much more metropolitan vibe
Visit the Vatican – the smallest state in the world and center of Christianity
No beach or water (30 kilometers to the sea), but many beautiful parks
Good access with international flights
beautiful all year round.
Note: Though this is entirely a personal opinion, I really like the food in Rome so much more. Grilled artichokes, anyone? Here's a site with food tours in Rome/Lazio to get you inspired.
Venice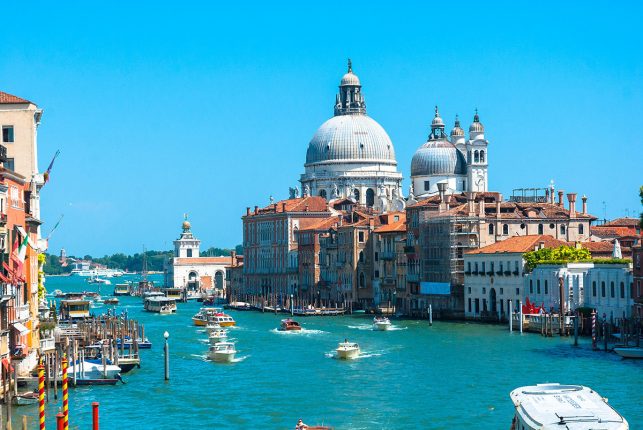 A city built completely in the water (the famous Venetian lagoon) with 391 historic bridges and 200+ water canals
A completely unique atmosphere you won't experience anywhere else in the world
A lot of ancient palaces and awe-inspiring monuments
capital of the Veneto region (and formerly an independent Republic; they actually speak a slightly different language here)
Probably the most popular city among tourists in Europe (right after Paris);
Very crowded in the high season and often lots of rain & fog in winter
considerably more expensive than Rome
You can see a lot in one day (while there are 900+ churches in Rome)
only a smaller airport with infrequent connections to other European capitals
I would pick Rome if…
you are a big fan of historic sites and archeology. Standing in the Coliseum or the ancient Roman Romanum will give you the shivers. To think that these buildings survived two millennia is almost unfathomable.
Also, if you love churches or you are a strong believer, then the Vatican and the many big cathedrals in Rome will be much rewarding than Venice (where are there are some churches as well, but not of this caliber).
Rome also has better art galleries. So, if you like museums, then the capital of Italy is the better choice. The Vatican Museums or the Villa Borghese will leave you speechless.
In terms of food, you'll find a much wider variety of Italian restaurants and the quality is quite a bit better as well. Venice is filled with tourist restaurants and it's a bit more difficult to find an authentic Osteria or Trattoria.
If your budget is limited, then Rome is also the better choice as hotels and restaurants are considerably cheaper here. Also, you can visit Rome basically all year round, while Venice will be a bit meh in Winter (too rainy & foggy).
I would choose Venice if
you love getting lost in a foreign city and just breathing in the unique atmosphere. I'm serious! You can easily walk around Venice the whole day, get lost in the smaller alleys off the beaten paths and you will still have the time of your life. Everything is just so beautiful and like in a fairy-tale.
If you love taking pictures then Venice will be quite a bit more rewarding than Rome. There are so many beautiful photography spots in Venice (though Rome is far from ugly).
It's also a city where 24 hours will get you quite far, while Rome is so much bigger and it's hard to cover a lot with little time. The Vatican alone will be one full day.
People who love the water and like the beach, are obviously better off with Venice. You can even take a water bus (20 minutes) to the Lido where you will find some beautiful Italian beaches. Or simply book a romantic gondola ride!
In Venice, you also get the chance to explore some impressive Renaissance palaces which is not possible in Rome itself.
The train from Venice to Rome
If you have 3 or 4 days in Italy, then I absolutely recommend visiting both. If you have to decide between Venice or Milan/Venice or Florence, then I'd always pick Venice. See, I love both cities (here's my Milan guide & here's my Florence guide), but they just can't compare with Venice in terms of sheer uniqueness.
And when you compare either Milan or Florence with Rome, then again I would personally always pick the capital? Why? Because the sights in all three cities are somewhat similar but in Rome they are the richest and most spectacular.
With that being said, there is a direct train connection between Rome and Venice. It takes 4 hours to get there and you really should consider this an option! From Venice, you could move on to Munich by train or take the plane to all the other major cities in Europe. Plan your trip on the official website of the Italian Railway (just make sure to search for "Roma" and "Venezia").
Venice or Rome – The final verdict
If you compare Venice vs Rome, then there really are no objective reasons why you would choose one over the other. It all depends if you prefer history or beautiful views. If you like smaller compacts cities rather than big metropolitan areas. It also depends on your budget and your itinerary.
Rome isn't called "The Eternal City" for no reason, but Venice has a very famous byname as well. It's called La Serenissima – the most serene. I really recommend inspecting your itinerary once more. Consider looking for ways to make room for both. There are other cities in Europe/Italy that, while beautiful, won't be able to hold up to these two.
Even though I am German, Berlin or Frankfurt come to mind. Or Prague and Budapest. They are all lovely, but neither as beautiful nor as diverse as these two cities. I know, it sounds a bit unfair, but I have been to all aforementioned cities 5 times or more.
Either way. I hope I was able to help you decide between Rome or Venice. Let me know if you still got any questions in the comments below