What to expect from a trip to the Amazon rainforest from Quito, Ecuador, and which jungle lodge is the best.
Ecuador is an amazing country for wildlife lovers. Most people will instantly connect Brasil with the Amazon Rainforest, but the largest habitat on this planet is bigger than just one country. Ecuador has access to the upper regions of the Amazon river and it is here the highest biodiversity on this planet can be registered. It's a trip of a lifetime, but certainly not a cheap one. So for all those people searching for the "best Ecuador Amazon tour" I felt like sharing my personal experiences in the rainforest, which are the best national parks in Ecuador and if it's worth it (yes!!!).
It is my honest opinion that no trip to Ecuador is complete without a visit to the Amazon rainforest. There are few places on earth more fascinating and it's certainly (and sadly) one of the few last remaining frontiers. Above all, it's a place to observe wildlife in an unprecedented variety and get in contact with the indigenous people of the Amazon basin.
1. Best choice: Tour to Yasuni National Park in Ecuador
As you are probably preparing a trip to Ecuador, you are looking for the best National Park in Ecuador and the best place to observe the fabled wildlife. Not an easy question, as there are a couple of nature reserves in Ecuador, but not all of them are equality suited. Sadly, mining operations (especially oil) and other commercial interests lead to deforestation and a general decline in the biodiversity – especially around the more populated parts of the Upper Amazon.
In my humble opinion, the Yasuni National Park is the best place for demanding tourists to get in contact with the fascinating world of the Amazon rainforest. It covers the largest area, it's home to the best lodges and also the place with the least human interference in the past years. But it's also one of the hardest to reach (at least the good lodges).
Yasuni is a wonderful combination of b(l)ack water areas and jungle trails and has two famous clay clicks (at the Nappo wildlife center). There are a couple of impressive observation towers for bird lovers and some lodges even have their own canopy walks. You can also do a day trip to the Panacocha lagoon where it is possible to see Pink River Dolphins.
Animals you could observe: (Jaguar, Puma, Tapir, Anteater), all 5 species of monkeys, sloths lots of parrots & parakeets, Pink River Dolphins, caimans, otters, anacondas, toucans, harpy eagles and lots of insects, snakes, frogs, and lizards.
How to get there: The only possible way to get to Yasuni National Parks is via airplane to the small town of Coca. From there you have to take a canoe down the Napo River for around 3 hours (depending on your lodge).
PRO: Possible to see the big mammals, many very good lodges
CON: Harder to reach and expensive lodges, lots of oil exploration on the outskirts
2. The Cuyabeno National Park
The area around Cuaybeno National Park is often flooded, making the canoe the prime mode of travel. As such, it is so much easier to spot all the wildlife living close to the shore. BUT: There is also a peccary clay lick, where wild forest pigs will show up each morning, though other mammals make infrequent visits here as well.
Either way. Cuyabeno is distinctively different from Yasuni, where you won't find as many permanent lakes (like the Laguna Grande). If you are into bird watching, picking Cuayabeno is probably the better choice, as you will be able to observe Hoatzines, macaws, parrots, parakeets, toucans, herons and so much more directly from your boat.
Generally speaking, Cuyabeno National Park is a little less well-developed than Yasuni National Park – but obviously, that coin has two sides. It really boils down to your budget and preferences. Most lodges tend to be rather close to Nueva Loja, and are thus quite easy to reach.
How to get there: Take the plane from Quito to Lago Agrio. Most lodges are located in the surrounding area and you'll proceed by car or canoe. But from Quito (Quitumbe bus terminal) takes 8 hours and there are even night buses.
Animals you could observe: (Jaguar, Puma, Tapir, Anteater), most monkeys, lots of parrots & parakeets, pink river dolphins, Manatees, caimans, otters, anacondas, toucans, harpy eagles and lots of insects, frogs, snakes, and lizards.
PRO: Fairly easy to reach, excellent for bird watching and canoeing
CON: less chance to see big mammals and do jungle trails
3. Tena
Tena is more or less the very origin of the Amazon river and it's mighty Napo River branch. As such, the area is distinctly different from the Yasuni National Park or Cuyabeno. It is not a National Park and you should not expect to see undisturbed nature and pristine primary rainforest.
But as some people feel less inclined to visit the far reaches of the planet, where insects, snakes and other crawly things are abundant Tena can be a good alternative. You won't be able to see the kind of animal variety as in Cayabeno or Yasuni, but it's still possible to see amazing birds, monkeys and get a general feeling of the Amazon Rainforest.
As the area around Tena is a lot more civilized, outdoor adventures such river tubing,  rafting or even hiking (e.g. the Sumaco Volcano) is possible. There is also a museum and local community (quite touristy though) you could visit.
Animals you could observe: The animal Rescue center "AmazOOnico" is very close. There you can see most of the big animals (such as Tapir, etc), as spotting them in the dense forests around Tena will be difficult. Still, Howler Monkeys or Squirrel Monkeys and the occasional parakeet are observable.
How to get there: Tena is by far the closest to Quito and accessible by car or bus. Expect 4-5 hours as you have to cross the mountains.
PRO: Rather cheap to reach & cheap lodges
CON: Fewer animals, doesn't have the true deep jungle feeling
4. Kapawi Lodge
Probably the most authentic experience you could possibly have in Ecuador is the Kapawi Lodge. It's not located in a National Park, but that shouldn't put you off. It is run by the Achuar community in the very Southwest of Ecuador very close to the Peruvian border – right in the middle of nowhere.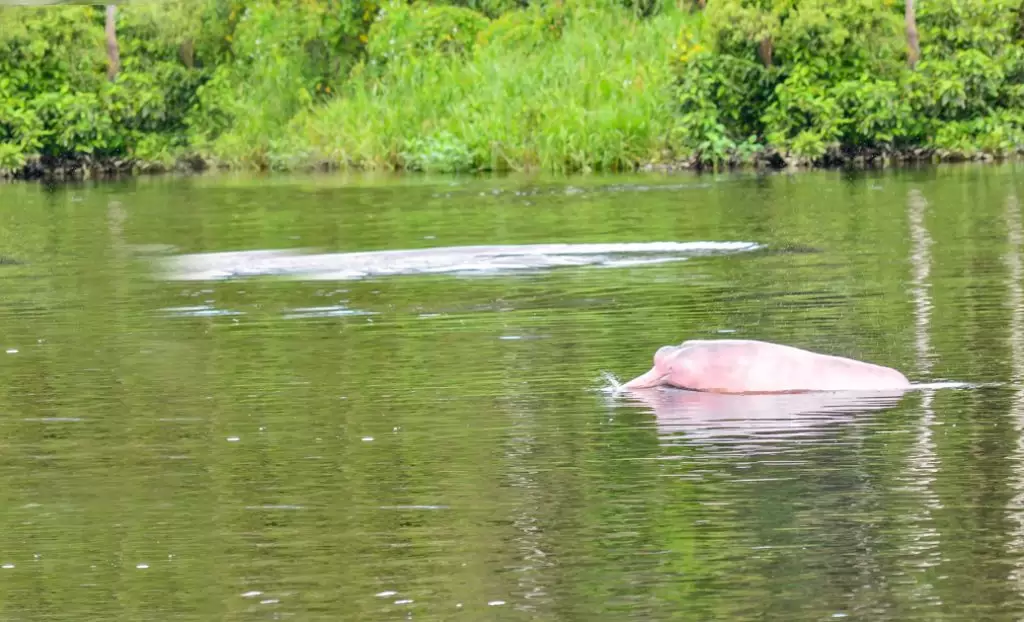 The only feasible way to reach it is via small aircraft (4-6 passengers), which tells a lot about the flora and fauna you will be able to see in the pristine primary forest surrounding the lodge. As the property is run by the Achuar people, you get, by default, in contact with their traditional lifestyle. A very good alternative for those who really want to go off the beaten tracks.
Animals you could observe: Jaguar, Puma, Tapir, most monkeys, lots of parrots & parakeets, pink river dolphins, caimans, otters, anacondas, toucans, harpy eagles and lots of insects, frogs, snakes, and lizards.
PRO: As deep in the jungle as you can get; Local community project owned by locals
Con: Almost impossible to reach, rather rustic, despite its price.
3: Amazon day trip from Quito: Is it possible?
The Cayambe Coca Ecological Reserve is only a 100 kilometers from Quito while getting to the Yasuni National Park will take a full day and cost considerably more. It is quite possible to get to Cayambe Coca on a day trip from Quito – but it's certainly not the Amazon rainforest or anything. It's an amazing national park, but probably not what you are looking for.
Tena would be the closest destination from Quito (only 200 kilometers away), but don't expect a highway. You'd be spending the day on the road with an hour or two to explore the jungle.
It's sadly not feasible to go on Amazon day trip from Quito. It takes too long to get there and seeing the wildlife takes time and preparation. Sorry :(
5-day tour or 3-day tour to the Amazon Rainforest?
Most lodges offer different tours and you could possibly even spend two weeks (money permitting) and really get intimate with the jungle. That being said five and three day Amazon tours are the most common, though I strongly recommend staying at least five days.
Why? First of all, it takes quite a while to reach most lodges. On a 3-day tour that usually leaves one full day to explore the Amazon rainforest. Depending on the weather, the season, the skill of your guide, the location of your lodge and sheer luck you may or may not be able to see the wildlife you have come to for. To put it quite simply: A five-day tour will increase your odds to see anything meaningful by a thousand times.
The best Amazon Lodges in Ecuador
Note: I get commissions for purchases made through some of the links below.
So, what and where are the best Amazon Lodges in Ecuador? Though question, as it really depends on your budget and your expectations! Some people value comfort over the wildlife experience and vice versa. All of these lodges offer multi-day tours and all will have excellent ecologist and locals working towards one goal: An amazing wildlife experience for you. Either way, I tried to pick my favorite lodges. I also took the average rating on the most common booking sites as a second factor.
The La Selva Jungle Lodge is, without doubt, the best lodge in Amazon rainforest (at least in Ecuador). Why? First of all, it's located in a very remote blackwater region of the Yasuni National Park. It takes a while to get there, but there are two clay licks nearby, an amazing lagoon right in front of your doorstep and a couple of observation towers in the close vicinity.
The hotel combines luxury (there is even a spa) with an ecological approach. It truly is one of a kind and I enjoyed my stay in a way hard to describe. The ecologist, the local guides, the rooms and the wildlife experiences were beyond amazing (click here for prices & more information)
Sascha Lodge is not far away from La Selva and just as good. Where La Selva puts an emphasis on being in the middle of nowhere, the Sascha Lodge is a bit easier to reach but sports its own (quite gigantic) canopy walk.
A lovely mid-price lodge with excellent ratings would be Sani Lodge. The rooms are maybe not as luxurious as in the two lodges mentioned above, but the wildlife experience will be just as good.
Another beautiful luxury amazon tour option is the Napo Wildlife Center. They have two famous clay lick and their own canopy tower, though are a bit less remote and a bit more touristy.
If you'd rather choose Cuyabeno National Park, then the Nicky Lodge is where you would have to go. It combines the best location in the reserve with the highest tour and accommodation standards.
Cruise ship or Amazon Lodge?
The Amazon is big enough for small river boat style cruise ships. But now you are probably wondering what's better: going on a multi-day amazon cruise or staying at one of the many lodges? To tell you the truth, there is not much of a difference. You got the same chance to see the same animals and the comfort is more or less the same.
Perhaps most importantly: You will be able to see very few animals from the boat itself, as you will have to stick to the deep waters of the bigger side arms. The boat will stop for similar excursions and won't get you anywhere else, a river canoe from your lodge couldn't.
It's not more convenient either. If you want to go on a night walk (highly recommended, if a bit scary), you will have to leave your boat, just as you will have to leave it when you want to see about everything else living in the dense jungle.
Now, I'm not saying that sitting in your cabin or on deck and watching the mighty Amazon pass by is not wonderful. You absolutely will see birds passing overhead and maybe even see pink river dolphins. But most lodges are located in very scenic places as well, and sitting on the veranda will award you with equal opportunities.
It really boils down to preferences, vacancies, and price. Most people prefer cruises, as there will be organized group tours. Fair point, but most Amazon lodges (if not all) offer full board and only organized tours as well. So, really pick what you feel the most comfortable with. If you are an avid cruiser, you might prefer the cruise and those who rather travel a bit more independently might want to pick a cruise.
One of the deciding factors might be if you travel on to Galapagos or not. The wonderful Galapagos Islands can only feasibly seen on a cruise ship and maybe picking a lodge (and thus some variety) will be a smart move. (Just in case you missed it: Check out my Galapagos guide here & my review of the best Galapagos cruise ship here).
Last thoughts on choosing the best Ecuador Amazon tour
The Amazon rainforest is one of the most amazing places on this planet. Few places, if any, can compare in terms of the quality of the wildlife experience. But the Amazon rainforest is no zoo – big animals flee from humans and it's not possible to step out of the aircraft and see a giant anteater. You will have to take a canoe deep into the forest and this takes time and money.
And even then, after you booked the best tour at the best lodge, there are no guarantees. There's this one lucky guy who saw a jaguar, a tapir, all five kinds of monkeys and pink river dolphins on his first trip (that would be me *lol*) and then there are people who didn't see a single of the big mammals in a week. There just are not guarantees – but you will always see something. Even the bountiful insects (think of the leaf-cutter ants), the frogs (so many shapes, so many colors) are amazing, as is the whole canopy forest and the many birds.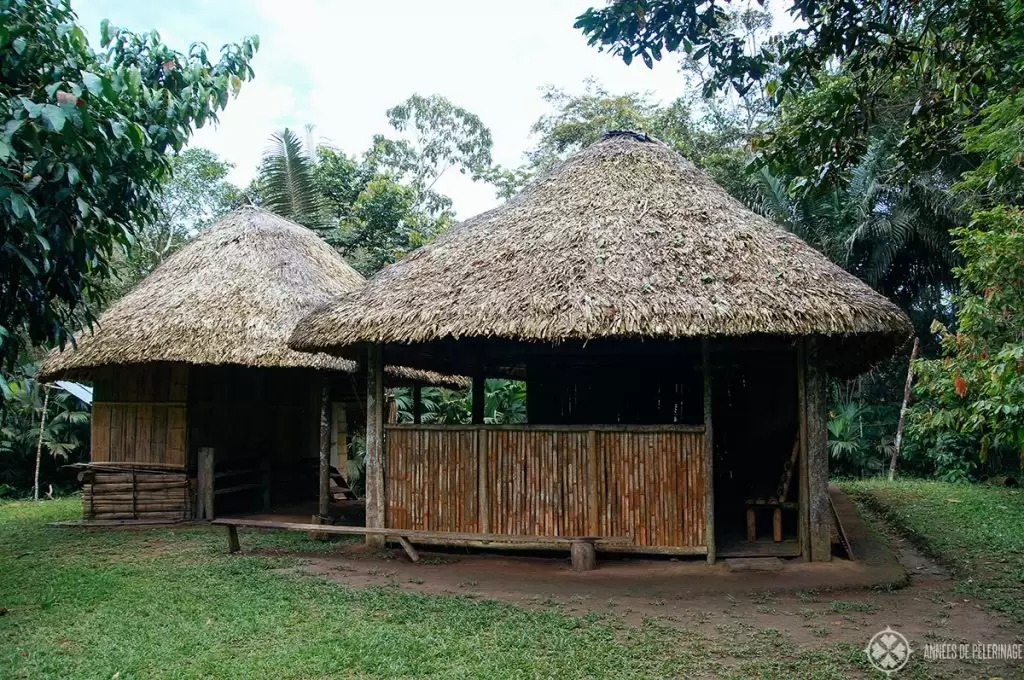 Last but not least, there are the indigenous people of the Amazon rainforest. Current research hints that there are still two (maybe three) uncontacted tribes in the Amazon rainforest. The word uncontacted already implies you are not allowed to visit them (though there are ways to learn all about them) – but there are many traditional communities. Personally speaking, I'm not a big fan of treating locals like a museum piece or a trophy for your picture album. But at the end of the day, you have to decide for yourself if that is something you like to experience.
I hope you liked my little guide to the best Ecuador Amazon tours. Got any questions? Feel free to leave them in the comments below! And don't forget to pin this to your Pinterest board.