A detailed review of the Four Seasons Hotel George V. Some say it's the best luxury hotel in Paris. It has its own Michelin star restaurants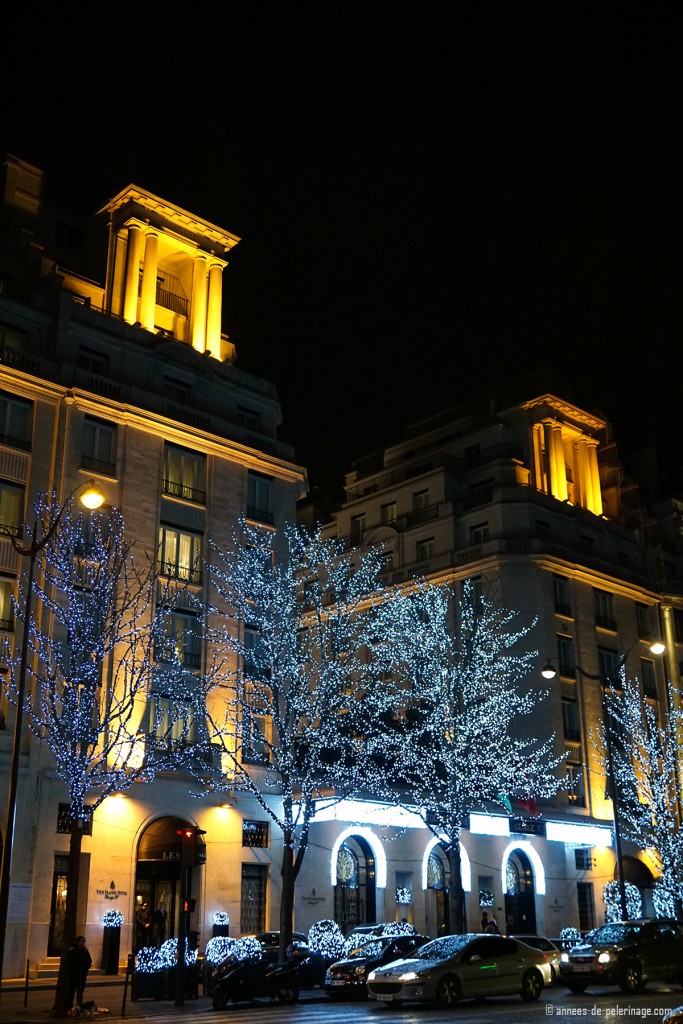 Paris is a city of many wonders. But it certainly is not easy finding the perfect hotel there. Some of them are just pricey while others are living on old fame without elaborating on the needs of a younger version of luxury travelers. The Four Seasons Hotel George V is Paris' best luxury hotel for me. While indeed not exactly cheap, it is modern, yet classic, has a beautiful spa and also a wonderful variety of restaurants (one of them with 3 Michelin stars), and certainly a lot of tradition.
Note: I get commissions for purchases made through links in this post. I had no association with Four Seasons whatsoever when writing this review. My opinions are my own, as was the money that paid for my stays.
Perhaps most important: It is located right in the middle of the famous Champs-Élysées. Whether it is shopping, seeing the Eifel Tower or the Louvre, you will always be in the middle of things. If you are still looking for things to do in Paris, check out my guide to all the highlights. If you are more the experimental type, here is a guide with 28 fun & experimental things to do in Paris. I thoroughly enjoyed staying there, mostly because the staff was almost perfect and the rooms a dream. Here is my review:
By the way. I always book via booking.com. Check out their prices here.
The Hotel
The Four Seasons George V has quite a history. Originally built in 1928, it was refurbished in 1997 for a mind-boggling amount of 125 Million Dollar by star architect Pierre Yves Rochon. While a bit of the feeling from its glorious past still lingers (General Eisenhower stayed here during the liberation of Paris!), the outstanding flower arrangements of Jeff Leatham bring you right back into the future.
The unique luxury hotel has 245 rooms (61 suites), run by a staff of more than 600. Attention to detail and outstanding service often have the Four Seasons George V ranked among the top 10 hotels in the world.
These days the Four Seasons George V is particularly famous for its decorations. If you happen to be in Paris around Christmas, make sure to drop by for at least a coffee (even though I recommend you to actually stay there). The decorations, no call them installations, will let you experience the word "breath-taking" in a quite literal way.
The Rooms of the George V
The Four Seasons George V offers a broad variety of rooms. While even the standard rooms are impressive (ranging from 37 to 40 m²) I always take one of the premium rooms. With 50 to 60 m² they offer a little bit of extra space, usually with a better view.
The premium rooms (as well as the many suits) have a lovely little sitting area. Whether it's planning out the activities of the day or enjoying a cup of tea or coffee, I just love to idle away some time in these beautiful classic rooms.
The bigger rooms usually also got a big closet I am sure you will find very helpful. Paris is a city of many attractions, but the demands on the wardrobe are equally high. Walking, dining, opera – personally speaking, I think a proper holiday in Paris needs that extra luxury.
Having fresh flowers and newspapers in your room certainly makes a lot of difference. You can do without it, but when you have them it will make you feel at home (or rather that luxury version of home). Staying here, even if its only for a day, will give you the impression of being a part of the George V family.
The bathrooms
The bathrooms of the George V are spacious and held in the classic Four Seasons scheme. I have recently been in St. Petersburg and the bathrooms of Four Seasons there looked almost identically (check out the review of the spectacular Lion Palace here).
The bigger rooms will have a separate shower, while the standard rooms will have a foldable glass screen to convert the bathtub into a shower.
Shampoo, Body lotion and all the other beauty essentials are provided by Bulgari. I never knew they were doing cosmetics, but they certainly smelled very lovely. I'm sure the ladies will appreciate them.
The Spa
City hotels and spas are not always easy. Some totally eschew them, while other hotels only got a small bubbling Jacuzzi. The Four Seasons Hotel George V certainly erred on the upper side and dedicated a whole basement floor to the needs of the stressed traveler.
There is a medium sized pool and a wonderful hot tub to be found. Dimmed lights and muted colors create a wonderful place to wash away the sores of the day.
There is even a special relaxation room. Together with the complimentary spa buffet (isotonic juices, teas, fruits, and so on), you will not want to leave the George V spa.
The Restaurant
Paris (and France as a whole) is known for its fine cuisine. The word cuisine is French to start with, so I guess this is telling a lot. Hotels and restaurants are always a tricky thing. Usually, they cater to the lazy travelers not willing to set that extra step outdoors. The Four Seasons Hotel George V in Paris takes a different approach. They worked towards building up a 3-star Michelin Restaurant.
The "Le Cinq" (French for 5, as in George V) is now one of the most illustrious restaurants in Paris. Is it the best? Well, arguably there are a couple of 3-star restaurants in the city. With spectacular flower arrangements inside a magnificent hall, it is certainly one of the prettiest.
I recently enjoyed a wonderful Christmas dinner there. It was expensive (we are talking 500 USD per person, ex drinks), but it was equally as spectacular. Please be aware that dinning in France is usually very expensive. That being said: The food at the Le Cinq will be, without doubt, excellent, but you will probably get a better bang for your buck elsewhere (meaning Germany or say Spain).
The quite lovely part about the Four Seasons George V is: They don't have a breakfast buffet. Now you might ask why exactly should this be lovely? Well contrary to what you might think, the French aren't a breakfast nation. So breakfast in France is always a bit of an issue (especially for the Anglophiles who are used to eating away a day's worth of calories in sausages and pudding at breakfast).
The Four Seasons George V offers breakfast, it only happens to be served inside the 2-star Michelin star restaurant, meaning the Le Cinq. There is no buffet (probably because they feel they aren't able to hold up their extremely high standards at a buffet), instead, you have to order à la carte. Expect prices along 60 to 100 euros per person (more if you opt for champagne, caviar, truffles, etc), but also expect stellar quality and service.
I genuinely enjoy having breakfast there. The location is simply mind-blowing, the service outstanding and the food couldn't be yummier.
Note: If you book your rooms with breakfast, you'll get a voucher that will cover all your basic breakfast needs.
There is also another restaurant and a bar at the hotel. Those are really not worth a mention since they are more or less standard 6-star hotel stuff. The Gallery, however, should be on your list, if you love yourself an afternoon tea. I don't think there is a better location for some sandwiches, treats and tea in Paris (and maybe not even the world).
Summary of my Four Seasons Hotel George V review
Rooms: 4,5
Location: 4
Design: 4,5
Food: 4,5
Service & Hospitality: 5
Spa: 4,5
Price: 5
Accessibility: 5
(max = 5)
The Four Seasons Hotel George V in Paris is really an outstanding hotel. It's elegant, yet modern, is located right in the city, yet its spa offers a relaxing oasis. The food is truly memorable and so is the service. If I was to criticize something then it's the interior design that sometimes feels a tiny bit too plush. But that is just personal preferences. The concierge holds VIP tickets for all the major attractions, getting you frontline without the queues. The room rates are not exactly a bargain. I usually book via booking.com and mostly can secure good (but still pricey) deals.
Find the best price for the George V here
So that was my review of the Four Seasons Hotel George V in Paris. If you got any questions, feel free to contact me. Stayed there yourself? Let me know your thoughts in the comments below! Also, check out my list of 20 amazing things to do in Paris for further inspiration

Disclaimer: I had no association with Four Seasons whatsoever when writing this review. My opinions are my own, and so was the money that paid for the stay. In 2015 I stayed 4 nights at this luxury hotel in a premium room.