Who doesn't dream of flying business class all the time? But whether it is on points or buy paying cash, not all business class experiences manage to deliver on the promise of excellence. Qatar Airways is frequently ranked as the best business class in the world. But is it really true? This is exactly why I wanted to write a detailed QSuites review for you and share my views.
So far, I had the privilege to enjoy the QSuites six times. The last time was a flight from Doha to Male on the Maldives (read about my trip here), so I'm fairly certain I am able to tell you exactly what expect and if the whole affair is worth the money or not.
So, let's get started with my detailed QSuites review, shall we?
Note: If you are still wondering if business class is worth it, read this guide.
My QSuites review
Qatar Airways inaugurated the QSuites in 2017 and changed the standards for business class with it. With a 1-2-1 layout, it was the first business class to feature suite-style seats with a completely closable door and lay flatbeds.
The whole concept sounded quite magical. The center rows could be converted into a private space for couples or even a four-person family area with double beds. Perfect for big families our as a work area.
When I first saw the configuration, I actually was quite worried, can you believe it? I suffer a bit from claustrophobia. The QSuites might bring first-class amenities to business class, but there is a distinct difference in size. Each seat is 21.5 inches wide and 79 inches long. Together with the doors, I was honestly worried it would feel to tight for me.
But after 6 flights, I can put such worries to rest. The privacy is just perfect and not in the least claustrophobic. In fact, I flew once with my family and the family suite is just simply outstanding. Having dinner together 30.000 feet above the ground, almost like at a normal restaurant table, is nothing short of amazing.
The seat configuration might be a bit confusing on your first trip, though: The odd-numbered rows face to the rear, while the even-numbered ones are front-facing. Personally, I like the rear-facing seats more, as the seats are closer to the window and add a little extra privacy. The difference is marginal and nothing to really fuss about, though.
For the middle row seats, the difference is major, though. Again, the rear-facing seats are the better option – at least if you are traveling as a couple. While the seats are fully separated, the wall can be removed completely, so you end up with a real double bed. There is not even an armrest in between.
The best part, Qatar Airways actually supplies you with an actual mattress on request, so you really end up with a proper bed you can sleep on. It's still a bit on the harder side (the "mattress" is maybe an inch thick), but way above anything else you'd find for a similar price (for reference, here is my review of the Etihad Airways business class)
A detailed look at the QSuites
Now let's take a closer look at what you are actually facing in your little QSuites cabin. Like I said, each suite has a sliding door that can be closed for privacy after take-off. They don't reach the ceiling but end around the eye level. So even when they are fully closed, the stewardess will be able to look inside. They will definitely respect the do not disturb signs you can light-up from your control panel.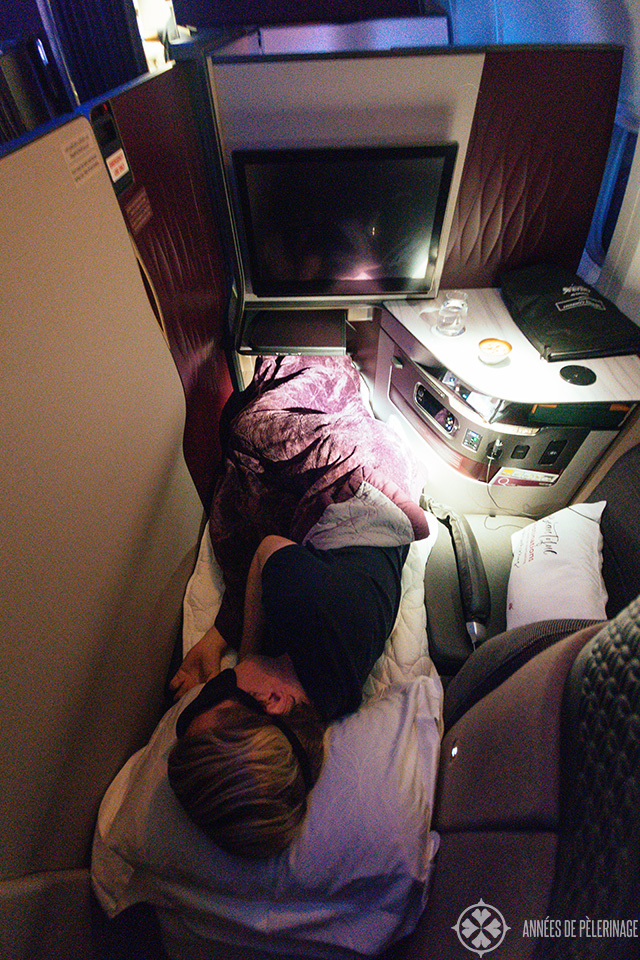 And speaking of the control panel. The seats of the QSuites are pretty versatile and you can move them pretty much in any way you like. I already mentioned the amazing lay-flat feature which converts the seat into a full bed for people of average height and weight. You can also move it forward or backward, which is really helpful while eating. Plus you can change the inclination however you like. There is no massage function, though.
Each QSuite comes with a 21.5-inch entertainment system with touchscreen controls. You can also control it via a remote control that is hidden in your armrest which has another small monitor (perfect to run the map!).
There are a bright overhead light and another smaller light above your armrest, so between working, reading and sleeping, you will face no problem whatsoever. There are also universal power ports, USB ports, HDMI and contactless NFC capabilities – so it's easy to connect your own devices.
Every Qsuite has a retractable table (which is used for food times) and an additional table in front of the monitor which is the perfect spot to put a cocktail or some drinks. There is a little open storage compartment below the table where you can store things for immediate use. I wish they would have added a little rail, so things don't slide out as easy.
Right next to your seat is a little bench. I am not entirely sure what you need it for, but you can slide it up and down, so it can convert into a nice armrest (at least on one side). Another storage compartment hides underneath – the perfect place to put your purse or other items you will not need the whole flight but you don't over to store overhead.
All in all, I feel the setup works out perfectly and it's seriously the best business class product out there to date. I love the privacy, I love the color scheme and the lay-flat beds are priceless.
QSuite Amenity kit
Every passenger in the business class will, of course, receive an amenity kit. I experienced a couple of different ones, but if you are lucky you get the super neat leather kits by BRICs. Inside, there is Castello Monte Vibiano skincare (moisturized, mist and lip balm), earplugs, sleeping mask, and socks. The skincare is not outstanding, but decent and I felt the facial mist really smells nice and refreshing.
On long-haul and overnight flights you will also get slippers and sleepwear provided by The White Company. You will find toothbrushes, shaving sets, and the signature eau de toilette in the bathroom. Each QSuite will also come with noise-canceling headphones. So, there is really everything you need!
The food and drinks on the Qatar Airways business class
Now let's talk about food!
Eating is probably the best way to pass the time onboard a plane, though sadly the quality is often quite mixed.
On that note, I do have to say that I had quite a mixed experience with Qatar Airways as well – especially on my two flights between Doha and Maldives (DOH – MLE).
The selection of mezze is their signature starter and I recommend you to take it. It's just perfect (even if you don't love middle easter starters as I do) and quite a lot.
You can also do nothing wrong with their green non-alcoholic signature cocktail, which I really recommend ordering after take-off.
Otherwise, wine-lists and food change depending on your flight and season, so it's a bit hard writing about it. The only thing I can tell you is that I had both exceptional dishes and abysmal. I once had beef with gnocchi that was very good and something you'd eat at your favorite restaurant.
But this QSuites review would not be complete without mentioning some bad experiences either, would it? I once had another beef with mixed vegetables that were worse than any Aeroflot economy meal in the 1980ies. I wouldn't have called it edible and I saw a lot of other returning plates as well.
All deserts/fruit plates I had were quite decent, and at the end of the day you have to stay realistic. This is "only" business class and there is no dedicated chef preparing your wagyu beef to perfection. Outgoing flights from Doha (where they are fully in control) were excellent in my experience, and so was everything from Munich (MUC).
The general service in Qatar Airways business class
Any experienced traveler will be able to attest to you that you can build the best hard product ever and it will fail utterly without outstanding service. Qatar Airways seems to be well aware of this fact and really seems to be putting on emphasis on training first-class stewards and stewardess.
If you are familiar with business class products, then you will know that mealtimes are extremely busy for the crew – even more so than in economy, because the is much more logistic involved (everyone has special wishes and more meals) while trying to uphold a way higher standard at the same time.
While I did notice high-stress levels in the kitchen, I never experienced anything in my suite. On all my flights with the Qsuites, the crew was always extremely calm, considered and prepared. Even when take-off was delayed, there were turbulences or me boarding very late (which I usually do), I always received perfection – down to the little LED candle on your dinner table.
At the start of each flight, your personal attendant will quickly discuss the details of the flight with you. They'll ask you for your preferred meal-times (you can choose freely) and of course drinks before and after take-off. They will also happily explain all the features of the suite to you – if you are not familiar with it.
There was one out of my 6 flights (so far) where I had a new (?) stewardess who was not that familiar with the whole process yet and things were a bit slower. While noticeable (in contrast with the usual perfection), it was nothing to inconvenience me at all. So in short: Service is spot on!
Which planes have Qsuites?
Qatar Airways has quite an impressive fleet and is not exactly a new player in the premium segment. So, however amazing the QSuites are, you will only find them on the following aircraft types: Boeing 777-200LR, 777-300ER, most of the Airbus 350-900 and all the A3500-1000.
It's quite easy to tell which aircraft have the QSuites. As the configuration in the old business class cabin layout was 2-2-2 (and not 1-2-1), you simply have to check out the seat map of your flight (like on Seatguru)
Summary of my Qatar Airways QSuites review
So, let' put things together. The QSuites are the best business class currently out there. I actually feel there are some first-class products out there that couldn't compete. While I always had my issues with Qatar Airways Economy Class (the music and endless announcements are driving me insane), you will have nothing of that in QSuites.
What's stranger yet, the price is incredibly competitive. You can often get the QSuites for the same price as, say, Lufthansa or United business class, for the same flight – though these products are no match at all. There are worlds in between.
The only problem I have is that flights are always routed via Doha (DOH). So, depending on your destination, it may or may not make sense to actually book a Qatar Airways flight. What do I mean? My home base is in Munich. Lufthansa offers a direct flight to Tokyo or Delhi. Qatar Airways can usually match the price, but the flight duration is usually a lot longer.
While a little layover of an hour or two can be perfect to stretch your legs (and I came to prefer it over 16-hours non-stop flights), it stops to make sense if you are 4 more hours in the air to reach your destinations just to have the more comfortable seat.
But, setting this aside, you'd be stupid not to book the QSuites if all other variables are the same.
Btw, if you are just reading this out of interest, here is a guide with 10 tips how to pimp up your economy flight.
So, this was my little QSuites review. Still got any questions concerning Qatar Airways business class? Leave a comment below!