What to pack for Germany – A local's guide to everything you need to bring no matter the season
Is your trip to Germany about to start? Your plane departing in a couple of days? And now you are looking for a Germany packing list, what to wear, etc? Well, your search has come to an end!
As a local (say "Hi!" when you are in Munich), I wrote this detailed travel guide on what to pack for Germany for you. I love traveling around my country and go on a little day trip almost every week (here are some of my favorites). After years and years, I really know what you need and what you don't! So, I figured why not share the knowledge with you.
So, let's get started with my Germany packing list, shall we?
Note: I earn a small commission for purchases made through links in this article.
Electronics you need to pack for Germany
Let's start with the basics. Germany's power grid runs on 230 volts, with a frequency of 50hz. You will only find type F plugs, also known as "Schuko". This means US Americans will need a travel adapter.
Pick an international one, as you can use it over and over again. I have been using this one for quite a while, and am super satisfied
Hint: Just don't forget it in your hotel room (a favorite hobby of mine)
Buy it on Amazon
Depending on the electric appliances you want to use, you will probably need a voltage converter. Check the label on your appliance.
Buy it on Amazon
Other than that, it really boils down to your common sense:
Extra SD-Cards for your camera: Germany is incredibly photogenic. You will take way more pictures than you are used to. Don't risk running out of memory space. Buy spare SD Cards (these are the ones I am using)
A power bank: If you are just taking pictures with your cell phone, a power bank (I like this one) will provide you some extra time shooting pictures with your mobile phone. Which is quite needed, as your days will probably be quite long! I like the Solar Charger 20000mAh as it is really versatile and will serve you on your next trip – no matter where it will be.
Please know that Wi-Fi is pretty common around Germany. Most hotels offer it (but sometimes still for a charge) and it's available on highspeed trains (ICE and IC) as well as some intercity-buses.
Still, definitely make sure to check roaming rates for Germany with your telephone service provider. A pocket Wi-Fi device might be a good idea for you.
Buy it on Amazon
What to wear in Germany
If you were worrying about what to wear in Germany, then please relax: Wear whatever you like. Basically, nobody cares what you put on and we locals are more or less fine with about everything. Usually, Germans tend to dress a bit more on the practical side and less fashionable – but that's just a trend and no directive.
Either way, keep in mind that the German weather can be quite fickle and it can rain quite heavily throughout the year. It can also get quite cold, even in summer. Here's what you should definitely bring, no matter the season:
A decent rain jacket or windbreaker (I love the Colombia Outdry jackets a lot)
jeans or trousers (2 pairs)
a jumper or cardigan
t-shirts as you see fit
one dressier outfit for going to the restaurant
Socks & underwear as you see fit
[July + August] shorts / short dress (2 pairs)
Summer is often quite short, so if you are visiting in May, June, September or October, you might not need to pack shorts or summer dresses. Do keep in mind, however, that very, very few places in Germany have airconditioning, so the rare hot day in July or August can feel quite oppressive.
Note: On business trips, people will, however, expect rather formal attire, meaning suit and tie.
What to wear in Germany in Winter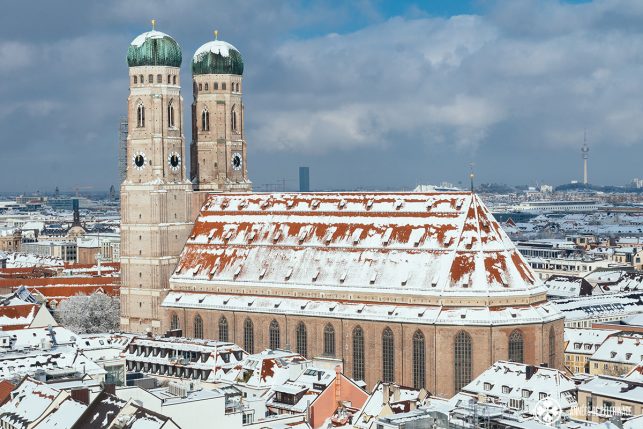 Winters in Germany can get reasonably cold. Usually, temperatures stay a bit below the freezing point and snow is frequent – even in big cities. It can snow anytime between October and April (especially in the mountains), though Dezember through Mid-March is where you should expect. Snow is less frequent in the North. This is what I would pack:
A very warm winter jacket or coat (like something with down feathers)
A couple of warm socks
Scarf and warm gloves
a warm hat that covers the ears
[optional] warm sock liners for your shoes
[optional] long underwear for those who easily freeze
Generally speaking, insides will be quite warm, though most Germans are rather conservative when it comes to heating, so it's usually not overly hot inside (unlike in Austrian hotels).
Shoes to pack for Germany
Germany is a very diverse country, which I recommend putting very versatile shoes on your packing list. No matter if you are going hiking or exploring our beautiful medieval old towns, you will move around a lot, so I'd put comfort over fashion. Women should be aware that there are a lot of cobblestone streets, which don't exactly go well together with high-heels.
comfortable walking shoes – preferably something that can withstand a little rain; I love he Adidas Terrex Swift as they are also super light and easy to slip in click here for the female version) They are my go-to shoes for all my day trips in Germany
sneakers or leather shoes for the sunny day in the city
[optional] hiking boots (if you plan do explore the magnificent German alps)
[Winter only] Very warm boots for visiting the Christmas market
[Winter only] Warm and water-proof boots suitable for walking through (snow & snow slush
[July & August] comfortable sandals; I always wear Teva sandals (men's version | women's version)
Now the thing about German summers is: They are somewhat unpredictable, especially in recent years. As a rule of thumb, temperatures generally only rise above 25° in July and August and those are the only two months you need sandals. I would not recommend flip flops, as you will be walking around quite a lot.
You probably won't need dress shoes/high heels except you plan to go to the opera/theater, a Michelin-star restaurant or a big family event like a wedding.
Toiletries and medicine you need
Quite frankly. You really don't need to bother packing anything else but the basic necessities of daily need.
toothbrush, dental floss & dentifrice
antiperspirant
day creams & body lotion as you see fit
pain-killers
sanitizing-gel (Germany is very clean, but it still makes sense)
[optional] Blister-Blasters (I love Compeed) ); can easily buy it at the drug-store but you will want to have them with you when you need them, not when it's too late, eh? :)
There is quite literally a pharmacy around every corner (probably 5 times more than grocery stores, lol) and drugstores (like DM) are all over the place as well. If you'd ever need anything, it will be extremely easy to shop without wasting much time. It's also quite cheap compared to other European countries.
Other things that should be on your Germany packing list
I already mentioned the German rain. Packing travel umbrella might be a smart move. It's not essential, but it might come in handy. You're not always close to a store when you need it the most, and not all hotels got them.
Also, you should know that Germany has excellent drinking water. In most cases, the tap water quality is superior to bottled water you might buy. So, just bring a reusable water bottle (I use the Nalgene Silo HDPE Wide Mouth Bottle; am so satisfied and it never leaked) and fill it up whenever you need. You don't need an expensive filtering system.
Last, but not least, I would like to point out that Germany is a cash-country. You will end up with quite a lot of coins, so remember to bring a wallet that can handle it.
Further reads:
So, this was my Germany packing list. Got any questions? Feel free to ask them in the comments below.