Everything you need to know about visiting the famous Last Supper painting by Leonardo da Vinci; what to expect, and how to get tickets.
The Last Supper, known as Il Cenacolo in Italian, is one of the most recognizable paintings ever created. Leonardo da Vinci is the mastermind behind the iconic work, and there really is no way around visiting this unique UNESCO World Heritage Site when you are in Milan (just in case: here is a list of the other must-see places in Milan).
I'm sure you want to see it as well, but sadly you are not alone! The crowd in front of the museum is usually a mixture of art lovers (like me), devout Christians or those who just saw the movie "The Da Vinci Code", which explains why tickets sell out so fast. Incredibly fast! It is one of the most iconic works of art of all time.
In this little guide, I will show you how to visit, what to expect and how to get tickets for the Last Supper.
Let's go!
What to expect from visiting Da Vinci's Last Supper
Santa Maria delle Grazie, an ancient convent and in itself a UNESCO World Heritage site, is the home of the Last Supper painting. A small entrance on the side, quite the small inconspicuous affair, will lead you inside the Museum Cenacolo Vinciano – the proper name of the place you want to visit.
You are required to show up at the entrance of the Museum 15 minutes prior to the start of your tour. It is not possible to see the Last Supper without a tour, neither are you allowed to walk freely around the refectory. No ticket means not getting in and only a maximum of 25 people may see the Last Supper at any given time (as they want to keep the humidity at a very constant level).
All tourists within a tour will line up in front of the security gate of the refectory and wait for the tour guide. Once through, you will walk down a rather nondescript aisle (a testament to the huge destruction during World War II) until you reach an airlock.
Once the whole group is within the airlock, the doors will close and a couple of announcements follow to inform you about your upcoming visit. The basics: Keep quiet and you are only allowed 15 minutes within.
Once past the airlock, you will enter an extremely austere hall with almost no decoration at all, a huge, huge ceiling and two murals on either end. One of them is Leonardo da Vinci's Last Supper and the other the Crucifixion by Giovanni Donato da Montorfano (which most tourists more or less ignore).
The refectory, or rather what remains of it, is certainly not what you might expect. There is nothing artistic about, only low lights and a couple of benches in between – more like a backwater railway station and not one of the most important museums in Italy.
A barrier keeps you from getting to close to the murals on either side. The whole ensemble almost looks laughable trivial. To think that what you see has been the effort of 20 years of restoration!
But then your eyes will focus on the Last Supper. You will step closer, and as your eyes adjust to the darkness you will be captivated by its glory. Take a step closer yet, right to the barrier, so your whole vision is encompassed by the gigantic mural (180 in x 350 in, no less!).
Slowly you will begin to see the many small details on the broad expanse in front of you. You will start guessing the various Disciples (or maybe you already know them!) and look for the many little cues Leonardo da Vinci left for the viewers on his masterpiece.
I actually recommend you to totally ignore your tour guide. The very best thing you can do is prepare your visit the best way you can. Don't spend those 15 minutes you got within on listening which Disciple sits where and what's the meaning of that spilled salt in front of Judas (which you will probably not see anyway). You can easily read it all at home or in the brochure they hand out.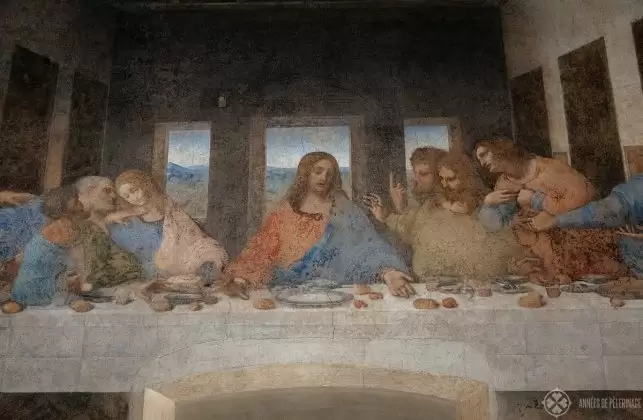 What you can't do at home is looking at the original. So, rather use those precious moments and only focus on the picture itself. Let yourself be amazed by the genius who conceived it. Those 15 minutes will fly past like a summer breeze and you will regret not having studied the mural in its entirety up close.
Because just like that, your visit will be over. By the time the announcement is made you have to leave the refectory, you will probably have not seen half of the details you wanted to, and you'll notice the other mural in passing. You'll leave through a different door, through a little souvenir shop and the ticket office. But by then you will still be dreaming of the magnificent Last Supper.
The Location of the Last Supper in Milan
Now you are probably wondering how to get to the Last Supper in Milan.
Again, the church called Santa Maria delle Grazie is where you want to go. It is an easy walk (10 min max) from the Milano Cadorna railway station right next to Castello Sforzesco. There really is no need to take a taxi as you will be touring all those other highlights anyway and you can just plan the rest of your itinerary around whatever Last Supper tour slot you were able to book.
Follow Via Giovanni Boccaccio from Milano Cadorna until you get to a roundabout, change into Via Caradosso, and follow it another 100 meters until you reach the Corso Magenta, where you should already see the marvelous round tower of the Church. This is the correct address (or simply use Google Maps):
Cenacolo Vinciano
piazza Santa Maria delle Grazie, 2
20100 MILANO (MI)
Please note, however, that the Last Supper Museum has an extra entry on the left side of the church (facing the front). You should absolutely go inside the Church itself (no ticket needed, plan around 30 minutes), but you won't be able to see the Last Supper there.
Again, be aware that you should be at the museum 15 minutes prior to the start of your tour! You are not allowed to bring any luggage, bags or drinks into the refectory, though there are small lockers at the ticket office next door.
Last Supper Tickets
During the tourist season, there is literally no chance of seeing the last supper without pre-booking your tickets. You can only do so through the official website of the Last Supper Museum: Here is the website for your convenience
Especially during the warmer months, tickets will be sold out days and even weeks in advance, so it is of the utmost importance to book them before your arrival. You can only purchase a maximum of 5 tickets. You could also get tickets via GetYourGuide (affiliate link) if you want a professional tour guide.
Last supper ticket prices
10.00 Euros per person (+ 2 Euros fee if you book online)
Children, students, teachers, and disabled people may enter for free (but still require a ticket)
What to do when all Last supper tickets are sold out?
Here's the thing: During my last stay in Milan, I only thought of booking the tickets 2 weeks in advance. At that time NO tickets were available anymore. So, what did I do? On my very first day, I asked the concierge of the Four Seasons Hotel (where I was staying) what I could do and told him that I really wanted to see the Last Supper. Read my review of the Four Seasons Hotel Milano here.
He did a couple of calls and offered me tickets for about 60€ (each!) through a ticket agency. Call me crazy, but I did accept and got tickets for an English guided tour on the next day. A representative of the ticket agency waited for me in front of the church 20 minutes prior to the tour and she handed over the tickets quite seamlessly. Expensive, but it worked.
There is one problem: Ever since November 2018, you have to register your name when you buy tickets online and you need to show a valid ID at the start of your visit. I'm actually not sure if these ticket agencies still are in operation, but I'd ask your concierge anyhow as the tickets I got were official tickets (no computer printouts or anything), so I'm not sure which channels they work through.
Opening hours of the Last Supper
Tuesday – Sunday: 8:15 am – 6:45 pm
Closed on Mondays
Is it worth seeing the Last Supper when you are in Milan?
This is a tough question. You see, the adjacent church and the Last Supper are a UNESCO World Heritage Site for a reason. The mural quite literally changed the way we see things. Now, when we think of the famous moment when Jesus announces to his Twelve Disciples that one of them is going to betray them, most of us think of this very mural.
While there have been tons of previous oil paintings depicting the Last Supper, none choose this special moment in the Gospel of John (13:21) and worked around the intense psychological motions of the various Disciples. It's like somebody pressed the stop button – such a novel idea in the late 15th century! You can even see how James the Greater raises his hands in surprise.
Painting it on dry plaster on the wall of the refectory, was probably not the wisest idea, though. Traditional frescoes are painted on wet plaster (like in the Sistine Chapel), but DaVinci was an extremely slower painter, which is why he choose the secco technique. But the mural deteriorated quickly and was already in a bad shape merely 100 years later, which made numerous restorations necessary.
The fact, that all people on the fresco secco mural are facing the viewer is quite unique as well. Normally people just don't sit around a table like this, and yet the whole composition appears to be just so natural to us. Few people know that most earlier renditions of the Last Supper placed Judas on the opposing side of the table and not together with such important players like John and Peter. (There is a famous rendition by Rosell in the Sistine chapel).
So, in essence, I am saying you are not only visiting a beautiful painting, but also a huge milestone in art history.
That being said, after intense restoration works and the damage of more than five centuries, so very few of Leonardo Da Vinci's original brushstrokes remain. Despite the best restaurateurs working on the masterpiece for 2 decades (the restoration was completed in 1999), what remains is only a ghost of its former glory. You might think my pictures are grainy, but in fact, it's the mural itself (were no original paint remained, the replaced it by small dots in pastel tones).
All colors are very muted, discerning the details is quite hard and of course, large portions of the mural are damaged beyond repair. If you want to see how the original must have looked like, then visit the copy by Giampietrino as, in the collection of the Royal Academy of Arts, London. The room is extremely dark, a barrier keeps you from coming to close, and you barely got 15 minutes in front of a mural the size of two parking lots!
Yet, I believe it is well worth your time and money to see it once in person. Not only because what remains is still glorious, but mainly because the mural marks such an important development in human history. Also, the whole atmosphere, the sheer spirituality of that mural, make it an extra special visit.
Also, you really should remember that the convent of Santa Maria delle Grazie in Milan is a beautiful gothic church, really worth visiting as well. Don't skip it, there are wonderful traditional frescoes to be seen.
So, this was my little guide on how to see the Last Supper in Milan and what to expect from a visit. Hope I was able to help you with planning your trip to this beautiful Italian city. Any questions left? Let me know in the comments below!