A massive list of the top tourist attractions and things to do in Milan. What to see, where to stay and when to visit Italy's second largest city.
Are you wondering about the best things to do in Milan, Italy? Are you currently trying to work out your Milan itinerary?
Then you are probably not alone. More than 6 million tourists visit the spectacular city in Italy's northern Lombardy region each year. Art, fashion, design, food and a history of 2,000 years are the reason it's one of the best places to visit in Italy. But what to see when the time is short and you only got one day in Milan?
To answer these questions, I compiled a very detailed guide to the top tourist attractions and points of interest in Milan. But it is not your average travel guide. Instead, I worked together with a local (a good friend of mine!) to find a good balance between all the must-sees in Milan and some hidden gems & secret insider tips.
So, let's get started, eh?
__________
Looking for more Italy inspiration? Read my guide to the best things to do in Rome
1. Duomo Santa Maria Nascente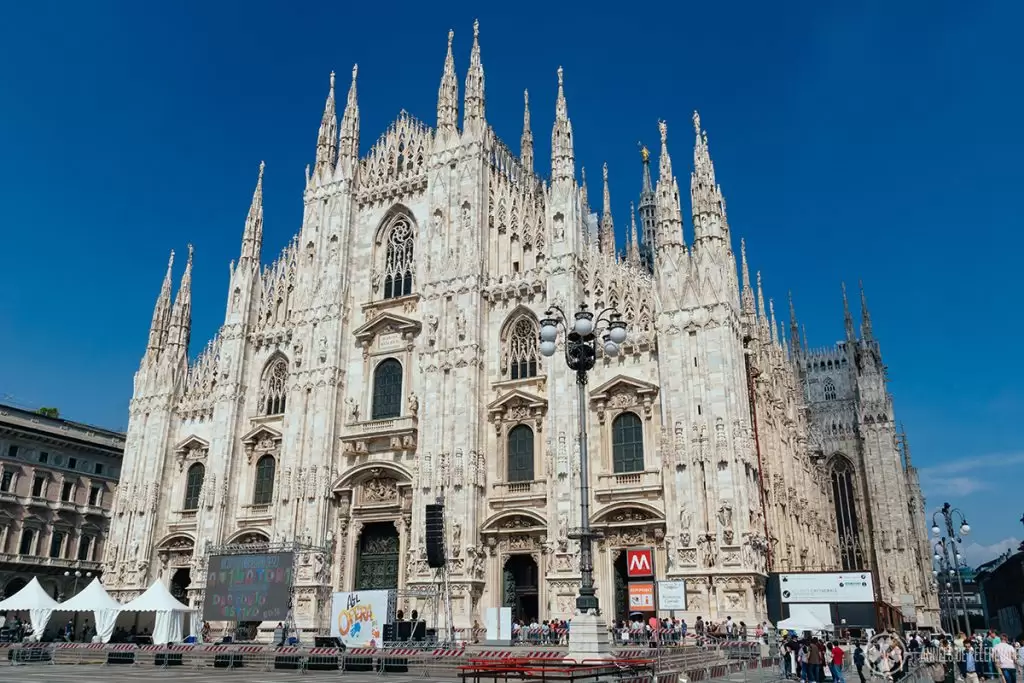 What to do in Milan? There is no way a visit could be complete without visiting the "Duomo". The central cathedral of Milan is the seat of the Archbishop and dedicated to St. Mary of the Nativity.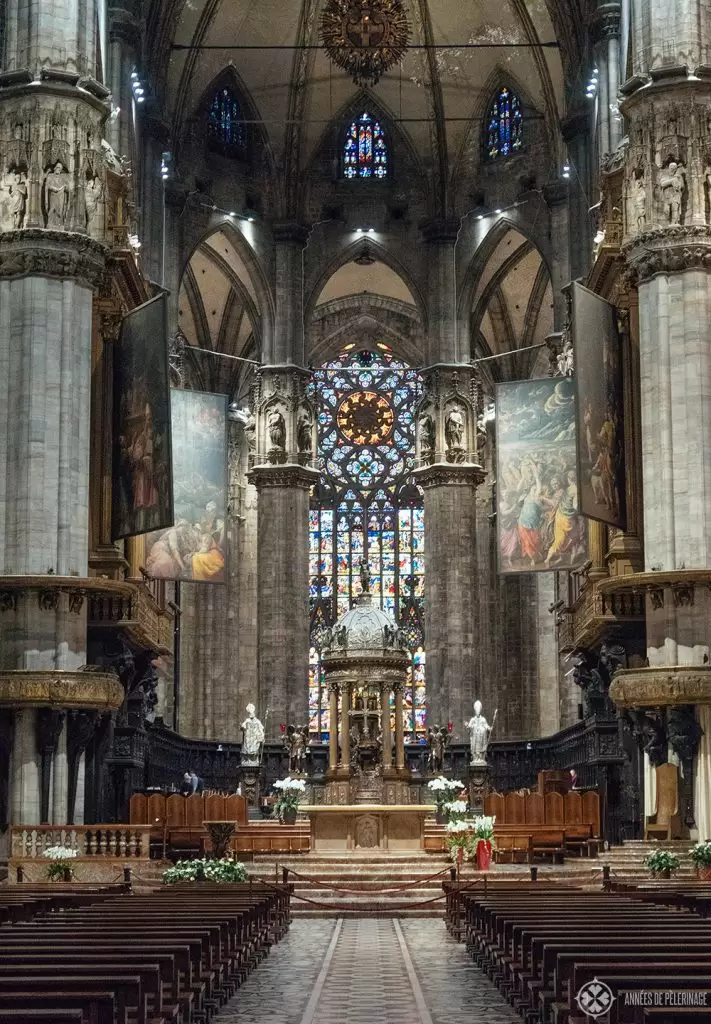 It is the largest church in Italy (considering St. Peter's church is located within the Vatican State) and probably the prettiest as well. Construction started in 1386 AD, but there was a cathedral on the same spot ever since  355 AD (you can visit the archeological diggings below the church).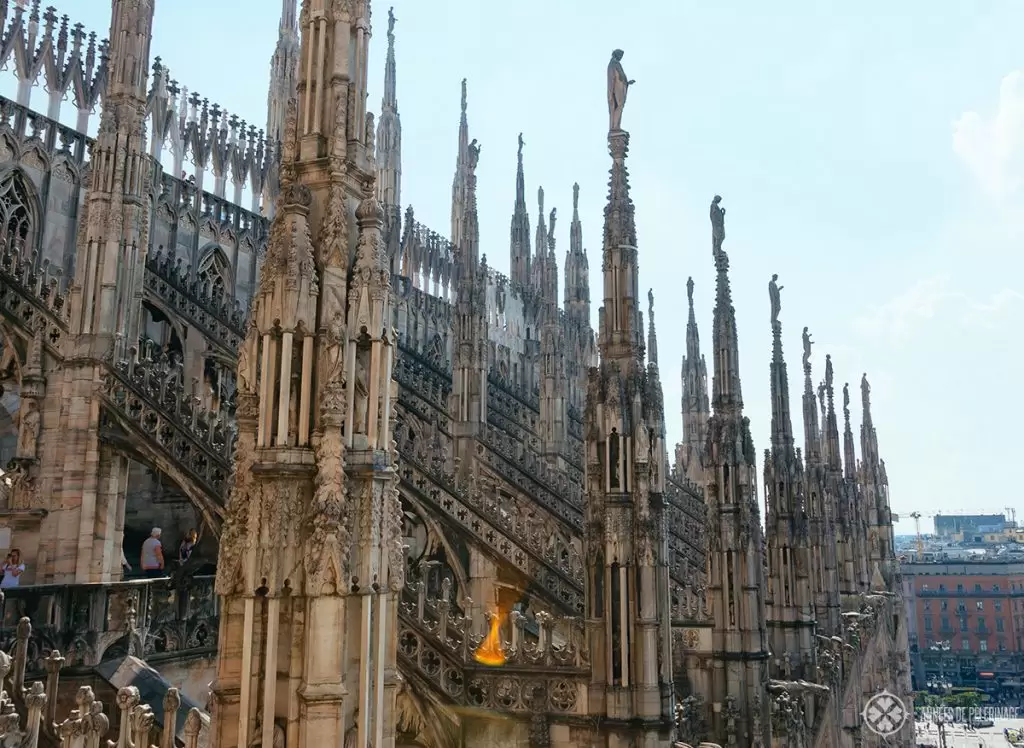 Every turret, every window and every niche is richly decorated with white marble statues and friezes. Definitely make sure to visit the large terrace on top of the Duomo. Do it for the view of the inner city and also to get a close-up glance at all of that beautiful masonry.
Calculate quite some waiting time to get inside, as there are tight security checks. And also factor in some time to explore the rest of the beautiful Piazza del Duomo.
Pro tip: Buy the new fast-track ticket to get priority access to both the Duomo & the Terraces, plus admission to the Grande Museo del Duomo nearby. Here's the official website of the Duomo
2. Galleria Vittorio Emanuele II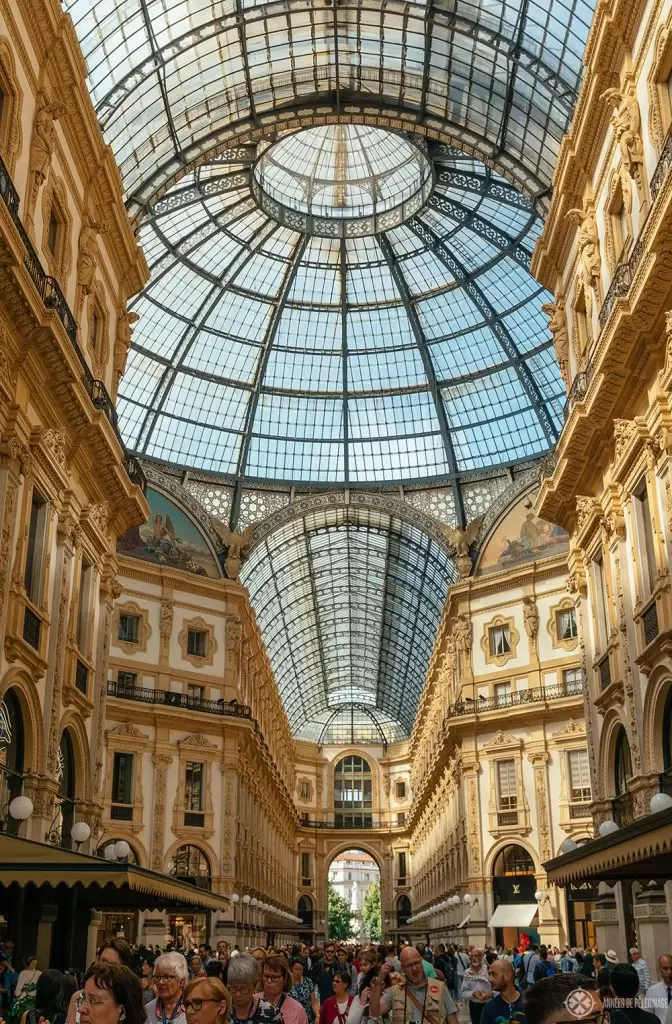 You probably can't say Milano without mentioning fashion in the same breath. In fact, it is often called one of the fashion capitals of the world. There's no better place to start your shopping tour through Milan than the beyond impressive Galleria Vittorio Emanuele II.
The giant shopping mall designed by Guiseppe Mengoni is not only Italy's oldest active mall (construction started in 1865), but also the largest. Local's often referred to it as il salotto di Milano (Milan's drawing room).
You will only find luxury boutiques and cafés in the Galleria, but that really shouldn't keep you from going, even if you are traveling on a tight budget. The mall is just so utterly impressive (especially during the holiday season).
3. Teatro alla Scala
I'm probably a bit biased, but the Teatro alla Scala is my personal favorite place in Milan. Certainly, not everyone is such a big opera fan as I am, but even then the interiors are quite stunning.
Also, it's quite the important historic place. Guiseppe Verdi, Giacomo Puccini, and so many other famous Italian composers wrote pieces for this very opera house. It's my honest opinion that you haven't been to Milan without watching at least one opera performance.
Pro tip: If getting tickets turns out to be too hard / too expensive, there are tours during the day. There is also a theater museum quite worth seeing directly behind the opera main building
4. Museo Poldi Pezzoli
The Museo Pldi Pezzoli is probably Milan's most charming museum. It's located within an old palace and some of the original interiors are still visible. The collection itself is a bit eclectic (paintings, ancient watches, porcelain, and some ancient armors in between), but it sort of makes sense within the historical context. Here is the website of the museum.
5. Last Supper / Santa Maria della Grazie
Are you a big fan of Leonardo da Vinci? Then you should definitely put visiting the church Santa Maria della Grazie on your list of things to do in Milan. First of all, the stunning church from the Renaissance period is quite worth a visit on its own. In fact, the whole complex is a UNESCO World Heritage site (here is the website of the church).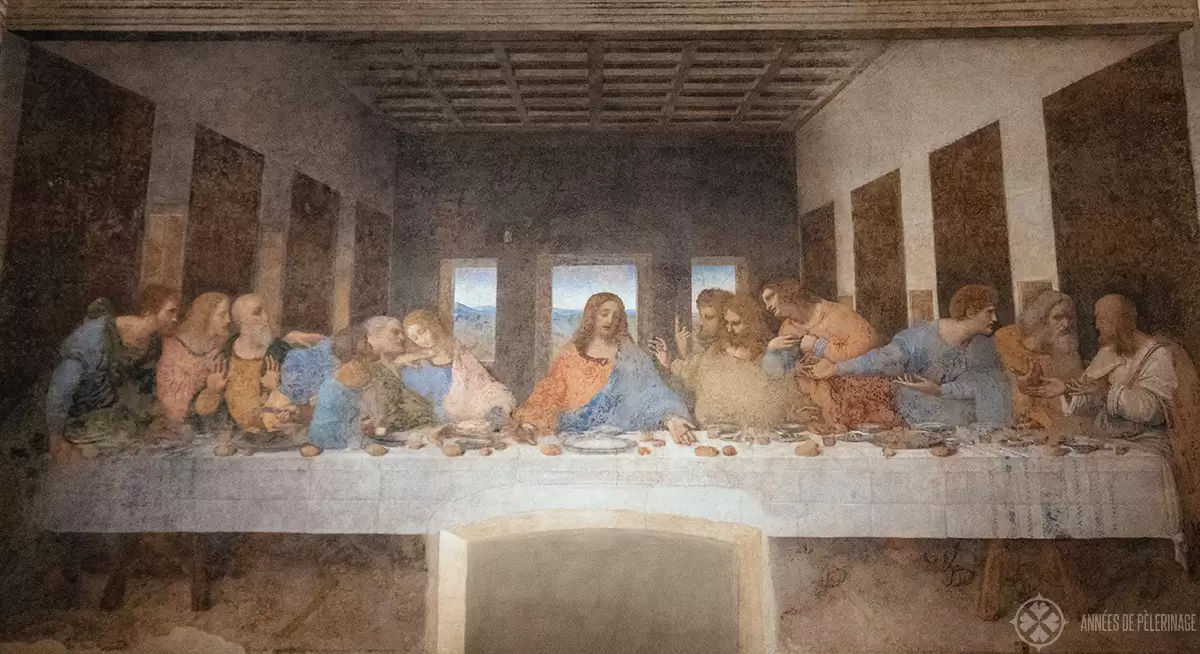 The true highlight resides in the refectory of the ancient monastery. It is here, Leonardo da Vinci painted his famous mural "The Last Supper". It took the UNESCO 20 full years to restore the fantastic piece of art, can you believe it? Definitely read my guide to visiting the Last Supper.
Tickets are severely limited and only 25 people are allowed within the hall that houses the fresco, so you really have to plan months in advance to secure your ticket. Here's the website where you can buy tickets.
Pro tip: If you couldn't get a ticket, there are also a very few tour agencies who will be able to provide you with a ticket. Expect prices around 60 Euros per person.
6. Pinacoteca di Brera
The Pinacoteca di Brera is definitely Milan's premier art gallery. Stunning works from Raphael, Bellini, Bramante, Caravaggio, Titian, and so many other artists for the Renaissance period and beyond are on permanent display here.
The building itself is also quite noteworthy. So, even if you don't feel like spending your day in Milan walking through a gallery, you should definitely check out the courtyard. It's one of the must do's in Milan.Here's the official website to plan your stay.
7. Castello Sforzesco
An unmissable tourist highlight in Milan is the Castello Sforzesco or simply Sforza Castle. The 15th-century fortification was once the seat of the Duke of Milan and now houses a couple of wonderful museums. Exploring the many courtyards of the castle is probably one of the most fun things to do in Milan with kids.
As the museums and galleries within the Sforza Castle are truly outstanding, you might want to plan more time for this tourist attraction. Here is the official website, so you know what I am talking about.
8. Parco Sempione
Right behind the Sforza Castle, you will find the Parco Sempione. It's the largest park in the city center of Milan and a local's favorite. If you are looking for a little respite from the hectic tourist madness, then this is where you'll find it. But remember to bring some food and drinks for a picnic!
Absolutely make sure to walk all the way to the end to see the giant Arch of Peace. It's quite the lively area, you'll certainly enjoy.
9. Triennale Design Museum
Another reason to visit the Parco Sempione are the many points of interest lining the park. The most famous one (apart from the Sforza Castle), is the Triennale Design Museum. Italy is famous for its outstanding design – both in fashion and in furniture. And here you got a whole museum dedicated to it. A true must-see in Milan. Check out the official website here.
10. Sant'Eustorgio
The Basilica of Sant'Eustorgio is one of the oldest churches in Milan and dates back to the 4th century AD. The biblical Three Magi had their tombs here until Barbarossa sacked the city in the 12 century and brought the important relics to Cologne. In 1904, a few smaller fragments were returned and enshrined in the Cappella dei Magi. It used to be quite the important site of pilgrimage. Make sure to visit the Portinari Chapel – probably the most important structure from the early renaissance in Milan.
11. Biblioteca Nazionale Braidense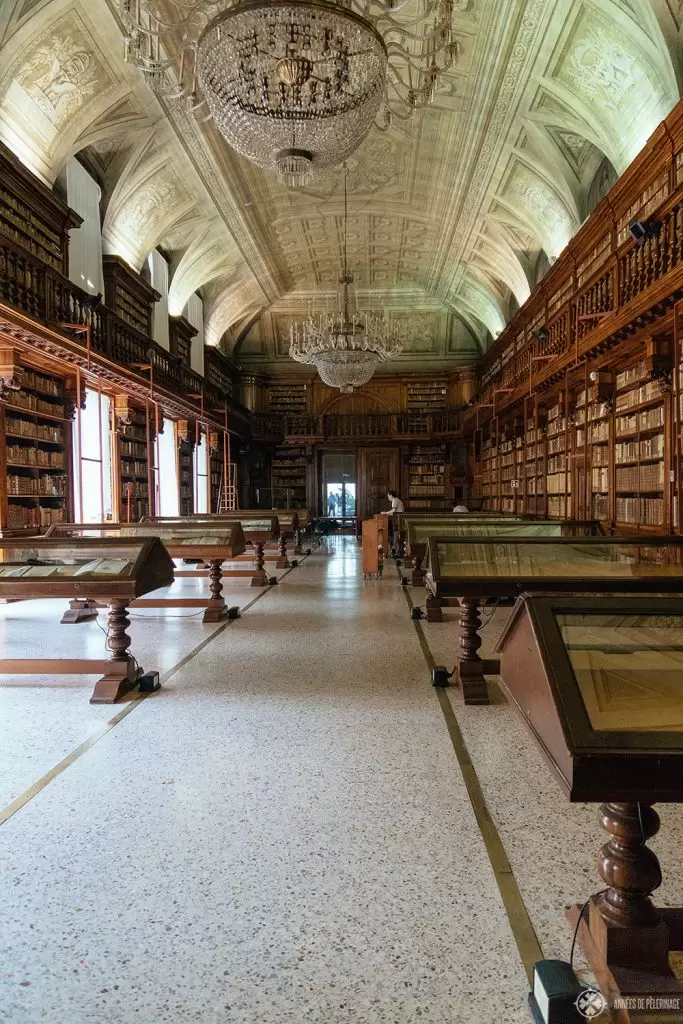 When you are in the area of the Pinacoteca Brera, definitely make sure to visit the adjacent Biblioteca Nazionale Braidense. It's one of the many free things to do in Milan (as long as you are quiet!) and such a beautiful building. The library is still in use and you'll find a lot of students sitting among the ancient tomes.
12. Naviglio Grande
The Naviglio Grande connects Milan with the Lago Maggiore. It was built between 1179 and 1233. The artificial waterway was once an important transport line for the whole region of Lombardy, but it is now only used for irrigation purposes. That being said, a beautiful bicycle route follows the canal, lined by colorful Italian houses. Probably just an option if you stay two days in Milan or more.
13. Day trip to Bergamo
Bergamo is a picture-perfect city to the north-east of Milan. The skyline of the old town is quite famous and surrounded by a Venetian wall built in the 16h century. There are numerous Palazzo, Piazzas, and churches. In short, the perfect day trip, but really just one of the many things to do near Milan.
14. San Simplicano
The church of San Simplicano is one of the hidden gems in Milan. It's only a short walk of 5 minutes from the Pinacoteca di Brera, but for some reason, only a few tourists come here. Yet, the unique Basilica dates back to the 3rd century, no less! It's truly magnificent!
And the fresco depicting the holy lord above the choir is truly unique and worth the detour anyway!
15. Museo Nazionale d. Scienza e Tecnologia Leonardo da Vinci
Leonardo da Vinci was so much more than "just" a painter. He was a universal talent way ahead of his time, some say even unsurpassed until today. If you want to explore the full depth of his genius, then you have to visit the Leonardo da Vinci Museum in Milan. It's an interactive museum, which has both historic drawings and modern reproductions of his war machines and other gadgets. Here is the website.
16. Cimitero Monumentale
Milan has one of the pretties graveyards in Italy. The Cimitero Monumentale lies north of the central castle and can be accessed by bus. The graveyard is famous for its gigantic entrance hall and its artistic funerary sculptures. Do visit & search for the graves of famous celebrities!
17. Day trip to Varese
Do you want to have a UNESCO World Heritage site all to yourself? Then a day trip from Milan to Varese might be a lovely choice for you. Here, you will the Sacro Monte di Varese, a sacred mountain road lined with 14 chapels – each telling stories from the life of Jesus Christ in life-sized terracotta statues.
Oh, and there is a lovely little hilltop town to be explored. A funicular is getting you all the way to the top, but I actually recommend walking! Treat yourself to some Italian pasta once you reached the top, eh?
18. Acquario Civico
The Civic Aquarium of Milan is said to be the third oldest aquarium in Europe. If you are looking for fun things to do in Milan with kids the beautiful building within the Parco Sempione might be a good choice. It was built for the Milan World's fair in 1905 and houses mostly fished and aquatic vegetation from Italy. There are no huge tanks (like in Dubai, Okinawa or Georgia), but it can still be a good option for a rainy day in Milan. Here is the website.
19. Royal Palace of Milan
Milan has quite a long history and much of it was decided inside the Royal Palace. These days it is a museum. As it is directly next to the Duomo (you can see it from the rooftop!) and it frequently houses stellar exhibitions, you really should visit. Here is the official website (better get your tickets online to bypass the queue).
20. San Maurizio
The last and probably most colorful point of interest in Milan is the church of San Maurizio. It's famous for its beautiful frescos and I felt, even though it is yet another church, it's a good place to conclude my list of top things to do in Milan with.
Other things to do in Milan
Long and detailed as this list of things to see in Milan is, it is far from complete. I did not mention all the wonderful churches in Milan and certainly skipped a museum or two as well. Sant'Abrogio or the Museo Archeologico is well worth a visit and so is the Museo Bagatti Valsecchi.
Neither did I mention the beyond than delicious Italian food, the many bars, and the nightlife. There are is just so much to do in Milan at night it would fill another guide. Either way, you will want to eat some pasta, maybe have an ice cream and certainly Costoletta alla milanese. Near the Duomo, you will find a couple of lovely rooftop bars you certainly should check out..
That being said, you don't need that much time to see it all. Two days in Milan are enough to see everything that is on this list, though you would have to skip the two day trips I mentioned (Como or Monza would also be an option). I would make sure to pick up a Milan tourist map at a tourist information or your hotel to ensure you are talking the fastest route. You might want to consider renting a bike (there are rental stations around every corner).
Of course you could also try to get tickets for a soccer match and the famous San Siro arena, but that can sometimes be tricky ;-)
Where to stay in Milan?
Note: I get commissions for purchases made through links in this post.
Milan has an excellent public transport system. They do have a metro, there are buses and they got a tram (make sure to ride with one of the historic trams at least once!). It doesn't matter all that much where you stay and there really isn't a best area to stay in Milan. Also, most of the points of interest in Milan are located within the city center and are within walking distance of each other.
As Milan is a city of art, fashion, and design, I recommend you to stay at a hotel that mirrors that approach. The best hotel you could possibly stay is the Armani Hotel Milano (check out prices here). It's located right in the city center and everything is within walking distance. It looks rather stark from outside, but inside it's an interior designer's wet dream!
If you are rather looking for a quiet place to relax after a stressful day walking through the city, the Four Seasons Hotel Milano (check out prices here) will be your best bet. I absolutely loved the beautiful courtyard garden (it's located inside an old monastery) and the underground spa. For me, it's the best place to stay in Milan! Check out my review here!
A good mid-range hotel in heart of Milan with excellent reviews is the Hotel Dei Cavalieri (check out prices here). They got a nice rooftop bar, you will certainly like, while not being too outrageously expensive. Another good option within an excellent location is the Just Hotel Milano (check out prices here). Actually, I'd go as far as saying this is the hotel with the best bang for your buck.
On the lower-end of the budget, you will probably enjoy the 43 Station hotel (check out prices here). Like the name implies, it is located in the direct vicinity of the central station and has quite clean and modern rooms. A similar hotel you might want to check out with a tight budget is the Spice Hotel Milano (check out prices here). Especially for young travelers, who don't want to pick a hostel but can't afford a luxury hotel, this might be a good option.
All things considered, you should know that Milan is not exactly the cheapest city to visit and finding a good hotel with a great location below 80 USD a night will be tough – especially in the high season.
Best time to visit Milan
The best time to visit Milan is from April to September, as these are the months with the most sunshine. Winter in upper Italy can be quite foggy, with clouds frequently covering the sky. Temperatures will rarely fall below the freezing point, but the high humidity will make you feel much colder. BUT, there are many skiing resorts in the mountains close by, so combining a winter vacation with a trip to Milan might be a smart idea.
July and August will be quite hot (around 30° Celsius / 86° Fahrenheit), but still manageable for the most part. This, however, is also the time of the school vacations throughout Europe, so Milan will be absolutely packed. It might be a smart idea to pick one of the off-months to avoid the crowds and long lines in front of the main attractions.
That being said, there is an almost equal chance of rain throughout the year – there really is nothing like a dry season. I'd recommend June and September for your visit, but depending on the rest of your Europe itinerary, you might want to adjust it. As a lot of the tourist attractions on this list of things to do in Milan are indoors, the weather is not a major factor.
So, that it. This was my travel guide to the best places to visit in Milan, Italy. Hope you enjoyed it! Got any question? Feel free to ask them below. And make sure to share this guide on social media if you liked it!
Picture credits: Mohammed Alsoufi, ANDREA PONTIGGIA, Allan Parsons