An authentic & detailed review of the Oberoi Zahra luxury Nile Cruise
So, you are looking for an Oberoi Zahra review? And maybe you are now wondering if the ship is really that good and if a luxury Nile cruise is worth it?
Then you are not alone! Before my first trip to Egypt (read all about the 20 best things I visited), I was in the same boat (sorry for the bad pun!). The Oberoi Zahra is certainly a beautiful ship, it is often ranked as the best Nile cruise ship in Egypt but it does come with a big price tag (click here to check out prices).
With a little bit of research, you'd find a 5-day Nile cruise for a tenth of the price you'd have to pay for the flagship of the small Oberoi fleet. This is why I compiled a detailed review of the Oberoi Zahra for you. Much as I love to see the perfect pictures on the websites and social media channels of Oberoi, I focused on providing authentic pictures and an honest review for you.
So, let's dive right into it, eh?
Note: This is a non-sponsored review. I had no association with Oberoi at all and paid for the 7-day cruise in a luxury room myself. I do earn a small commission from purchases through the links in this article.
_______________
Looking for further Egypt inspiration: Check out the 20 best things to do in Cairo and definitely read my very detailed Egypt travel guide.
Oberoi Zahra: A close-up
The Oberoi Zahra is a spacious boat. Incredibly spacious for such a small riverboat. Upon entering the two-tiered lobby of the boat, you cannot stop but marvel at all that space. Benches, seating groups, and wide-open windows – it's truly glorious. Stainless steel, white Carrara marble, and fine leather everywhere you look, with a design classic sprinkled in here and there.
There are only 27 suites and cabins on the Zahra. 27!! Mövenpick, which has one of the largest fleets on the Nile, typically fits about 60 to 70 cabins into their boats. On the Oberoi Zahra, that space is used for a bar, a cinema, a library, a smoking lounge, a spa, a gym, a gaming area, and even a hairdresser saloon!
I am a very visual guy, and interior design is important to me. I feel this is where the Oberoi Zahra truly excels. I've been on a couple of luxury cruise ships and usually, even on these super exclusive ships, the furniture is a compromise between beauty and the necessities (& dangers) of the wide-open sea. Since the chances of running into a tempest on the Nile are exceedingly slim (we did experience a sandstorm tho!), everything feels pretty much like in a design hotel. I loved it!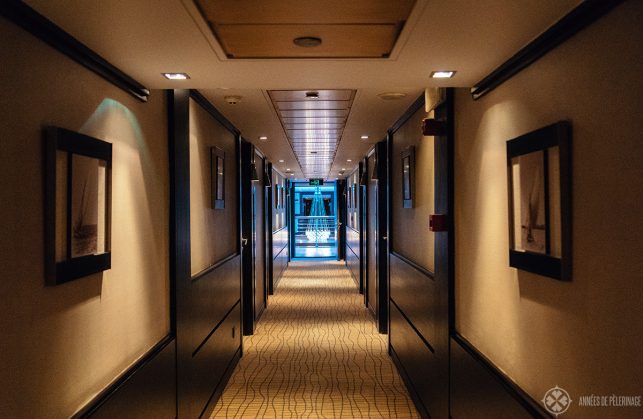 With that much space and so few guests, the ship is also incredibly quiet. It never feels crowded, you rarely run into anyone and even the sun deck is an oasis of quiet. Since I never was a guy for socializing, I felt this was incredible and exactly what I wanted – combining the wonders of ancient Egypt with a bit of relaxation.
And in case you are wondering: There are elevators around the boat and everything is perfectly fit for the physically-challenged guest, as they put it on the website. In our tour group, there was a guy who recently had knee surgery and they did everything in their power to accommodate him.
I actually couldn't find any information on its delivery date, but everything still felt quite pristine and in excellent shape. I'd guess it would be around 2008. The whole ship is well air-conditioned and filters all its water, adding extra safety for your spoilt western tummy.
The only thing you might want to criticize is the slow wifi, but obviously, that is a bit of a problem on the Nile & in Egypt – just like on any other cruise ship. It does say "high-speed wifi on their website", though. It's not.
Here is a direct booking link for the Oberoi Zahra >>
Review of the cabins & suites of the Oberoi Zahra
Much like the lobby, the cabins on the Oberoi Zahra are spacious and beautiful. 26,5 m² (284 square feet) for the standard luxury cabin. A full king-size bed with a beautiful headboard easily fits in and there is a lot of space to store your luggage (can be split into two single beds, if needed).
There is a writing desk and even a sitting area to enjoy the view out of the huge panoramic window (can be opened!). While I personally never watch TV, there is a one for those looking for some visual entertainment as well.
The whole interior of the cabin is not only beautiful but quite practical & efficient and so incredibly light. I had no problem fitting my luggage into the storage unit (make sure to read my guide on what to wear in Egypt). The mattresses were considerably hard, though, and they could have cleaned the panoramic windows before our arrival.
The bathroom truly is fantastic. It's the largest bathroom I ever had on a cruise ship. If not for the huge panoramic window (no worries there are electronic blinds!) you almost wouldn't believe you are on a ship. It's so well-appointed, but only has a shower and no bathtub. Oh, and L'Occitane is their choice for shampoos, body lotions, and soaps!
Sadly, the Zahra is quite a loud boat, as almost all riverboats are. The motor is constantly droning on and I'd actually recommend bringing earplugs if you have a light sleep (my cabin was on the second floor, close to the rear). Especially as they do have private docks, there are no nights on the river (just some early departures), they could have connected to a power source on land. But either the Zahra is not equipped for it or nobody thought of it.
There are also two luxury suites onboard the Oberoi Zahra (538 square feet / 50 m²). I didn't get a chance to review them in person since they were booked out. In hindsight, I do not regret booking a standard (or rather not so standard) luxury cabin. The suites do have their own private jacuzzi but guests on the upper sun deck would still be able to see parts of your private sun deck. That being said – I would have loved to relax in that huge bathtub instead of just having a shower.
Oberoi Zahra review: Pool & Spa
The whole upper deck is one big sun deck. It's separated into a bar & restaurant area and a pool & relaxing area. The pool is huge but was a bit too cold for my taste. The sun loungers are well-spaced and separated by additional canvas blinds for some extra privacy.
The parasols could have been a bit bigger, as two sun loungers barely fit under one (the Egyptian sun is intense!!), but maybe that's just me and my paranoia of getting a sunburn. An additional jacuzzi would have been a lovely addition to the whole ensemble.
Sadly, we were not allowed to eat lunch on the deck and the overall service on deck was pretty poor. Ordering drinks usually took around 20 minutes and there was nobody who prepared your sun loungers for you (at least not without asking), brought you new towels – but maybe that was due to the fact there usually was just one service guy.
There is also a spa onboard the Oberoi Zahra with two ladies from Thailand in charge of all the massages and treatments. I booked one Balinese massage and was quite satisfied with it. Prices were extraordinarily competitive (like 40 US-Dollar or so) for a 60minutes massage that lasted 90 minutes in the end.
I couldn't say the whole experience was top-notch but for a spa on such a small cruise ship, they really tried their best. I probably wouldn't book a facial treatment, but a massage is just what I needed after all the sightseeing.
The excursion & itinerary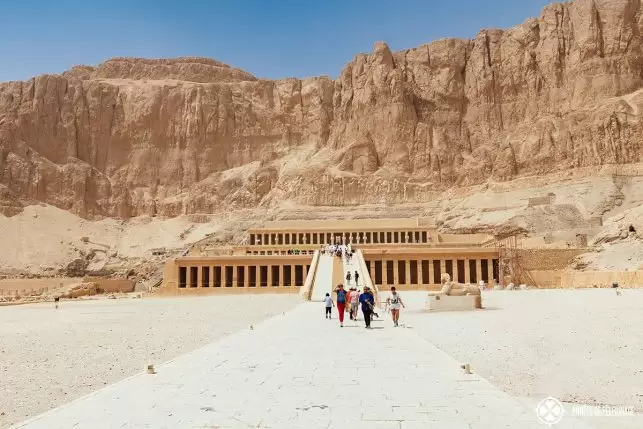 The excursions on the Oberoi Zahra were really exceeding my expectations in every way. At the end of the day, it was the very reason I booked this boat and didn't stay at hotels instead.
First of all, we had our own Egyptologist. Not a casual tour guide, but somebody who studied at the University in Cairo and was fluent in old Egyptian. There was not a single question he could not answer (and I am a very inquisitive person). He also was fluent in German (as I am a German native speaker). They'll provide you with a guide fluent in whatever language you want. Groups are never larger than 6 persons. So, don't be afraid to be stuck down in a huge group running behind a raised umbrella.
Secondly, the Oberoi Zahra has probably the most extensive itinerary of all the Nile cruise ships. 7-days is a long time and you are visiting temples like Habu, Edfu or Kom Ombo, which are not on many other lists.
Oberoi Zahra itinerary:
Karnak temple
Luxor Museum
Hatshepsut temple
Valley of the kings
Valley of the nobles
Deir el-Medina
Luxor temple
Habu temple
Dandara temple
Kom Ombo temple & Crocodile Museum
Philae temple (twice; +1 for the light show at night)
Aswan High Dam
Botanical garden in Aswan
A ride in a traditional felucca boat
Abu Simbel (optional; additional charge of around 250 US per person; read my tour review to see if it's worth it)
What I loved the most was that, full as the itinerary of the Oberoi Zahra sounds, it was well-spaced (except for the second day). So, you'd have a two or three-hour excursion in the morning (9 am until 12 am). Then you came back to the boat (private minivans!), were able to enjoy lunch, relax a bit in your cabin or on the sun deck and had another excursion in the afternoon (say 3 pm till 5 pm). It was never stressful and always perfectly relaxed.
I also had the impression that the timing of all the tours was perfect. The ship repositioned quite a lot in the area around Luxor – all to allow the groups to enter the highlights during the quietest times of the day.
If you are worried about the general travel safety in Egypt, read this guide. The short answer: you couldn't be in better hands than with Oberoi.
Note: While there is a service charge for the cruise ship, it did not cover the drivers and the Egyptologist. Personally speaking, I'd have preferred if the cruise was 100 US-Dollar more expensive and they'd settle it the official way. But I guess that's just the Egyptian way.
Like to book a stay? Here is a direct booking link for the Oberoi Zahra >>
Food onboard the Oberoi Zahra
I have mixed feelings about the food on board the Oberoi Zahra. Three multi-course meals a day were included in the room fee. So, let me be clear: None of the meals failed my taste buds and there was not a single wish the cooks weren't able to accommodate. It was no Michelin-star quality, but more like a good restaurant, you'd recommend friends.
But at the same time, my Oberoi Zahra review would not be complete without mentioning there was not a single night with traditional Egyptian food (we had to specifically arrange that). There was just one Indian night I felt they could have skipped. Which is really weird, because there is so much amazing Egyptian food!!
Breakfast was a mixture between a small buffet & à la carte (quite a smart choice in hot countries!) – again without traditional Egyptian specialties. I would have expected a mixture, so guests would have the opportunity to get intimate with that side of the wonderful Egyptian culture as well.
There was also one Cocktail Night. Sadly, we were only invited to wine or soda and cocktails were not included. Which felt extremely strange – the keyboard player searching for the auto-tune button wasn't exactly a highlight of that particular evening either.
There was one Nubian night with a traditional Nubian dance and music show. It was actually quite enjoyable, but again I did miss some Nubian specialties to go along with the show.
If you are wondering about the dress code on the Oberoi Zahra. There really isn't one, as long as you dress smartly, but really no need to bring a suit/tuxedo. Shirts, trousers and closed shoes are totally fine.
Service & housekeeping
If there's one other thing I'd have to criticize about the Oberoi Zahra then it would be the overall service. It's not like they did a terrible job. Everyone did his best to fulfill all my wishes & was always beyond friendly. But it was nowhere close to what you would experience in any other luxury hotel around the world.
For me, true luxury starts when my wishes are anticipated and when they know me better than I do. When there are all these little things that turn a great experience into an exceptional adventure exceeding all your expectations. That's exactly what you get in all the Oberois in India – but not here in Egypt.
So, what do I mean: After an excursion, I'd expect a little welcome drink or maybe some chocolates waiting for me in my room. I'd expect a little trinket to remember my stay waiting for me on the last day and I'd expect those needless luxuries like a complimentary bookmark resting on my book on the night table or a little cloth to clean my sunglasses because the room boy saw they are dirty. I'd expect a sherbet brought to me while relaxing on the sun deck. I'd expect the waiters to know my name (only 27 cabins!!) and my preferences on the second day.
Funnily enough, I had a talk with the manager on this topic. Even on the last day, the waiters would continue to ask me "sparkling or still water?". He had the opinion that guests might change their drinking habits. Fair enough (if unlikely), but then you could add a "Still water again for you, [insert name]?". Mind you, just one episode!
Now you might say Norman, isn't that a bit too harsh? If you pay so much money (~7000 US-Dollar for a week) you expect above-stellar service and not just good service. You expect the room boy to clean the last spot of dust or cobweb and not use his time to produce towel sculptures.
That being said, it's my honest opinion that the service on the Oberoi Zahra is still ways above any other cruise ship between Luxor and Aswan. They managed to bring standard 5-star service on the Nile. In Egypt where the internationally experienced staff is probably quite hard to source, that is no small feat. Still, I'd send the manager on a trip to Paris, London, or Tokyo to understand what is possible in terms of luxury service.
Oberoi Zahra review: Overall impression
I do not regret booking the 7-day Nile cruise on the Oberoi Zahra – not for a second. It was utterly what I expected, the boat is truly beautiful and the excursions were some of the best I ever had.
While there is still a lot to be improved in terms of food & service, I highly doubt you'd find any better in Egypt – neither on the Nile or in the luxury hotels in Luxor or Aswan. Actually, I'd go as far as saying: Money permitting, you'd be downright stupid to book another option to explore the wonders of ancient Thebes. There simply is no more luxurious and relaxing way to do so.
Naturally, you could also book 3 nights at the famous Cataract Hotel in Aswan (check prices & pictures here) and 4 nights in the Winter Palace in Luxor (check prices & pictures here) and use them as a home base to see explore the wonders on your own. You see, the Oberoi Zahra only covers about 200 kilometers in those 7 days. But I highly doubt the experience will be better, I don't think it will be cheaper and it certainly won't be more relaxing.
Here is a direct booking link for the Oberoi Zahra >>
5-day or 7-day Nile cruise? Which is better?
The Oberoi Zahra starts from Luxor and from Aswan, and it really doesn't matter which route you take in terms of sightseeing. If you want to move on to Hurghada, I'd recommend ending your cruise in Luxor as it will be considerably faster to reach the Red Sea from there.
That being said, you can choose between a 5-day and a 7-day Nile cruise on the Oberoi Zahra. There is not much of a difference really and if you are short on time you won't miss much in the last 2 days.
You won't be visiting the Kom Ombo Crocodile temple, you'd miss the sound and light show at the Philae temple and the visit to the Botanical Garden. While they are all quite nice, they are not as spectacular as the rest.
I picked the 7-day Nile cruise because those last two days are quite relaxing and I really wanted to see Abu Simbel. In theory, you could check out on the 5th day and take a hotel in Luxor and visit Abu Simbel on your own (click to read about your options). I chose the relaxing and less stressful alternative and let Oberoi organize the trip and book the plane tickets for me.
Oberoi Philae vs Zahra?
Last but not least, I'd like to lose a word or two about the other Oberoi cruise ship on the Nile: The Oberoi Philae (click here for recent prices & pictures) and why I didn't pick that one.
The itinerary on the Zahra is a bit richer. So, you'll see a bit more on the West Bank and you got that optional visit to Abu Simbel, as well as the possibility to see the botanical garden in Aswan. So, for those interested in sightseeing, the Zahra is probably the better choice.
When it comes to comparing the Oberoi Zahra vs Philae, it should be noted that the latter is the older ship but shares, more or less, the same design. As the itinerary is a bit shorter, the room prices are a bit cheaper and there are three types of rooms (luxury cabin, luxury suite and a luxury suite with private terrace) instead of just two categories on the Oberoi Philae.
Overall, there really isn't that much of a difference between the Oberoi Zahra and Oberoi Philae in Egypt. But when you really take a close look the Zahra is the better ship in the most important ways: It's newer, the itinerary is better and I did hear that the overall service was better.
If you are looking for a large cabin, then you'd probably have to pick the Philae as even the standard cabins are considerably larger (36 square meters compared to 26!). While the standard cabins do not have a balcony, they have large French windows that will convert your room almost into a terrace. (Please be aware that there are a loooot of insects on the Nile and you really can't open the windows at night).
Note: I believe the Oberoi Zahra is currently on its way to the dry dock (as of June 2018). But I'm sure you will enjoy the Oberoi Philae just as much – they are so similar.
Like to book a stay? Here is a direct booking link for the Oberoi Philae >>
And this is a direct booking link for the Oberoi Zahra >>
Further reads:
This was my Oberoi Zahra review. Hope I could help you with your choice. Got any questions? Feel free to comment below. Oh, and don't forget to share this article on social media!